Top
Mahogany High Pressure Laminate
Feautures
Overall great. Comes with everything a beginner needs to start playing.
Small guitar packed with huge features. Small-version of the FG800.
Designed in California. A simple, straightforward acoustic guitar. For it's price, it's definitely a must-buy for beginners.
A great small guitar with a big sound. If you have the budget, this is absolutely perfect beginner guitar.
The wildcard on this list. If you're serious in learning guitar, I'd recommend this all day.
Editor's Update: We removed the Seagull S6, realizing that it maybe too expensive for beginners looking for a starter guitar. A good investment perhaps, but we think it's best reserved for intermediate players. We replaced it with a new contender, making its way on the 3rd spot as the best acoustic guitar for beginners: the Orangewood Rey Grand Auditorium acoustic guitar. It's packed with great features among which is a loud sound; impressive for a guitar at this price point.
I was a once a beginner acoustic guitar player like you. I remember having a cheap guitar that sounds almost like a toy.
It is really uncomfortable to play because of the high action and it made my fingers really hurt and almost numb. But thinking about it today, it actually made me a better guitar player.
It didn't matter to me if my guitar was cheap, uncomfortable to play, or sounded like a cheap can of soda.
The point was I need to start learning no matter what.
But I'm not saying that you also need to have the same experience as mine to be an expert. With my recommendations, I hope you can immediately start learning the guitar right away.
It can be a challenge to figure out a guitar you want, especially when you've just started playing. But with the right information, you can easily brave the nearest guitar store and pick out an acoustic axe that can help you hone your skills. 
After all, we're all about turning you into the best guitarist you can be.
Here are our top picks for the best acoustic guitars for beginners in 2019
A straightforward beginner's acoustic guitar. This I think best describes the Fender FA-100.
It is not too low key, and at the same time, not too overwhelming. It is just a well-balanced acoustic guitar perfect for anyone who's looking to play something right out of the box.
Materials
The Fender FA-100 is made from standard materials you'll see in a guitar. It has a laminated spruce top, basswood back and sides, satin neck, laminated hardwood fingerboard, and comes in natural satin finish.
Durability
Yes, solid top guitars can have quite an advantage when it comes to overall profile.
But laminated guitars such as the Fender FA-100 dreadnought has its own respective advantages especially when it comes to durability.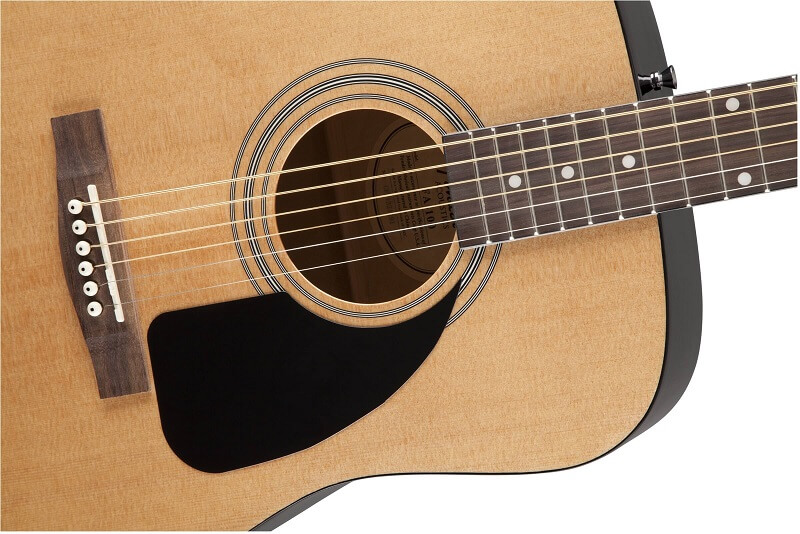 For starters, laminate guitars tend to be less susceptible to cracking. The nature of construction and complex pattern of overlapping grains contributes to this guitar being more durable than the solid ones.
As such, this guitar is perfect for frequent travelers and beginners alike who prefer a much sturdy guitar.
Sound
Fender is a brand known to produce guitars with great sound, and the Fender FA-100 stands true to this.
The X-bracing pattern on this guitar makes it produce a rich sound that mixes well with a right amount of resonance.
Value for Money
You really get more than what you have paid for when buying this guitar.
With Fender as a brand known to produce great quality guitars, money wise, the Fender FA-100 is probably one of the best budget guitars for beginners.
RELATED: Fender FA-100 Review
A much smaller scale guitar, but the same features and sound profile. I think this best describes the Yamaha FS800.
FS means "folk small" body acoustic guitar, and it is considered as one of the best acoustic guitars in the market today.
Aside from the incredible sound that this guitar provides, comfortability is another feature that it brings to the table which makes it deserving to be included in this acoustic guitars for beginners list.
Materials
The Yamaha FS800 also has the same body materials as with the FG800.
It has a solid sitka spruce top, nato back and sides, rosewood fingerboard, and bridge, and comes in natural finish.
Durability
Having a smaller body can have its advantages too. Having a concert size, the FS800 can be your perfect travel companion.
The sitka spruce wood that was used in this guitar is more durable compared to another wood material that is used in other guitars such as cedar.
When closely compared to cedar, a spruce wood is made to last longer.
Sound
We have no issues in terms of sound in the Yamaha FS800.
As a matter of fact, this guitar's sound is incredible that you would not think that it is coming to a guitar of this size.
Surprisingly, the sound is full and bright, with the right amount of resonance. It balances all the features you would like a guitar to sound like.
Value for Money
Money-wise, I think I would place my bet on the Yamaha FS800.
Think of the features this guitar has. Incredible craftsmanship, high-quality wood materials, perfect concert body size,  and overall outstanding sound profile, all in an amazing price.
Buying the Yamaha FS800 can be one of the best buying decisions you've ever made.
RELATED: Yamaha FS800 Review
A California-designed acoustic guitar that's packed with good features, at a price every beginner can afford. The Orangewood Rey is one of the best acoustic guitars for seriously beginner players.
What impresses me about this guitar is its amazing loud sound(I was expecting it to have a mediocre cheap sound.) Access to higher notes maybe not that smooth, but it's tolerable. Another thing that I like about it is the low action, which makes it incredibly comfortable to play.
In terms of overall sound, it may not be the best on this list, but it's quite good for beginners already.
Materials
The Orangewood Rey acoustic guitar has a solid mahogany top, mahogany-layered back and sides that comes in a natural satin finish.
Durability
It's designed in California, which is a good thing. But its production is in Asia.
With a guitar at this price-point, some compromise is necessary, so durability may not be its best asset.
Sound
What I like about this guitar is the loud bass response. It immediately caught my attention right away. Not only that, overall, it's quite loud, given that it's a grand auditorium size, though I'm having a problem with its clarity
Value for Money
Comfort and sound are some of the best qualities this guitar has. Coming at an incredibly cheap price, it really provides a real deal for your money.
The Martin LXM Little Martin proves that bigger doesn't always mean better. This travel guitar produces a sound that's comparable to a full body guitar without actually being a standard full body guitar. While most travel-sized guitars are expected to have a brighter tone to them, the Martin LXM Little Martin surprised me with its deep and rich tones.
Appearance wise, this guitar could have been better off with another wood selection. The LXM Little Martin features a Spruce pattern HPL (High-Pressure Laminate) plus a textured finish top in a Mahogany pattern.
Although HPL just means plastic that's made to look like wood, the choice of material on the LXM Little Martin does not affect the sound in any way.
That said, this guitar makes a great companion for travel. It is also a viable option for kids who want to start learning how to play guitar. And lastly, if you are a fan of Ed Sheeran, it may be good to note that his primary guitar nowadays is a travel guitar.
The Taylor GS Mini is a beautiful compact guitar that surprisingly bigger and fuller sound. Its deep and rich tone is thanks to its select woods – it comes with a mahogany top, layered Sapele back and sides, and an ebony fingerboard.
Plus, by just being over 36″, this guitar is more portable than most other options. It's perfect for traveling and for events, making it the perfect guitar for the musician who is constantly on the road.
I would highly recommend this 6-string guitar for those looking for a long-term guitar. The Taylor GS Mini is an affordable investment that will stay with you for the long haul. It's durable, ages beautifully, while also delivering consistent sound quality.
Read: Taylor GS Mini Mahogany Review
Ask any expert guitars players about their most recommended acoustic guitar for beginners and they would tell you the same thing: it is Yamaha FG800.
Yamaha's FG series is their best guitar product lines and it wouldn't be that way for no reason.
What makes this the best beginner acoustic guitar is its straightforward sound and durability that could last a lifetime.
As your skills improve overtime, you'll also notice that guitar sound becomes fuller and deeper. This is because of the wood material that makes it sound better as it age.
The Yamaha FG800s is reliable guitar that will journey with you from being a beginner to an expert player.
Materials
The Yamaha FG800 is made from the same from standard wood materials you will see in other guitars.
It features a solid sitka spruce top, nato back and sides, rosewood fingerboard and bridge, die cast tuners and comes in a natural finish.
Durability
Yamaha has always been known to produce high-quality and durable guitars. The brand is almost synonymous to being a long-lasting brand.
Major improvements were done in the new FG800 which makes it more durable for surprisingly exact the same price. Not bad, huh?
Sound
One of the enhanced features of the FG800 is its bracing. It sets itself apart from the traditional bracing structure and now comes in a newly developed scalloped bracing.
What this new feature does is it improves the natural sound on this acoustic bad boy, with an increased low and a much richer harmonic tones in the mid, giving it an overall balance mix of sound profile.
Value for Money
With the new improvements in materials, build, and sound profile, buying the Yamaha FG800 can really make you get more than what you have paid for.
Not to mention quality that the brand brings to the table, this is probably one of the best guitars in its price point which makes it deserving to be the best guitar in this list.
RELATED: Yamaha FG800 Review
If you're in the market for an expensive-looking guitar but with an affordable price, the Oscar Schmidt is a great option. The Schmidt OG2SM-R-U is a dreadnought guitar with a Spalted Maple top, Catalpa sides and back, and a standard X bracing.
The best thing about it is how smooth and easy the frets are, making it a great companion for long hours of play. It also has precision low action and resonant sound quality – a great addition for such an affordable guitar.
Personally, I would recommend this guitar for both beginners and for those who are looking for a solid guitar to practice their skills with. Not only does it have a professional look and identity, but it also provides users with expert-level sound.
If you're looking for a guitar that has it all, look no further as the Fender CD-60S will give you great satisfaction. The CD-60S has a dreadnought body style with scalloped X bracing, producing a remarkable sound you surely won't forget.  Belonging to Fender's long list of popular models, the CD-60S is one of the best acoustic guitars for beginners.
Materials
Boasting a solid construction topped with high quality materials, the Fender CD-60S features a solid mahogany top, back, and sides. Fender makes sure that it does not just have a killer sound, but also eye-catching details and design.
With monochromatic neck and body binding and mother of pearl acrylic design surrounding the sound hole, the CD-60S graces you with its natural wood finish.
Aside from an outstanding body and top tonewood, the CD-60S features a mahogany neck with a rosewood bridge and fretboard that has 20 frets, 24 3/4″ ѕсаlе, аnd а nut wіdth оf 43mm.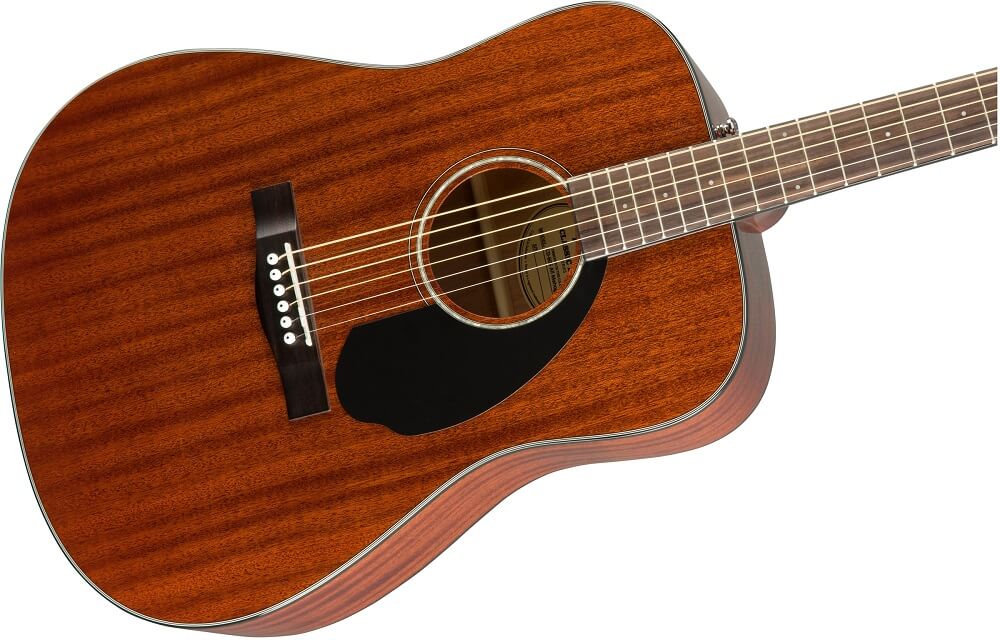 Durability
Coming from a well-known brand that produces world class guitars such as the Stratocaster, the Fender CD-60S does not have a questionable durability. Since the CD-60S is mostly made up of mahogany, it's guaranteed to last a long time. Mahogany is one of the most commonly-used tonewood when it comes to producing high quality acoustic guitars.
RELATED: Fender CD-60S Review
Sound
The CD-60S has excellent tonewood that produces an amazingly warm and mellow tone that's sure to send chills down your spine. Due to its scalloped X bracing, its tonal properties is enhanced with extra resonance and projection each time you play.
Value for Money
With its budget-friendly price, you're getting more than what you paid for with the CD-60S. Aside from its quality and features, the CD-60S comes with a hardshell case, guitar strap, guitar picks, guitar strings, and a clip-on digital tuner.
You want to straight away play an acoustic guitar. At the same time, you are not sure if you are really that committed in playing.
Soon, you may or may not continue playing. If this perfectly describes that situation that you are in right now, then the Jasmine S35 suits you well.
Materials
The Jasmine S35 features a laminated spruce top, laminated nato back and sides, rosewood fingerboard and bridges, nato neck, and comes in smooth satin finish.
Durability
This guitar may not be made from the same solid wood materials as the previous ones from above, but with extreme proper care and maintenance, like most other guitars, the Jasmine S35 is sure to stay with you.
Sound
When played right out the box, it sounds great. With a proper setup, this can even compete against much more expensive guitars.
Value for Money
With a guitar this cheap of a price, you can never go wrong with buying the Jasmine S35 acoustic guitar. Any beginner acoustic guitar player would find this guitar great for its price.
For its materials, build, craftsmanship, and sound, I think that this is probably the cheapest in the beginner's acoustic guitars line.
RELATED: Jasmine S35 Review
As pretty as its brand name, the Jasmine S34C NEX Acoustic Guitar can easily capture your heart with its attractive aesthetics and natural gloss. But it's not just about the outside features, as the S34C NEX is a great sounding grand orchestra-style guitar with Venetian-style cutaway. Featuring with its very own Advanced X Bracing, beginners will surely be amazed of what the S34C NEX has to offer.
Materials
The Jasmine S34C NEX features a laminate Spruce top and sapele back and sides, providing amazing tone and sound. The Jasmine S34C NEX features a slim mahogany neck a rosewood fingerboard complete with a natural gloss satin finish, which does not only serve aesthetic purposes, but also helps with the resonance of the guitar.
RELATED: Jasmine S34 Review
Durability
Featuring sapele (also known as "African mahogany") as its body, the S34C would greatly survive the test of time. Since sapele and mahogany have very similar properties, you need not to worry about the S34C's construction and durability.
Sound
Due to its tonewood, the S34C NEX produces a very powerful and direct tone, as well as incredible clarity even with aggressive playing. The S34C NEX has a thin waist, therefore producing a crisp and bell-like tone which is ideal for fingerpicking.
Value for Money
Popular especially to beginners, the Jasmine guitars possess outstanding guitars having great playability and easy handling- not to mention its affordability. And the Jasmine S34C NEX is no exception.
FAQ (Frequently Asked Questions) by Beginner Guitarists
Is Acoustic Guitar Good for Beginners?
Definitely, the answer would be 'it depends,' because players have different preferences. However, comparing acoustic with electric guitar, the former is advantageous for some reasons. Acoustic guitar might be good for beginners since you can play it outright, handy and can be played without an amp and other music accessories.
How Much Should You Pay for a Beginner Guitar?
You can buy a guitar alone or bundled with other accessories. Yet, it's wise to buy a guitar starter pack for beginners since it comes with everything you need to get started. But, no matter how much your budget is, you should only pay around $200-$700 for a beginner guitar.
Is it hard to learn acoustic guitar?
Yes, it's hard to learn acoustic guitar, especially for beginners who have no background on playing any guitar. However, once you learn the basics – chords and picking style. Once you've developed crafted your style, playing songs and making music will just be effortless. Just the beginning is a bit challenging.
Can You Teach Yourself to Play Guitar?
Of course, yes! If you are willing, you can teach yourself to play guitar in a lot of different ways. You can take online courses, watch YouTube video tutorials or download guitar apps. You can also buy a song book with chord guide to get aid your learning and practicing.
What is a good cheap guitar for beginners?
If you think a good cheap guitar for beginners is something that cost under $200, we recommend Yamaha FG800, Epiphone DR-100, Fender FA-100 and Ibanez IJV50. These guitars are versatile, durable and give more value to your money. Though low-cost, these are quality guitars, so you're like buying premium ones.
Is it better to learn guitar on an acoustic or electric?
For complete beginners, it's better to learn guitar on an acoustic than electric. Acoustic guitars are easy  to use, straightforward and have everything you need to get started. However, if you are already starting out and want to explore more possibilities with your signature style, go for an electric guitar.
What is the best way to teach yourself guitar?
The best way to teach yourself guitar is they way you're more comfortable with. You can find a teacher, get online lesson programs, watch YouTube video tutorials or find a practice partner. Learning the basics – chords and strumming – before jumping in learning to play one full song on your guitar.
What makes a good acoustic guitar?
Depending on your preferences, there are factors that make a good guitar. The most common ones are the action, neck width and body size. An acoustic guitar is good if these three gives comfort and ease when playing. You can add the construction and materials in the consideration, as well.
How to choose a guitar for beginners?
Choosing a guitar for beginners is a bit daunting due to the tons of options available. But, you can pick a great guitar if you know the genre you want to play, your budget and the right size you're more comfortable playing. Reading user reviews is another great deciding factor.
What is a Dreadnought Acoustic Guitar?
Dreadnought acoustic guitar is the most common type of acoustic guitar body. It's larger body gives way to a bolder and louder tone. Originally developed in 1916 by C.F. Martin & Company, this guitar body construction has been popular since then. Other guitar manufacturers copy this guitar body style.
How to Buy Guitar for Beginners?
You can start deciding whether to buy acoustic or electric. Choose the shape and style of the guitar you prefer. Then, you decide the budget you can afford to spend for your new guitar. It is also important to see the product in person when you buy guitar for beginners.
Are Guitars Tuned when you buy them?
No. Most guitars are not tuned when you buy them. Although some users claimed that Carvin guitars are in-tuned out of the box, most guitars really need tuning. You can simply use a digital tuner, a tuning app or the traditional harmonic method to tune your guitar anytime and anywhere.
What is the Best Size Guitar for Beginners?
The best size of the guitar for beginners depends on who will use it. For children 2-5 years old, ¼-sized guitars is perfect. Children 5-8 years old can play ½-sized guitars. Guitarists 8-12 years old can use ¾-sized guitars, while adults or children with big hands can use full-sized guitars. You can view our best acoustic guitars for kids reviews here.
Are Small Guitars Easier to Play?
Sometimes. It's not always true that small guitars are easier to play compared to large-bodied guitars. There are other factors that make a guitar easy to play and that include low action, fretboard, neck width, string gauge and so much more. Don't pick the small one, pick the right one.
Is bass easier to learn than Guitar?
Bass guitar has longer neck with thicker string, so it's heavier and needs greater effort to fret notes correctly. Guitar, on the other hand, is easy to use, lightweight and requires lesser effort to fret notes accurately. So, for most players, bass isn't easier to learn than guitar in general.
How to Tune a Guitar String?
Tuning a guitar string is an important skill that every guitarist should master. There are many ways to tune a guitar string. You can do it with a chromatic tuner or pitch tuner, tuning app, matching pitch with keyboard or the fifth fret method (lowest E string should be in-tune).
Which Is Better – Classical Vs Steel-String?
Classical and steel-string are both acoustic guitar, yet they differ in a lot of things. These two prominently differs in strings and sound. Classical guitar has nylon strings and produce mellow and softer sound. While steel-string guitar has steel strings, so it makes bright and twangy sounds that resonate longer.
Which Is Better – Electric VS Acoustic Guitar?
Probably one of the most commonly asked questions, electric and acoustic guitar has lots of similarities and differences. While both are easier to play, acoustic guitar doesn't need to be plugged into other music equipment. Additionally, electric guitar comes with a lot of electronics onboard, which acoustic guitar doesn't have.
What do I need to start playing guitar?
The very first thing you need to start playing guitar is having a guitar itself. When taking guitar courses, it's better to apply what you're taught. Learn the chords and develop your strumming style before trying to learning a song. Yet, nothing beats a good instructor or a practice partner.
How long does it take to learn acoustic guitar?
Learning to play acoustic guitar really depends on your determination, interest and the time you spend practicing every day. If you're taking this endeavor seriously, it doesn't take long to learn acoustic guitar. Perhaps, in six months with daily practice, you can learn to play a lot of things already.
Is it easy to learn piano after guitar?
No. In most cases, it's not easy to learn piano after guitar. When you play guitar, you fret one hand and strum the other. Yet, with piano, you'll use both hands. Aside from this, the fingering of the guitar is the index finger, while that of the piano is thumb.