Back: Canadian Wild Cherry
Sides: Canadian Wild Cherry
Fretboard: Genuine African Ebony
Guitar prices can cost up to $4000 depending on the build, quality, and brand. But if you are working on a budget, paying 4000 bucks for an acoustic guitar could be too much.
Luckily, a 500 dollar price bracket is available for those who would want to enjoy a good guitar experience without having their wallets bleed.
I have created this list of best acoustic guitars if you have a budget of $500 and under.
Shall we get started?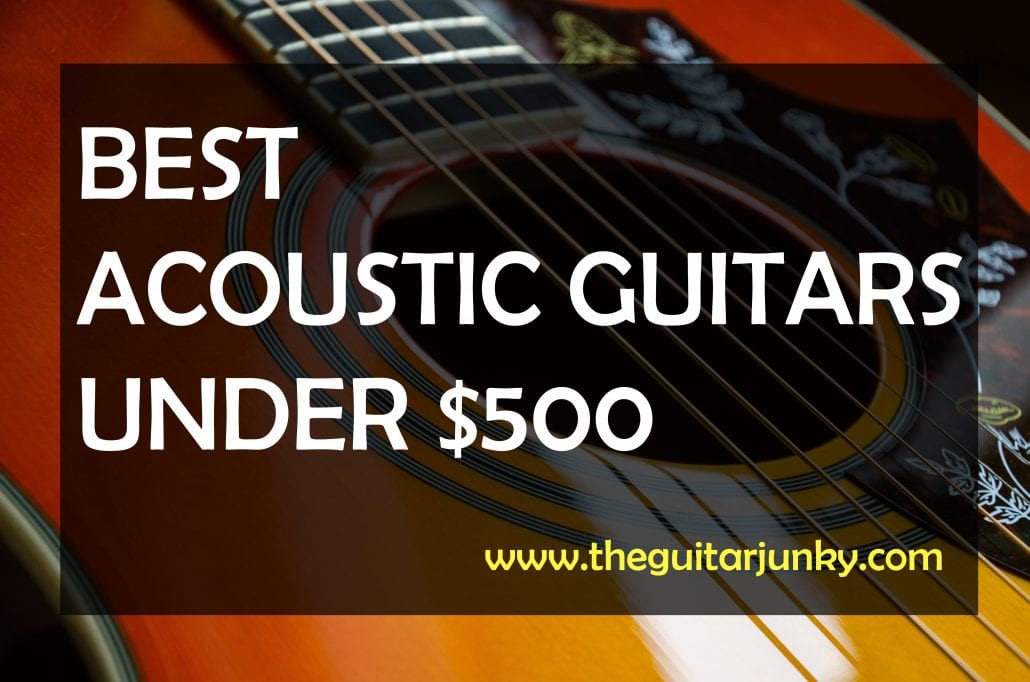 5 Best Acoustic Guitars Under $500 (2018 Reviews)
Under its Original Series, Seagull offers the market an acoustic dreadnought excellently handcrafted with quality Cedar wood—the S6 Original.
When you get your hands on this instrument and start strumming a chord or two, you would hear a beautiful and warm full rich tone—a testament to the skill and thought process that had contributed in the building of this acoustic.
Albeit its plain traditional aesthetic, the S6 definitely boasts a quality craftsmanship, durability and playability that surprises professional guitar players due to its modest pricing.
The guitar's top is made of Solid Cedar that had been pressure tested in order to produce a warmth and depth of tone that you can only get from instruments made of solid wood.
Its neck made of stiff Silver leaf maple has a shorter 24.84 inches scale that improves playability and its wide fretboard makes it feel like a classical guitar that makes fingerpicking a breeze.
Godin definitely got the S6 right with a quality that would make you feel like your playing a thousand dollar instrument except you really paid for less.
Popular for offering to the market quality guitars with great sound at affordable prices, Yamaha does it again when it introduced Yamaha FG840 as an addition to it FG series.
Aesthetically speaking, this dreadnought has a high-end appearance attributable to the complementary combination of a Flamed Maple back and sides and a solid spruce top.
It would also be noted that the guitar has scalloped bracing design which combines with the solid wood of its body allowing it to produce a powerful and balanced acoustic sound that is leaps ahead of its predecessors.
Another notable feature of this dreadnought is the stability and sturdiness of its neck which is a plus when it comes to playability.
The FG840 is the kind of guitar that would continue to impress you the more it ages.
So whether you are a beginner player or a professional musician, this acoustic guitar would definitely suit all your needs.
When it comes to the Taylor GS Mini, do not let size fool you.
It may be a scaled-down version of Taylor's Grand Symphony Line, but this ¾ guitar still carries the acoustic punch of a full-sized guitar that would leave you pleasantly surprised.
This portable six-string is perfect for anyone but it is highly recommended for those travelling musicians or even a beginner guitar for kids.
With a solid mahogany top, the GS Mini produces a woody, dry tone—a usual sound for guitars with mahogany as a top wood.
And as it carries the Taylor brand, this acoustic guitar will definitely not disappoint when it comes to durability, playability, and quality.
The Epiphone Hummingbird Pro flutters into the acoustic guitar market with a promise of living up to Epiphone's brand of producing quality guitars at affordable rates.
It is an eye-catcher of a guitar what with its Cherry Sunburst Finish and intricately designed pickguard.
But the Hummingbird Pro is not just about the visuals, with the solid wood body and top, this acoustic guitar produces a wonderful full, warm tone that is a sensory experience in itself.
A definite steal for the price, it can be used for just about any activity—jamming with friends, practicing for a gig or even performing in small venues.
The Hummingbird Pro may not be a Gibson, but it sure can deliver your needs.
Taylor guitars are known to be one of the high quality guitars in the market today but the price attached to such quality is quite hefty that is, until they introduced the Taylor Big Baby line.
A dreadnought acoustic guitar, the Big Baby is but a fraction smaller than the full-size dreadnoughts Taylor offers.
But just like its little brother, do not let the portable size fool you because the Big Taylor can definitely perform big.
When it comes to sound, it really boils down to the kind of wood used in building the guitar. With this acoustic, the solid Sitka spruce top is responsible for the incredible sound the Big Baby produces.
As it is with every other Taylor guitar, this is one purchase you can never really go wrong with.
To Wrap Things Up
When it comes to purchasing any product, the bottom line would always be quality in relation to the offered price.
The same goes to buying an acoustic guitar.
You would want to ensure that you had invested your money in an instrument that is worth your while, right?
Do you agree with the list? Let us know by leaving your comments below.