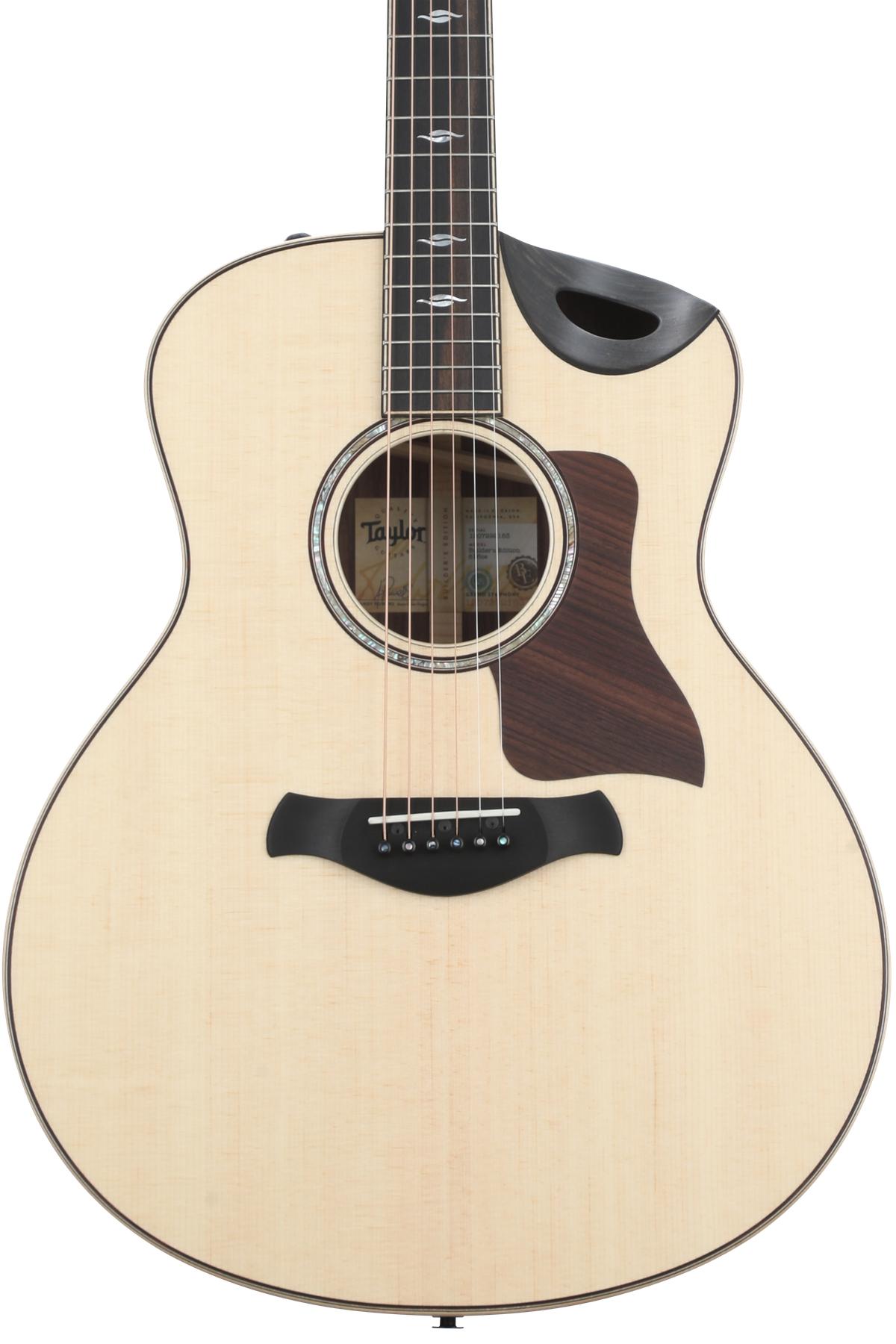 After extensive hours of research, we found out that Taylor 816ce Builder's Edition is the overall best acoustic guitar.
Coming from one of the best guitar brands, Taylor really has really perfected the art of guitar-making over the years.
And the 816 is a testament to that.
What brand? What model? What color? What build? What material?
These are only some of the questions that we should ask ourselves when looking for the best acoustic guitar.
There are plenty of guitars sold here and there—everywhere, but only some of them are of quality and worthy as investments.
A long-lasting guitar will give money more value than cheap guitars that needs to be fixed every once in a while.
Whether you a beginner, a budget-seeker, someone who has a budget for a decent guitar, or someone who's giving your kid or someone's kid a guitar, this guide is for you.
This article will show you the best guitars suited for all players regardless of age, playing style, genre, and budget. Let's get started.
The 10 Best Acoustic Guitars in 2021
Blueridge BR-183
Blueridge BR-160
Taylor guitars exudes the excellent quality that made the said guitars known for: beautiful guitars with a crisp and deep, singing sound making the price tag reasonable.
From the garage to concert halls, one can be a notch better when using the 816ce, and it definitely deserves to be the overall best acoustic guitar on this list.
With Martin Style 28, one thing is for sure- it definitely belongs on this top 10 tier list on the best acoustic guitars. Crafted from selected materials, Martin has really set the bar high for Martin Style 28. What makes it separate from all other guitars on this list? Well, as per Martin's, it's the "tone."
Want to own an authentic Taylor guitar with all its exquisiteness, good electronics and flawless aesthetics without breaking the bank? The Taylor 214ce is perfectly for you.
Taylor has been known to create world class guitars that have reached every corner of the world used in performances by great musicians, aspiring and professionals alike. With this certain model, you get the same quality and exquisiteness without burning hole in your pocket.
Boasting a classic shape and exquisite mother-of-pearl inlays, The Yamaha LL16 has the unique combination of well-rounded tone; superb playability and excellent dynamic range exemplified by the L Series topped buy its gorgeous aesthetic and world class material.
If one is a stage performer, the high-quality pickups capture every nuance of your playing, giving you the perfect vehicle to harness your inspiration and let your creativity flow making you the best musician you can be.
With its built-in reverb and chorus at your fingertips, the Yamaha FG-TA the most inspiring, engaging acoustic guitar you'll ever play and its play time anytime, anywhere, and it's our 5th best guitar on this list. No need to buy those fancy amplifiers. All you need is you, your passion, your music, this guitar and you are good to go!
One of those looks good sounds even better instruments. A guitar beautifully made paired with excellent tone and quality. If you are on a budget but still wants to get every ounce of quality your penny can give you, then consider getting the Seagull Artist Mosaic.
Solid and compact body build and–for the price–can't be beat if you are looking for a guitar with a cedar-material top. If you are into finger picking and finger style guitar, this one is a better but can also handle light to moderate strumming.
Classic vintage style beauties with the modern improvements in playability and construction of these guitars that make up the Historic Series have all the traditional features usually found on pricey vintage guitars.
However, the Blueridge BR-183 costs significantly less making it suitable for those old souls who still wants to rock an aesthetically pleasing piece of art.
The Martin DRS1 Road series has a top, back and sides crafted of solid sapele and braced for resonance and projection. This guitar also comes with a built in volume control making life easier for on the go players. With the design originally designed for travelling, the Martin DRS1 is not only made for mobility, but also budget friendly.
Last on this list is the Blueridge BR-160. This pre-war fashioned Herringbone dreadnaught has the looks of class but the sound of modern technology. The prewar forward-X pattern is highlighted by the sturdy top material as well as the intricately hand-carved parabolic top braces.
To make this great guitar even more amazing, Indian rosewood are used for the guitar's back and sides to give that strong bass. A good sounding guitar is pretty much useless if it is very hard or uncomfortable to play so, slim mahogany is used for the neck to ensure optimal comfort.
For Beginners
This fella, the Yamaha FG800, is great for beginners and advanced players alike.
It features a solid top with scalloped bracing, Nato/Okume back and sides, chrome tuners, a rosewood fretboard and a tortoise shell pickguard which not only makes it look good, but also sound good at a very affordable price making it a good choice for beginners.
Seagull S6 Original Acoustic Guitar
An exquisite domestic wild cherry back and sides provide a unique tone on Seagull S6 Original, putting it together with the warmth of mahogany plus the crisp definition of maple.
In addition, the silver leaf maple neck on a shorter 24.84 inches scale with a rosewood fret board is easy on the fingers while specially aligned machine heads make for quick, stable tuning that makes it perfect not only for professional and expert players, but also to those aspiring beginners.
The mahogany Fender CD-60s acoustic guitar is a masterpiece well-crafted and well suited for beginner to intermediate players who wants to have a versatile, high-quality dreadnought at an affordable price. And this dreadnought style body and scalloped "X"-bracing provides extra resonance and projection when you play giving a clear tone off the box.
As good as it sounds; it also looks very pleasing to the eyes, featuring a Natural finish, black and white neck and body binding, chrome tuning knobs, and a "mother of pearl" style acrylic design around the sound hole.
Under 1000 Dollars
The Taylor 214ce certainly exudes the excellent quality that Taylor guitars have always been known for. For an acoustic guitar that costs under a thousand dollars, it is quite surprising how it even surpasses the more costly ones in several aspects.
With the exquisiteness of its craftsmanship and the precision of its sound, you do not only get the value for your money but way more than what you pay for.
Giving you a bang for your buck, the Martin Road Series DRS2 gives players an affordable performance-ready dreadnought acoustic-electric that does not compromise that legendary and all too familiar Martin tone, quality, and playability.
The most affordable solid wood sapele/spruce model available from Martin Guitars does is packed with all the essentials such as the 14-fret dreadnought body made from solid sapele back sides with a solid sitka top for amazing balance, tone, and projection.
Ready to take on any performance, this guitar comes equipped with Fishman Sonitone electronics to offer great plugged-in performance and sound making it not only purchase for value but a play anywhere kind of guitar.
Also Read: Martin DRS2 Review
A pre-war inspired "Herringbone" dreadnought, the Blueridge BR-160 is definitely one of the best acoustic guitar in its price range. Just take a look at its specs: Solid Sitka spruce Top, Solid Santos rosewood back and sides, choice Santos fingerboard, and other spectacular features that makes it worth for its price.
Under 500 Dollars
Taylor, best known for blending an innovative use of modern technology with a master craftsman's attention to detail, their guitars are widely considered the best sounding and easiest to play in the world and this baby is no exception to it.
With solid Sitka spruce top and sapele-laminate back and sides, the Taylor Big Baby boasts a surprisingly full voice, comes with a lightweight gig bag for easy portability, and makes a trusty companion wherever you go — even if it's just to the couch. A baby for beginners and professionals alike.
The Yamaha FG840 acoustic guitar has louder and stronger sound in the low- to mid-ranges, thanks to cutting-edge acoustic analysis with the development of the new scalloped bracing patterns. It features a flamed maple back and sides that provides distinctive, exotic and high-end appearance even for its price.
The sound is transparent and each individual note in a chord is clear. Every aspect of the FG840 model is crafted to make a better guitar. From painstakingly cured and dried woods to beautiful hand-sprayed finishes and detailed quality control checks each and every FG is made to be a lifelong partner.
This slim beauty does not only cost less, it also looks good and sounds even better. The Epiphone HUMMINGBIRD PRO is obviously well set-up right out of the box once you use it with the action nice and low with no noticeable rattles.
Bar chords and open voicing are easy to finger and play clearly well up the neck making it easy to play. At 10% of the price of other guitars, this is a killer bargain.
Under 300 Dollars
This Yamaha FG830 acoustic guitar has an even louder and stronger sound in the low- to mid-ranges guitar, brought by the cutting-edge acoustic analysis with the development of the new scalloped bracing patterns.
Thanks to the mahogany back and sides, it has a warmer and stronger sound and topped with the body binding and fret board binding being cream plastic, for a nice upgraded look.
And finally, the small and thin body is perfect not only for small or young players but for intermediate to upper level finger-picking style players. From painstakingly cured and dried woods to beautiful hand-sprayed finishes and detailed quality control checks, this guitar will surely see your journey from beginner to a master.
An Epiphone AJ-220S is an acoustic guitar that will surely make you be heard. With a unique Advanced Jumbo design, plus real spruce and mahogany tone woods, this guitar produces a robust voice with rich bass notes and a shimmering, detailed presence.
It's a perfect instrument for playing in acoustic ensembles, ensuring you'll be distinctly heard even with many other instruments to compete with. The tone will enhance as the wood matures thanks to the solid Sitka spruce for the top and solid mahogany for the back and sides.
The real tone woods are not something you can have in cheap and affordable guitar, but then again this guitar, although affordable, is not cheap at all.
The Bristol BD-16 was created to bring the traditional sound of the mountains and quality guitar construction to even the most budget-conscious player at any level. Why burn holes in your pocket when you can have quality for less?
Using the finest spruce and mahogany, tone woods carefully handcrafted by skilled artisans with years of experience to create this wonderful masterpiece. The vintage designed forward-x top bracing is lightweight but strong enough to ensure great carrying power and resonance.
Added by the slim mahogany neck features a fully adjustable truss rod to guarantee perfect alignment at all times and voila! – A light and sturdy guitar that will not break a bank.
Under 200 Dollars
The Fender FA-115 acoustic guitar offers great sound quality and tremendous value to everyone.
This rich-sounding dreadnought acoustic guitar with a spruce top with X bracing for full and resonant sound, body binding, exclusive Fender headstock shape, Fender pick guard, smooth-playing 20-fret hardwood fingerboard, rosewood bridge with compensated saddle, forward strap button with internal block reinforcement, and chrome hardware.
Do not let the affordable price of this guitar fool you into thinking that this is of low quality. Boasting a fingerboard made from rosewood, a select spruce top, a 14-degree headstock that gives you more pressure at the nut and finishes available in ebony, natural and vintage sunburst, the Epiphone DR-100 is surely more that what you are paying for.
This great-looking dreadnought acoustic guitar with a big, bold sound and excellent features that represent exceptional value is really a must have. Perfect for any player seeking a well-built and easy-playing guitar, this model features a select spruce top with Jasmine's Advanced "X" Bracing, and agathis back and sides making it light but sturdy.
The slim neck and full 25 1/2″ scale length provide comfortable feel and excellent playability, and the smooth satin finish maximizes resonance for optimal sound quality making it good to the feel and luxurious to the touch. Other great features include a rosewood fingerboard and bridge, full body binding and chrome tuners as well.
For Kids
This JR1 from Yamaha is fully equipped with the legendary quality and playability the FG Series, designed for the younger player, frequent traveler, or anyone who is more comfortable with a smaller-bodied acoustic. Meticulous selection of woods goes into the building of every single Yamaha guitars and this one is of no exception.
Features include a spruce top, nato neck, rosewood fingerboard and chrome hardware. This compact guitar delivers authentic acoustic sound anytime.
If you are looking for the perfect first-timer guitar for children, the Fender MA-1 is the one for you.
The shorter string scale length and smaller sized body and its smooth satin finish serves to benefit beginner guitar players for an easier and more comfortable playing experience that will ensure that they stick with the instrument through whatever stage of guitar lessons.
The full tone you will get from this guitar totally contrasts the smallness of its size, you could not ask for a more perfect children's beginner guitar.
This smaller package that does not in any way compromise the sound quality that Gibson Maestro is also known for. This guitar comes together with a beginner's kit that proves to be beneficial to anyone interested in learning the ropes of playing the guitar.
Having a Maestro as a starter guitar will set you off for a promising and fulfilling learning experience in guitar playing. With its smaller size is the perfect gift for a child who has just discovered an interest in playing musical instruments.
It is the complete package which you can avail of at a cheaper prize. Cost-friendly, child-friendly, and beginner friendly, the Maestro guitar is all these things.
For Travelling
The Washburn RO10 Steel String Travel Acoustic Guitar is the ultimate travel buddy guitar! Play any time or any place with ease. Bring this guitar with you when you're on a plane, a boat, a car, the beach, camping, and hiking–anywhere.
It already comes complete with case, instructional CD, strap and picks. Fits in an airplane overhead and is the perfect guitar travel companion.
The first and the only hybrid carbon fiber and wooden acoustic travel guitar ever built.
The Klos Carbon Fiber Travel Guitar features a high quality mahogany and blackwood neck, a carbon fiber foam core sandwich soundboard, a carbon fiber body, blackwood bridge, D'Addario 11 gauge steel strings and an ABS nut, saddle, and bridge pins.
No wonder it is the best companion for traveller-musicians, both beginner and expert alike.
There's so much good to this Martin Backpacker guitar. At only two pounds plus some change, this little guy is super light and easy to carry. Once tuned up, and with a little stretching, it kept its tune within a few hours. Despite being a bit odd looking, this baby is easy to adapt to. A small compact but sturdy thing built as a travel companion.
Acoustic-Electric
The FSX830C has a cutaway body and the electric system Yamaha is known for. Yamaha's proprietary under-saddle piezo pickup and System66 analog preamp ensure the solid plugged-in performance.
The small and thin body is perfect not only for female/young players but for intermediate to upper level finger-picking style players making it a versatile instrument.
In addition, the smaller dimensions and lower propensity to feedback make FS guitars ideal for stage use. The system is powered by easy to obtain AA-size batteries that provide a stable power supply for improved sound quality making it easier to handle and maintain.
With upgraded Fishman Presys electronics, all-mahogany construction and the addition of a hard shell case, this Fender CD-140SCE electric acoustic guitar is surely an upgrade from its siblings.
The single-cutaway dreadnought body and solid mahogany top provide robust tone, and the easy-to-play neck is comfortable for all playing styles. Topped off with a tortoiseshell pick guard and mahogany head cap, this baby is ready for whatever you throw at it, at home or on the stage.
Right out of the box, the Epiphone EJ-200SCE has a perfect set up, low action, no fret buzz, and sounds great. The built in tuner is very handy making it very easy to use.
It sounds really good through an amp, as the dual pickups and blend function create a very versatile range of tones one can achieve quickly, or unplugged making it a great go to guitar. One can never go wrong with this one.
Buying Guide
One day you woke up and you realized your true calling is to be a musician—you need a guitar.
But then it hit you, what guitar should you buy? In this article, not only that we teach you on how to buy an acoustic guitar online, we also aim to educate you on the basics of guitar and to help you in making your first purchase wisely.
We will try to answer the basic questions to guide you in your purchasing journey.
Purpose
Like everything else, you must first ask yourself, why do I need a guitar? What will I use it for? And finally, how much can I spend for it? Once you have this figured out, everything else will follow.
What's Your Type?
If you plan on playing at gigs, you are good to buy an electric acoustic guitarso that you can plug it in an amp and rock the world of your audience, or if you only want a musical companion, an acoustic guitar is perfect for you.
However, if you plan on travelling with your guitar, it is best that you opt to buy the small ones for easier transport and try going for the carbon fiber guitars which is not susceptible to being affected by the temperature as oppose to wooden guitars that expands or shrink depending on the humidity of the place.
Genres and Strings
If you plan to play Folk or Classical Music, nylon string guitars are the best choice for these kinds of genre while Steel String Guitars are best suited for Rock, Country and Most Other Styles.
Not sure which style suits you? Check out this top acoustic guitar songs.
One must take note that strings of each kind are not interchangeable between Nylon String Guitars and Steel String Guitars, so you better make up your mind before purchasing.
And unlike Steel Strings, Nylon Strings may need to be tuned more frequently as they are more susceptible to involuntary adjustments.
Finally, with either type of string, fingers will become a little tender and sore at the beginning, especially to those who are not used to playing the guitar.
Wood It Matter?
Should you choose to go for wooden acoustic guitars, it pays to know your wood so that you know how your guitar will sound, different woods different tones, and more importantly, you'll know how to better take care of your instrument—research is the key.
Size Matters
Buying a guitar is pretty much like buying a shirt—you have to know what fits you. Now that you have a budget and a preference, you should know next which guitars fit you physically.
How does the body of the guitar feel in your arm? Does your chord hand feel comfortable around the neck? Do not mind the brand or price when doing this as this is only to allow you to know what body type you are most comfortable in playing.
Brand
Now that you know what you want and what fits you, you don't have to go out and about every store out there to look for the perfect guitar. Boot up your computer and let it do its magic. There are a lot of great guitar brands out there, but some of them are Fender, Taylor, Gibson, Epiphone, and Martin. Search in for the guitar that fits your budget and preference and then compare. Don't rush and take your time, all good things come to those who wait.
Final Thoughts
Always select the guitar that reflects your interest so that you won't waste money for buying something that does not fit your lifestyle. Do not rush it and always think it through, do you research and know more about what you are buying because the more you know, the more you can gauge what will be perfect for you.
With all the guitars available in the market, you can surely find something that will best suit your taste. You just need to know your playing style, your body preference, your guitar type preference and choosing your guitar will soon be a breeze.