What's Included: Kona Deluxe Acoustic Guitar, Guitar, Book, Audio CD, and Gig Bag
What's Included: Fender FA-100, Gig Bag, Tuner, Strings, Strap, and Picks
What's Included: Fender FA-115, Gig bag, Tuner, Strings, Strap, Picks, and Instructional DVD
What's Included: Yamaha F325, Gig Bag, Tuner, Instructional DVD, Strap, Strings, and Picks
What's Included: Yamaha F325D, Hard Case, Tuner, Strings, Strap, Picks, Austin Bazaar Instructional DVD, and Polishing Cloth
OUR #1 RATED BEST ACOUSTIC GUITAR STARTER KIT FOR BEGINNERS
Isn't it nice to buy something that comes in an "all-in-one" package?
This list is perfect for those who are in a budget and want to get the best value for their money.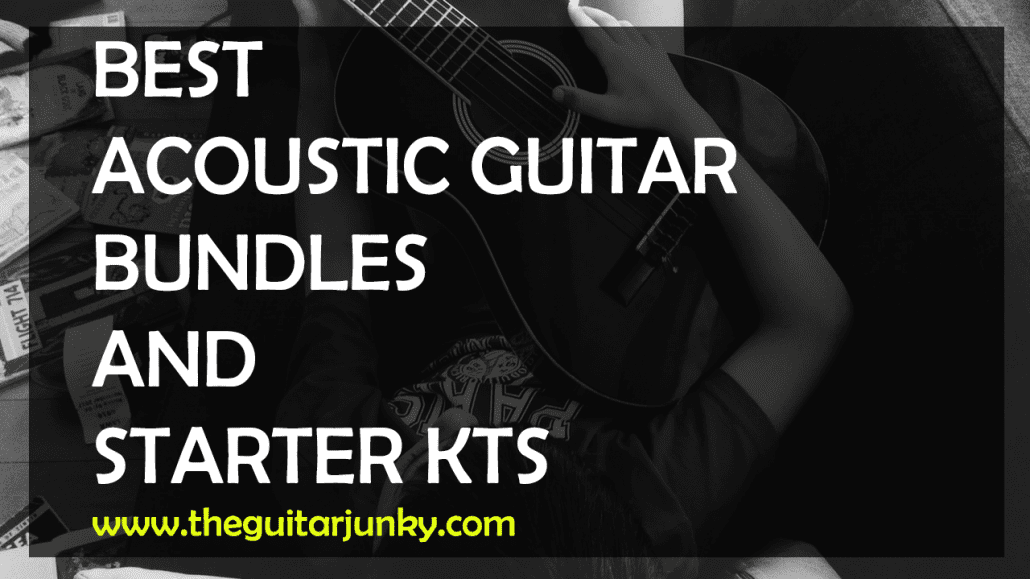 11 Best Acoustic Guitar Kit and Starter Packages 2019
The Best Acoustic Guitar Kit for Beginners

READ USER REVIEWS
Features
Full size dreadnought body
Rosewood Bridge
Compensated Synthetic bone and Saddle
Comes with a bunch of guitar accessories
Verdict
Its good to have some free add-ons when we buy something, right? This Fender Acoustic Guitar Bundle has everything to get you started with guitar playing: A guitar, strap, extra set of new strings, tuner and picks.
We have another Fender FA100 bundle as runner up, but we think that this one deserves the top spot as it is cheaper. Please do note though that because this is a bundle, the guitar model may not be specific so you may receive: an Fender FA-100, Fender Starcaster, or Squier.
Runner Ups
READ USER REVIEWS
Features
Full-size dreadnought body style
Spruce top
Mahogany back and sides
Natural satin finish
Comes with: waterproof gig bag, guitar strap, Electronic digital tuner, capo, extra set of strings, and pick
Verdict
The Bailando 41 guitar is not your ordinary looking guitar. It may not have the same standard look as with other guitars, but it sure does not differ in sound. For a relatively cheap price, any beginners would just love this guitar.
READ USER REVIEWS
Features
Spruce top
Comes with: clip-on digital tuner, strap handle, picks, audio CD, and 110-book "guitar basics for dummies"
Verdict
This is one of the legit right out of the box acoustic guitar for beginners. The Guitar For Dummies Kona Acoustic Guitar Starter Pack has almost everything you need to have to get started, plus an audio CD and educational book to really learn the basics of playing a guitar.
READ USER REVIEWS
Features
Fender FA-100 Guitar
Gig bag
Guitar strap
Clip-on digital tuner
Extra set of new guitar strings
Picks
Verdict
At an amazingly cheap price, you can have this Fender FA-100 Dreadnought Acoustic Guitar Bundle. You would be surprise on how great sounding this guitar is that you would exclude this in this acoustic guitars for beginners list.
But we're talking about making it easy for beginners to just start playing and this particular bundle does the job perfectly.
READ USER REVIEWS
Features
Spruce top with newly designed X-bracing
Basswood back and sides
Rosewood 20-fret fingerboard
Hardwood bridge
Comes with a new set of extra strings, picks, and a strap
Verdict
This Fender FA-115 Beginner Acoustic Guitar Pack is built with high-quality materials to ensure its durability. Another extra feature that makes it the best guitar for beginners is the 30-day free access to a hundred guitar lessons from Fender play to make anyone start playing immediately.
READ USER REVIEWS
Features
Spruce top
Dreadnought body
Rosewood fretboard and chrome tuners
Comes with: clip-on digital tuner, extra guitar strings, gig bag, and picks
Verdict
With a cheap price with a lot of accessories included, this Yamaha F325D Guitar Bundle is already a steal. Be careful though, if you're buying one for your kid, you might want to order one for yourself too.
Features
Comes with: gig bag, digital tuner, yamaha strap, yamaha guitar strings, picks, and gigmaker DVD lesson
Verdict
This is another great Yamaha bundle that includes a bunch of accessories that is perfect for a beginner. This Yamaha Gigmaker Standard Acoustic Guitar comes in natural and tobacco sunburst. Great bargain for a great bundle.
READ USER REVIEWS
Features
Come in 4 finish designs: Gloss vintage sunburst, natural, ebony, or blue
Laminated Spruce Top
Laminated Mahogany Back and Sides
EZ-pro Neck Profile
Compensated Tronical SpeedSaddle
Rosewood Bridge
Includes: extra set of strings, gig bag, and access to eMedia's online guitar lessons
Verdict
As its name implies, it is an acoustic guitar that is meant for beginners to sound like a pro.
With a few setup, the Epiphone Pro-1 Acoustic Guitar can sound almost the same as high-end guitars. Overall, its a great straightforward acoustic guitar that won't break the bank.
READ USER REVIEWS
Features
Comes in 3 finish designs: black, natural and vintage sunburst
Bundle includes: Guitar strap, guitar tuner, gig bag, chord chart, and picks
Natural top
Mahogany back and sides
Die-cast tuners
Verdict
This is one of the beginner guitars that I would highly recommend because of the add-ons included. The Silvertone SD3000PAK NA Acoustic Guitar Pack is a decent guitar that is perfect for any beginners who want to immediately start playing.
With its cheap price, you'll have a 30-day free access from thousands of online lessons from Guitartricks.com, who can beat that?
READ USER REVIEWS
Features
Dreadnought body style, perfect for all types of music
Spruce top
Mahogany back and sides
20-frets fingerboard
Comes with: guitar strap, gig bag, electronic clip-on tuner, picks, and polishing cloth
Verdict
The Donner DAG-1 Beginner Acoustic Guitar is a guitar with excellent features such as having a bold, loud and exceptional sound.
Donner has always make it a point to only produce the highest quality of guitars and this surprisingly comes at a cheap price.
Any new players would find the tuning pegs in black design really awesome as it is uniquely different from other standard chrome tuning pegs.
Features
Nylon-string acoustic guitar
Laminate linderwood top
Mahogany back and sides
Scalloped X bracing
Includes: Digital Tuner, Foot Rest, Extra Set of Strings, DVD Lesson, Polishing Cloth and Gig Bag
Verdict
Another one of "bang for the buck" guitar bundles, this Squier by Fender SA-150 Classical Acoustic Guitar is perfect for those who don't want to take the risk of carrying an expensive guitar anywhere. It has a good quality construction that makes it deserving to be a part of this list.
Resources to Help You With Buying a Guitar:
Conclusion
Anyone is the search for the best deals when it comes to buying something. And this list confirms that you can really hit two birds in one stone.