Fender Play First Impressions
The goal of Fender Play was to make learning faster and more accessible to learners. That said, this program is targeted towards absolute beginners, and for those who are interested in getting a refresher.
Plenty of guitar instruction programs are made for beginners anyway so those with more advanced skills may not benefit as much from programs like Fender Play.

On the flip side, there are a lot of things that make Fender Play the more attractive solution as opposed to attending traditional guitar classes. A quick visit to their website will lead you to a page with a beautifully clean and modern design.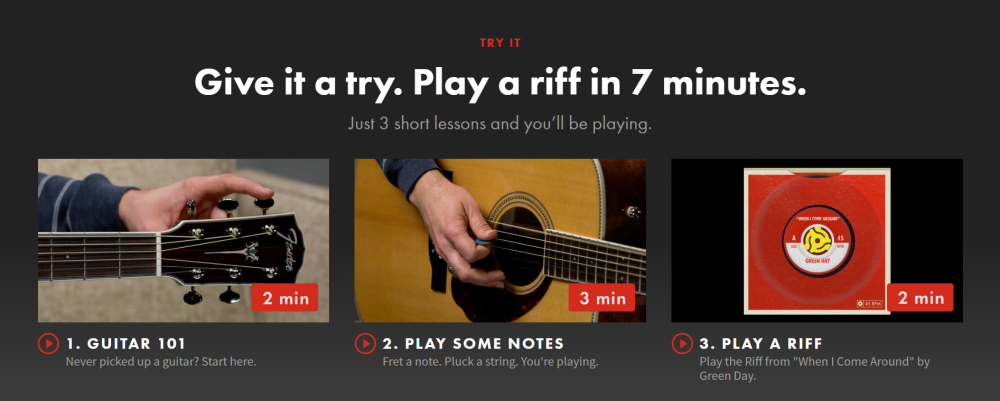 From there, you can already see an attractive list of lessons broken down into basics, chords, techniques, and more.
If you are interested in learning more about the Fender Play program, below is a digest of their highly-acclaimed features and perks:
What's in the Membership?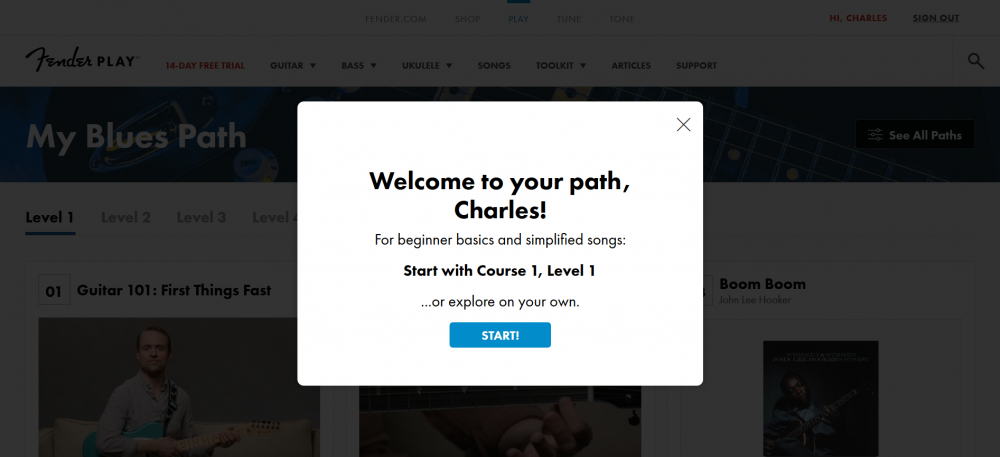 Simple Guided Learning Path
Learning online may provide convenience in terms of less travel time and accelerated learning speeds, but it also poses a lot of problems such as a lack of instructor-student communication and the inability to receive personal advice.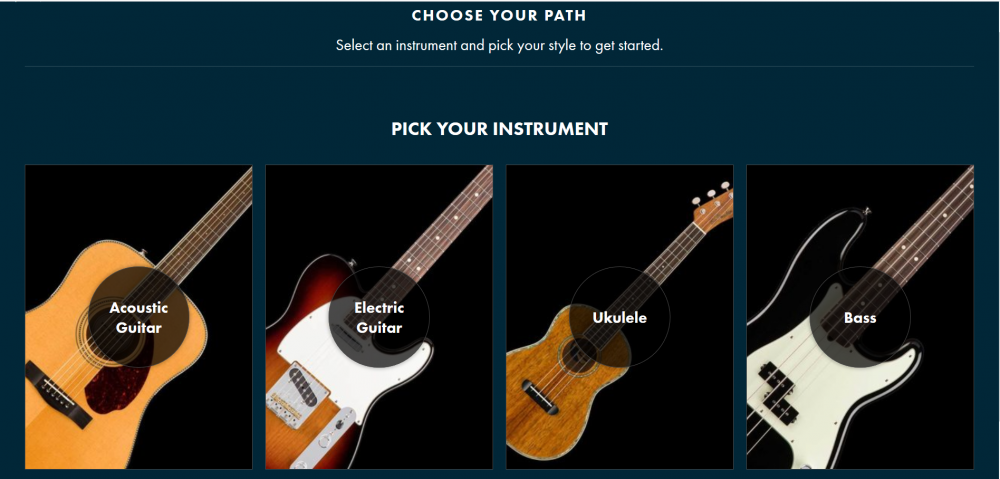 But Fender had successfully jumped over those hurdles by providing an easy-to-follow, step-by-step learning path.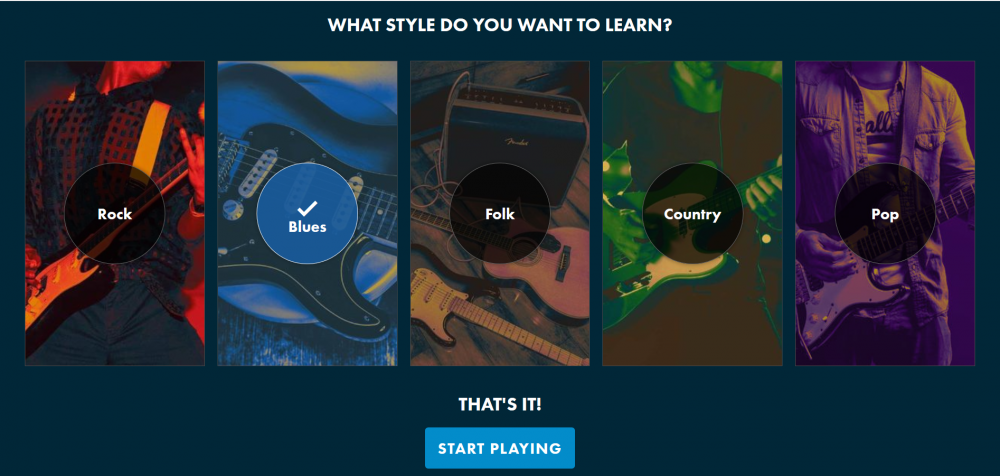 The flow of the lessons is appropriate for beginners, starting with super basic to lessons that will gradually help learners advance their skills.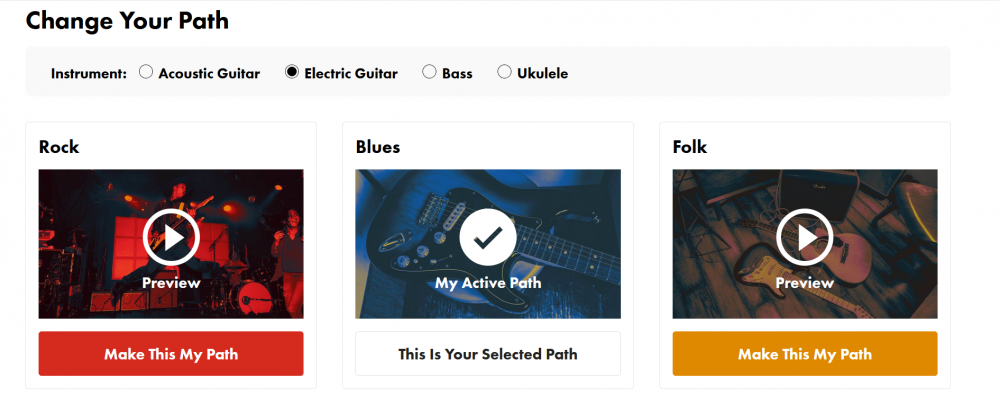 Lessons are organized neatly and categorized by type and difficulty levels.
Each lesson is also accompanied by a video instruction as well as a list of tools and depending on the type of lesson, guitar tabs are also included.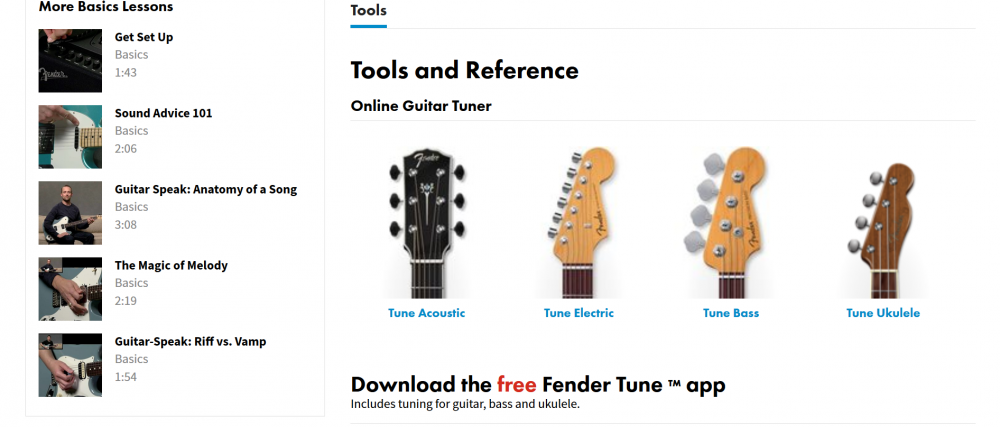 Every lesson is also broken down into bite-sized portions, allowing learners ample time to catch up and digest the lessons.
Access To Multiple Songs
From classic songs to recent popular songs, the Fender music library is rich and updated.
Beginners can choose from a wide array of songs, arranged according to instrument type and difficulty level.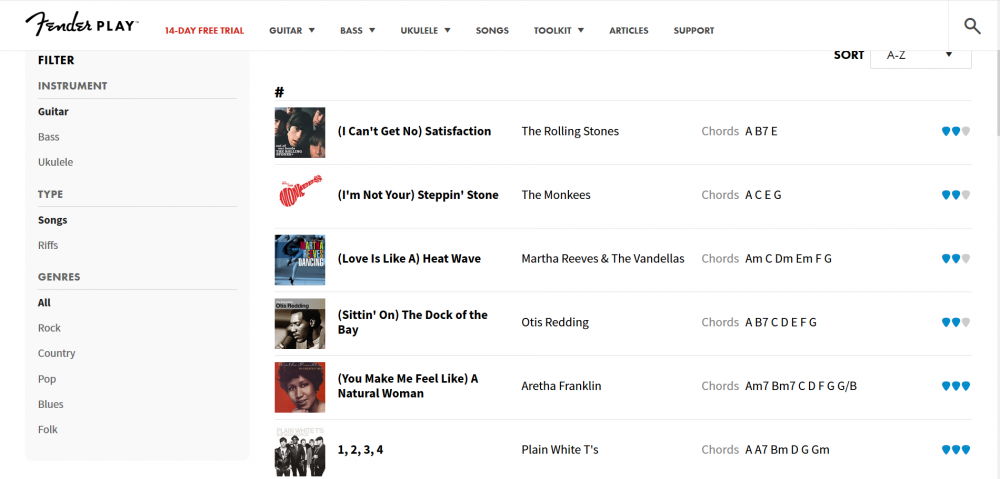 As mentioned above, guitar tabs are provided along with instructions on playing styles, techniques, and many more.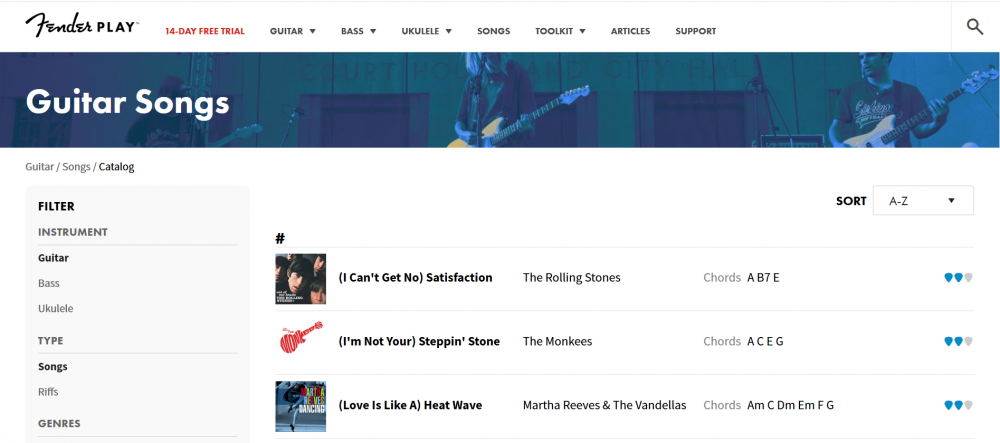 Based on personal experience, it is so important for learners to enjoy the song they are playing to keep their interest and motivation going, no matter how challenging it may be.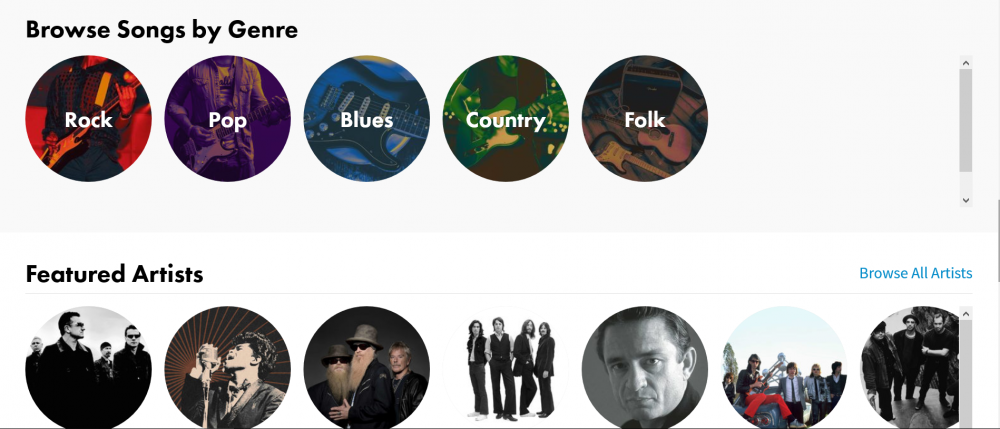 That said, having a huge selection of songs in the Fender Play program is a definite plus.
Progress Tracker
Fender Play is a self-learning platform which means that it takes some level of dedication and motivation from the user for the program to succeed.
For some students, tracking personal progress could be a source of motivation – a drive to help them push forward and work harder.
With that in mind, the Fender Play program also includes a Progress Tracker for their users.
Learners can take a peek at the lessons they've accomplished and the songs they've learned. They are also free to review previous lessons any time they wish.
Bonus Perks
Enrollment in the Fender Play program comes with bonus perks.

Students of the Fender Play program can also get a 10% off discount on Fender gear.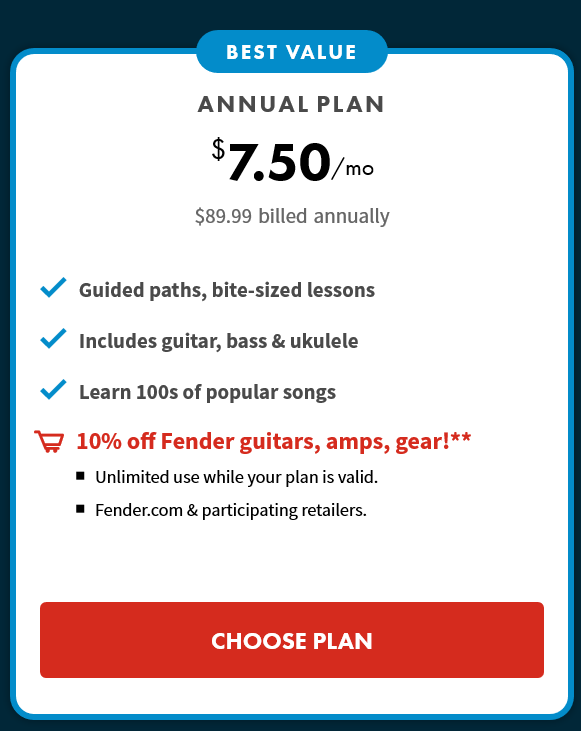 This could be very useful for beginners who are interested in purchasing additional accessories and gadgets from Fender.
GET THE 10% OFF ON FENDER GUITARS WHEN YOU SIGN UP HERE.
How Much Does Fender Play Cost?
Fender Play offers a 14-day trial on their site. Interested students are granted full access to the Fender Play program. Membership to Fender Play is $9.99 per month after the trial ends. They also offer an annual plan priced at $89.99.
SIGN UP FOR A FREE 14-DAY TRIAL HERE.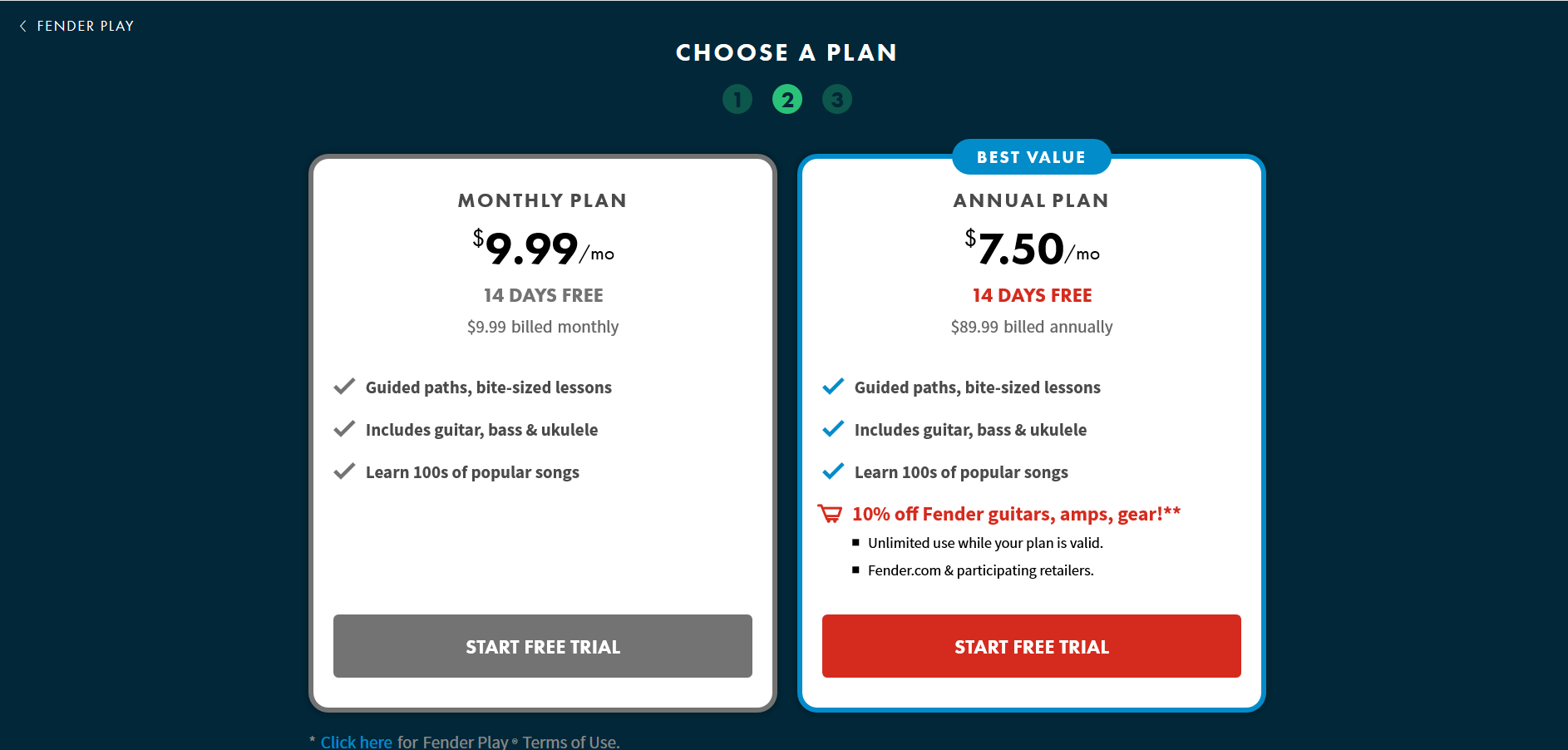 Fender Play Alternatives
If you are still on the fence about Fender Play and would like to explore other guitar lessons, you might want to give these programs a try:
Yousician
Yousician is another noteworthy online music learning program. Apart from guitar, bass, and ukulele, Yousician also offers lessons for piano and voice.

Apart from video lessons, users also get access to a fretboard interface that displays which frets and strings you're meant to play as the song is played in the background.
Jamplay
If you'd like to learn from industry experts, JamPlay is a great platform for you to receive instruction from artists and professors. Apart from tons of video courses and premium teaching tools, you also get access to live guitar courses 5 days a week.

JamPlay also knows that receiving feedback from instructors is key to advancing your skills and so users can also take quizzes and record themselves to receive teacher reviews.
Guitar Tricks
Guitar Tricks is one of the most popular online learning platforms for guitar. Like Fender Play, the program teaches learners how to play some of the most iconic songs in history.

The program also includes lessons on how to play various music styles such as country, blues, and jazz. This program also has a free trial so if you are interested, feel free to check it out.
Guitar Gate 
Learn from a pro guitar instructor, Michael Palmisano, on Guitar Gate. This online platform also has a huge library of video lessons with Michael as your coach.

In this program, you can also take a video of yourself and receive feedback directly from your instructors. This is perfect for anyone who wants to receive some personal advice on their skills.
Is Fender Play Worth It?
Fender Play is undeniably a great platform to learn guitar. It has many useful features to help learners develop their skills – but it isn't for everyone. Fender Play is perfectly suitable for the beginner, but not for intermediate to advanced learners. Information may be too basic, slow-paced, and even repetitive for students at higher levels.