OUR #1 RATED BEST ACOUSTIC GUITAR UNDER $300
I know the struggle of finding the best acoustic guitar on a limited budget.
Sometimes you think you might have found the perfect guitar and the worst part is, it goes over your budget.
And you are set to find another guitar. The cycle just never stops.
Well not to worry though.
Surprising as it seem, there are highly affordable guitars available in the market that do not scrimp on quality.
In this review, you will be introduced to a list of guitars that screams quality without the heavy price tag. Surely only the best acoustic guitars for the money under $300.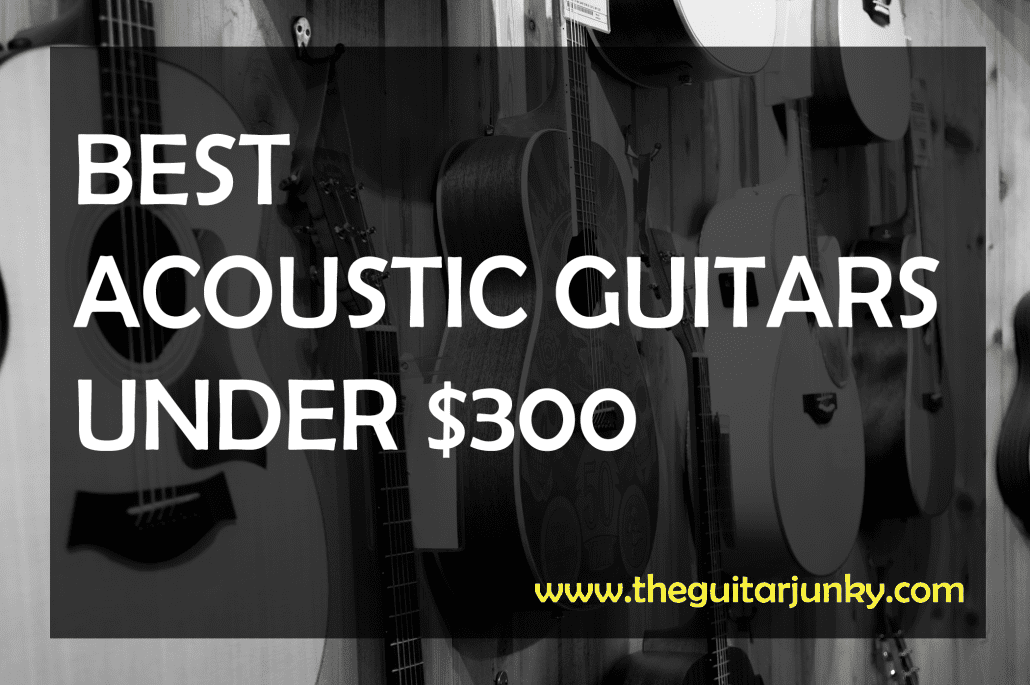 5 Best Budget Acoustic Guitars Under $300 (Buying Guide & Reviews 2019)
Yamaha had built customer satisfaction over the years with the quality instruments it had produced and today, it does not disappoint with the addition of
the Yamaha FG830
in its FG Line.
Compared to other mid-range guitars, this acoustic projects like no other with its bright tone and an excellent clarity while delivering a nice low end—a feat attributable to a newly developed scalloped bracing paired with solid Spruce top wood.
Surprisingly light at only six pounds, this acoustic guitar will see you through be it at a jamming session with friends or a small gig event with a band.
Amazing still is how Yamaha kept in mind the difference in preference amongst guitarists, as it introduced the FG830 in two sizes: concert and dreadnought.
And its available in different colors as well: Natural, Tobacco Sunburst, Autumn Burst and Dusk Sun Red.
Looks, playability, durability, and quality are all rolled into one excellent acoustic six-string when it comes to the Yamaha FG830.
Pros
Highly recommended to anyone who is still learning the ropes of playing the guitar.
Consistent sound that would become better as the wood ages.
The availability of different options when it comes to size and color.

Cons
No electronics.
The original strings needed to be changed.
SALE at 9% OFF
When Fender introduced a line of acoustic guitars that featured solid tops, it introduced a game changer in the guitar market under the entry level category.
Though commonly known for their electric guitars and basses, the Fender ensured that DC-60S would carry on its legacy of producing guitars with quality construction and amazing performance while, of course, maintaining the classic Fender aesthetic.
This acoustic dreadnought never fails to impress—whether its an audience for a small event or a simple gathering of family and friends.
This dreadnought with its solid spruce top produces a full bodied sound with ample projection that makes it perfect for any task.
The mahogany neck also allows a better guitar playing experience with its comfortable Easy-To-Play profile.
So if you are a beginner student looking for the perfect guitar, the CD-60s is everything you are looking for: quality, playability, and value.
Pros
Very easy to tune.
Definitely a great value for an "entry level" guitar.
Perfect guitar for beginner players.

Cons
The laminated finish.
The action setting is a tad too tight making the guitar rattle a bit.
It has been 50 years since Yamaha had introduced the FG series but until now it continues to uphold its tradition of producing quality acoustic guitars without the burdensome price tag—a tradition definitely embodied in the FG820.
Belonging to the 800 series, this dreadnought, thanks to its scalloped bracing and solid spruce top, projects a louder and stronger sound in the low to mid ranges and produces a warm , rich tone.
You can never go wrong with a guitar from the 800 series.
The choice of materials and the technology that went into building this guitar ensures that you get your money's worth.
Seriously, with its quality, dependability, playability and value, you can be rest assured that you have found a life long partner in this guitar.
Pros
Great for beginners and those seeking to upgrade from a smaller acoustic guitar.
The playability is amazing.
Great value for money.

Cons
Original strings need to be changed to produce a better sound and tone.
The action is a bit higher but can be fixed.
Epiphone has long established a name in the guitar industry when it comes to providing the public with excellently crafted guitars that can pack a punch when it comes to performance but at an affordable price.
This name is carried by a new addition to the Advanced Jumbo line of guitars: the Epiphone AJ-220S.
With a bell-like shape that creates a large sound chamber, this acoustic baby produces a rather unique sound—a full, deep and loud tone.
Featuring a solid Sitka Spruce top, select mahogany body, an Okoume neck, and premium tuners, this acoustic guitar's aesthetic is completed by a polyurethane finish.
Solid looks with a powerful sound and a craftsmanship that ensures longevity are the qualities you would want in a guitar, the AJ-220S ticks all of these boxes.
And the cherry on top is that you can buy it for a song.
Pros
Good feel and smooth action.
Reasonably priced with excellent tonal quality and craftsmanship.
It can cater to the needs of musicians of all levels.

Cons
There are buzzes on some frets.
Truss rod needs to be checked.
Bristol BD-116 BD-16 Dreadnought Acoustic Guitar and Hardshell Case
Spruce top with scalloped braces provides a bright, full range sound
Beautiful mahogany back and sides for robust volume and responsive tone
Slim mahogany neck offers fast, easy action and inherently long-lasting stability
Rosewood fingerboard ensures silky smooth playability
Chrome-plated 14:1 die-cast machine heads are smooth and precise to always keep you in tune
When it comes to budget guitars, Bristol is the name sought by those with a limited budget.
But a lesser price tag does not necessarily mean compromised quality considering that Bristol carries with it the very same torch of excellence and tradition that Blueridge guitars (Saga's high end line of guitars) are known for.
Everything about this guitar screams perfection—from the build quality to a performance that exceeds its price range.
This dreadnought sized acoustic features a laminate spruce top and laminate mahogany for its back and sides.
And while solid wood is the preferred choice of most guitarists, this entry-level manages to produce a loud, warm and vibrant tone that can be mistaken for a guitar above its price bracket.
So if you're looking for a guitar that can get you through regardless of your guitar expertise level, the Bristol is the one for you.
Pros
It has a beautiful tone that would catch you off guard in a pleasant way.
Excellent playability.
Definitely a bang for your buck.

Cons
Its made of laminated wood which would not fair well when it comes to weather changes.
Not the guitar you would purchase if you are planning on a long term investment.
To Wrap Things Up
Learning and playing the guitar is not a necessarily expensive hobby when you know where to look.
Cheap does not necessarily translate to mediocre.
Truth of the matter is, the market is sprawling with affordable guitars whose performance outmatch the price tags attached to them.
Again, it's a matter of knowing where to look and a matter of knowing what you are looking for. And with my recommendation on getting the Yamaha FG830, this is probably the best bang for the buck guitar you'll ever get in this price range.