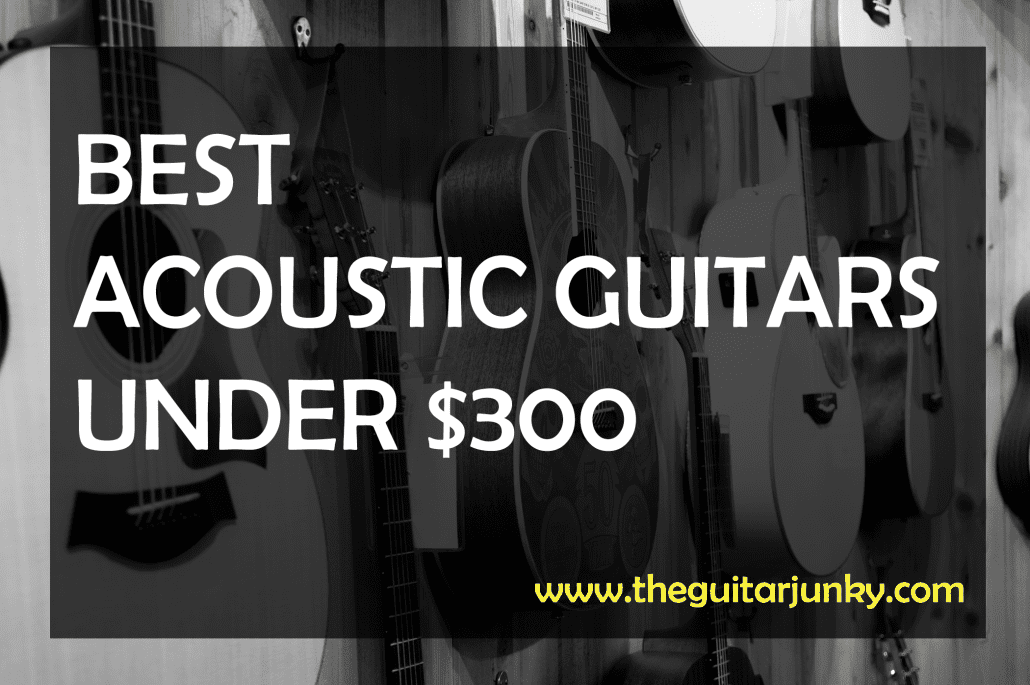 I know the struggle of finding the best acoustic guitar on a limited budget.
Sometimes you think you might have found the perfect guitar and the worst part is, it goes over your budget.
And you are set to find another guitar. The cycle just never stops.
That's why we are here to recommend you the best acoustic guitars under $300. Let's get started.
Our Most Recommended Acoustic Guitars Under $300:
OUR TOP PICK
READ USER REVIEWS
Features
Top- solid sitka spruce
Back and sides- mahogany
Fingerboard and bridge- rosewood
Tuners- diecast chrome
Comes with an adjustable truss rod
Has a new scalloped bracing feature which overall increases the low and richer harmonic overtones in the mid
Pros
The new scalloped bracing which makes it more durable without compromising the quality sound
I mean, it's Yamaha
Price range is just perfect for beginners, intermediate and pros alike
Sound is spectacular and has crisp highs, nice mids, and ample bass
Great action and really easy to play
Neck is sturdy and stable, one thing that you would expect from a reliable guitar
Cons
If you want a guitar that's excellent right out of the box then this maybe a downside for you as it needs a little bit of tweaking
Unexpectedly the wood chips come off easily
It's made from China. No offense and its just a personal preference; it would have been better if it was made from other Asian countries like Indonesia
Recommendation
The Yamaha FG820 Solid Top Acoustic Guitar is hands down the best item in this price range. This is best recommended as a high-end beginner's guitar and intermediate players would love this as a practice guitar. With Yamaha's reputation in making durable and great sounding guitars, I'd say that buying this is a no-brainer.
Runner Ups
READ USER REVIEWS
Features
Chromatic tuner
Adjustable mid-range frequency control
Under-saddle piezo pickup with 3-band equalizer
Non-scalloped X bracing
Thin-line body that offers incredible comfort and top-fret access
Limited Lifetime Warranty on Top, Neck, Back and Sides
VIEW FULL SPECS
Pros
Its non-scalloped X-type bracing that enhances the guitar's body for a full and natural tone
Its thin body which makes it really comfortable to play
Sounds a lot expensive when plugged in that it can compete with other high-end guitars
The cutaway design is really great for easy fret access on higher notes
Low action which makes it easy to play for beginners
Cons
The tuning heads are of low-quality and the guitar's tuning is not stable
The neck edges at the fretboard seems to be sharp and not rounded which makes your hand hurt if you play for a while
Sounds like a toy if not plugged in
Recommendation
You wouldn't expect less coming from Yamaha and if you want a guitar that offers great playability, consider buying the Yamaha APX500III DSR. Beware though that with its build it may not sound that much and maybe you would like to consider investing more and choosing a guitar with fuller sound.
READ USER REVIEWS
Features
Body- maple
Top- Spruce
25.5 scale
"King of the flat tops guitars"
Classic rosewood "mustache" bridge and synthetic bone saddle
New Epiphone eSonic2 preamp system
Gold Grover tuners and gold screws on the traditional "bell" style truss rod cover
Pros
The old vintage look "feel" of the guitar
The "mustache" bridge design- man, who can beat that?
A lot of detail has been made for this guitar given its price range
Great intonation and sustain
Doesn't easily gets out of tune
Sound is crisp, full and bold
Cons
It claims to be an "old-style" guitar though clearly the wood needs to have a bit more aging to make the sound more mature
The auto tune option is a bit cheesy
Though the body is a jumbo, I think that it doesn't really feel like a dreadnought
Its electronic system seems to be bad – I noticed some noise when plugged in
Replacing the batteries may be challenging as the battery holder is difficult to open
Recommendation
Though it may not sound as great as other expensive guitars, it also doesn't cost that much either. One downside that I would like to just point out is this guitar's faulty electronics that other buyers would also confirm, which is really disappointing. But if you don't mind having it fixed and setup, and If you love having a good sounding guitar with a throwback feel on it, I would recommend buying this Epiphone EJ-200SCE.
READ USER REVIEWS
Features
Body- dreadnought style
Top- solid mahogany that comes with a scalloped X-bracing
Back and sides- mahogany
One of the best recommended guitars for players looking for budget dreadnought guitar that offers a great tone and excellent playability
VIEW FULL SPECS
Pros
The guitar has a really wonderful rich tone, playability is superb
You can notice that wonderful grain of the mahogany which is really beautiful
Tuning pegs are in decent quality
Great value on money
The new scalloped "X" bracing which enhances the guitar's durability without compromising the sound
Cons
Dead sound on the 12th and 13th fret e-string
I have no issues with the guitar itself, only the accessories that come with it (the hard shell case is a low-quality one and you might want to invest on something that is more expensive and durable)
Recommendation
There is really no negative things to point out on this guitar. Coming from one of the best guitar makers, Fender has really made their homework in making this guitar. The Fender CD-60S' great mahogany design and superb quality tone is just perfect for beginners, intermediate and pro players alike.
READ USER REVIEWS
Features
Top – Solid Sitka Spruce
Back and Sides- Rosewood
Die-cast Tuners
A.R.T. 1-way Pickup System
Comes in two designs- natural and brown vintage
Non- scalloped bracing
Pros
The non-scalloped bracing ensures that the guitar will retain its tone, response, and stability for a lifetime
Ultra-thin finish which is a signature design on most FG and FS guitars that Features minimum restriction of vibrations of the wood, and a louder, fuller tone while remaining incredibly strong and resilient
Nice low action without having any buzz sound
Sounds full and bold with or without amplification
Built-in tuner
It comes in natural and brown vintage designs and I really recommend you check on the latter
Cons
The fret boards are a bit rough
Recommendation
The FG guitar series wouldn't be one of the best selling guitars of all time for no reason. Though some folks find some faults when they bought this guitar, I think its because they lack the knowledge of setting this guitar up this guitar first. Otherwise, with the Yamaha FGX730SC's price I would highly recommend this to anyone, regardless of skill level.
Wrap Up
As I have said, buying a guitar in this price range involves some risk:
One is the risk of regret not buying one of these guitars when you were just starting out
The other one is the risk of regret not adding a couple of bucks to buy a more expensive high-quality guitar.
To avoid the latter, be sure to check this 7 Top Acoustic Guitars Under 500 Dollars That You Surely Would Not Regret Buying
Do you agree with the list? Let us know by leaving your comments below.