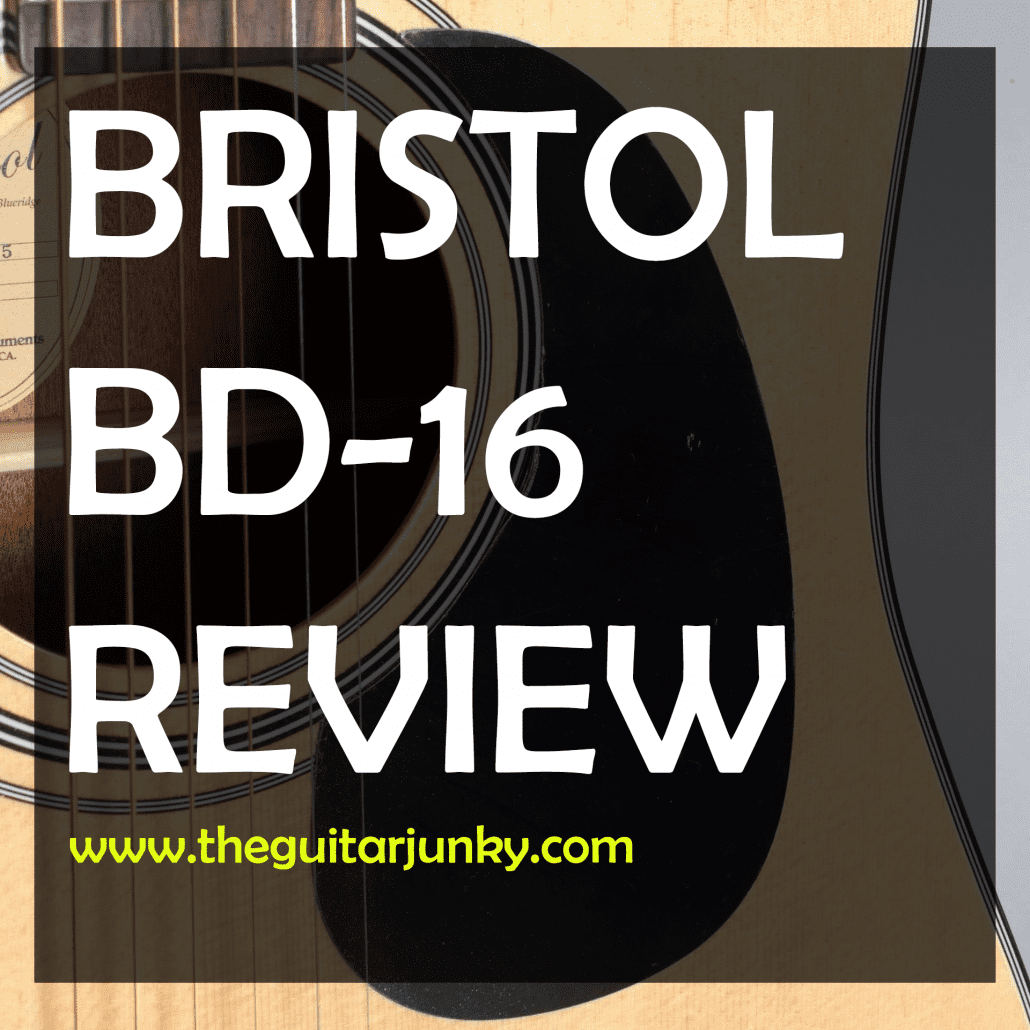 The Bristol BD-16 Acoustic Guitar
SALE at 31% OFF
Bristol BD-16 Dreadnaught Acoustic Guitar
Spruce top with scalloped braces provides a bright, full range sound
Beautiful mahogany back and sides for robust volume and responsive tone
Slim mahogany neck offers fast, easy action and inherently long-lasting stability
Chrome-plated 14:1 die-cast machine heads are smooth and precise to always keep you in tune
Your musician soul will be fed by an instrument you would have soon. Bristol BD- 16 is the perfect fit for music makers like you who is looking for the a good quality instrument at a price that would not leave you empty-handed. Read further as I give you a review about the features of Bristol BD-16, an acoustic guitar that you would be wanting to have.
Let's take a look at its in-depth features, shall we?
Classic design, glossy finish
Each pieces of this guitar is crafted by skilled artisans with years of experience and was made in such a way that would not only make you sound good but also make you look good.
The Bristol BD-16 dreadnought acoustic guitar features that classic acoustic guitar design, with glossy mahogany finish. The body of the guitar has that wood tone color made out of strong plys of mahogany and rosewood. It is laminated that gives it that glossy and classy finish. The lamination also ensures that its appearance would stay the same even after a long time.
Aside from that, the lamination also preserves the smooth quality of sound that this guitar features. Take note however that because of the gloss finish it have, it can be a bit tricky to make it stay in one place when playing for a long period of time.
Slim Neck Features and Smooth Fret board
This acoustic guitar has a slim neck which brings a very comfortable feel when you play.
Although the body design is a dreadnought, which means it to say that it could be kinda bulky, it still maintains the feel of comfort when playing the guitar or holding it.
The top wood is made out of solid spruce which is one of the best wood choices when it comes to dreadnought guitars. It also has an adjustable truss rod that gives you the freedom to align it according to the position most convenient for you. Aside from that, the fret board is very smooth. It almost feel effortless to move your fingers between the frets.
Warm and Full Sound Quality
The sound quality of the Bristol BD- 16 acoustic guitar brings a warm and full-bodied sound to it. Although its price is on the lower end, the sound of it can be classed with guitars on the higher price range. The harmonics of this guitar is wonderful, the notes are clear, the chords have power, its intonation is perfect.
Everytime you strum, the sound of it is loud and is perfect if you are looking for a guitar with a bass-run heavy strumming style. Its alignments and wood choice is perfect and the tunes stays as it is even after long hours of playing it. If there's one feature that the Bristol BD- 16 should be known for, it should be its tone and sound quality.
Low Price for a High end Quality
Some of us might have experienced buying cheaper priced guitar to save money, only to find ourselves regretting about it and spending more than what we intended. This is not the case when it comes to Bristol BD-16. Although it could be a bit scary and a bit of a risk to have a guitar at a price less than half of its counterparts, you wouldn't have any regrets with this one.
It is incredibly low-priced and yet embodies a quality which is the same as the higher priced guitars. This only means to say that, when you bring your Bristol BD-16 guitar on your beach trips, picnics, or family and friends gathering, you would not be extra stressed and worried about damaging your expensive guitar.
No Need to be a Pro
Whether you are a professional guitar player or a person just starting to learn how to do your first strums, the Bristol BD- 16 acoustic guitar could give you the comfort and experience that you need to help you make more music.
Because it is cheaper than the other guitars available in the market, this can be good start for newbies without spending too much. The fret boards are smooth which makes it easier to move your fingers, especially to those who are not yet used to doing their chords.
Bristol BD-16
Pros
Good craftsmanship
Glossy and laminated finish
Elegant wood tone color
Smooth fretboard
Full sound quality
Full tones
Perfect intonation

Cons
A bit heavy
The gloss makes it quite slippery and
Fingerprint magnet due to the guitar's finish
To Wrap Things Up
Overall, the Bristol BD- 16 dreadnought acoustic made its name as a guitar with the quality, durability and style for a very affordable price. It has the sleek glossy design that would make you look good as you play and the slim neck give you the comfort you need while strumming and enjoying.
It is incredibly cheap compared to other brands of acoustic guitar and even though it is has a lower end price, its quality is the same as that of its high end counterparts. It has very smooth fret which makes it effortless to do your chords, whether you be a newbie or a pro.