You have a lot going for when you invest in the Yamaha APX500III Thinline. Not only do you get the perfect resonance when strumming but you also have the decent hardware and versatile sound that players of all levels will appreciate.
While it isn't the most exceptional, it does a job well done and will last for many performances.
The Yamaha APX500III Thinline Cutaway Acoustic-Electric Guitar
New & Upgraded Version
The Yamaha APX500III Thinline Cutaway Acoustic-Electric Guitar fuses comfort, easy access, and incredible sound that one can use on-stage. With a lightweight body and solid construction, you get what you pay for and more. And because it comes from a reputable manufacturer known for their quality instruments, you can't go wrong with this guitar.
Pros
Thinline body that's lightweight and easy to play with
Excellent finish and solid construction for strength and durability
Fast action and no buzz heard while strumming
Easy to access controls for quick adjustments and is beginner-friendly
Good value for its sound and playability
Cons
Comes at a slightly higher price compared to other entry-level guitars
No auto shutoff for battery
Strumming the guitar makes it sound a bit hollow or thin
The package doesn't come with any case or bag
Comfortable Playing Experience
The first thing one would notice about the Yamaha APX500III is its lightweight body. You'll be surprised with the thin line design that makes it easy to hold and play for long performances without the bulkiness. Furthermore, the guitar also has a single cutaway that makes it easier to reach the guitar's higher frets. But with that being said, you still get the full-size experience.
The next thing you'll notice is its many colors to choose from. Though it comes in a variety of colors, you still get class and glossiness. It has a solid spruce top, nato back and sides, as well as a rosewood fretboard. Though the guitar isn't made from the American workshop, I comment its craftsmanship.
Easy to Use for Beginners
The guitar is an electro-acoustic model that comes with the system-66 pickup system from Yamaha. It's a straightforward preamp that's easy for beginners to get used to, also coming with an under-saddle piezo pickup, the simple controls, and even a mid-range frequency control you can quickly adjust.
But that's not the highlight of the guitar. What I'm impressed about it is its built-in digital tuner, which is easy to use and understand.
Because of all these features and the simple hardware, beginners and advanced players will have no trouble adjusting to the sound they want to achieve. From its body down to its electronics, you won't have a problem.
Newer Models (Yamaha APX600)
Most usual complaints I see on the APX500 series is the lack of sound response, especially the bass.
New & Upgraded Version
Though the non-scalloped bracing is a good thing(it makes the guitar more durable), it also contributes to the guitar on having a "bland sound." It's really is bad when played on acoustic alone.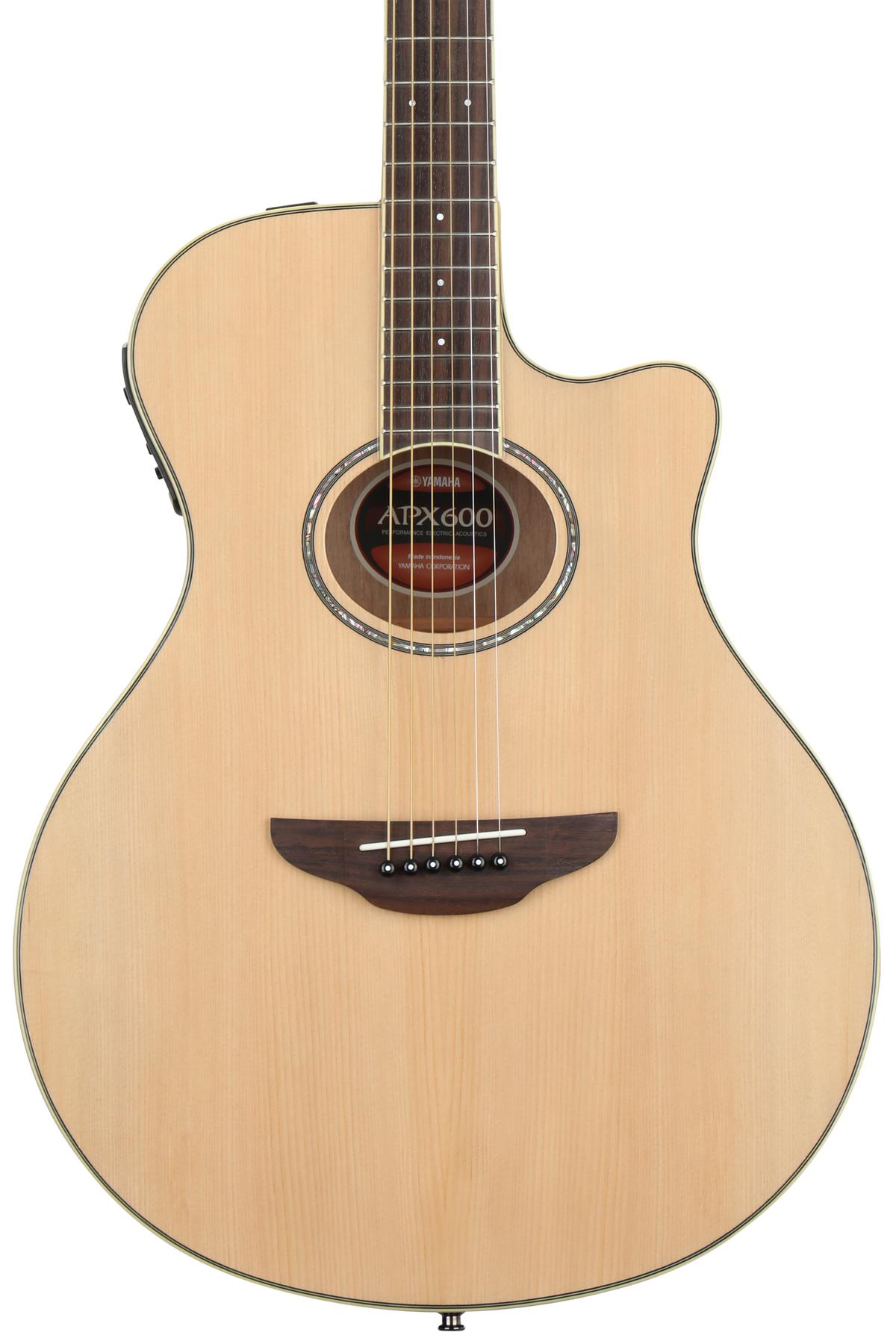 I think Yamaha have addressed this issue, making a way to improve bass response and overall sound quality(thanks to the new scalloped bracing pattern) on their new model, the Yamaha APX600 series. I gotta say, you have to check out this guitars!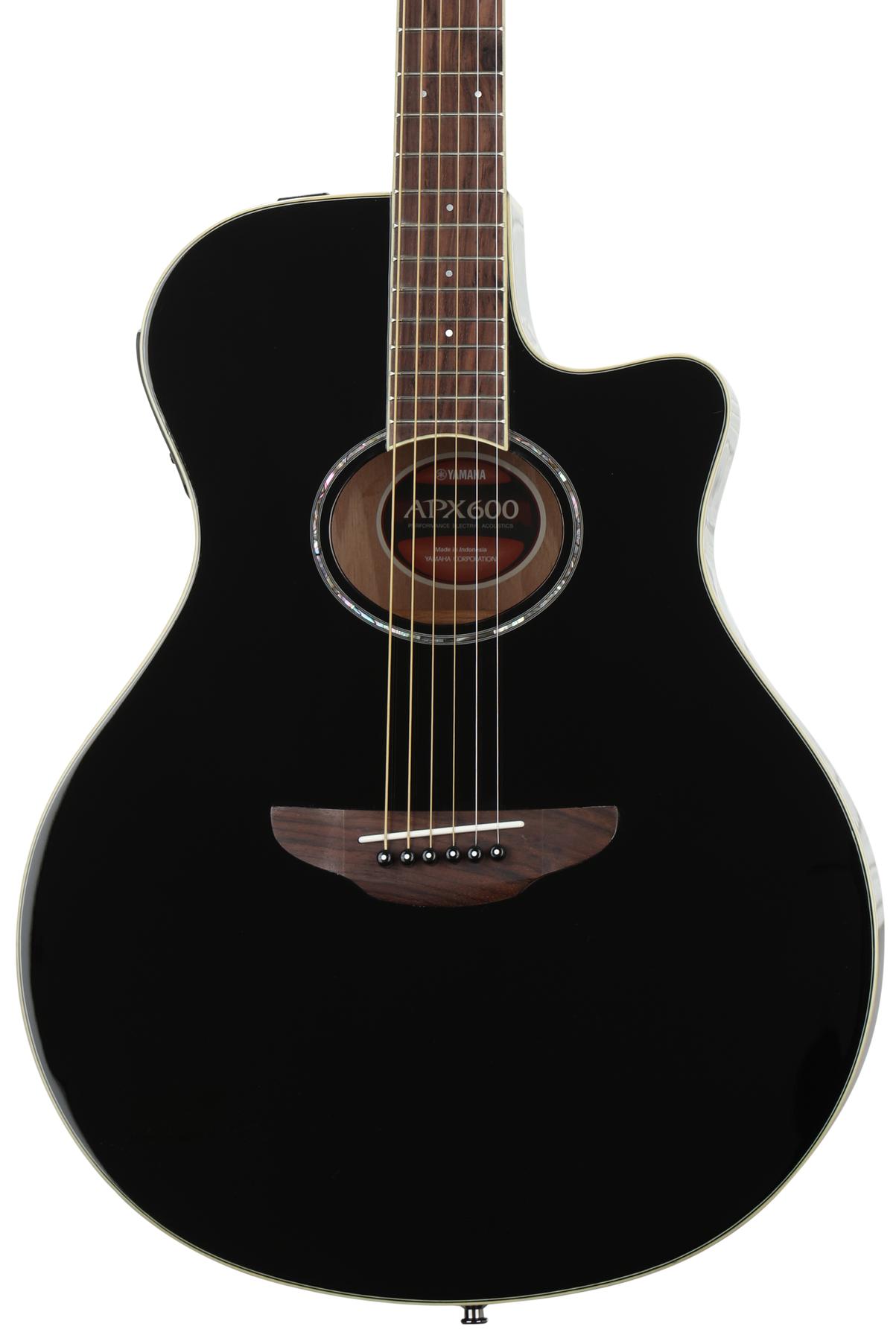 Affordable Price For Its Solid Construction
If you have already done your research about prospective guitars, then you may have noticed that the Yamaha APX500III comes at a slightly higher price than others. Yes, compared to entry-level guitars, you will be shelling out a bit more over your budget. However, once you see and feel its construction, you know you are paying for quality.
The APX offers not just comfort (as mentioned), but also top-fret access and the perfect sound to play when on-stage. It also has a specially-designed non-scalloped X-type bracing, which would maximize the body's resonance (which we will get into later).
Excellent Sound With Resonance
When playing acoustically, expect big projection and a lot of resonance thanks to its non-scalloped X-type bracing. It also has a recognizable sound hole that makes it have an apple low-end. You can say it has more bass than you would want but it has the clear and balanced sounds.
When you plug the guitar into an amp, you will get an even more extensive tonal range, and you can use it for just about any genre when you fiddle with the controls just right.
Versatile
Lastly, whether you are a beginner, intermediate, or an advanced player, you will enjoy the Yamaha's impressive specs. It also doesn't matter where you will use it for, may it be for solo jamming sessions or on-stage performances. You will still get the fantastic sounds many will be amazed by.
The guitar is versatile when it comes to playing a variety of genres. Whether you play acoustic or metallic songs, the guitar will be able to deliver and performs excellently.
Additionally, you can use it for strumming or fingerpicking without much of the buzz.
However, do take note that strumming can make the sounds come off as a bit hollow.
Verdict
New & Upgraded Version
The Yamaha APX500III comes with fantastic specs one wouldn't expect from entry-level guitars. With easy-to-access controls and a lightweight body, beginners and advanced players will appreciate how easy it is to play with. Plus, it can be used for a variety of genres. Yes, it doesn't have the best hardware nor does it come in a complete package, but its exceptional sound makes one forget about it.
In the end, is it worth the extra dollars to get a guitar like the Yamaha APX500III?
If you have the extra budget to invest in an excellently made guitar, then the Yamaha APX500III is the ideal choice. Regardless of how far you are in the world of music and guitar playing, you will be able to enjoy its full range and flexibility in what you play with. Add comfort and style to the package, and you will see the Yamaha's worth and quality.