Editor's Pick
The Epiphone DR-100 Acoustic Guitar
With Epiphone's experience and expertise, as well as the use of decent materials for its price, you get a quality model worth more than what you pay for. The Epiphone DR-100 is gaining a reputation of its own, surpassing competition at such an affordable price, making it a sound investment for beginners.
Epiphone is now creating more of a reputation for itself with their quality guitars. No longer are they considered the affordable copies of other famous brands. With the DR-100, you can expect more than what you invest in and is regarded as one of the elites in its price range.
New Standards For Beginner Guitars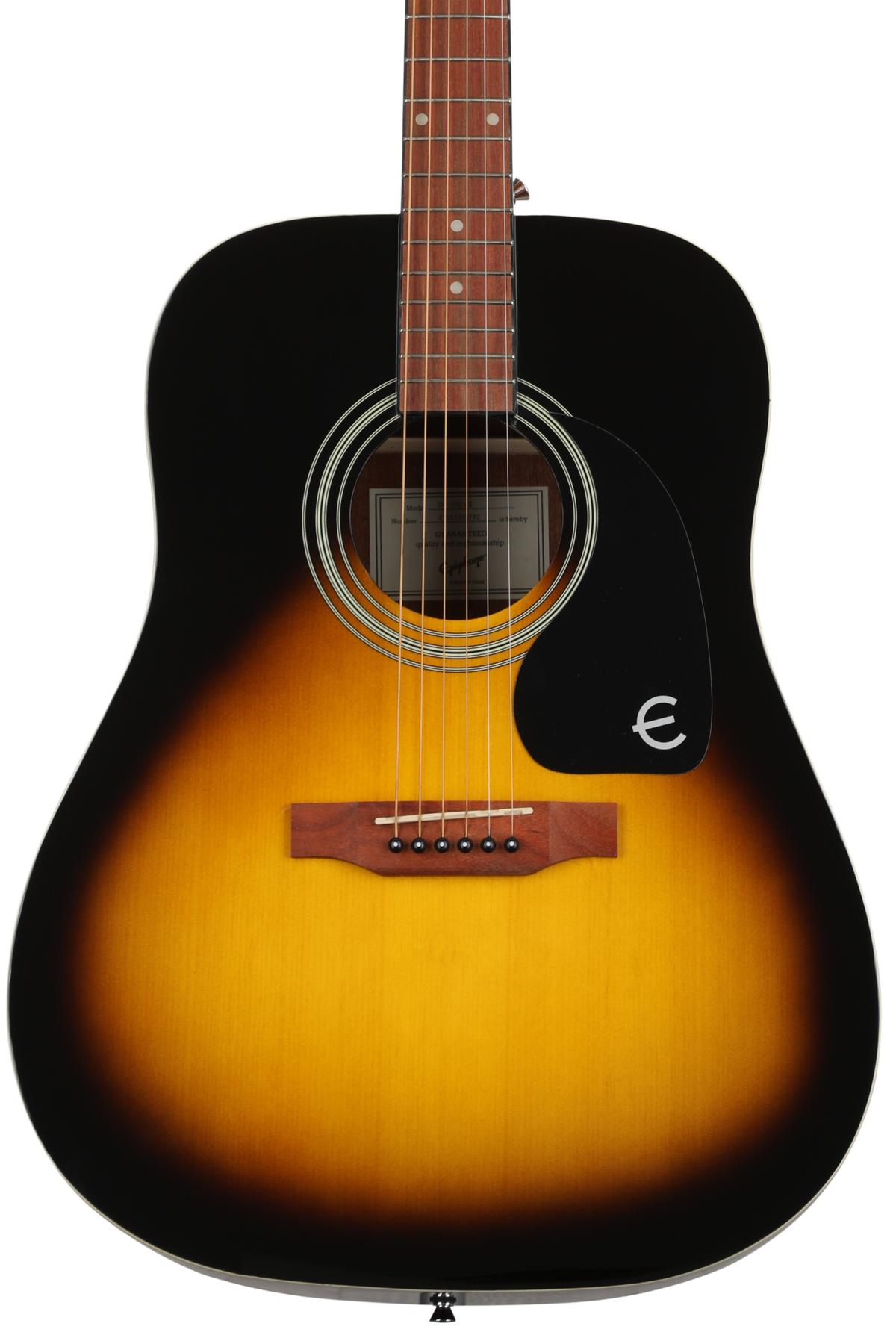 What's impressive about the Epiphone DR-100 is that you get more than what you expect from its price range. You have the mahogany back and sides, a solid spruce top, and the decent tonewoods that helps the guitar's tone improve as it ages. And the best part is that it comes at the entry-level price but can be used for performances or backups while traveling.
Epiphone creates the new standards for affordable acoustic guitars thanks to the DR-100. Priced like a beginner guitar but versatile enough to be played by both amateurs and advanced players, you have an instrument you won't want to give up anytime soon.
Ideal For Either Beginner or Professional
Like mentioned, you have the incredibly adorable guitar but with the real and quality materials that produce the sweet sounds. It's beginner-friendly but can also be used by professional players thanks to its design!
It has the SlimTaper neck shape which is ideal for beginners or young players. Seasoned and advanced players will appreciate the preferred neck shape that makes it easy to play. Another excellent part of the DR-100 is that it has the ambidextrous design that makes it compatible for both right and left-handed people to play with.
Whether you would like to play it for practice at home or performances, the sound and design will look perfect while performing its best. All this without breaking the bank!
Excellent Tone
Despite its low price, the Epiphone DR-100 delivers the warm and mellifluous sound over gritty undertones. You can describe this as sweet thunder, with the rich and full sound impressing many players. Plus, there are no issues with buzzing or dead frets, so enjoy smooth and comfortable playing all throughout your practice!
Thanks to the Mahogany and Rosewood combination, you can expect sweet, complex highs and the thick and creamy lows. It also has the solid spruce top for clear sounds, making it the ideal formula for beautiful music. However, the mid is a bit lacking, which is not a significant issue.
Classic and Sturdy Build
There is nothing that needs improvement with the dreadnought shape, so Epiphone gives the guitar a unique feature with the mix of mahogany, spruce, and rosewood. With a blend of these three, you have the bright sounds and balanced tone.
It comes with a mahogany neck, which is resilient to stand on its own but still comes with a truss rod for extra support. The string gauge is light and can be strummed smoothly while bringing the complex highs and thick lows together for a fantastic jamming session.
With these quality materials, you have the solid construction built to last.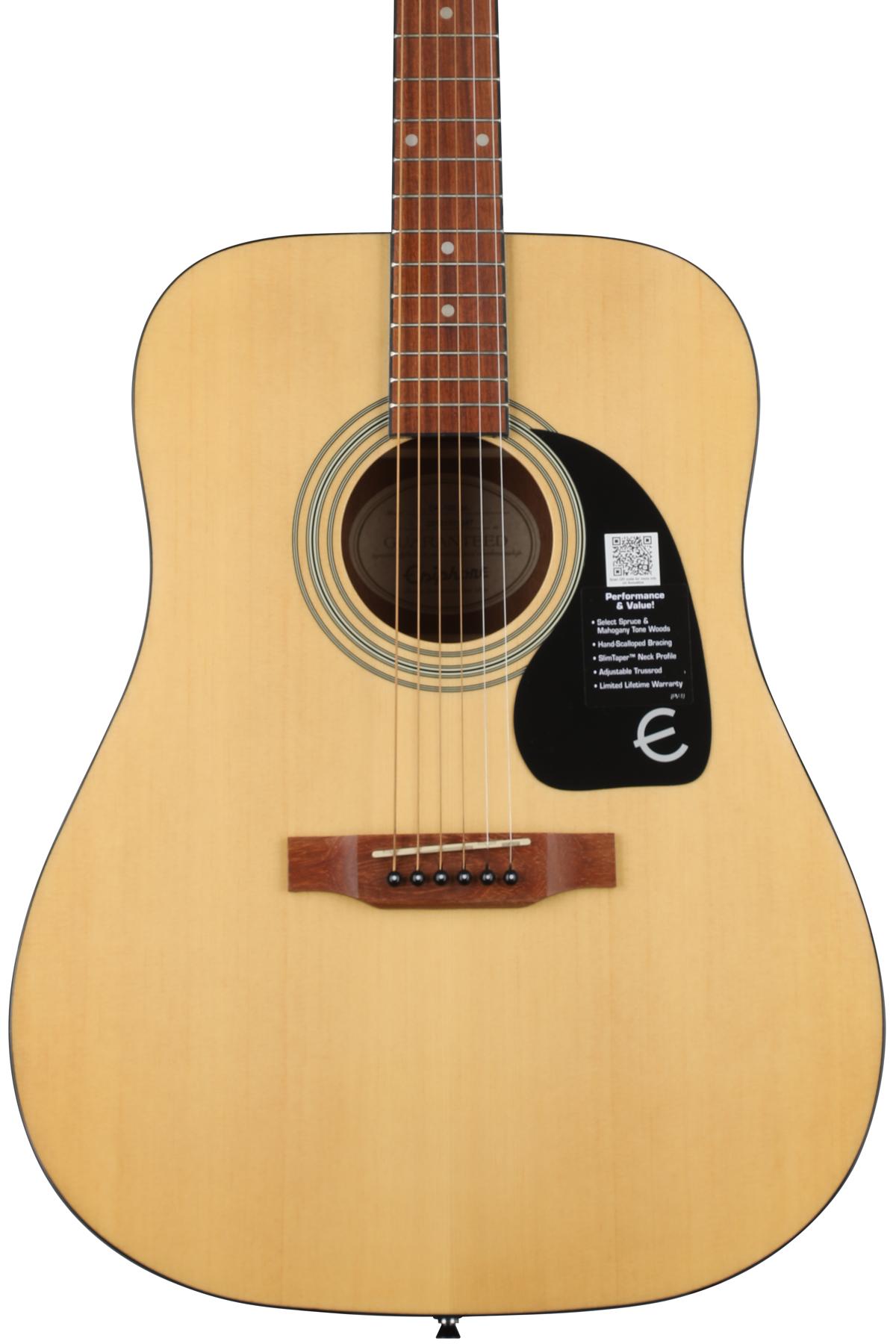 Pros
No dead spots or buzz when strummed
Affordable price but worth more than what's paid for
Excellent starting guitar for beginners, only requiring a bit of tuning straight out of the box
A warm and sweet sound with its mahogany body
Cons
Has a sharp fret that may be painful for beginners without callouses
Comfort and Good Action
While the action is a bit low, there aren't any dead spots on the fretboard, so there are no buzzes while strumming. Also, the guitar is at the perfect length that makes it easy to chord. While you don't get the silky and smooth feel, the guitar grows on you as you practice and will play comfortably.
The guitar can be used for many types of genres or strumming styles, still maintaining its excellent tones. And while the fret is a bit tough for beginners who have no callouses at first, you do get used to playing and will feel no discomfort as you continue practicing.
Verdict
Editor's Pick
It seems like Epiphone did their research on the competition and customer expectations when releasing the DR-100. While it isn't a new model, it dominates many guitars of its price range and looks to be as if it were created yesterday.
That is what makes the Epiphone DR-100 a wise choice for beginners or seasoned players. It isn't only a guitar for first-timers but also a good investment for those who need backups during performances. With its solid construction and sweet tones, this guitar is fantastic for all styles of playing.
Other Guitars In Same Price Range