Today we're going to take a look into one of the best-selling acoustic guitars of all time, the Yamaha FG800 acoustic guitar. Let's get into it.
Let me tell you a story of how you should not be looking for a guitar to buy online while your wife is watching you:
Last week, I had this mental urge to buy another guitar. I was looking for something that is not that "heavy" to play but at the same time not too costly.
What I mean is a guitar for just jamming and practicing. A guitar that is too cheap that I wouldn't worry if my wife will smash it when she's fed up with doing all the household chores.
Don't get me wrong, I also do some chores at home but guitar is lifer….
After some through research:
I found this Yamaha FG800 acoustic guitar, and I just felt like this is it, period.
The nagging part:
My wife told me that why would I be getting another guitar when I already have a lot?
Then I said, "you just don't get it, honey.. It's pretty the same as me not understanding why you have so many shoulder bags in our closet.."
This was the time I completely shut her down. She said ,"ok," and I clicked "buy now."
She then bought a new bag a day later.
So much for the story, here's my Yamaha FG800 review.
Variants
Features
The Yamaha FG800 acoustic guitar is one of the best acoustic guitar for beginners. Though some would think that price is relative to a great sounding guitar, but this guitar by Yamaha proves otherwise.
Playability
One thing that I immediately noticed on this guitar is the high action. I would have preferred a lower action guitar since it's easier to play especially when you're playing the higher notes.
If you're struggling to play, just keep on going.
Take it as an advice from someone who had played his first guitar with high action string. That is where I got my guitar callus.
You will appreciate it afterwards when you become a better player.
Yes, the playability can be a bit of an issue here but you can have it fixed from a luthier to make the action lower.
Body and Neck
Same as with other guitars, the Yamaha FG800 has standard neck that is comfortable and smooth.
This dreadnought piece comes with a solid Sitka spruce top, nato back/sides, and a body that features a new scalloped bracing, making the top board more durable without sacrificing much of its ability to produce a great sound.
How's the Sound?
Well, to be fair I must admit that as an advanced guitar player, I can be quite biased for judging cheap acoustic guitars to having cheap sound as well. But hey, Yamaha FG800 does not disappoint at all!
The sound is well-balanced, and mellow at the same time. The Yamaha FG800's dreadnought shape makes the sound quality warm across the frequency range especially in the lower and mid-range.
Moreover, the FG series is made to last to the point that the sound quality improves as it ages.
Who is This For
This is perfect for people who are looking for a "bang for the buck" Guitar
Given its price and sound quality, one can really get the value for their money.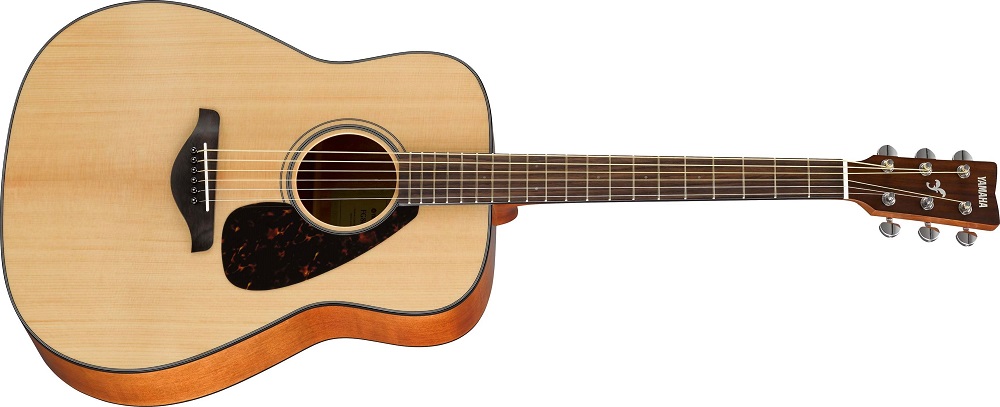 Yamaha FG800 acoustic guitar is also perfect for:
Beginners who are just starting to learn playing
Parents/grandparents who wants to give their teenage children/grandchildren a guitar to start practicing with
People who are looking to buy a guitar as a gift
Advanced players who just wish to have a guitar for jamming and practicing
Purchasing
I found two great deals at Amazon for this amazing beginner acoustic guitar:
1.One comes with a bundle -Hard Case, Instructional DVD, Tuner, Strap, Strings, Picks, and Polishing Cloth
PROS
Great value for money
Perfect for beginners
Requires less tuning
Fun to play.
Has a good feel to it.
Produces very clear and good bass as well as resonance.
Very consistent and stay in tune for a long period of time.

CONS
While being lightweight, nato is not much of a good tone wood
No cutaway which means harder access to lower fret board
High action, needs a bit of adjustment
Final Opinion
To conclude, if you're looking for a decent guitar with high quality sound that doesn't get you burning a hole in your pocket, then this guitar will suit you well.
Though I would just like to emphasize the high action on the strings which can become a burden for those who prefer a lower action guitar.
Overall, the Yamaha FG800, with its sound quality and price doesn't disappoint at all.
Let me know what you think by leaving your comments below.