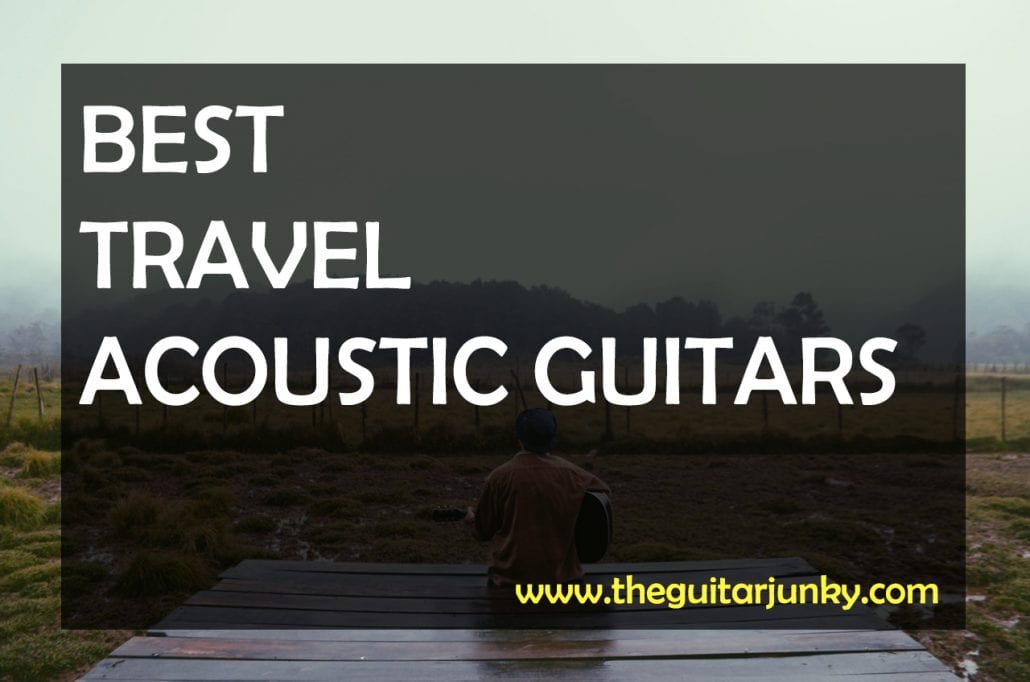 It always bother me to bring a big full size guitar whenever I go places.
Full size-guitars sure do provide almost everything I need from a guitar except one thing- portability.
Are you having these issues too?
Here's a list of the best travel guitars that is perfect for anyone who wants to bring a guitar with them easily wherever they go.
VIEW: What's the best acoustic guitar for you?
Best Acoustic Travel and Mini Guitars for 2018
Pros
The sound is rich and bright for a guitar this size
Neck size is the same as with full-size guitar
Great value for money
Cons
Doesn't consistently stays in tune
Recommendation
Though the Washburn RO10 Rover Steel String has a standard neck size, you wouldn't really expect a travel-size guitar to have a the same sound as what a full-size guitar has.
Though this Washburn guitar doesn't disappoint either and balances the features of musicality and playability really well.
KLOS Carbon Fiber Guitar
Pros
Lightweight, easy to carry around
Sturdy, thanks to the carbon fiber material that it's made
Though small in body size, the 24 3/4″ scale length makes it feel like a full-size guitar
Detachable neck
Great sound profile, sounds like a full-size guitar
Cons
Expensive for a travel guitar
Can be damaged if assembled incorrectly
Small distance between each tuning pegs
Tuning is required every time the neck is detached and reattached
Recommendation
Lightweight, yet robust. Small, yet loud. Opinions may vary, but for me, if not for the price, this would have made the top of the list. This guitar already has all the features you need in a travel guitar. So if you do have the budget, I highly recommend KLOS Carbon Fiber Guitar. You'll regret not having this on your next trip.
Pros
Great playability and low action which makes it really comfortable to play
Tone quality really pays off the money you paid for it
The HPL back and sides makes it sturdy which is nice
Balanced pickups
Cons
Not really a loud guitar, which I think is a common thing among Martin guitars
A slight buzz on the 12th fret of every string
Neck is a bit thick so playing it for a long time can be uncomfortable
A little bit heavy
Recommendation
Martin has never failed anyone with the quality of the guitars they are producing. The great design and great sound quality makes the Martin Steel String Backpacker one of the tops candidates in this price range that is worth buying.
Pros
Great action right out of the box
Solid build given its price
Great shape and comfortable to rest on your knee
Sounds big and has a nice sustain
Cons
Recommendation
The SX Trav 1 Traveling Guitar is one of the underrated guitars that is really great for traveling. If you're not brand-savvy and would actually consider a guitar's features first, then this one's for you.
Traveler Guitar Ultra-Light Acoustic-Electric Travel Guitar with Gig Bag
One-piece maple neck and body with natural finish
Features a Shadow under-saddle piezo pickup and standard 1/4-inch output
Detachable lap rest frame
Includes deluxe gig bag, limited three-year warranty
Full 24-3/4" scale, 22-fret acoustic/electric travel guitar fits in airline overhead bins
Pros
Has a full size neck and decent tone
Innovative design
Great action
Really easy to travel with
Cons
Slips easily and difficult to hold against the leg
Needs a decent headphone and vox amp
Recommendation
It may look weird but others find this guitar's design to be outstanding. The Traveler Guitar Ultra-Lightmay not be considered as a legit acoustic guitar, but if you want to have something easy to carry with during travels and play at hotel rooms, then this would be one of the best guitars for you.
Taylor BT2 Baby Taylor Acoustic Guitar, Mahogany Top
Body Body type: Dreadnought 3/4th-Scale Cutaway: No Top wood: Solid Mahogany Back & sides: Layered Sapele Bracing pattern: Taylor Standard Baby X-Bracing Body finish: Matte 2.0 Orientation: Right-Handed Neck Neck shape: Taylor Standard Baby Profile Nut width: 1 11/16" (42.8mm) Fingerboard: Genuine African Ebony Neck wood: Sapele Scale length: 22-3/4" Number of frets: 19 Neck finish: Matte 2.0 Electro
Conceived as a starter guitar for kids, the lovable Baby Taylor has maintained its enduring appeal in part by being a legitimate musical instrument that anyone can enjoy
The three-quarter-size Dreadnought helped touring musicians like Taylor Swift sketch new musical ideas on the road, and it's been a reliable musical accomplice for travelers seeking inspiration while trekking the world
All Baby Taylor models ship with a durable travel-worthy gig bag made by Taylor for optimal fit and protection
Tone Woods A guitar's top is the primary filter and distributor of vibrating string energy through the guitar, which means it has a huge impact on its sound
Pros
Depth of sound is almost outstanding
Perfect size for beginners, travelers and those with small hands
Sounds big for its size
Great action right out of the box
Cons
Needs to have a wider neck
May sometimes need to be tuned consistently
Recommendation
This is by far the better travel guitar by Taylor when compared to the BT1 version. The mahogany top makes it produce a deeper and bolder sound compared to other guitars with a standard spruce top.
The Taylor BT2 Baby Taylor'smaybe pricier than the natural spruce version, but it wouldn't be that way for no reason.
Pros
Reasonable price for a travel guitar
Has a pleasing quality and tone
Impressive materials and craftsmanship
Cons
Seems a little buzzy
Has durability issues
Recommendation
For its price, don't expect this to have a sound like Taylor or Martin. Though it may look like the Taylor BT2.
For a travel guitar you will really expect that this has some drawbacks in terms of sound but for the guitar's price, the Luna Safari Series Muse is already a good buy.
Resources Worth Reading if You Consider Buying a Travel Guitar
Conclusion
A travel guitar is your perfect buddy if you want to have something that is really easy to carry along with. Don't underestimate these guitars.
With the proper setup like putting the proper strings, these bad boys could almost sound like other full-size guitars.
Do you agree with the list? Let us know by leaving your comments below.