It is good for you if you're traveling the world, but wait up.  Do you want to bring a guitar with you? If you're a true guitarist that does not want to leave your instrument behind, check out this buying guide for the best travel acoustic guitars to choose from and take on the road with you.
How to choose the best travel acoustic guitars
Before going about the shopping process, you should consider certain factors to choose the right travel acoustic guitar.
Price matters
First, you should factor in the price, the amount you're willing to spend on the purchase.  Would you like to spend on quick replacement for buying a cheap acoustic guitar? Or do you want a quality but pricier option for long-term use?
Just the right size for travel
How much size it will take also matters. But remember, its size affects the sound it produces and its playability.
Construction consideration: solid wood or laminate wood?
Gearank.com said that laminated wood doesn't produce as full-bodied sound than a solid wood acoustic guitar can.  It's because of its nature of construction.
Laminated wood is made of thin wood sheets pressed together.  Solid wood, on the other hand, is a solid piece of wood.
For this difference, you can sense that laminated wood won't resonate as freely as the other can.
All these said solid wood is still the better choice if you're looking for an excellent sounding travel acoustic guitar.
On the upside, laminated wood can be more temperature- and humidity- resistant than solid wood is.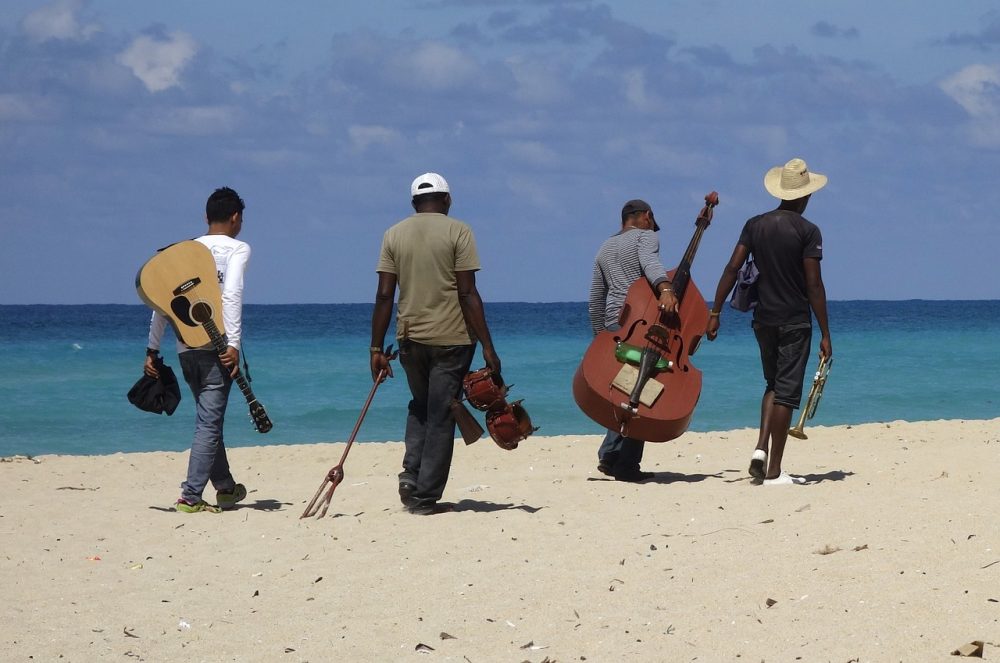 Nylon or steel strings?
Nylon strings can produce a mellow and softer tone, so they're used in flamenco-style and folk music playing, according to Musicianfriend.com.
On the other hand, steel strings are chosen by pop, country and rock musicians. So based on your playing style, determine if nylon or steel strings are for you.
Using a guitar for practice or performance?
Lastly, the smaller you go, the quieter the acoustic guitar will be, says Guitarfella.com.  Think about that based on where you intend to play – on the streets or in a coffeehouse.
7 Best Travel Acoustic Guitars
The Martin Steel String Backpacker Travel Guitar is a great pick for the money.   After all, serious guitar players know Martin guitars offering some of the best guitars in the world I've seen so far.
I recommend this backpacker model, a travel sized excellent sounding guitar, somehow with a cool and weird shape.  What I liked about it is its classic sound though affordable. I took it to a test and found it impressive!
I liked its oar-shaped body that stands out versus other parlor instruments. More so, I liked that it's best for beginners looking for ease and practicality of play.  
You'd also appreciate its top-level build quality that I recommend for convenience.   So if you're taking the guitar with you all the time when traveling, I recommend this Martin acoustic guitar.
Another impressive product I found in the category is the Traveler Guitar Ultra-Light, a combo acoustic and electric guitar for players that want to explore their playing ability and develop on both styles.
One thing I liked about the Traveler Guitar Ultra-Light is its weight and size. It offers a full-scale guitar sound, yet it is compact and easy to bring anywhere. It also has a detachable lap rest for easy portability.
In addition, it offers functionality, as it already comes with an in-body tuning system, eliminating our need to use a headstock. I find it impressive because it also gives us a full-scale playing experience just like in a regular full-size guitar does.
If you're looking for the ultimate travel guitar, you might want to take a second look at the Cordoba Mini M.  The nylon string guitar is perfect for beginners that want a compact body. It also sounds big despite its small size.
The travel acoustic guitar is a great companion for vacations and simply hanging out. It is for you if you're a wanderlust that always wants your guitar with you.  It comes with a gig bag that fits an airplane compartment well.
In addition, I'm impressed of its construction. It is made of solid spruce top along with mahogany wood back and sides. This build makes it a great sounding little instrument.
If you're a parent that wants to spend on the first acoustic guitar of your teenager or kid, you might want to take a second look at the Hola Music acoustic guitar bundle junior that comes with complete accessories.
I liked that it comes with a good padded gig bag, D'Addario EXP16 Steel Strings, picks and guitar strap. The 36-Inch HG-36N also has a natural satin finish, adding to its sleek and modern look.
This travel acoustic guitar is made of top quality woods – spruce top and mahogany neck, back and side. They're greatly sounding tonewoods that also look stylish.
It also has a rosewood fingerboard, which is what even professional players prefer for their musical instruments.
You love to play your guitar, so you don't want to leave it when traveling or going for vacations or road trips.  To take your music anywhere you go, you might want the Yamaha-APXT2 Acoustic Electric Guitar.
This APXT2 is a compact and well-build combo travel guitar featuring the Yamaha's proprietary tuner and an ART-based pickup system that gives it supreme accuracy and sensitivity.
It is also built with rosewood bridge and fingerboard and spruce top that makes it a top choice even for advanced players.   The compact guitar is your perfect road companion for its portability and compact construction.
Another travel acoustic guitar not to forget on the list is the Taylor BT2 Baby Taylor Acoustic Guitar. It's maintained its quality as an excellent musical instrument that you or your kid will enjoy.
The ¾ Dreadnought is a travel companion even by professional musicians looking for ideas and inspiration while on the road.
In addition, the Baby Tailor acoustic guitar already includes a gig bag to ensure protection of your musical instrument.
When it comes to the tonewood, the Dreadnought has a solid mahogany back and sides, helping produce a great sound.  It also has an original African ebony fingerboard and sapele neckwood.
Check out the Fender FA-115 Acoustic Guitar Bundle if you're looking to start playing out of the box because it includes all that you need.
I liked that it is designed with a full-size dreadnought body, offering vibrant and full tone.   It only means the travel acoustic guitar suits all music playing styles.
In addition, the acoustic guitar includes a gig bag that protects the musical instrument from damage and scratch. I also liked that it is made of a spruce top completed with a gloss natural finish for a classic look.
One more thing that makes the Fender FA-115 Acoustic Guitar Bundle is its complete accessories, including an additional set of strings, guitar picks, guitar straps, a clip-on digital tuner and an instructional DVD.
Definitely, the guitar bundle is a sure value for money.  You might want to consider it if you're looking for a quality practice or performance acoustic guitar.
OUR CHOICE FOR THE BEST TRAVEL ACOUSTIC GUITARS
For this roundup, the clear winner is the Martin Steel String Backpacker Travel Guitar. It is the ultimate travel acoustic guitar offering solid performance and awesome portability for the always on the go musician.
Choose it if you value performance, quality and construction.  No matter you're a beginner or a seasoned player, you might want to check it out for its nice and classic sound.
View Martin Steel String Backpacker Travel Guitar on Amazon.com now.