Finish: Matt Polyurethane
Finish: UV protective smooth satin finish
Finish: High gloss UV protective
Finish: Gloss top, Satin backside
Neck: Carbon fiber reinforced traditional C shape with two-way adjustable truss rod
Neck: All-graphite NS neck, adjustable truss rod
Neck: Single-piece all-graphite neck, adjustable truss rod
Neck: C-shape neck profile
Carbon Fiber Guitars, what are they?
A carbon fiber guitar is exactly what is sounds like—a guitar made of carbon fiber.
There is so much hype about this material that it would make one wonder if a carbon fiber guitar is in fact better than the traditional acoustic guitar or perhaps it's just another fad that would slowly fade away in the next years or so.
The Best Carbon Fiber Guitars in 2019
KLOS Travel Carbon Fiber Guitar
With everything you need to start playing straight out of the box and start adventuring, this guitar is surely made for anyone and everyone who wants to play the guitar anytime and everywhere.
Even the experts can say that, even though this guitar is not full scaled, it does not hinder them to fully utilize their capability with this guitar's ability.
Meanwhile, beginners will love the fact that it is compact, easy to grasp and light weight, for them to familiarize themselves with the instrument before going on to play the bigger ones.
This guitar features a carbon fiber body and a wooden neck to produce one of the most comfortable, durable, and relatively affordable and best sounding guitars out there. And finally, this acoustic-electric guitar is an even more versatile guitar, simply because you can now play the guitar on stage plugged in, or even unplugged.
Designed to meet the needs of value-price acoustic guitars and ukuleles, the Fishman Sonitone Onboard Preamp System features a soundhole mounted preamp with rotary controls for Volume and Tone. A perfect instrument for jamming or gigs.

Pros
Lightweight due to the choice of materials
Detachable Neck
Durable and resilient
More options for customization
Easy to play
Available model for left handed
Not Cluttered with knobs and switches
Compact and comfortable to the hands

Cons
No Pick guard
Tuning always required when reattaching the neck
Higher possibility of damage in reattaching the neck
Plain carbon fiber design
Smaller than standard size guitars
Not a cheap buy
Neck is susceptible to humidity
A combination new materials and construction techniques makes this guitar a truly amazing instrument.
Although not made of the traditional tone wood, carbon fiber has been praised in guitar making for its stability, tone, lightness, durability and ultra-modern looks.
This particular carbon fiber guitar has the body and neck connected via a patented fast-release joint that allows for easy packing into the included gig bag.

In addition, the wedge-shaped body provides a surprising blend of small-body comfort and big-body sound, along with improved innovation for an out-of-this-world playing experience.
The proprietary under saddle pickup system lets you plug in to just about any source for great acoustic tone through a PA, amplifier, or recording console.
Specifically designed to fit in an airline overhead compartment, the included gig bag features a TSA-compliant laptop fold-out panel for easy scanning in the security line, making this instrument perfect for the musician on the go!
Pros
Lightweight
Durable and Resilient
Great volume, defined sound

Cons
No pickguard
Plain carbon fiber design
Expensive
RainSong Guitars Smokey SMH Acoustic-Electric Guitar, Clear Carbon
Impervious to humidity and temperature variations. No wood used in guitar-construction. No humidifier required.
Rain Song's signature deep-body, cutaway (WS) for a loud and balanced tone.
24.9" scale length, 12-frets clear of the body neck for comfortable playability.
Carbon fiber and glass fiber construction for a mellower tone and better affordability.
Stagepro Element electronics by L.R. Baggs.
One of the best features of this guitar is that it uses no wood at all making it Impervious to humidity and temperature variations. Thus no humidifier required in keeping the quality of this baby in check.
The Rain Song's signature deep-body, cutaway gives it its loud and balanced tone while its 12-frets clear of the body neck for comfortable playability.

In addition, unlike typical under saddle acoustic guitar pickups that are dependent on string compression for their sound, the Element, that is used for this guitar, was engineered to mirror the soundboard's actual movement as you play.
The pickup's minimalist construction lessens any influence on the acoustic properties and creates an intimate coupling between the pickup and guitar for the highest fidelity possible creating the melodious sound that is just soothing to the ears.
Pros
Not susceptible to temperature changes
Great sound profile
Easy to play and lightweight

Cons
Bass is not as good as the wooden guitars
Smaller than standard size guitars
Plain carbon fiber design
RainSong Hybrid Series H-WS1000N2 Deep Body cutaway acoustic electric with N2 neck
Unique Guitar crafted entirely using Carbon/Graphite & Glass fiber composites
Impervious to humidity and temperature changes
Single-piece all-graphite neck and composite fingerboard with an adjustable truss rod
Brace-free Soundboard/Body and Projectin Tuned Layering for crystalline detail, warmth and volume of the classic Carbon tone
Fishman Prefix electronics featuring an on-board tuner
Sweet melodious sound, a sound that is a trademark of all RainSongs, particularly this Hybrid Series H-WS1000N2 given to it by its construction.
Coming at a 21 frets, and a Single-piece all-graphite neck, it sure is one of the best carbon fiber guitars out there.
It also has a composite fingerboard and adjustable truss rod, making it easy for you to adjust the fretboard's action easily.
This guitar also features a Fishman Prefix electronics with a tuner on-board. 
Sound-wise, it's awesome. It's got that classic carbon fiber guitar tone that you always want in this guitar, but with a more defined clarity.
Coming at this price point, it's definitely a steal.
Pros
Durable and resilient
Good sound, great tones
Very easy to carry around

Cons
Bass response is not good
Plain design
No pickguard
If you want an acoustic-electric travel guitar that can with stand any gig, temperature, or weather condition, then the Composite Acoustics Cargo Travel Guitar is for you. This great-playing and sounding guitar is mainly made from carbon fiber.
No shrinking or swelling, no cracking and splitting. You could be soaked in the rain and all you need to woory are the electronics and not the guitar itself.
The Cargo has the great acoustic tone that you want and need if you want to impress more than just the dogs, plants and furniture in your living room.
Pros
Lightweight and easy to carry
Good sound pickup
Durable

Cons
Expensive
Bass is not as good as the wooden guitars
No pickguard
Carbon Fiber VS Wooden Guitars: The Face-Off
When choosing guitars, consumers always consider the playability, the quality, and the sound. Traditional wooden guitars and the more modern carbon fiber guitars simply vary in these aspects.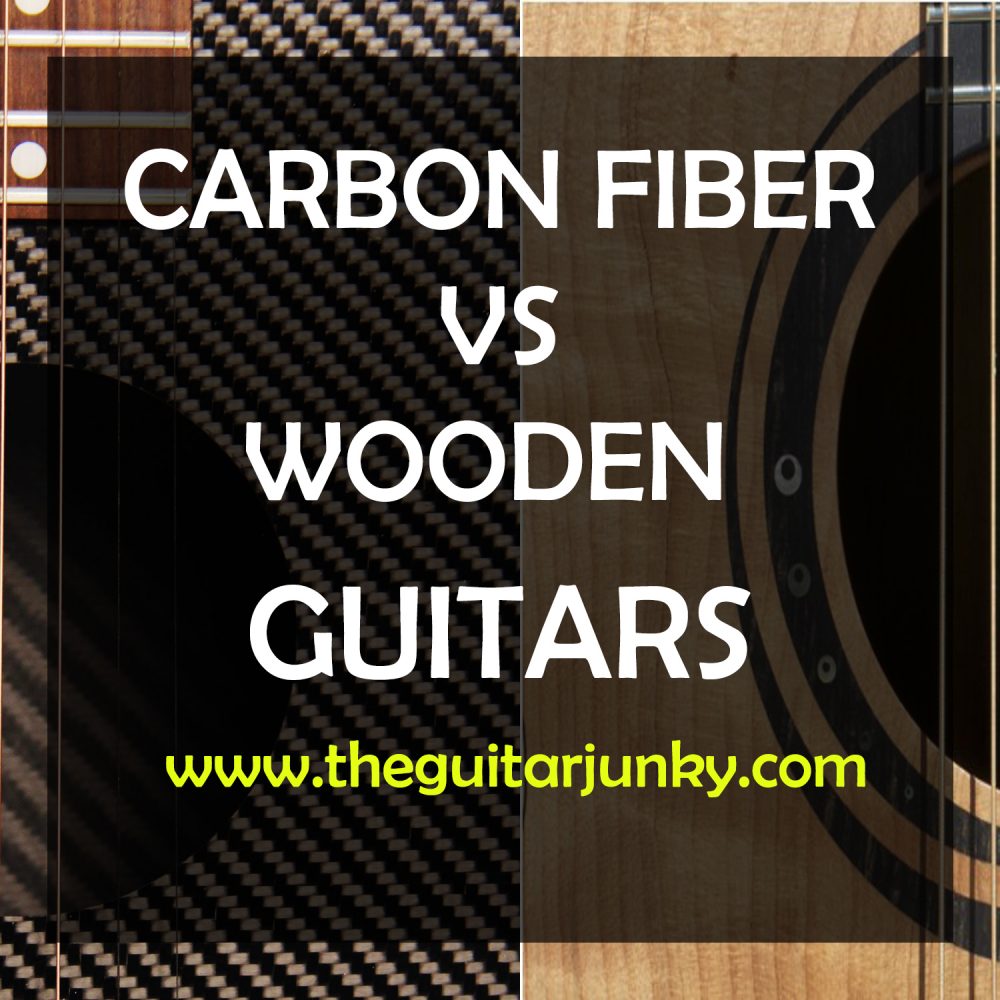 Price
Carbon fiber guitars: Although the commercialization of carbon fiber as a material has become cheaper for the last twenty years, the price of carbon fiber guitars can still be very painful for the wallet. Most guitars could cost you two thousand bucks depending on the make and the kind of guitar—acoustic or electric.
Traditional Wooden Guitar: The guitar manufacturing industry had been around for years that it had completely mastered the process of using wood in making its guitars.
Because of this, manufacturer had been able to cater to the needs of consumers in varying price ranges. Quality traditional guitars can be bought for less a thousand bucks and you would not regret your purchase.
Verdict: Price wise, the traditional wooden guitar wins.
Looks
Carbon fiber guitars: It is impossible not to think of carbon fiber guitars as a beautiful musical instrument. With it's obsidian coloring and sleek curves, the carbon fiber guitar belongs to the elite class in the hierarchy of 6-stringged instruments. You can show if off to all your friends both for its sound and appearance.
Traditional Wooden Guitar: When it comes to wooden guitars, looks could greatly vary depending on the kind of wood used. Or whether the material is solid wood or simply laminated wood. Nonetheless, the traditional wooden guitar simply screams vintage.
Verdict: When it comes to looks, it really depends on your preference. If you are the kind who prefers the classics, then a traditional wooden guitar is for you. But if you want a more modern, futuristic vibe, the carbon fiber guitar definitely take the cake.
Durability
Carbon fiber guitars: Carbon fiber is a long thin strand of material composed mostly of carbon atoms. When these carbon atoms are bonded together in microscopic crystals, the crystals align together making the fiber incredibly strong.
This inherent strength allows the carbon fiber guitar to be impervious to changes in temperature or humidity. The use of carbon fiber also ensures the formidability of your guitar from possible dents and cracks.
Traditional Wooden Guitar: Though a traditional guitar can be durable at best, the fact remains that compared to its carbon fiber counterpart, it can be very fragile. Wooden instruments can easily be affected by changes in temperature and humidity that could often cause cracking overtime.
Verdict: The carbon fiber guitar wins this round. It's just comforting to know that you would not have to worry about the possible damage that a drastic change in the weather could cause to your guitar.
Especially when you're a travelling musician whose gigs would bring you to places with varying climates, having the carbon fiber guitar is a better option. This is simply the kind of stability you would want in your guitar.
Sound
Carbon fiber guitars: Carbon fiber guitars produces a much louder sound that your ordinary acoustic guitar. You can be assured that the higher you hit those notes, the sound remains consistently clear and resonant. This is attributable to the fact that in carbon fiber guitars damping is consistent across the acoustic spectrum.
Traditional Wooden Guitar: The kind of wood used can really affect the kind of sound the guitar produces. However, a common problem for wooden guitars is the damping. The higher the notes you play, the muddier the sound it produces. This is because as frequency increases so does the damping.
Verdict: Both guitars produce equally beautiful tones that are unique to its material. But for this category, carbon fiber guitars win hands down.The consistency of the clearness in sound is definitely an important factor to consider.
Final Verdict
Overall, the carbon fiber guitar wins this contest.The pros: it's more durable, produces a much clearer sound as frequency increases, and it definitely won the lottery when it comes to perfectly good looks.
The only downside for carbon fiber guitars is that they are way more pricier. But of course, when you want a quality product, you have to invest in it. Shelling out a bit more cash, may not seem ideal now but it the long run, it will be definitely worth it.
Now, let's get into the real deal. What's the best carbon fiber guitars in 2018? Here they are.
Final Thoughts
Carbon fiber guitars are great guitars, almost at par with its wooden cousins, without cutting any trees and saving mother earth. There are a lot of guitars suitable for everyone depending on their taste and style.
Just because one is expensive doesn't mean it is great and just because it is cheap it is a rip off. Just know what you want and your style and you are good to go. What can be better than playing a good melody under the tree with the cold breeze of the air?