From the choice of material used to the technology infused in this instrument, this masterpiece is nothing short of perfection.
With its balanced, rich and detailed tones and great playing dynamics, this guitar perfect avenue of expression, in a very compact and comfortable instrument that is definitely within the budget.
All these topped with the onboard pickup system to let you take that awesome acoustic sound anywhere you want to play.
Want to own an authentic Taylor guitar with all its exquisiteness, good electronics and flawless aesthetics without breaking the bank?
What are the things that make this masterpiece a work of art?
Let's find out.
Editor's Pick
Also Check Out
Pros
Cheaper than the typical Taylor guitars
Premium grade materials
Easy to play
Neck not glossed to prevent sticking of hands while playing
Cons
Layered rosewood not laminated.
More expensive than most acoustic guitars
Action is not that great from out of the box
Here are the things that you need to know about the Taylor 214ce:
Well-Built Structure
With this beauty, you get a solid Sitka spruce top which and layered rosewood back and sides.
Spruce is an exceptional wood renowned for its beauty and outstanding characteristics, some of it includes, machinability, acoustic properties, straight grain and soft texture making it a perfect material for guitars while still being lightweight with good resiliency and above-average stiffness with a high strength-to-weight ratio.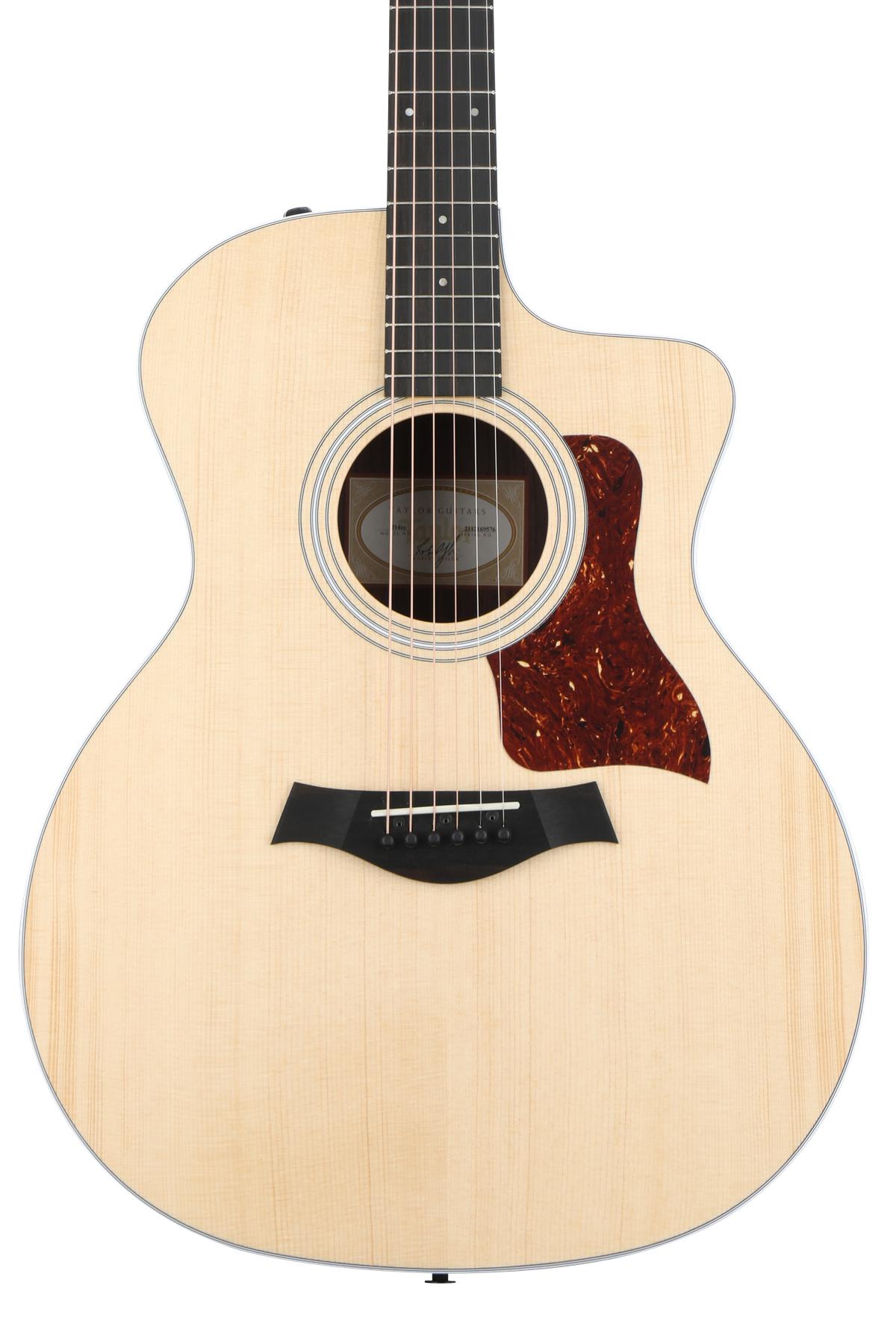 Meanwhile, the rosewood is a strong and heavy material that takes an excellent polish making it perfect for musical instruments such as guitars.
The handy single cutaway gives total access to the impressive and unbelievably easy to play ebony fret board.
The neck, which is made in sapele, while polished to perfection, is not glossed which prevents hands from sticking to the neck for easy play that allows the hand to glide along the neck with ease making playing the guitar a breeze.
Professional players will find it useful and pleasant while beginners will find it convenient and comfortable that will surely make them professionals in no time.
Superb Aesthetics
You can never go wrong with nature– the materials used to build this guitar are not only good for their durability but because of their innate beauty.
There is nothing more beautiful than the natural art that is formed by the natural grains of the wood enhanced by polishing. In addition, the natural colors of the wood give the guitar a more authentic and elegant look that is just pleasing to the eyes.
Great Onboard Electronics
The Taylor 214ce is already an exquisite, lovely, and pleasing instrument with a full cheerful and happy sound by itself. However, because of the electronics installed to it, it becomes an all-around powerhouse making it great for small crowd gig to a full auditorium play plugged in speakers.
Its electronic components work well that you can just plug it directly into the microphone port on your laptop using an auxiliary adapter and instantly get great quality in house recording.
Exquisite Playability
Infusing all structure and the electronics that have been mentioned, Taylor created this valuable powerhouse that will surely captivate the hearts of beginners and professionals, as well as the listeners whether in a gig or just in the living room.
The truss rod can be adjusted to really lower the action down to make it play close to an electric guitar. In addition, the guitar's sound is large and full together with the top notch electronics just like any Taylor product.
Even superman gets weak with kryptonite. No matter how carefully thought off and well-engineered the Taylor 214ce is, it still has some minor cons that comes with it. Here are the list of the guitars' pros and cons.
Drawbacks
With all of these great features discussed in detailed perspective, this guitar also has its drawbacks. For one, it's too expensive for some.
For it's price alone, you can already buy a cheaper guitar with almost the same quality as this one. All I'm saying is, there are also alternatives to this guitar.
Editor's Pick
Thanks to Anthony for providing great insights on possible cheaper alternatives on this guitar(comment found below). With that being said, you can also check Taylor Academy A12e, and Taylor Academy 12, and let me know!
To Wrap Things Up
Editor's Pick
This thing is definitely as bang for the buck! With great and superb structure, exquisite aesthetics and stellar performing electronics, the Taylor 214ce is really in for a great value at a lower price. Stocked with an already great set of strings, this baby is ready to play right out of the box. Be ready to rock your and your audience's world with every strum of this guitar.