Editor's Pick
Fender CD-60S Solid Top Dreadnought Acoustic Guitar
With a classic combination of the dreadnought and mahogany back and sides, the redesigned strong Fender CD-60S/strong Dreadnought offers superior sound at an attractive price. It has the traditional full-bodied tone, suitable for the beginner or aspiring player, delivering the fantastic playing experience you expect and more.
CHECK PRICE ON SWEETWATER
CHECK PRICE ON GUITAR CENTER
We may earn commission from purchases made from our links, at no additional cost to you.
Fender Guitars is known for the legendary basses and electric guitars, but they aren't strangers to the acoustic world.
They offer a ton of ukelele models to acoustic guitars, ideal for beginners to advanced guitarists alike.
Read: 10 Best Fender Acoustic Guitars
Today, we'll be reviewing the Fender CD-60S, a dreadnought-sized acoustic guitar that's perfect for any type of player.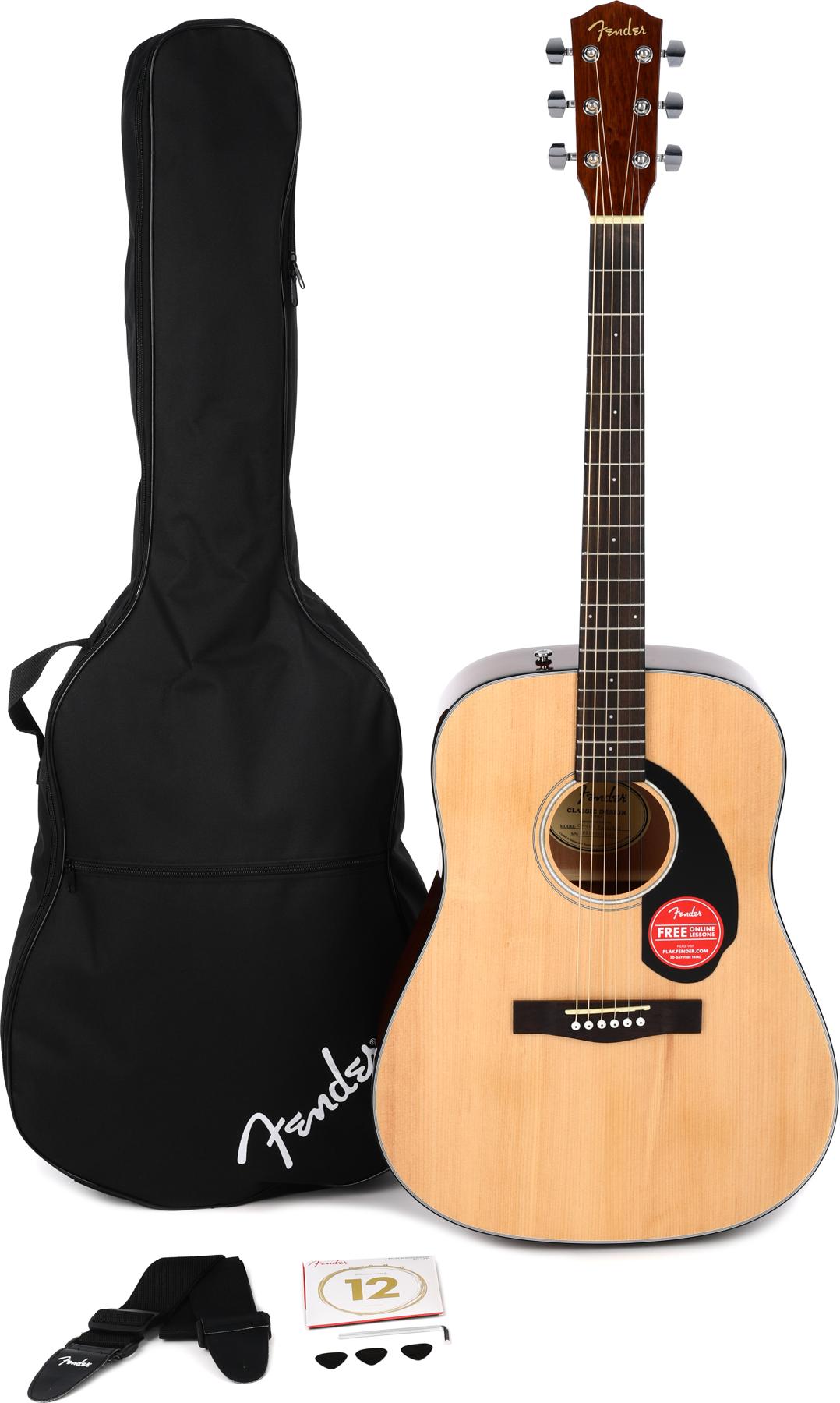 $34/Month on Sweetwater.com
Amazing Action and Comfortable Feel
Another feature I would love to point out with the Fender CD-60S is its excellent action. You might think that with a budget acoustic guitar for beginners, it lacks in optimal action you can't correct, but with this model, it feels comfortable on the fingers.
Because of this, it's easy to do finger tricks and other playing styles without too much effort.
I surprising appreciate its comfortable feel in just a few minutes after I began playing it. Additionally, it comes with the detailed dynamics that make it even better to use, no pain or discomfort.
Quality Design and Material Build to Last
The first thing you'll notice about the Fender CD-60S is its attractive design. It has a solid mahogany top, as well as mahogany back and sides.
It also has 20 frets, a 25.3-inch scale neck, rosewood fingerboard, a dual-action truss rod, sealed die-cast tuners, and a scalloped X bracing, making it well-equipped with features that don't come with guitars in its price range!
It has a clear attach and warmth which produces better and can work with any playing style you prefer. Additionally, the tuning machines do not feel weak or stiff, working great in maintaining the tune of the guitar.
Sure, it isn't the most beautiful of guitars, but it has the simple and elegant design to attract and please your audience surely. Additionally, it comes with a hard-shell case for free for assured protection and durability.
Solid-Top
This dreadnought guitar feels as good as it sounds, having the rich and full tone many will appreciate. It's excellent when strummed as it has a unique character which sounds even better the longer you use it for.
Although, it may not have the best quality of definition and clarity as other advanced guitars out there.
Remember, this is a beginner guitar and not for legendary and advanced guitarists unless used as a backup. But with that being said, it delivers well, and you get more than what you would expect from a guitar expected to be just for first-timers.
Excellent Power and Projection
This traditional dreadnought body comes with a powerful voice and impressive projection, which is what makes it an excellent choice for flat pickers.
It comes with naturally-deep lows but also crisp highs, which makes the guitar excellent to play in just about any genre, may it be a traditional folk or modern acoustic rock.
Furthermore, the guitar will be able to handle aggressive rhythms and picking, with its smooth rosewood fingerboard.
With its easy to play profile and projection to be heard well from many, it's an excellent guitar for small concerts or jamming with your loved ones.
Best Price Range For Beginners
You shouldn't expect the concert-quality sounds from the Fender CD-60S, though it has the best price range compared to its competitors regarding its sound quality and design. It has the beautiful tone that only gets better as it ages.
As long as you have the high-quality strings and excellent setup before playing, the sounds will be quite impressive.
This model is quite a catch not just because of its feel and tone but with its remarkable value for money that makes you feel like you're purchasing something worth more than you pay for.
There's no need to shell out thousands for your first or backup guitar because, at an attractive price, the Fender CD-60S will deliver more than what is expected of it.
Pros
Solid built to last
Tough polyurethane to absorb dings and small bumps
Fantastic action and feels comfortable on the fingers
Easy to make cleaner finger tricks
Simple yet elegant design
Cons
Doesn't deliver well with finger-picking
Not the best sound for advanced players
Verdict
Editor's Pick
While people won't confuse the Fender CD-60S with professional and legendary guitars, this model is still an impressive investment for first-timers or a worthy backup acoustic with its value.
It's got the quality build and a great sound, proof that you won't have to spend thousands of dollars for an excellent guitar.
So, is this guitar worth buying?
I would recommend the Fender CD-60S for beginners who are aiming for a smooth look, comfortable feel, and full-profile sounds. It delivers in all ways, worth every penny you pay for.
Other Guitars in the Same Price Range