When I was a kid, I have always admired country music. Maybe, a part of this is because of my father. He used to play country music– almost every morning the moment he wakes up.
The lyrics of each song became stuck to my head, which gave me a bad case of LSS. Eventually, I became a fan of country music. I became a huge fan of Johnny Cash and his songs, and they have certain messages or stories.
Up until now, country music has never left my heart. This gave me the drive to learn a few of my favorite songs. I figured it wouldn't hurt to learn a few.
This made me search for the best acoustic guitars for country music. If I were to start something, better start it with the best instrument in hand. I don't settle for less.
If you're on a hunt like me, below are the top choices for the best acoustic guitar for country music.
Here are the best country guitar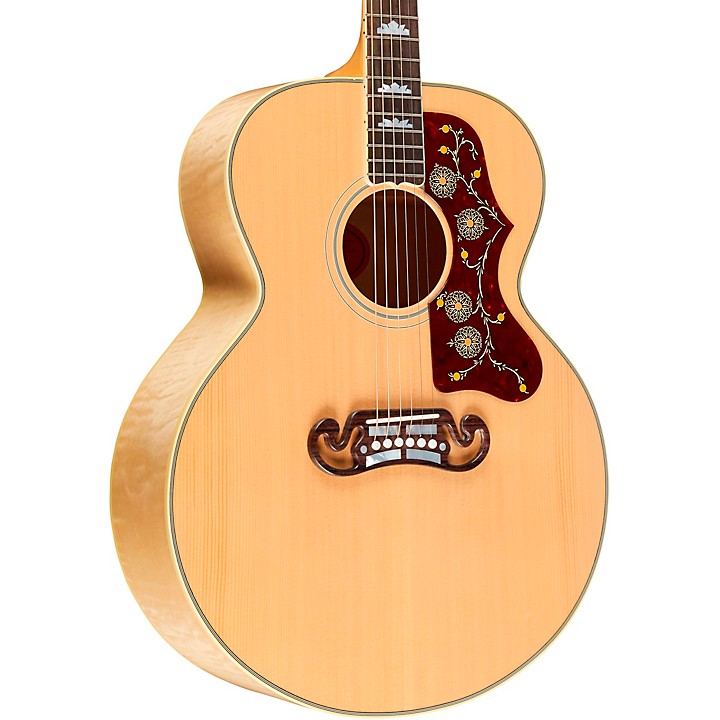 Considered the best acoustic guitar for country music is the Gibson SJ-200, and it won't be a wonder why once you get to know its features. Hailing from Gibson's Jumbo series, the J-200 boasts its stylish build and great features.
Endorsed by the famous Elvis Presley back in the day, the Gibson SJ-200 is a timeless musical must-have.
Created with the right amount of volume and warm tone, the SJ-200 is every singer-songwriter's dream country guitar. Popularly-known as the "King of the Flat-tops", this acoustic guitar made a name for itself back in 1937.
With SJ-200, perfecting your favorite country song will be as easy as ABC.
Featuring a Sitka Spruce top, maple back and sides, and a gold Grover rotomatic tuner, the J-200 is both stunning and sturdy. Its fingerboard edge is made so as to give its users the comfort they deserve and owns an engraved truss rod cover.
For it to give an optimum performance, the J-200 boasts its Plek assisted setup, LR Baggs Anthem pickup, and long-lasting oil for maximum wood vibrancy.
Pros
Great style

Balanced tone

High quality and sturdy construction
Cons
Also Great
Runner-up on our list is the Martin D-28. If you feel like splurging on the best acoustic guitar for country music, then consider this on your top choices. Its features and great sound will give justice to its price tag, for sure.
Introduced back in 1931, the Martin D-28 is considered one of the classic acoustic guitars every country music lover should notice. But, it's not only perfect for country music, as it's also suitable for any other music genre of your preference.
Living up to its name, the "D" for Martin D-28 stands for "dreadnought".
Along with its co-members of the D-series, the Martin D-28 makes a classic and perfect candidate or the best acoustic guitar for country music.
Pros
Great for picking and plucking

High quality
Cons
Since not every acoustic guitar is made similarly, some might sound less likable when unplugged than it is plugged in. In other words, some acoustic guitars are meant to be played in front of a crowd, for everyone to hear. An example of this is the Yamaha A5R.
Fulfill your goal of nailing a performance in a large crowd by trying the A5R.
Coming from a brand that has been used by a lot of famous performers, the A5R sounds exceptional with its rounded fretboard edges and quality performance in high ranges. With its SRT2 preamp pickup system, this guitar's resonance and well-balanced sound won't be a problem.
With its sturdy construction and elegant finish, the Yamaha A5R will capture every country music lover's heart. Its solid Sitka Spruce with ARE treatment, solid rosewood back and sides and Gotoh tuners add up to why the A5R is just simply one of the best acoustic guitars for country music.
Pros
Sounds great plugged in

Rich sound
Cons
Not everyone prefers guitars with a cutaway
Now, if you're looking for something that doesn't break the bank, but still has exceptional features, the Epiphone EJ-200SCE will attend to your needs. In case you don't know, this guitar is Epiphone's version of "The King Of The Flat-tops".
With its solid construction, the EJ-200SCE possesses a jumbo select maple body paired with a solid Spruce top. Its acoustic sound is amplified by the eSonic2 preamp with built-in tuner and NanoFlex/NanoMag pickups.
Its tonewood combination is one of the main reasons for its compact and balanced tone, which every guitarist will love.
Pros
eSonic2 preamp with built-in tuner and NanoFlex/NanoMag pickups

Sturdy construction
Cons
Looks might not be attractive to everyone
If you're on a tight budget, but still want to jam to your favorite country song, the Fender CD-60S has you covered. For only under $200, the CD-60S is safe on your hands. With its great functionality and simple design, you're getting more than what you paid for.
Belonging to Fender's Classic Design (CD) series is its entry model, CD-60S. It might be a pioneering model, but it surely does not give an entry-level performance.
Its solid construction given by the Mahogany top, laminated back and sides, and rolled fretboard edge scream simplicity and comfortability.
One particular feature the CD-60S boasts is its great intonation. Ultimately, its comfortable design and character made it one of the crème de la crème.
Pros
Great intonation

Excellent value for your money
Cons
Design might be too bland
Factors To Consider When Buying An Acoustic Guitar For Country Music
Before going to your local musical instruments shop, it's best that you're loaded with information on what makes the best acoustic guitar for country music.
Shopping for one without any idea which one to pick might take you a whole day. Besides, you don't want to be brainwashed by the salesman into buying their most expensive acoustic guitar, do you?
That's why, it's best for you to know the factors to be considered when buying the best acoustic guitar for country music. Although, generally speaking, it's really a good practice to actually choose the best one out of your preference and style.
To get things started, here are some of the things you need to think about before splurging some cash. Meanwhile you can also watch this guide on how to play like Johnny Cash. #NoPunIntended
Set your budget
Among others, the first thing to think about is your budget. Some acoustic guitars with different range of price tags have different quality. It really depends on how you want your guitar and what you need it for.
If you're a beginner and just want to play a good guitar for country on your extra time, an acoustic guitar priced at around $300 (utmost) might be a good option.
On the other hand, acoustic acoustic guitars of around $700 should give you one that has a pretty solid Spruce top.
If you're feeling a four-digit price tag, you're guaranteed to have a high-end and pro-level guitar. Acoustic guitars worth this price should give you the best quality and specially-crafted instrument.
Just remember, with an instrument worth this much comes much-needed tender loving care.
Lastly, if you're on a tight budget but still want the best quality for an acoustic guitar, don't spend your money on expensive accessories. Instead, save your money until you hit the target price of the desired acoustic guitar.
Know your guitar
If you're planning to buy the best acoustic guitar for country music, you're probably exposed to what a basic guitar looks like. Guitars with different body sizes produce different sounds.
Acoustic guitars with large bodies have more volume, so they produce a deeper sound. Similarly, relatively smaller ones create a more focused sound.
Now, for the tone. The tone of your guitar can be greatly impacted by the type of wood it's made. The most commonly used tonewood for acoustic guitars country music is Mahogany. Sapele, Spruce, and Maple woods are good options, too.
How it looks like
To look more appealing, some acoustic guitars boast a natural finish. Look for something with a translucent finish as a heavier gloss may hinder its sound quality.
You might be attracted to fancy add-ons, like a gold-plated tuner or herringbone trim, but it does not automatically make it better than the other acoustic guitars.
Our Choice
Editor's Pick
So, if you're looking for the best acoustic guitar for country music, go for Gibson J-200. Gibson is known to be a powerhouse when it comes to musical instruments, that's why you won't doubt this winner.
The J-200 has a warm and balanced tone that's perfect for every country music.
Dubbed as the "King of the Flat-tops", you can say that the J-200 is a legendary acoustic guitar that has lived strong through the years.
Made with Sitka Spruce top, Maple back and sides, and Mahogany neck, the Gibson J-200 satisfies your every need. It might be a little high on the price tag. But, hey, go big or go home, right?