Overall best. Perfect for kids with small hands. Best investment if they want to learn.
Great budget pick. If you think your child is not sure if they want to learn to play or not, I highly recommend this guitar.
Perfect for kids around 8 years old onward.
Cheap guitar, great for kids around 5-6 years old.
For a guitar this size, it sounds incredible. Perfect for kids 10-12 years old onward.
OUR #1 RATED BEST ACOUSTIC GUITAR FOR KIDS
I have a 4 year old little girl who really loves to mimic cartoon characters on TV.
One of those characters she often copy while watching is Ash, a porcupine girl rocker from the hit movie, Sing.
Now my daughter wants to rock along with Ash and she wants to carry my guitar- which is by the way almost twice her size.
I don't want her to break any piece of that guitar and she can't rock well because it's too heavy for her.
So I've decided to buy her an acoustic guitar that is just perfect for her size.
Here are my recommended small-size beginner acoustic guitars that your kid will surely love.
9 Best Acoustic Guitars for Kids In 2019
Features
3/4 Scale mini guitar
Solid spruce top
Meranti sides and back
Rosewood neck and fingerboard
VerdictThe Yamaha JR1 3/4 Scale Guitar is just perfect for kids and adults alike. It provides a real comfort in playing and has a decent quality sound that makes it hard to beat for the price.
Features
3/4 Body Size
23.3 Guitar Scale Length
C-shape Neck Profile in Satin Finish
Agathis Top
Salepe Back and Sides
Verdict
Players with small hands will definitely love Fender MA-1 3/4 Having said that, the neck size and nylon string makes playing really comfortable.
Features
Spruce Top
Meranti Back
Meranti Sides
Gloss Finish
Rosewood Fingerboard
Verdict
For an affordable price, the Yamaha CS40 II 7/8-Scale Nylon String Guitar is one of the best guitar for beginners. It is available in full size and 7/8 scale and I would highly recommend the latter as it is more beginner-friendly. It may not be a top notch guitar but to get you started, this will more than suffice.
Features
Perfect for Beginner Students
Steel Strings
Wood Frame Build
Comes with a Bundles of Guitar Accessories
Verdict
If you want to just start playing without burning a hole in your pocket, then the Crescent MG38-CF 38″ Acoustic Guitar is just perfect. At a cheap price, its already loaded with a bunch of guitar accessories that is ideal for any beginner guitar players.
Features
Spruce Top Body
Durable Body Bracing
Great-looking Die-cast Tuners
Meranti Mahogany Neck
Verdict
Another one of the cheapest and best acoustic guitar for beginners, the Arcadia DL36NA PAK 38″ parlor size comes in natural, black, and tobbaco sunburst and is available in 2 different sizes. For those who prefer a full size guitar, the DL41 model will suit you while those who prefer smaller guitars will love the parlor size DL36 model.
Features
Select top spruce
Basswood back and sides
21-Fret rosewood fingerboard
Verdict
The Gibson Maestro lets you choose from 3 different designs of their stunning guitar: vintage sunburst, natural and ebony. I personally like the vintage sunburst finish. With a proper setup and use, this little Gibson guitar will show its full potential. Not to mention, its body size is perfectly built for beginners to practice with ease.
Features
30- inch steel string and nylon acoustic(3 steel-wrapped nylon and 3 pure nylon strings)
Made from high-quality wood
Glossed finish

Verdict
One of the best qualities that makes a perfect beginner acoustic guitar is how someone can easily play on it, and this Lauren LA30N guitar just delivers. This cheap guitar is perfect for parents who don't want to regret buying later if their kid loses interest in playing.
Features
Comes in two finish designs: vintage sunburst and natural
21 1/4″ scale length
Mahogany Back
Mahogany Sides
Spruce Top
Nato Neck
Verdict
The Yamaha JR2 3/4 Size Acoustic Guitar is modeled after the brand's FG series, one of the best-selling guitars of all time. It's a compact size guitar that is perfect for beginners who wish to practice in ease, kids who are just starting to play, and as well as intermediate players who wants to have a guitar that they can easily carry when traveling.
Features
Small-sized body guitar, 23.3 string scale length
23.3 Guitar Scale Length
C-shape Neck Profile in Satin Finish
Agathis Top
Sapele Back and Sides
Verdict
At a 23.3 string scale length and 3/4 size body, kids and players who have small hands will definitely love the Fender MA-1 3/4-Size Steel String Acoustic Guitar. Its a perfectly portable guitar that any kid could carry around easily. The Fender MA-1 also perfectly stays in tune and sounds more than good enough for any beginner player.
What To Consider When Buying an Acoustic Guitar for Your Kid?
Size
I think this is the most important thing to consider as playing the guitar can be difficult for them when they're using a full-size guitar for adults
Comfortability
We want to encourage our child in playing, so having a guitar on which they are comfortable in playing. Choose a low action guitar, which makes the strings easy to press. Double check with the seller to not make the action too low as it can cause some buzzing tone on the strings.
Price
Make sure not to buy a too costly guitar if don't want to regret buying later(if you're kid loses interest afterwards, or drops the guitar often). If they continue playing, you may want to upgrade their skills and improve their playing using these acoustic guitars for beginners.
What's The Best Guitar for My Kid?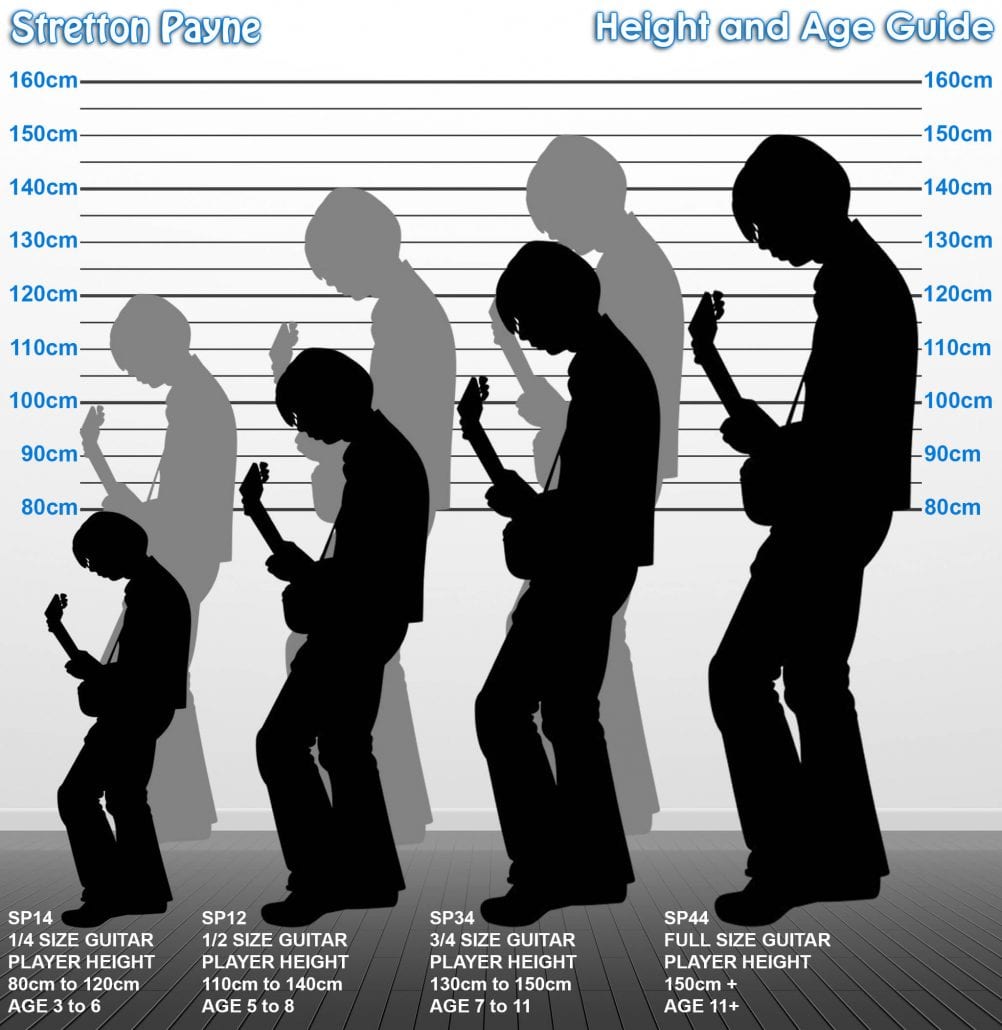 The correct size guitar is important as it allows the child to be more comfortable with the instrument and increase the chances of them committing to the craft.
If the instrument is too small or too big, practicing will be a difficult task for the kid.
Below is a guitar size chart that recommends the proper size according to age:
| | |
| --- | --- |
| AGE | SIZE |
| 4-6 years old | 30 inches |
| 6-9 years old | 34 inches |
| 9-12 years old | 36 inches |
| 12 years old and up | Standard size |
What's The Proper Age To Getting Started Learning Guitar?
Before you go consider other factors, the very first thing that you need to consider in the guitar-purchasing process is your child.
Answers usually vary as to the best age to start guitar lessons: some people say around the age of six but others can tell you that a five year old can start taking guitar lessons.
This is because the most important factor to consider is the physical strength of a student's hand.
So if your child can physically handle playing the guitar, the next step to consider is the guitar size that matches your child's age. If you think you're child is into rockin', check out our recommendation for best electric guitars for kids.
Recommended Easy Guitar Lessons and Resources for Kids:
Our Choice
Any parent would do as much as they want to fully support their child's interests. Who knows? They might be the next rock n' roll star in the future. One way of making that possible is buying their first guitar.


For most kids, I'd recommend getting the Yamaha JR1, which is top choice small-size kid's acoustic guitar. For kids 10-12 onwards, get the bigger Yamaha JR2.
And for those budget-seekers, I recommend getting Crescent MG38-CF and Maestro by Gibson
Did my list helped you? Let us know by leaving your comments below.