25" scale length guitar with a mahogany body and rosewood fingerboard
A 24.75" scale length guitar with laminated mahogany back and sides
Beautiful 6 -string guitar with a mahogany body, neck, and sides
A limited production parlor body guitar with a solid Sitka spruce top, mahogany back and sides, and a satin-finish mahogany neck
A beautiful Grand Symphony body with solid Sitka back and sides with a walnut bracing pattern, does not come with a top wood
Beautiful round mahogany neck
Sports a laminated spruce top and quarter sawed scalloped X-bracing
Easy to play rosewood fretboard
Comes with the precise Grover tuners as one of its premium components
Features a spell neck and ebony fingerboard
Comes with Gretsch's hand-spun Amplifier-Sonic spider cone and bridge
Comes with a 20-fret rosewood fingerboard and open gear chrome tuners
Comfortable to play and hold, produces a rich and warm sound
Features a beautiful distressed finish for that classic worn-out look
Has the ES-B electronics in the whole package
A great pick for someone who wants a good-quality resonator guitar
A good choice for anyone who wants a rich, vintage-style guitar
A perfect choice for those who love a classic feel
A great pick for those who love a guitar that gets better as it ages
The best pick for acoustic guitar players who love using their amp
Today's deals on our top pick
Thinking about learning how to play the blues? We get it – it's a lot of pressure. Any true blues fan would be familiar with its distinct, classic sound.
And perhaps it is for this reason why some people shy away from the idea of playing the blues. It's a well-loved genre with a sound that's hard to produce for a beginner. But that doesn't mean that it's impossible.
If you're keen about learning how to play the blues, you need a companion that can help you form and develop your skills. A good acoustic guitar for blues don't just have to sound good, they should be able to accommodate your skill level as well as comfortability and playability.
The good news is, there are plenty of viable choices to choose from today – so much that shopping for the best acoustic guitar for blues has become so overwhelming. But don't worry, we've got you covered with this list of acoustic guitars for blue.
Top 10 Best Acoustic Guitars For Blues in 2020
Looking for an acoustic guitar with a classic, nostalgic feel? The Martin 000-15M will take you back in time. This no-frills guitar is made with one of the finest woods ever used on an acoustic. And you know that they say – the wood makes all the difference in sound.
But the material isn't the only reason why you'd want this guitar. It's simple and easy to play – even beginners can get their hands on this higher-end acoustic. This guitar is also perfect for those who love country and blues.
Pros
Produces beautiful soft tones
Thanks to the top-grade mahogany woods
Creates a classic country/blues
Sound that will take you back to the 1920s and 1930s
Comes in a perfect size
Comfortable to hold and play
And best of all
It ages beautifully as well

Cons
Price is on the higher end compared to other options on the list
If you're in search of a guitar that looks as good as it plays, then the Gretsch G9200 is your best bet. This guitar is a head turner with its timeless and unique details. But that's not all, the G900 can also produce layers and layers of rich rustic tunes – perfect for anyone who's in the mood for some blues.
Although it is a relatively larger guitar, the weight doesn't pull you down. It plays comfortably, has an easy hold, and is an overall great example of a good resonator guitar.
Pros
Easy to play with
Great for players with smaller hands as well
Produces a warm loud tone perfect for a variety of blues styles
Lightweight
Considering it is one of the larger guitars in size on this list

Cons
Placement of the 12th fret may be a bit difficult for some users to reach
Here's a Fender guitar with an elegant and timeless design. If you want a guitar with a subtle detail but big on the sound the Fender C0-100 Parlor is a good choice. Made by a trusted brand, you can only expect a well-built guitar and this one definitely delivers your expectations.
It plays smoothly and produces a loud and clear tone – a great choice for performers onstage. The fret placement is easy and comfortable, even beginners can enjoy a good blues tune.
Pros
A super affordable entry-level guitar that's made by a trusted brand
Comes in a simple design and it has all the right things in the right places
Beginner friendly
Produces a rich clear tone that's compatible with more vintage-style sounds

Cons
Craftsmanship and quality control could be better
Buzz can be heard on the neck because of faulty fret leveling
Ibanez AVN6 Artwood Vintage Distressed Parlor Acoustic Guitar Tobacco SunburstTesting
Limited production Parlor body Solid Sitka spruce top Mahogany back and sides Slotted headstock Herringbone rosette Bone nut and saddle Antique Nickel Open Gear tuners Distressed Tobacco Sunburst (DTS) finish
Taking a "modern approach to acoustic guitar tradition," the Ibanez Artwood Series of acoustic instruments has long been a source of pride and a labor of love
Are you an Ibanez fiend? We've got what you're looking for. The Ibanez AVN6 has all the qualities that pass the high standards of an Ibanez. It produces a great tone and it ages beautifully no matter how many times you've played.
I personally like that this guitar comes with the premium Grover tuners – a perfect companion for both beginners and veterans of acoustic guitars.
Pros
Superior tone
Great volume at an affordable rate
Made with premium solid wood giving the guitar a harmonic richness as time passes
Comes with the premium and precise Grover tuners

Cons
The color on the photo may be slightly different than in real life
Taylor GS Mini-e Walnut/Spruce Acoustic-Electric Guitar NaturalTesting
Body Body type: Grand Symphony Cutaway: No Top wood: Solid Sitka Spruce Back & sides: Layered Walnut Bracing pattern: GS Mini with Relief Rout Body finish: Matte 2.0 Varnish Orientation: Right handed Neck Neck shape: Taylor GS Mini Profile Nut width: 1.687 in. (42.8 mm) Fingerboard: Genuine African Ebony Neck wood: Sapele Scale length: 23.5 in. Number of frets: 20 Neck finish
There's something undeniably inviting about the Taylor GS Mini's scaled-down size, yet a single strum reveals the impressive voice of a full-size guitar
The Taylor brand is known worldwide, and they are easily associated with the production of acoustic guitars. With such a huge reputation in the industry, you can only expect the best from them. Although I'm not so particular with brand names, I must admit that the Taylor GS Mini-e has won me over.
This elegant guitar is made of solid Sitka spruce and layered walnut back and sides. The great thing about having a guitar that is made of walnut is that it is resistant to the changes brought about by humidity. And because of this, the Taylor GS Mini-e makes it one of the best-suited guitars for the traveling musician.
Pros
Made with premium quality woods providing a rich
Full sound perfect for a variety of playing styles
Comes with the Taylor Expression System-B pickup giving this acoustic-electric a more natural acoustic sound
Produces a large sound comparable to Taylor's Grand Symphony but in a mini
Travel-friendly size

Cons
The brown color may vary from the photo
If you fell in love with the Martin 000-015M from earlier, but you prefer a more mellow tone as opposed to something bright and warm, then the Martin 00-15M is a suitable alternative for you.
Like all the other Martin guitars, this one is also made with premium quality woods – giving this guitar a better sound. If you love the blues or if you like fingerpicking, you'll find that this guitar is a breeze to play.
Pros
Made with premium quality woods providing a rich
Full sound perfect for a variety of playing styles
Comes with the Taylor Expression System-B pickup giving this acoustic-electric a more natural acoustic sound
Produces a large sound comparable to Taylor's Grand Symphony but in a mini
Travel-friendly size

Cons
The brown color may vary from the photo
Here's another guitar from Taylor that will not disappoint. Like all the other guitars in their catalog, the GS Mini is made with good quality mahogany from the USA.
The neck is much wider on this guitar than most options on this list, making it a lot easier to play with. If you think you'd play better with a wider neck, then this guitar is the choice for you.
Are you looking for a mahogany guitar that's not too bright? This guitar from Paul Reed Smith might just be your thing. A lot of mahogany guitars ten to sound too warm, but surprisingly, the SE Angelus AX20E has a great balance.
It is brilliant with great harmonic overtones. The Fishman under saddle pickup also gives this guitar a more naturally acoustic tone.
What I like most about this guitar is that it is great for fingerstyle playing. It has a focused range, making it fit for strummed rhythm playing and flat picking techniques. These are all great guitar characteristics for anyone interested in playing the blues.
Out of all the Taylor guitars, this is perhaps one of the crowd's favorite guitars. The Taylor 214ce produces a crisp and deep sound. Topped with amazing harmonics and a full cheerful tone, this is one guitar whose sound quality is hard to beat.
Apart from its exquisite cosmetics, the 214ce is also an easy-to-play guitar that is also great for beginners. And the fact that it is made with good quality wood makes it durable enough to last for many years to come.
Are you on the hunt for a no-frills guitar that fits a humble budget? The Seagull S6 Original is a pocket-friendly option that will not disappoint. It is an entry-level guitar with complete components that will satisfy any beginner.
It is well built, sturdy, and it has everything one might need to play some music. Although it does not come with any fancy features, it is a great guitar to practice with. If you're a beginner who has been stuck with a lower quality guitar and would like to upgrade without breaking the bank, this is the guitar for you.
How To Choose The Best Acoustic Guitar For Blues
Choosing the best acoustic guitar for blues all comes down to personal taste. Music is always evolving and it's not a surprise if a lot of things have changed stylistically. There are different kinds of blues out there, from British Blues to Texas Blues, all of them have a distinct style.
As a beginner, it is recommended that you discover the type of blues you'd want to play. Get to know the popular names within that genre and figure out what makes their sound so distinct – you might also want to take a look at the types of guitars they play.
Each guitar that you come across will have a unique sound – some will have that country twang while others have a more classic and warm sound. After picking what sounds good to you, the next step is to choose a guitar based on how it feels.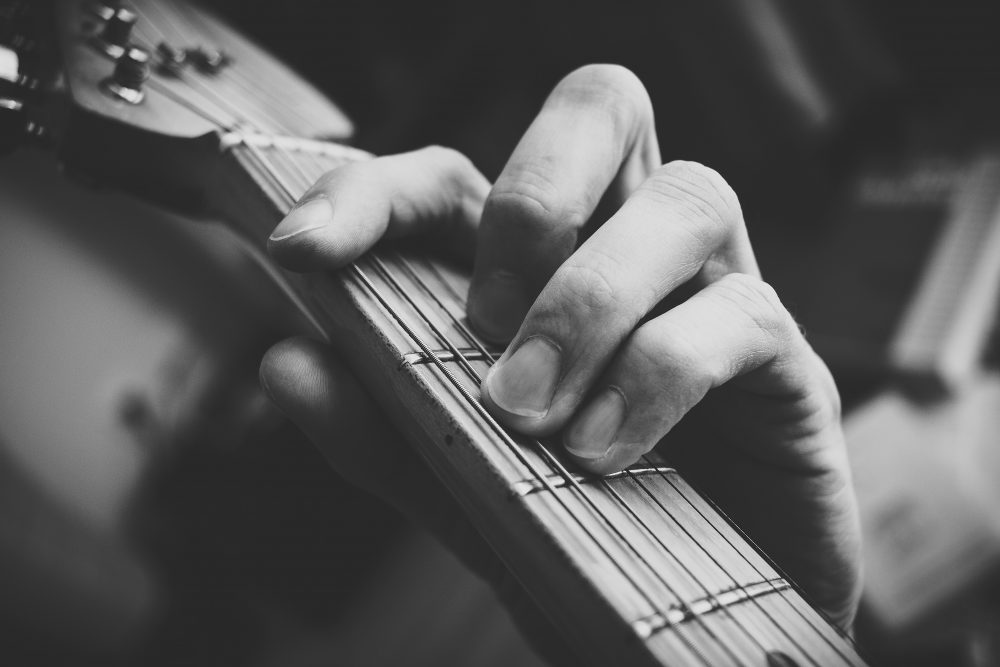 Make sure that the guitar is comfortable to play and hold as it can affect how you produce your sound. Plus, you'll probably be practicing long hours with your guitar so it's best to get one that doesn't hurt your hand or your posture in the process
Our Selection
Choosing the best acoustic guitar for blues is a tough choice since this list has some of the best acoustic guitars in the market today. But we still think that the Martin 000-015M is the best choice among the rest.
It has that classic feel to it as well as a timeless, well-loved sound that is hard to resist. The Martin 000-015M also produces a rich tone that has just the right amount of twang – perfect for anyone who wants to play the blues.
ALSO READ: Our ultimate list of the best acoustic guitar
Today's deals on our top pick