| | |
| --- | --- |
| | |
| | |
| | |
| | |
| | |
| | |
As one of the leading guitar manufacturers, Taylor comes up with its 700 series and 800 series.
However, guitar players wonder which of the Taylor 714ce or Taylor 814ce to get. With its innovative features and amazing tone wood combinations, it would seem like a hard choice.
As a guitar enthusiast myself, I would also like to know which guitar is and sounds better, given that they have their own distinct features.
So, if you want to know too, let's get down to business.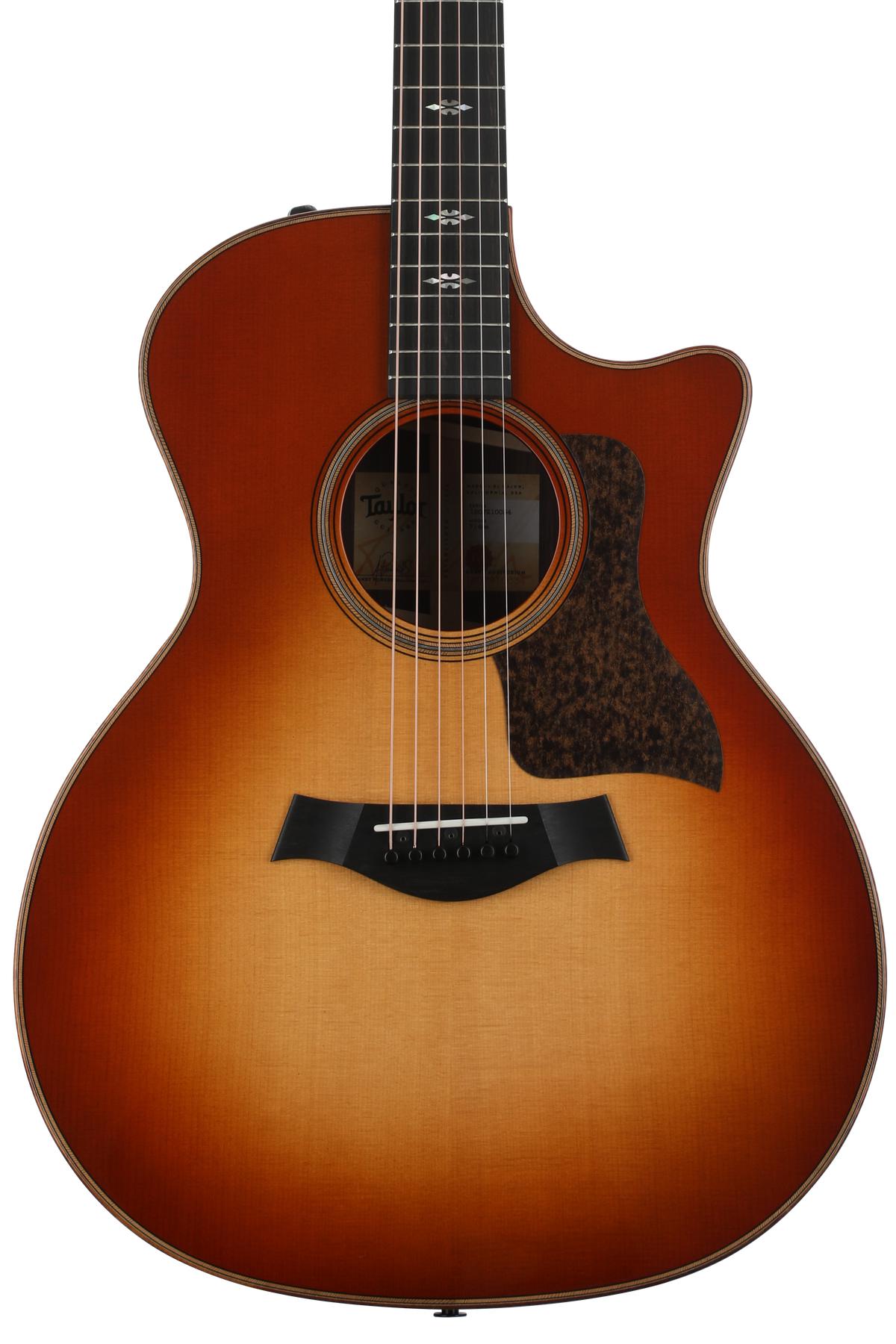 With its revolutionary V-class bracing and excellent tone wood construction, Taylor comes up with an addition to their 700 Series—the Taylor 714ce. This acoustic-electric Grand Auditorium is among the well-known rosewood acoustic guitars. Possessing a powerful volume that's spread evenly across the tonal spectrum, the 714ce produces robust lows and crisp highs which every guitarist will surely adore.
One of its notable features is its V-class bracing. Considered as a ground-breaking innovation, the 714ce produces a sound that's enough to contain its volume and sustain. This design allows necessary air movement to produce strong projection and improved intonation. Aside from its bracing, the 714ce also boasts a Grand Auditorium type of body, which features a typical size of a dreadnought but with a slimmer waist. This specific design makes for sharper notes and much-needed comfortability of every user.
Featuring a combination of Sitka and white spruce wood, the 714ce makes use of Lutz spruce as its top, which adds to its pleasing sound characteristic. Aside from this majestic tone wood, 714ce has an Indian rosewood back and sides. Together, the 714ce produces a wonderfully rich tone with absolute bell-like clarity that's perfect for any playing styles.
Adding to the great playability of the 714ce is its Venetian cutaway. Also, if you're a performer by nature, then you're in for a treat. The 714ce features a built-in Taylor Expression System 2 (ES2) electronics. Behind its saddle is a 3-section proprietary pickup which lets the ES2 pickup to produce a very clear and highly-responsive sound. Other than that, the Taylor 714ce owns a master volume and tone control which lets you regulate the sound to your preference.
Editor's Pick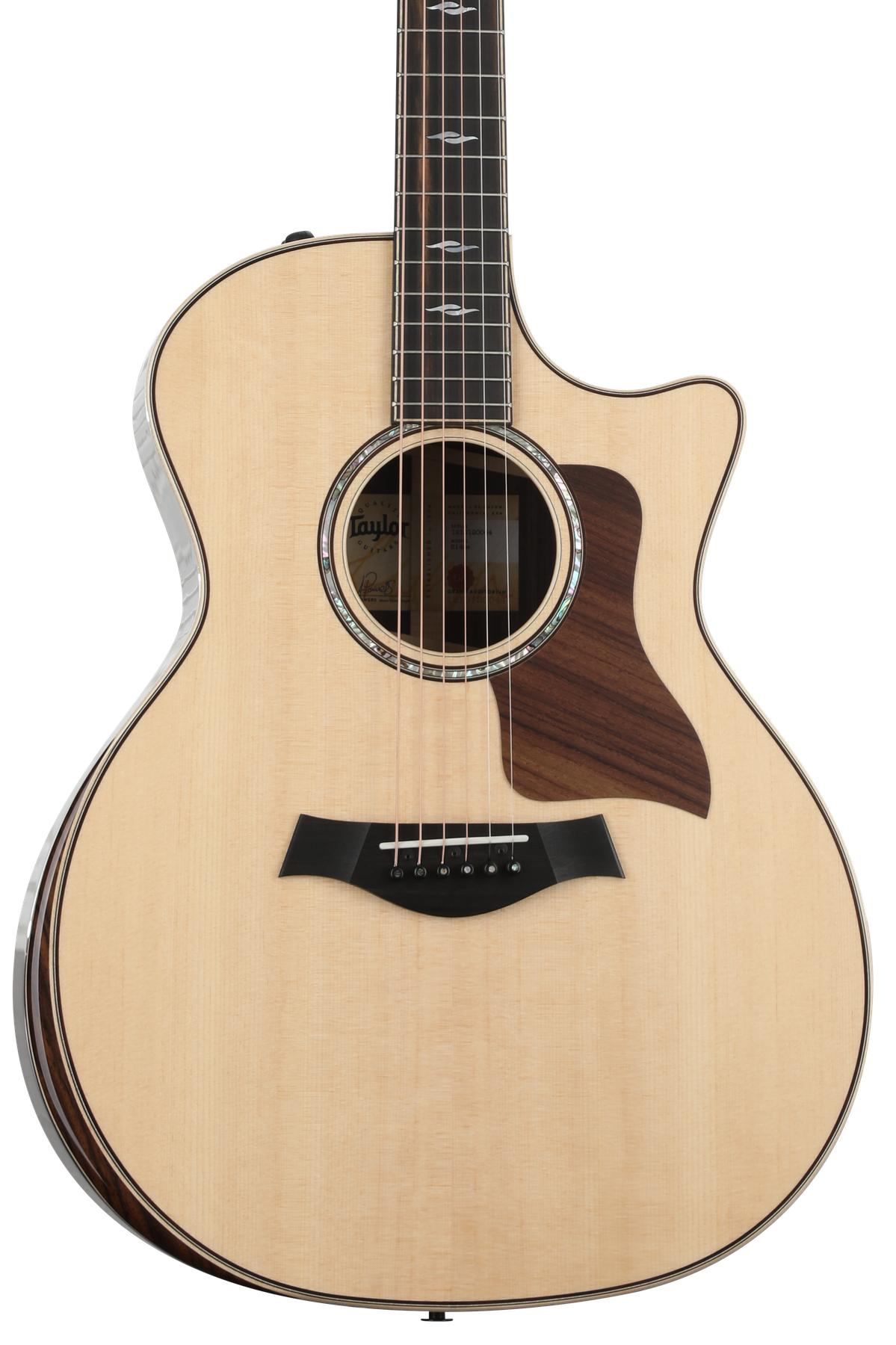 Considered one of Taylor's flagship Grand Auditorium guitars is the Taylor 814ce. Featuring the tried-and-tested classic tone wood combo, the 814ce is revolutionized with an improved V-class bracing. With longer sustain, the 814ce shines with rich overtones matched with utter clarity. Complete with outstanding material, elegant looks, and powerful tones, the 814ce will win your heart over.
You can never go wrong with the solid Sitka spruce top and Indian rosewood body combination, topped with maple binding to give you an incredibly warm and deep sound. With sharp overtones and stunning bass, the 814ce produces a well-loved audio. Owning a Grand Auditorium body style, the 814ce has the word "versatile" all over it as it is perfect for styles ranging from fingerstyle to full-blown strumming.
Complete with lustrous gloss finish, the 814ce's look catches every guitar aficionado. Not only does it contribute for its looks, but also adds up to its durability, long-lasting quality, and resistance to environmental change. Aside from its finish is its Venetian cutaway that accounts for the guitar's easy playability.
Just like with the 714ce, the 814ce also features the ES2 which amplifies the natural acoustic sound that its produces. It also owns onboard tone controls which allows you to spice things up by modifying its tone and volume, giving an overall flavorful and clean amplified sound. Another notable physical feature of the 814ce is its neck with a mahogany satin finish, which has a slim feature.
Also Great
Advantages Over Each Other
To really see the best points of each guitar, below are some advantages that experienced users notice from each guitar.
Taylor 714ce
Lutz spruce top produces a more fundamental tone
Attractive simple look
Well-balanced and clear tone
Taylor 814ce
For a bulky guitar, it has a light weight
Defined and articulate tone
Great acoustic sound plugged in or not
How Does Each Guitar Sound?
You be the judge and hear how each guitars sound like.
Taylor 714ce
The first thing you'll notice in the sound of the Taylor 714ce is its clear and well-balanced tone. Filled with crisp highs and relaxed mid-range, one can say that the 714ce is all about balance. Perfect for hardcore strumming and intense finger-picking, the 714ce cuts through the mix. Offering a wide dynamic of range and response, the 714ce really is impressive.
With its V-class bracing, the 714ce gives a louder sound with more depth and clarity. Not only does it sound clearer, but it also gives the lower mids a cleaner fix. A lot of its users also attest that the 714ce has a more fundamental tone due to this type of bracing. To top its overall sound, the 714ce gives a slight touch of sweetness that every guitarist will never get tired of.
Taylor 814ce
With the 814ce, you will get a thicker and warmer bass. With its mid-range pronounced with clarity, the notes are denser with light resonance. When played in a flat-pick style, the 814ce's sound shines with stronger notes and powerful sound with overtones.
The 814ce also excels in intonation as it makes everything sound more focused and clear, creating a nice acoustic sound with deep lows and warmth. With its fast response, the 814ce sounds defined and radiant with every playing style.
Conclusion
It can't be denied that Taylor guitars are made excellently, with its high quality tone woods and revolutionary features. However, there will always be a time when one model outshines the other.
Editor's Pick
With its overall features and tonality, the Taylor 714ce wins a majority of guitarists' hearts. Its detailed and well-balanced sound with crisp highs and relaxed mid-range made everyone swoon.
Also Great
The Taylor 814ce is a better option, too. With its thicker and denser sound, you'll love playing it with every playing style. If you also prefer an acoustic sound that has a deeper and clearer bass, this is the one for you.