Editor's Pick
Why go for insanely expensive guitars when you can have the best for a price that hardly hurts the pocket? With the exquisiteness of its craftsmanship and the precision of its sound, you do not only get the value for your money but way more than what you pay for.
The Taylor 114ce certainly exudes the excellent quality that Taylor guitars have always been known for. For an acoustic guitar that costs under a thousand dollars, it is quite surprising how it even surpasses the more costly ones in several aspects.
There are a number of good things about this guitar that would naturally convince any musician (or aspiring ones) why the Taylor 114ce is the best deal.
Let's talk about them, shall we?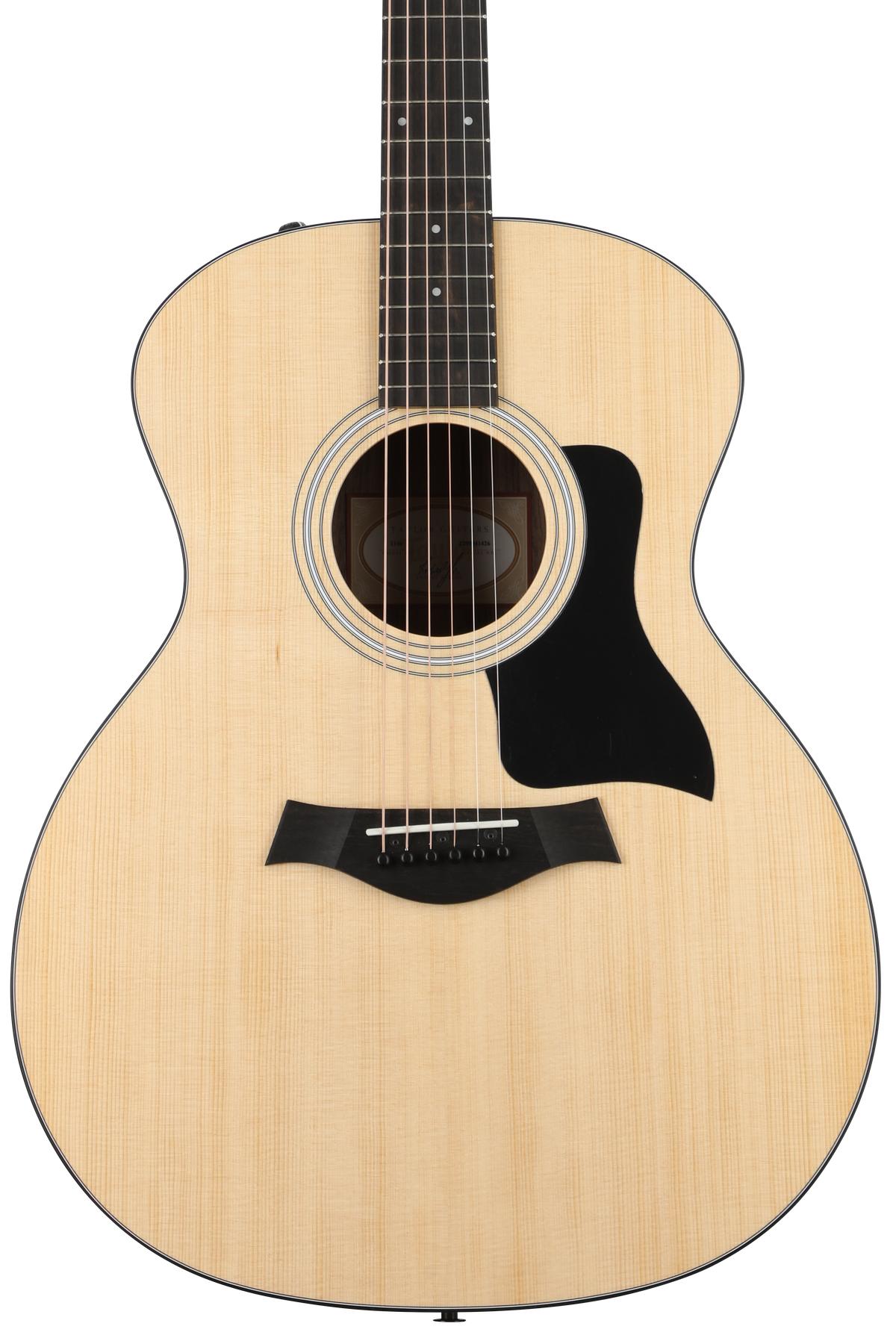 The Stunning Clarity of its Sound
This work of art splendidly produces precise tones and superb high gain sustain that will surely give you the best musical gig experience. The intonation is as flawless as its bass levels blending perfectly producing that optimal sound quality that is given of high, if not the highest, importance when it comes picking the perfect acoustic guitar.
Finally, the tuners are also so carefully made and polished that it delivers impressive clarity when cranked up to their maximum which, by the way, is rarely done by a purely acoustic guitar making it suitable for any setting whether it be full band or even when playing alone or whether played acoustically or plugged in.
The Intricate Hardware and Electronics
The 114ce provides a wide range of tonal possibilities that makes superior and creative musical arrangements fairly possible without spending much fortune. The quality of this guitar's hardware satisfies both aesthetic and musical utility.
It is gorgeously crafted with its perfect size and low position that is readily fit for a comfortable play made more comfortable by the strings which feel very gentle in the fingers making strumming and plucking easier even for beginners.
The six enclosed die cast tuners finely placed on top of a classy Taylor headstock and a Tusq bone saddle just beneath the ebony bridge system creates a magnificent intonation and stability as well as aesthetically pleasing structure.
These tuners are definitely not just for show as they create an incremental change in the tone which highly affects the performance of the guitarist.
What is more than its hardware are the beautifully designed electronics embedded inside the body of this guitar making it beautiful inside and out, literally. More particularly, the Taylor 114ce 100 series bears an ES-T internal pickup system which fully controls each string and their corresponding elements giving the guitarist full control of the instrument.
The onboard preamble is strategically placed in front and not sideways, unlike other typical acoustic-electric guitars available in the market, and the custom-made equalizer adds greatly to the richness of the sound it produces through the bass, volume, and treble switches.
The Well-Defined Body and Neck
A great acoustic guitar must not only sound great but should also look great even without its adornments. This guitar's well-structured build is already a winner when it comes to acoustic guitars.
This guitar is equipped with 20 frets, wide Tusq bone nut and pearloid dot inlays making it look fancy and elegant without going over board to make it look trashy.
Holding a scale of 25.5, its aesthetics are well emphasized by the splendid double varnish natural finish offering trustworthy protection to make it endure the longtime of use, fine looks and great feel to the touch.
Its ebony fingerboard is supported by a bolt-on neck sapele that makes this guitar easy and pleasant to the hand giving the guitarist a comfortable play.
The body of the Taylor 114ce boasts of a sturdy spruce top and tortoise pickguard designed to withstand long hours of usage and prevent damage from excessive strumming. The durability of this guitar is brought about by the laminated sapele which composes its sides and back ensuring unquestionable resistance to inevitable environmental factors such as moisture and heat.
Also, the bracing pattern that is intelligently shifted forward preserves a stable and intact guitar body giving its well-built solid feels.
Pros and Cons
As perfect as this guitar may seem, one cannot simply have it all. Being in the middle ranged, when it comes to price, guitars, it is expected that there are flaws, albeit minor, to be found. Here are the list of the pros and cons that I found.
Pros
Great quality for value
Easy to play
Smooth neck for low friction
Requires little to no adjustment straight from the box
Sturdy and solid build
The finish is an effective built protection
Cons
No on board tuner
Heavy and bulky
The material is sensitive to the temperature change making it out of tune at times
Peg material are made of cheap injected plastic
Fret metal easily flats out when played with a lot of vibrato
Final Thoughts
Editor's Pick
After all that's been said, whether a beginner wading into the waters of music, a novice practicing to master and hone his skills, a professional who is still trying to perfect his craft, or even those who are just looking for a generous gift to their family or friends who are aspiring to be or are already musicians, the Taylor 114ce 100 Series Acoustic Guitar is a perfect choice for those who wants the best guitar at a price less than $1000.