| | |
| --- | --- |
| | |
| | |
| | |
| | |
| | |
| | |
Nothing beats a classic.
But, what if you are to choose between two legendary classics from both well-known brands?
With great history and a bunch of loyal aficionados, we compare the Gibson J-45 versus Martin D-28.
Related: Martin D-18 VS Gibson J-45
Both guitars are known to be big models and have a great reputations from each brand.
While it may seem like comparing apples to oranges, one can't help but wonder which wonder guitar outshines the other.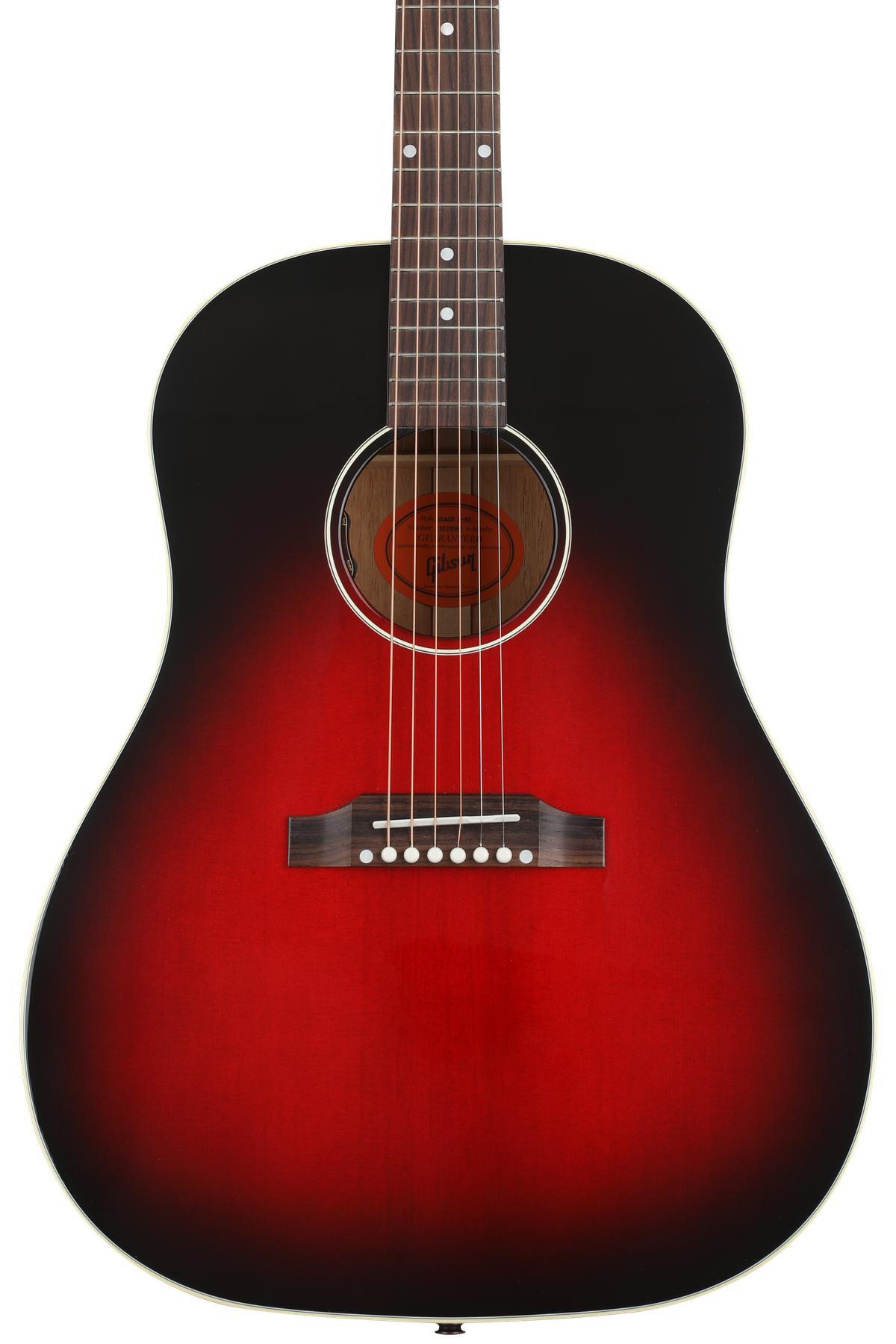 First introduced in 1942, Gibson's top-selling acoustic guitar, Gibson J-45, has made its mark on the music industry. Now with different variations along the years, the J-45 Standard still remains steadfast and iconic. Dubbed by Gibson as "The Workhorse", the J-45 gets the job done and always leaves its users more than satisfied.
Belonging to Gibson's dreadnought "jumbo" line, the J45 is known for its round-shoulder and full, warm bass. With its top made from AA-grade Sitka spruce and back and sides from pattern grade Honduras mahogany, the J-45 produces its classic warm bass and outstanding projection. Aside from excellent tone woods, the J-45 features Nickel Grover Rotomatic Tuners which keeps the guitar's precise and long-lasting tune.
Let's not forget the pleasing and attractive look of the famous J-45. One of its eye-catching detail is the pick guard that's made of standard plain tortoise in a tear drop shape, which has been there since its original design in 1942. Handcrafted around the sound hole is the simple single-ring rosette featuring three-ply binding to complete the elegant look of the Gibson J-45.
The J-45 also features a rosewood finger board that is inspected carefully by experts and paired by real mother of pearl dot inlays. Its neck has rolled edges that are slightly bevelled for every user's comfortability and great playability. Equipped with L.R. Baggs Element Active Acoustic Pickup System and an onboard preamp, the J-45 has an improved, robust and lively acoustic sound.
View: Best Acoustic Electric Guitars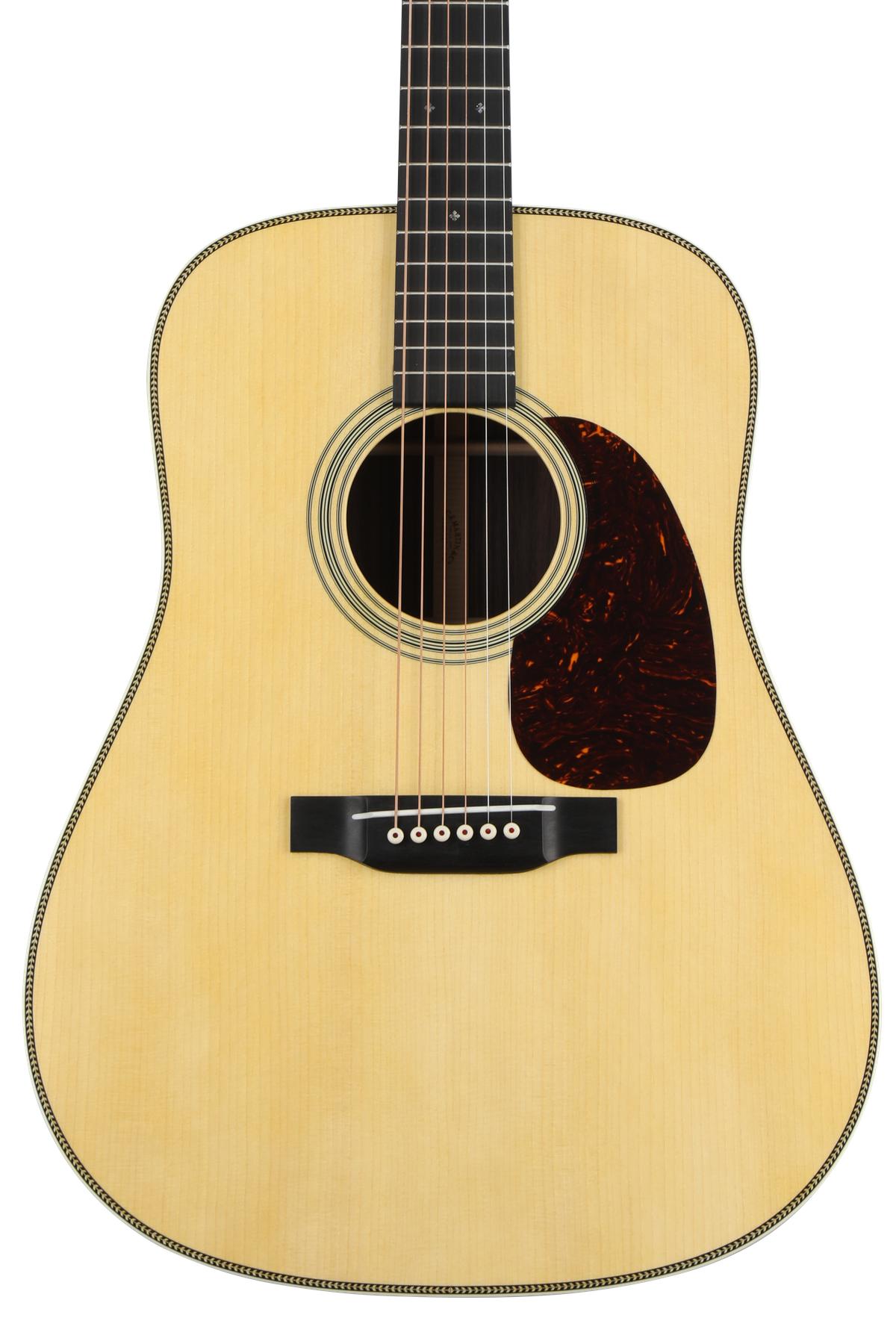 With its legendary history, it's like you'll have a taste of the classic American heritage with the Martin D-28. Back in 1931, Martin guitars graced the music industry with its iconic dreadnought that even with a lot of design and build changes, it still retains its quintessential feel and sound.. Tried and tested through time, the Martin D-28 has blessed numerous famous artists like Bob Dylan, Johnny Cash, Elvis Presley, and a lot more.
At first glance, you'll notice that the Martin D-28 may not be one the fanciest-looking guitars, no. However, the D-28 is more than what meets the eye with its Sitka spruce top and solid Indian rosewood back and sides. Built to last for a lifetime, the D-28 has all of its parts made from only the highest quality with excellent craftsmanship. With its neck having a satin finish and select hardwood material, you'll be getting a great playability.
Known for its powerful resonance and volume, the D-28 sounds good amplified on stage. And even if you're only playing it at the comfort of your own home, this masterpiece still sounds awesome, producing strong bass while making articulate sound of each of the treble strings. Complete with a heavy-duty and accurate Schaller M6 chrome tuners, the D-28 stays in tune and keeps it at that state for a long time.
With the D-28's design, you'll find it most suitable with finger-style, but it also works well with strumming. Its boomy and rich sound makes it perfect for every bluegrass or country music.
Read: 10 Best Martin Guitar Reviews
Advantages Over Each Other
Martin D-28
For a dreadnought that is considered as iconic and historic, it has a reasonable price
Its design makes it easy to use, especially to small-handed guitar players
Classic sound and well-balanced tone
Long-lasting quality and construction
Guitar's history and reputation
Gibson J-45
Loud bass with a lot of character
Comfortable neck makes fingerstyle and strumming relatively easy
Attractive design and high quality accessories
For a guitar that is compact, it seems to be relatively lightweight
How Does Each Guitar Sound?
Digging deeper, let us take a closer look at how each guitars sound. Below are videos that show just how excellent each pieces are.
Martin D-28
Your first strum of the Martin D-28 will feel like a glimpse of every famous acoustic recording brought to life. The D-28 produces a boomy sound that's just enough to make great combinations with a banjo, or any string instrument. Its richness and fullness made the D-28's low end truly amazing to hear.
The excellent tone woods of the D-28 greatly contributes to the guitar's well-balanced tone with a slight touch of sweetness. The D-28 produces a strong bass with great response and projection. And as time passes, its sound quality will only get better.
With the D-28's strong and clear tone, it's the perfect companion for any gig or performance of a lifetime. Complete with great playability, there are no dull moments with the D-28
Gibson J-45
It is clear on the video that the Gibson J-45 produces a smooth and clear tone with mellow overtones. With its scalloped, radiused top bracing, the J-45 gives a natural acoustic sound that is more focused toward the center of the body, giving it good sound projection. It features an X bracing design allowing it to own a punchy, deep lows with warm mids, and crisp highs.
Featuring a nitrocellulose finish, the Gibson J-45 gives off a sound from with less interference with the natural vibration of the guitar, producing a purer overall tone.
Conclusion
If you have been playing the guitar for a long time, I'm sure there hasn't been a time where you wonder if you could ever play such awesome and legendary guitars. But if you have, props to you.
With its iconic and classic features, users of the Martin D-28 rave about this unforgettable figure and undeniably striking features. No one wouldn't trade the outstanding sound and quality construction of the D-28 for anything.
However, the Gibson J-45 is just as iconic, as it also made history with its amazing features, but with a heavier price tag.
Comparing both of these classic guitars might be mind-boggling, but we did it. With each of these guitars having distinct features and construction, both have their own strengths and weaknesses.