Yamaha's FG700 series is one hell of an acoustic guitar. Now, imagine upgrading this guitar and you'll now have the FG800 which is really phenomenal.And today, we are going to look into two guitars from this series, the Yamaha FG830 and Yamaha FG800. Let's see who wins.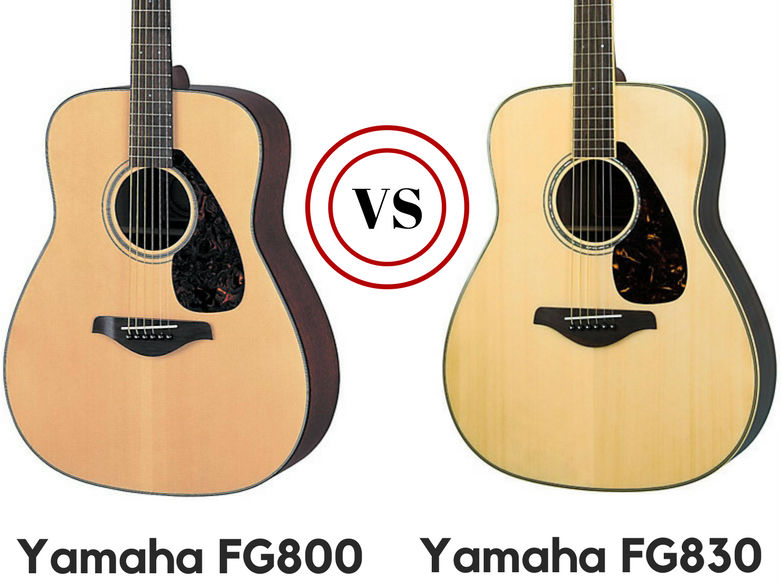 Yamaha FG800
The Yamaha FG800 is the direct successor to the Yamaha FG700s. Both of these guitars are made from the same materials(solid sitka spruce top, nato back and sides, nato neck, rosewood bridges). But the only difference is the internal bracing. The FG800 features an enhanced internal bracing which makes the guitar produce a fuller and defined sound. View our full Yamaha FG800 review.
Yamaha FG830
On the other hand, here's another guitar which also has almost the same features with the Yamaha FG800. It also has an enhanced internal X-bracing.
One thing that sets this guitar apart from the Yamaha FG800 is wood material on the back and sides. While the FG800's back and sides are made from the standard nato wood, the FG830 on the other hand is made from rosewood. View our full Yamaha FG830 review.
Rosewood VS Nato
Rosewood material on a guitar produces a  warm and dark tone at the same time, with a nice sustain.
On the other hand, Nato material produces a brighter tone, a faster response, though with a less sustain.
Here are the detailed specs for each guitar:
Advantages Over Each Other
Yamaha FG830
Nice chimey tones from the rosewood material
Great design
Comes in different finishes
Dark and warm tone with long sustain
Yamaha FG800
Bright sound from the nato material
Straightforward and plays great right out of the box
How Does Each Guitar Sound?
Yamaha FG830
Yamaha FG800
Yamaha FG800
As the cliche goes, "less is more." And this is what this guitar is all about. Though it only comes in a natural finish, it overly compensates on the sound. The Yamaha FG800 is a straightforward acoustic guitar that sounds awesome right out of the box.
This is an overall great acoustic guitar, though there are some things that makes us prefer the 830. The FG800 only comes in one finish, which can be a bummer if you want to choose among a variety of finishes. Next is the sustain. Nato is a common wood material among guitars which makes it cheaper than the Yamaha FG830, which is made from rosewood.
Having said that, it also has less sustain compared to the FG830.
VIEW YAMAHA FG800 ON AMAZON.COM
Yamaha FG830
We have to choose the Yamaha FG830 because it just dominates the FG800, in overall. Let's get into the aesthetics first. The white binding around its body looks awesome – who wouldn't love that?
Next is the sound. Rosewood is an exotic type of wood material, which makes it more expensive that Nato. It produces a dark, warm tone, and a long sustain. In it's price range, you would not find any other rosewood guitars that are greater than this which makes the Yamaha FG830 worthy of its price.
VIEW YAMAHA FG830 ON AMAZON.COM
Conclusion
This is one of the toughest decisions that I have to make. Choosing between Yamaha FG800 vs Yamaha 830 can be difficult. Each are made from exactly the same material except for the side materials. Each guitar almost sounds the same, with only a slight difference.
However, there should only be one winner and it's the Yamaha FG830.
Did you find this Yamaha FG830 vs FG800 review useful? Let us know by leaving your comments below.
Check out our other guides
Today's deals on FG830 and FG800