If you are to pick which Taylor guitars are sounds like a dream and are excellently made, the Taylor 814CE and 614CE are good contenders.
Read: Taylor 814CE Review
Built with different materials but are of high quality, you'd expect these two to have different tonality and sound.
In spite of these, both are well-loved and sought out for. But, which among the two is the real winner?
| | |
| --- | --- |
| | |
| | |
| | |
| | |
| | |
| | |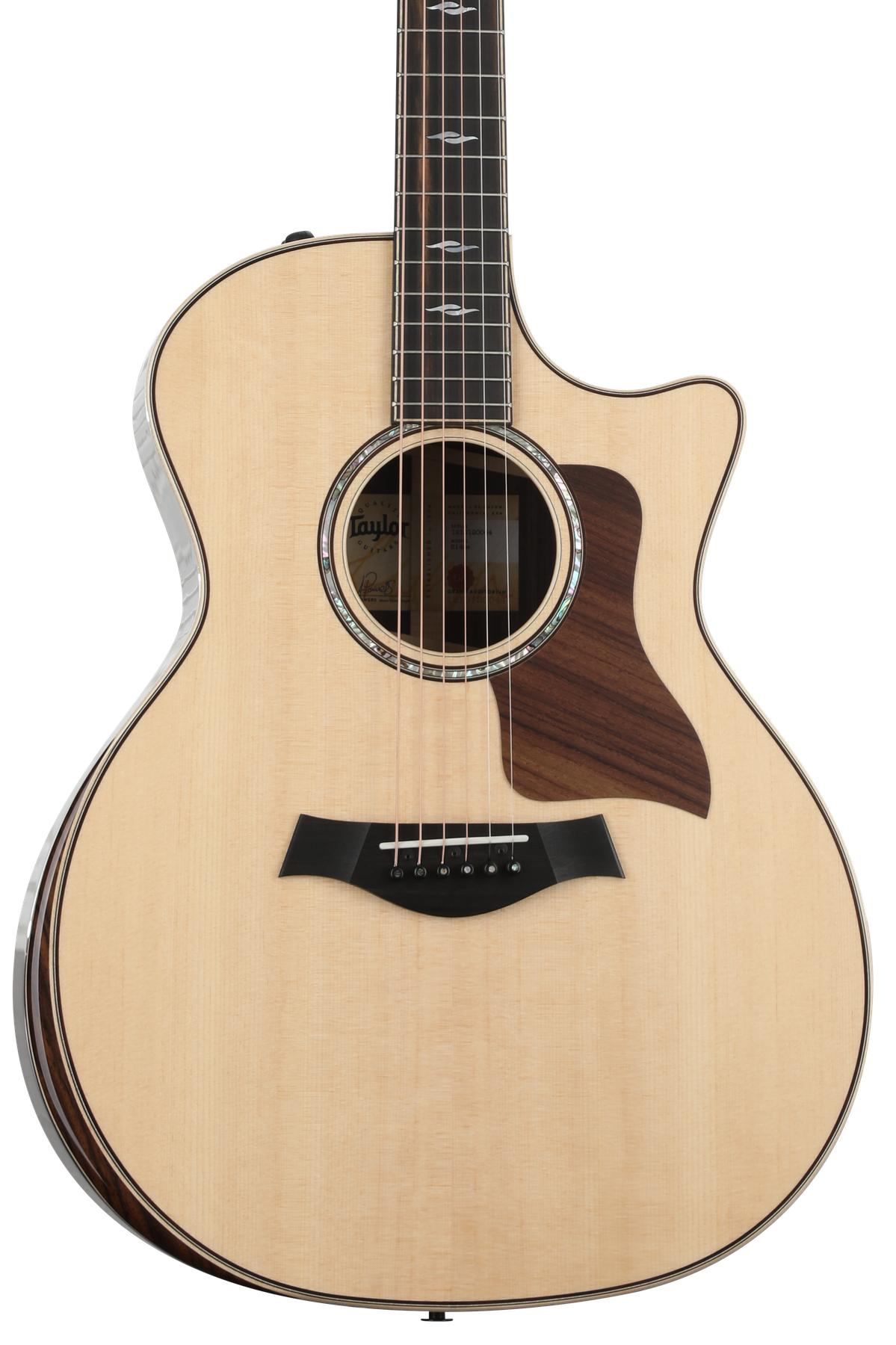 Hailing from Taylor's 800 Series, the 814CE rose to fame since its introduction. Known as one of the popular rosewood guitars, the 814CE Acoustic-Electric Grand Auditoriumis perfect for anyone wanting rich volume evenly across the tonal spectrum. Featuring a cutaway design, the 814CE is not just playable, but also filled with improved natural intonation, allowing it to be highly responsive.
Boasting its V-class bracing, the 814CE is both stiff and flexible, which allows it to have more volume and sustain. This bracing design creates stiffness to generate sustain, while its flexibility contributes for a robust projection. This awesome innovation made way for an improved intonation with louder tone and longer sustain.
Featuring a width and depth of a classic dreadnought, the Taylor 814CE opted for a narrower waist giving it a better overall look. It owns a Sitka spruce top in combination with an Indian rosewood for back and sides. Together, these two excellent ton woods make for a wide and dynamic range with crisp clarity that's ideal finger picking and aggressive flat picked strumming. Known for its rich tonality, the 814CE is a perfect must-have during solo performances or public appearances in a band.
Speaking of playing publicly, the 814CE makes a good companion in crowd entertainment, thanks to the Taylor Expression System 2 (ES2) electronics built into your 814CE. It has a 3-section proprietary pickup which gives you a very articulate and accurate sound. Plus, you can also modify the highs and lows by making use of its volume control.
Also Read: Full list of our Best Acoustic Guitars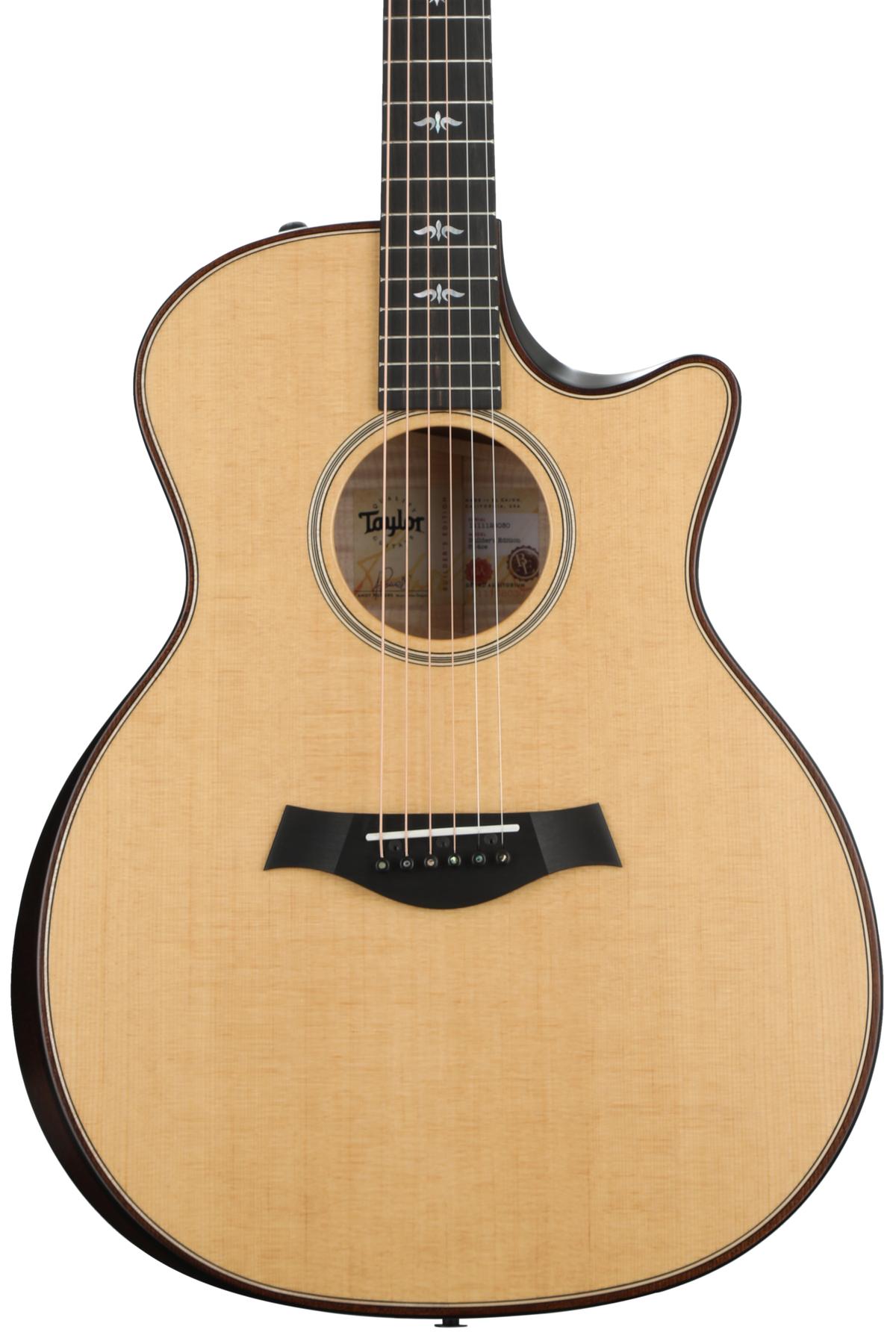 Designed by Bob Taylor, the Grand Auditorium was first introduced in 1994, and has been one of the most popular dreadnoughts since then. But, unlike the traditional dreadnought design, GAs have narrower waist, giving it a sleek design and great playability. Among Taylor's most prized possession is the 614CEbelonging to the 600 Series. The 614CE is known for its high quality Big Leaf maple body, giving it a crisp and bright tone you'll surely be a big fan of.
With its Venetian cutaway, the 614CE looks stylish and is one of the most comfortable dreadnoughts to ever exist as it allows better access to the upper frets. It features a solid Sitka spruce top topped with Big Leaf maples body, providing a clear, lively, and crisp tone perfect for any live performances. Its physical features are also as good as its sound as it displays a range of tan coloration with distinct grainy texture. Complete with an excellent pickup system with three different magnetic sensors, the 614CE takes care of how the sound is delivered through its vibrations without any distortion at any volume.
Introduced in 1999 and has since became a regular feature in 2001, Bob Dylan patented the New Technology which creates a straighter and more stable guitar neck. Being able to withstand against humidity, the 614CE features an easy-to-adjust neck. It requires no glue and only requires a repairman with a new set of spacers.
Lastly, who could forget the much-needed tuners? If you're the type of player who likes to switch things up and change strings from time to time, tuning can be a little bit of work. Thanks to the precise tuner of the 614CE, you'll have an easy-breezy time.
Here are the detailed specs of each guitar:
Advantages Over Each Other
Taylor 814CE
Very functional and helpful pickup system
Well-balanced tone with crisp highs and lows
Great playability, thanks to its comfortable neck
Best for fingerstyle players
Taylor 614CE
Gives good playability
Nice and stable neck feature
Good-sounding bass
How Does Each Guitar Sound?
Taylor 814CE
The Taylor guitars seem to have a line of bright sounding. But with the 814CE, the brightness is evened out with a smoother and more articulate tone, given by the spruce and rosewood tone wood combination. Because of this excellent combination, its low end can have a deep sound, while treble notes ring your ears out with absolute clarity.
Being linked to a Grand Auditorium, the 814CE has plenty of bass, which is common for a classic dreadnought. It can be heard that the 814CE has a thickness to its highs, has more volume, and is very responsive. Because of this, it will sound even better with as volume progresses. It has an amazingly full sound and is well- balanced.
Taylor 614CE
The Taylor 614CEhas a relatively brighter sound than the 814CE, as it owns a maple body construction. With a lighter touch and punchy sound, the 614CE will sound better the more it is played. Despite this bright characteristic, 614CE produces a full and lush-sounding acoustic, which is much more common for any groovy country music.
Focused more in the mid-range, the 614CE still has a lot of bass. With a depth similar to that of a piano's sound, it has clear bass notes which makes it a decent instrument to use for fingerstyle purposes. Also perfect for any band arrangement, the 614CE cuts through the mix and is a satisfying acoustic.
Conclusion
Coming from the same prominent brand, the 814CE and 614CE both have high-quality materials and pleasing sound. The fact that both come from a manufacturing company known to produce honorable musical instruments already gives us the security that both guitars give off the amazing sound and long-lasting build.
Overall, the Taylor 814CEhas a relatively more balanced tone and warmer bass. It's the reason why it's more preferred by most of the guitar players. Aside from the excellent tonewood combination, the 618CE produces a robust and full tone with clear bass and volume.
If you prefer a brighter tone, but still have a touch of bass, the Taylor 614CEhas all of that. With a distinct sound given by its maple body construction, this acoustic has a place for country music.