With different brands producing their very own workhorses, it's easy for a guitar player to be confused about which one to get.
Each guitar has its own distinct character which makes it unique and stands out from the rest.
One of the most common dilemma a guitarist faces is choosing between an old but classic model from a modern one with innovative features.
That being said, let's compare the iconic Martin D-18 versus the newly improved Gibson J-45.
Read: Martin D-18 vs Martin D-28
| | |
| --- | --- |
| | |
| | |
| | |
| | |
| Top: Sitka Spruce with VTS | |
| | |
| | |
| | |
| | |
15% Off Today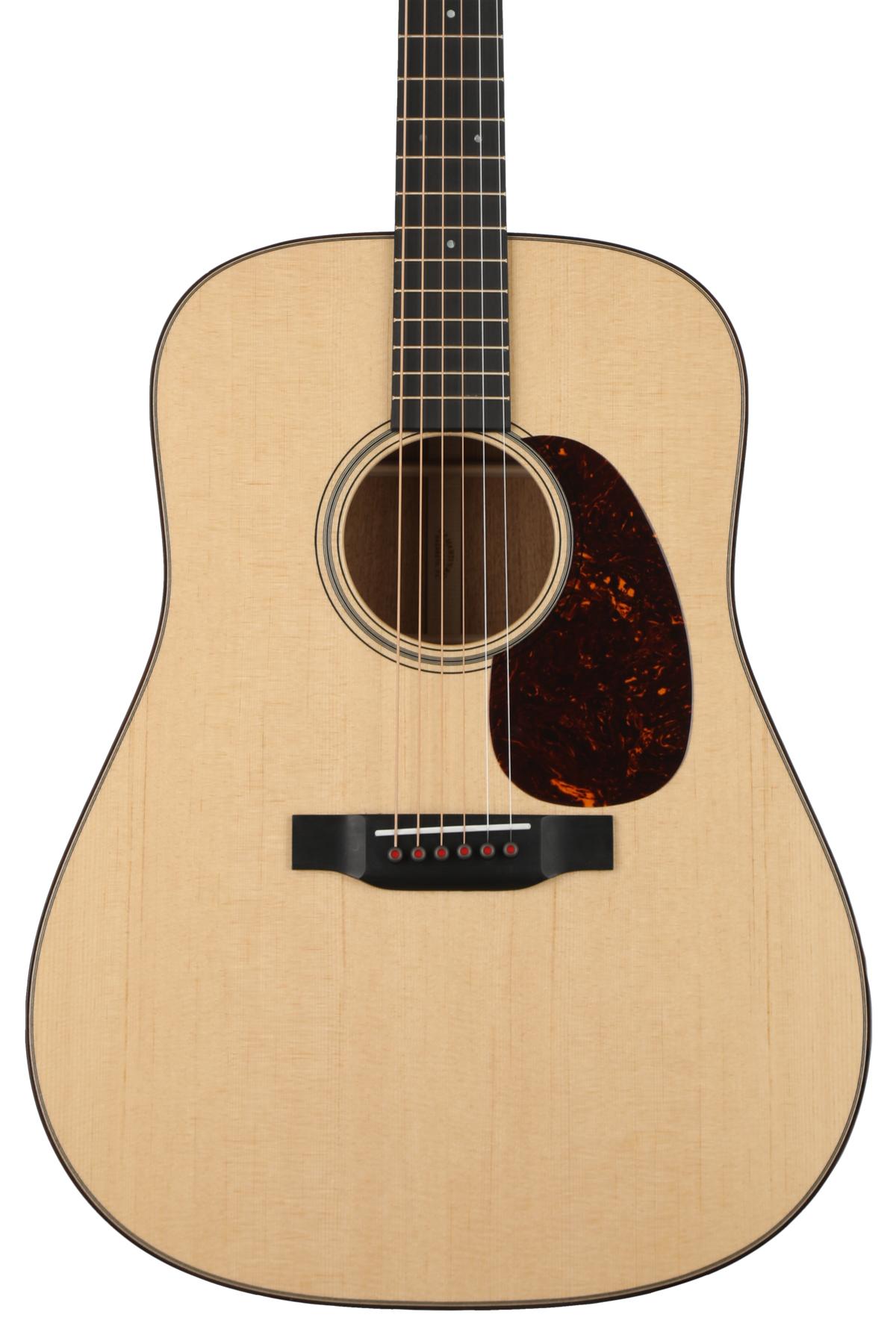 If it's coming from a well-known company like Martin, expect that guitar to only be the best at what it does. With this classic vintage beauty, the Martin D-18 can easily sweep you off your feet. Giving you only the best guitar experience, the D-18 produces a beautiful resonant and full tone.
Sporting a solid Sitka spruce top and mahogany back and sides you can never go wrong with this classic masterpiece. Producing a rich tone that's just enough to tickle your senses, the D-18 works perfectly both solo or in a band as it does not overbear other instruments.
Featuring a comfortable hard wood neck with ebony, the D-18 features a balanced tone with great projection and note definition. Preferred by many experienced and professional guitarists, the Martin D-18 is iconic with its sweet tone trademark. Made popular by its famous users such as Clarence White, Elvis Presley, Andy Griffith, and many more, there really is no need to doubt what the Martin D-18 can do. I mean, does it even need introductions?
And just like a fine wine, the D-18 goes better as it ages.
Editor's Pick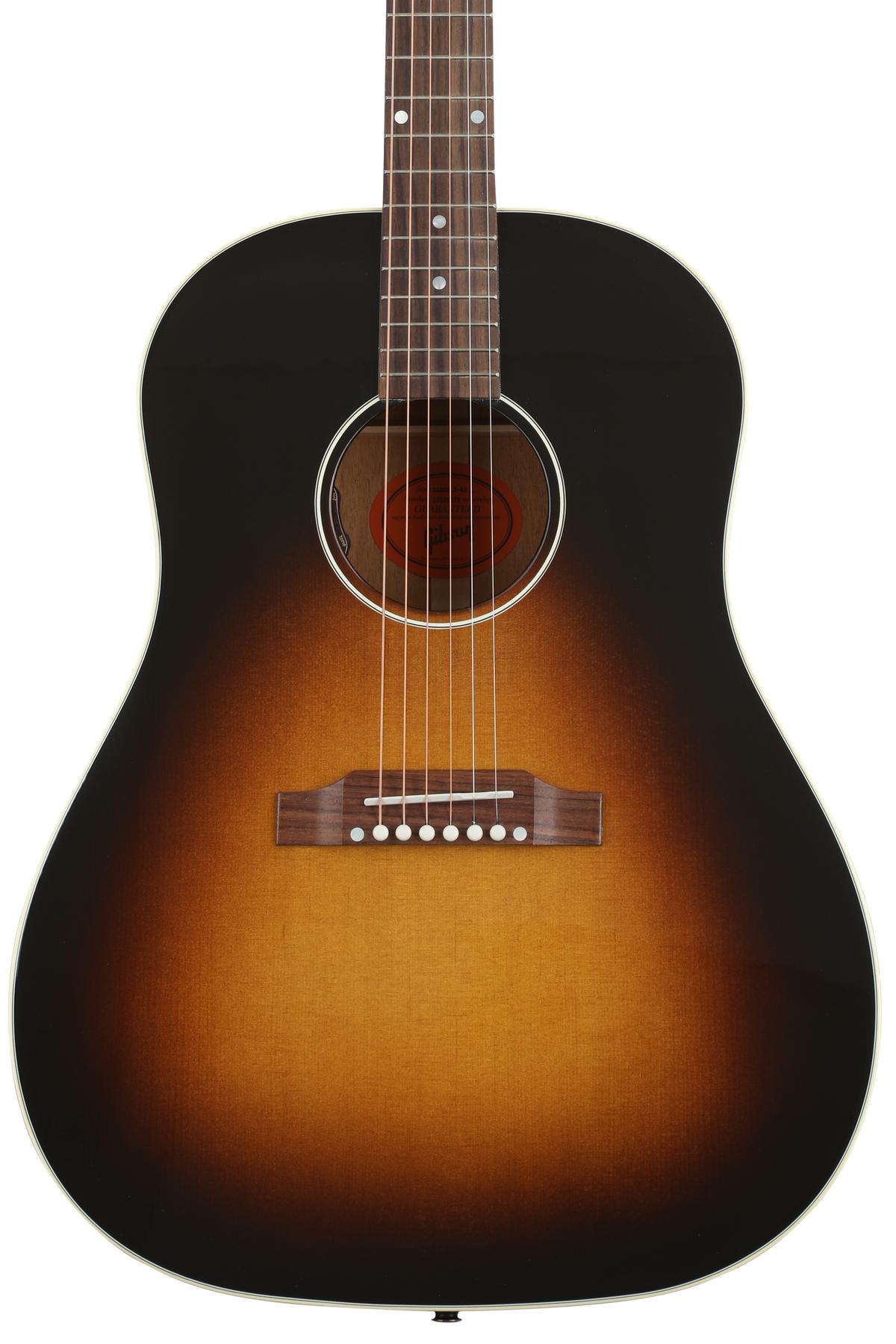 With Gibson's latest innovation and updated models, its very own J-45 is the epitome of a modern acoustic guitar. The future of acoustic guitar is defined by the Gibson J-45. Dubbed as "The Workhorse", the J-45 is among Gibson's top-selling and well-loved acoustic guitar.
The J-45 features excellent tone wood as it owns a spruce top and mahogany back and sides, giving off a rich and strong sound. Other parts that is constructed by premium tone woods include hand-scalloped top bracing a tapered dovetail neck joint, and a single-ring rosette with three-ply binding. The J-45 also gives its users the ease and comfortability they deserve with its well-built neck profile and cutaway.
Among J-45's notable add-ons is the titanium Tune-O-Matic saddles and Gibson's very own G-Force tuning system, which allows every user to have a precise string action as well as its intonation. With this features, you can make use of alternate tuning without having to re-tune or switch guitars. All it takes is just a couple of button pushes and some strum on this baby, and you're good to go.
If you're a performer and are fond of playing in a crowd, here's a good news for you. The J-45 is packed with the LR Baggs Lyric pressure zone microphone system. What this does is it offers a unique noise-cancellation system that cancels out the boxiness associated with under-saddle acoustic guitar mics, while handing over the sweet highs and powerful low end you'd get from an external microphone.
With the Gibson J-45, there's no way to go but up!
Advantages Over Each Other
Martin D-18
Neck design gives great playability
Simple and classic design
Sturdy construction
Great overall sound and tone
Gibson J-45
Lots of music genre sound good with the new and improved version
Added features like Gibson G Force Tuning System, Tune-O-Matic bridge, and Active PZM Bridgeplate pickup
How Does Each Guitar Sound?
Martin D-18
It can be seen in the video that the Martin D-18 has an open and earthy tone. Because of its mahogany construction, the D-18 produces a louder and more focused sound. It also gives off a woodier sounding with controlled overtones, making it better for finger-picking. Whether you use it for finger-picking or strumming, the D-18 still sounds pleasing.
Its dreadnought body allows it to have a robust and loud bass. Used in a band or in solo performances, the D-18 won't lose its shine. With pronounced highs and lows, the D-18 is perfect for any music genre.
Gibson J-45
With the Gibson J-45, it is evident that it does not produce a loud sound. Rather, just enough volume to showcase its pronounced mid-range. This flagship model from Gibson has a scalloped bracing, giving its sound a sweet touch.
Evident in the video, the J-45 makes a good instrument for solo performances as it does not produce a very boomy sound. It's also responsive and its appearance makes it a guitar with lots of character.
Conclusion
Choosing between two unbeatable models from two different powerhouses of guitars is a challenge. Especially if you're dealing with acoustic guitars that boast their very own strength and uniqueness. It would seem like comparing the Gibson J-45 with the Martin D-18 is an impossible task.
However, different as they may be, both of them are best in doing what they are supposed to do. As with the J-45, it carries a modern twist but still having a classic vibe. With its advanced features, one can easily be in awe. With the Martin D-18, on other hand, it's all about the classic and traditional acoustic representation.
Editor's Pick
With its amazing sound quality that no modern feature can top, the Martin D-18 is without a doubt a better overall choice. With an overall better sound quality, as far as acoustics can go, the D-18 offers a big, warm bass, a full mid-range, and clear highs. It produces a more pronounced high and low rhythms, and is also perfect for any country or bluegrass music.
If added features impacts your decision more than its overall sound, then the Gibson J-45 will be worth the splurge for you. It might have a hefty price tag compared to D-18's, but remember that you're paying for some high tech features that can't be found in other acoustic-electric guitars.