Editor's Pick
Ludwig Breakbeats Drum Shell Pack
If you are looking for a small drum kit for the church, street gigs, and home use, the strongLudwig Breakbeats/strong is the one for you. It's very powerful and packed with compact toms, snare and bass drums that give excellent tone. It's perfect for small performance, for practice and also a handy partner for street musicians.
CHECK PRICE ON SWEETWATER
CHECK PRICE ON GUITAR CENTER
We may earn commission from purchases made from our links, at no additional cost to you.
Ludwig Breakbeats Shell Pack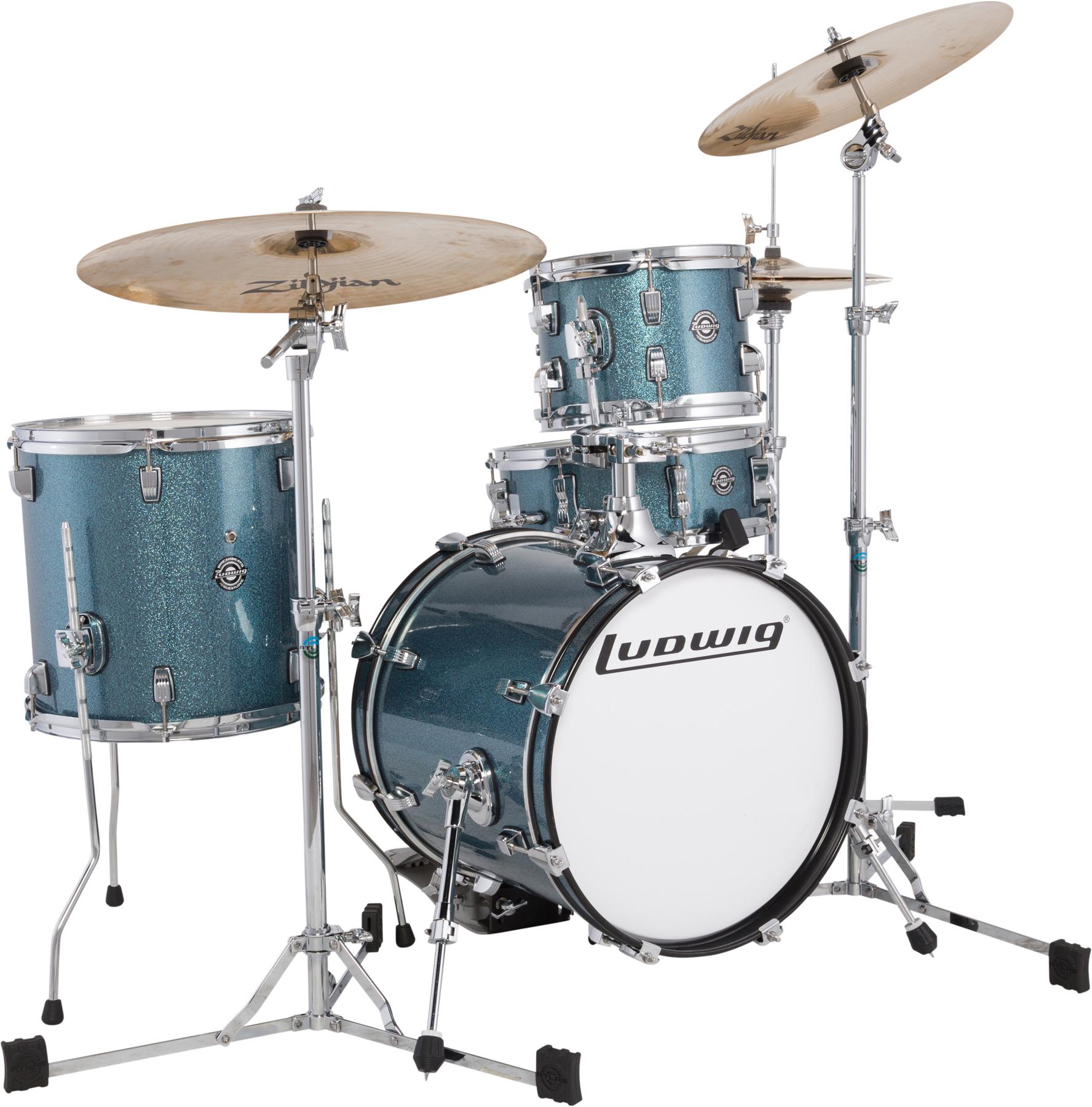 The American manufacturer Ludwig Drums offers an affordable, yet reliable drum kit. The Ludwig Breakbeats drum kit packs with small, yet reliable tools that are very easy to master.
The Ludwig Breakbeats shell pack is designed by Ahmir "Questlove" Thompson with the NYC musicians in mind as his inspiration. This drum set is apartment-friendly and it's ideal for small rooms since it can fit for a 5 x 3.5 square inch area. Thompson is the drummer of Jimmy Fallon's house band, so as a drummer, he knows what's the best for his fellow drummers.
Before falling into its affordable price, why don't you first check out the features this drum set have. It doesn't come with fancy features, but, it's good at the few things it can offer, at a very reasonable price.
Compact Construction
The drums are made with 7-ply hardwood shells fitted with Remo heads. The heads are awesome in producing great sound even when the drums are not mounted.
When you are up there on stage, usually you will be noticed, not because of your talent, but because of how you look on stage. And, Ludwig is amazing in giving a stunning wrap finish to this drum set.
Powerful Sound
The tom and the bass drums sound amazing and very easy to tune. It can play well from punchy low to Bebop high. And, unlike other drum sets, this can be tuned lower without any problem.
The heads are great in producing professional sounds from its cheaper shell. But, if you are oriented towards playing metal rock or heavy metal, this drum set might not be good for you. It's not that it can play these tones, as it's capable, it's just that, it's a little smaller and less powerful in these genres.
However, there are many drummers who are playing jazz, hip-hop, R&B, punk and quieter rock sounds with this drum set, and they're great. Though it's a smaller kit, some drummers use this in their gigs and small performances since it's very handy.
What's Inside the Box?
This is a 4-piece drum set with a lot more power than its size. Though it's smaller than the usual drum set, it's not a junior set. It has instruments for professionals, especially the following:
14 x 16 Bass Drum
7×10 Tom
13×13 Floor Tom
5 x 14 Matching Wood Snare Drum
Usually, the snare drum is a bonus, but this one is a great one. It's very responsive and is very powerful in giving some growls. It also includes multi-purpose bags to bring all these in your next gig without any problem.
Usable Bass Drum Riser and Mount
Unfortunately, it doesn't come with hardware, stand and cymbals like the usual drum kit. Although it's still called a "drum pack," but instead of the stand and kick pedal, a bass drum riser came with the set.
The drum riser may not work all the time, but it's still useful because the bass drum is quite small. This ensures that the drum beater will surely hit the center of the bass drum. Also, it has a tom mount, wherein you can set up your tom drum on the bass drum and even add a ride cymbal since it has a clip for it already.
Great for Gigging Drummers and More
Since Questlove designed it, as a drummer himself, he would know what's best in drums, if he'll play it himself. Breakbeats is not only for NYC street drummers, but for everyone who wants to have a handy drum set they can play well.
Adult beginners can also have it since it's very easy to play. At the same time, young kids may find this one fit for their needs, as the drums are small enough. However, this drum kit is more expensive than junior drum kits with cymbals, stands, and hardware.
Perfect for Gigging
Street musicians and entertainers are rampant today. Not only will you see them in the streets of New York City, but, all throughout the world. Questlove's design really helps these small-time musicians to impart their talent by having a compact drum set at a very low price.
Pros
The rack and floor toms have an excellent sound
Bass drum produces deeper and lower sound
Very space-efficient and ideal for kids, as well
Cons
The sounds of the snare drum might not be that good
Resonant heads produce dry and muted sound, it needs upgrading
Bass drum riser doesn't work all the time
Doesn't come with hardware and cymbals
Possible Drawbacks
You really cannot beat the price of this drum set. It's very affordable, yet reliable in giving you a great drumming experience. However, there's just one thing that might add up to the value of the package – the cymbals.
If you are a beginning drummer or you just need an affordable and simple drum set, try Breakbeats. Yet, if you really need a complete set with cymbals, go save a little more and buy a Tama Imperialstar drum set, instead.
But, it's just my personal opinion. You need to weigh the pros and cons and come up with the best decision for your needs.
Verdict
Editor's Pick
This is a valuable drum set. You can start playing right away and the drums can really play. It's perfect for gigging musicians since it's portable and very reliable.
Is this drum for everyone?
It's practically for everyone, but it's best for street musicians. Although this drum set is not the best pick for rockers, it'll still able to play it. But, for beginners and those who are on a budget, this one is really a great pick!