TD-17 series replaces the TD-11 and it comes in three different new kits – TD-17K-L, TD-17KV, and TD-17KVX. The latter is the most well-sought after and the one that I am going to review in this article. As a top model among the three, its technology and features are indeed something to check about.
Editor's Pick
Roland TD-17KVX Electronic Drum Set
When you are very serious with drumming, you'll invest on a drum set that even if it's expensive, you still want to grab it. However, you don't really need to worry about the quality when you buy the top-of-the-line Roland TD-17KVX electronic drum kit because it is already of quality. Though it's offered at an affordable price point, it's packed with the tools you need to keep the fire burning and lets you train yourself to go further.
CHECK PRICE ON SWEETWATER
CHECK PRICE ON GUITAR CENTER
We may earn commission from purchases made from our links, at no additional cost to you.
Great Build and Configuration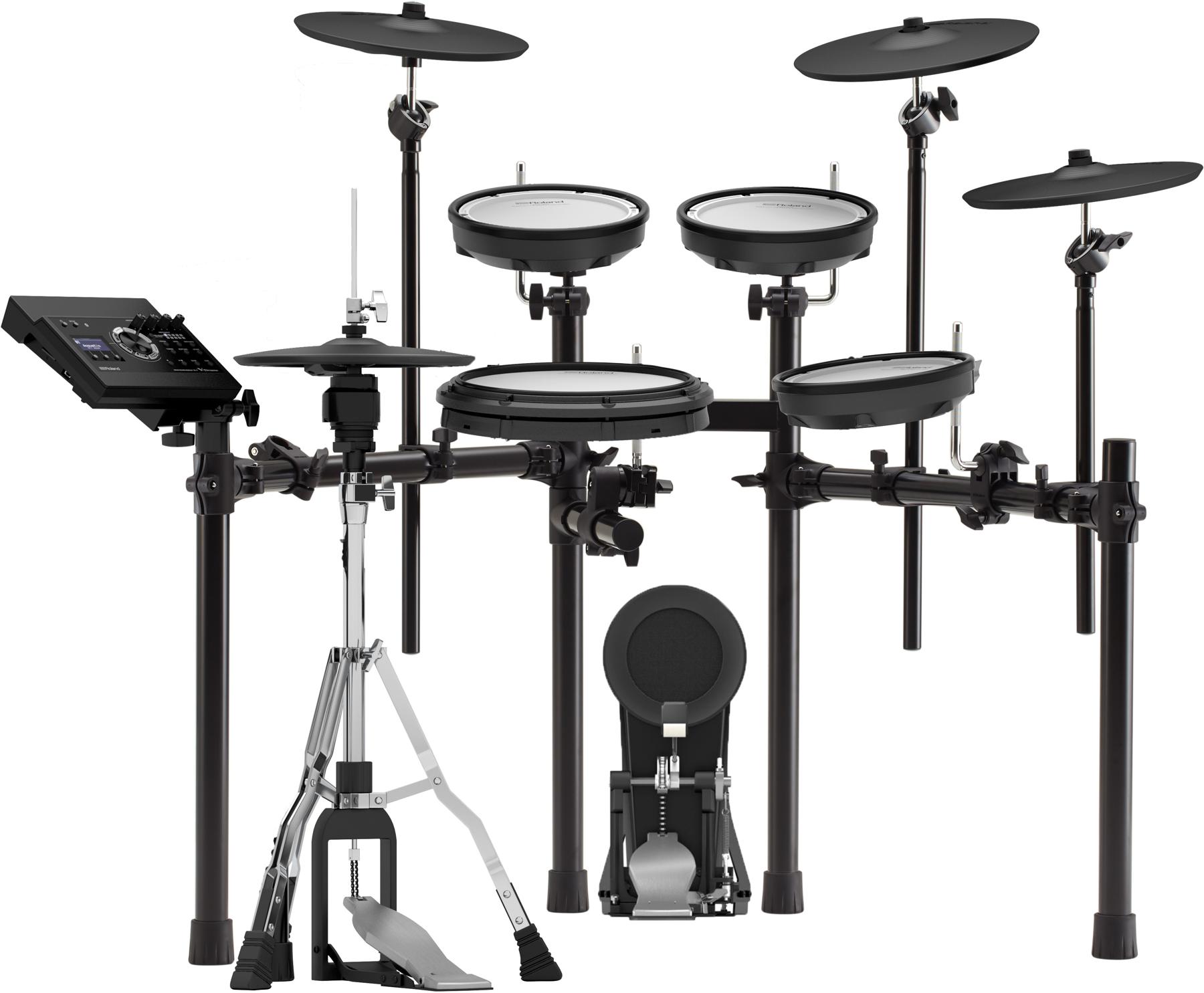 TD-17KVX is a great electronic drum set. But, before it was hailed as a great set, it's made with reliable materials and even made some upgrades to really achieve premium quality.
The bass drum is partly made of soft rubber to enhance the playability, but minimizing the noise it can generate. The snare is still made of all mesh pad, but with the lowered rim to give a more realistic drumming experience. This increases the playability of the snare drum pad.
Exciting Instruments and Add-On
Since this is the best of the three, you should expect better, more advanced instruments, and on-board intuitive features. Let's check what's inside the box:
12″ dual triggered snare pad
Three 8" dual-trigger tom pads
10" kick pad
10″ VH-10 hi-hat mounts
Two 12" dual-zone (bow and edge) crash cymbals
13" 3-zone (bell, bow, and edge) ride cymbals
TD-17 Sound Module
Drum stand
New upgrades
VH-10 Hi-hat. It's thin and lightweight, which is good for fast footwork. It's similar to the VH-11 of the Roland TD-17KVX but is very easy to play. So, you don't really need to exert effort to hit it because of the weight of the top cymbal.
Kick Drum Pad. It's quieter this time, perfect for home use. And, it can accommodate double bass pedals pretty well.
Snare Drum Pad. Lowered rim for greater playability and more realistic feel.
In addition to these upgrades, TD-17KVX comes with coaching function on-board that lets you track your technique and measure your progress. This means you can be more motivated to become the best version of yourself every single day.
Amazing Sound Quality
TD-17KVX sound engine includes the TD-50 sounds and the Prismatic Sound technology. This technology makes every strike and play you have to be unique.
To be able to understand this technology, imagine if you strike the ride cymbals. Of course, the first time you hit it, it'll make a very clear sound. But, when you strike at it again, the sound might be a bit different than the first already.
This is where this system comes in. It adjusts the sounds every time, depending on certain scenarios. Hence, you'll get unique sounds and definitely increase your expressiveness and playability.
The playability and versatility of an electronic drum set depend on the drum module and its functionalities. TD-17KVX is blessed to have on-board around 50 preset kits, 50 user kits, and 310 drum/percussion sound samples. You can also enjoy different effects onboard, including tuning, muffling, ambiance, snare buzz, strainer, multi-effect, and so on.
Great Connectivity
The advantage of electric drum kits is that you can enjoy vast connectivity options. You still got the standard inputs in stereo-in. But in the TD-17KVX you can connect to your computer or smart devices via USB or Bluetooth.
Playing and jamming are made easier as you can now play along with YouTube videos or songs from Spotify or any song from your smartphone. It has an SD card slot, which can accommodate up to 32 GB. With the connectivity options of the Roland TD-17KVX, you wouldn't run out of songs to play and experiment on.
Perfect for Home Use
For most cases, electronic drum sets are commonly used at home or in the studio for practice. And, it's the real acoustic drum set that goes up on stage. Hence, TD-17KVX is designed to make itself useful for this purpose.
Also, it's not that lightweight, at 58 lbs. So, you might want to place it somewhere it can sit on like forever.
Pros
Excellent feel and response, at an affordable price
Drum module provides more customization options
Realistic drum kit sounds and great playability
Cons
Doesn't come with a kick pedal, hi-hat stand or throne
Limited built-in sounds, some are even very similar
Drawbacks, but Not a Deal Breaker
If you are someone who is looking to improve your skills, this might not be the one you need. It's limited when it comes to the onboard features. These are very useful especially if you are still building your craft.
There are still a few other options out there, still in the same price range, that offers a lot of built-in options. But, if you think Roland TD-17KVX is right for you, at least you've already convinced yourself that this is the one you need. Just take my opinion with a piece of salt.
Verdict
Editor's Pick
You have an excellent electronic drum set with lots of upgrades at a very affordable price. It's an unbelievable offer knowing that Roland is a great brand when it comes to electronic drum sets. With TD-17KVX, not only will you have a nice sounding electric drum set, you also can learn so much from this fella.
Is this for every drummer?
If you are looking for a drum that lets you master the basics in drumming, the TD-17KVX is the one you are looking for. It has everything you need to start drumming. However, if you are an advanced player, you might find this one a bit lacking and its onboard features can easily be outgrown.