Editor's Pick
Gretsch Drums Catalina Maple
Every Gretsch Catalina Maple drum set is designed to deliver quality sound, great playability, and durability. And, so, with its full-sized 7-piece drum set, you'll really get every good thing about Gretsch rolled into one drum set. Built to last, it packed with all the features every drummer needs to get started, this drum set is the ultimate instrument you need for stardom.
CHECK PRICE ON SWEETWATER
CHECK PRICE ON GUITAR CENTER
Overview of the Brand
Since 1883, Gretsch has continued to conquer the music industry with its quality banjos, drums, and tambourines. And, from the start until now, Gretsch is being used by great legends, including Elvis Presley, The Beatles, Eric Clapton, and so on. As for the drums, Phil Collins used a Gretsch drum kit for years as well as Charlie Watts of Rolling Stones and Green Day's Tre Col.
For more than 100 years, Gretsch has excelled because of their dedication to quality craftsmanship, great functionality, durability and stunning design.
The Gretsch Catalina Maple drum set also shares with this top-quality made. Gretsch has made great musicians and with the Catalina Maple drum set, you'll soon also be the best drummer you dreamed to be.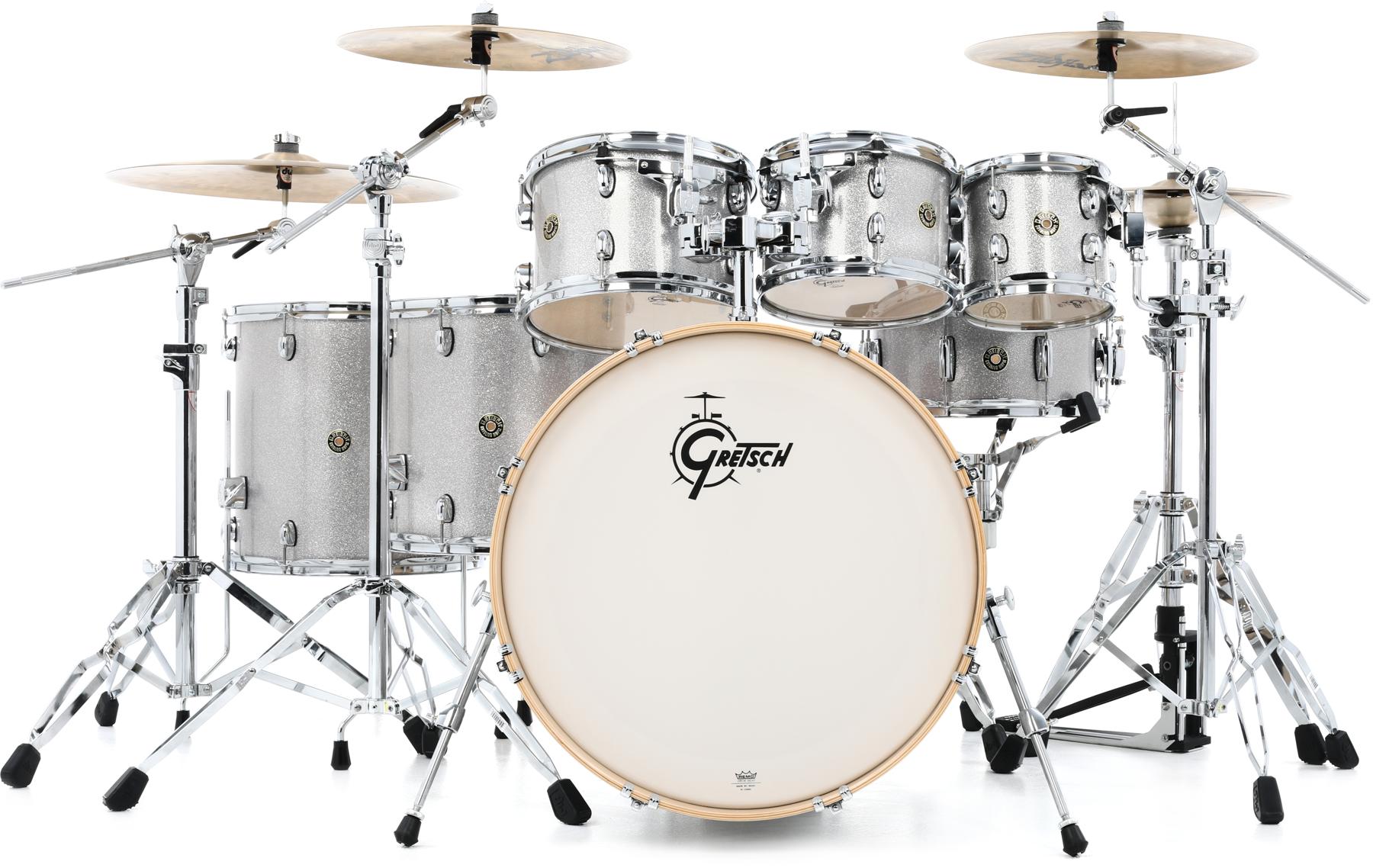 Gretsch offers a good sounding full-sized drum set with its Catalina Maple 7-piece shell pack. It's complete with everything you need to start drumming, plus it's a full-sized one. Delivers quality sound, reliable mounts, durable build and stunning color finishes, this drum will set the stage on fire.
Build and Color Options
This Maple series is obviously made with 7-ply Maple shells with 30-degree bearing edges. It comes with the popular Remo heads. The snare and the tom drums come with 2.3mm triple-flanged hoops and everything is mounted with the low-profile GTS suspension system.
All drums are lacquer finished, which include the following options, Walnut Glaze, Satin Deep Cherry Bust and you got new wrap finish like the Black Bronze Sparkle and the Aqua Sparkle.
Features + Extras
This 7-piece drum set is packed with great things for you to enjoy and make great music and develop your own style. You got in the package the following:
Bass Drum: 18″ x 22″
Rack Toms: 7″ x 10″, 8″ x 12″ & 14″ x 14″
Floor Tom: 16″ x 16″
Snare Drum: 6″ x 14″
Rack Tom: 7″ x 8″
Each of these drums is built with greatness and quality. But, unfortunately, this drum set doesn't come with cymbals or hardware that keeps everything securely in place.
Sound Quality
With regards to the sound quality, Gretsch is known to live up to their "great Gretsch sound" quality. The fitted Remo heads can keep the tune of the guitars pretty well. Plus, the snare and toms have a great batter coating for greater resonance and clear sound quality.
Pros
Great sounding Gretsch drum set
Remo drumheads are so reliable, you don't need to tune your drums often
Requires minimal tuning, plays right out of the box
Cons
It doesn't come with cymbals and hardware
Gretsch Catalina 6-Piece Maple Drum Set
If you've owned a Gretsch Catalina Maple drum, you know they are made with unmatched functionality, delivers great performance, and stunning designs. The 6-piece Catalina Maple drum set is also stuffed with these instruments and hardware. To appreciate the beauty and playability of these drums, take time to read my comprehensive review below.
Amazing Sound and Performance
The good thing about this set is that Gretsch has done everything to make quality drums. So, right out of the box, you can play the set without lifting a finger to tune it. And, when there is a need to tune your drums, it'll be very easy.
The Remo heads are quite reliable that even after several hours of use, you won't notice any change of sound quality of the drums or de-tuning. Aside from the unmatched sound quality of these drums, they are quite reliable and can tolerate even heavier beatings.
What's Inside the Box?
Again, this is a 6-piece set with all durable and reliable instruments. At the same time, it has great hardware and mounting for stability and playability. You'll get your hands to play the following instruments included in this package:
Bass Drum(s): 22″ x 18″
Tom(s): 10″ x 8″, 12″ x 9″
Floor Tom(s): 14″ x 14″, 16″ x 16″
Snare: 14″ x 6″
Unfortunately, you don't have any cymbals included. So, if you need to have cymbals and you also love the Gretsch Catalina Maple drum set, get ready to spend money on the cymbal packs. But, setting aside, the 6-piece Gretsch drum set is a great pick.
Pros
Clean and crisp smooth finish
All Remo heads of high quality
Didn't take time to set up
Can be played right out of the box
Cons
Doesn't come with hardware or cymbals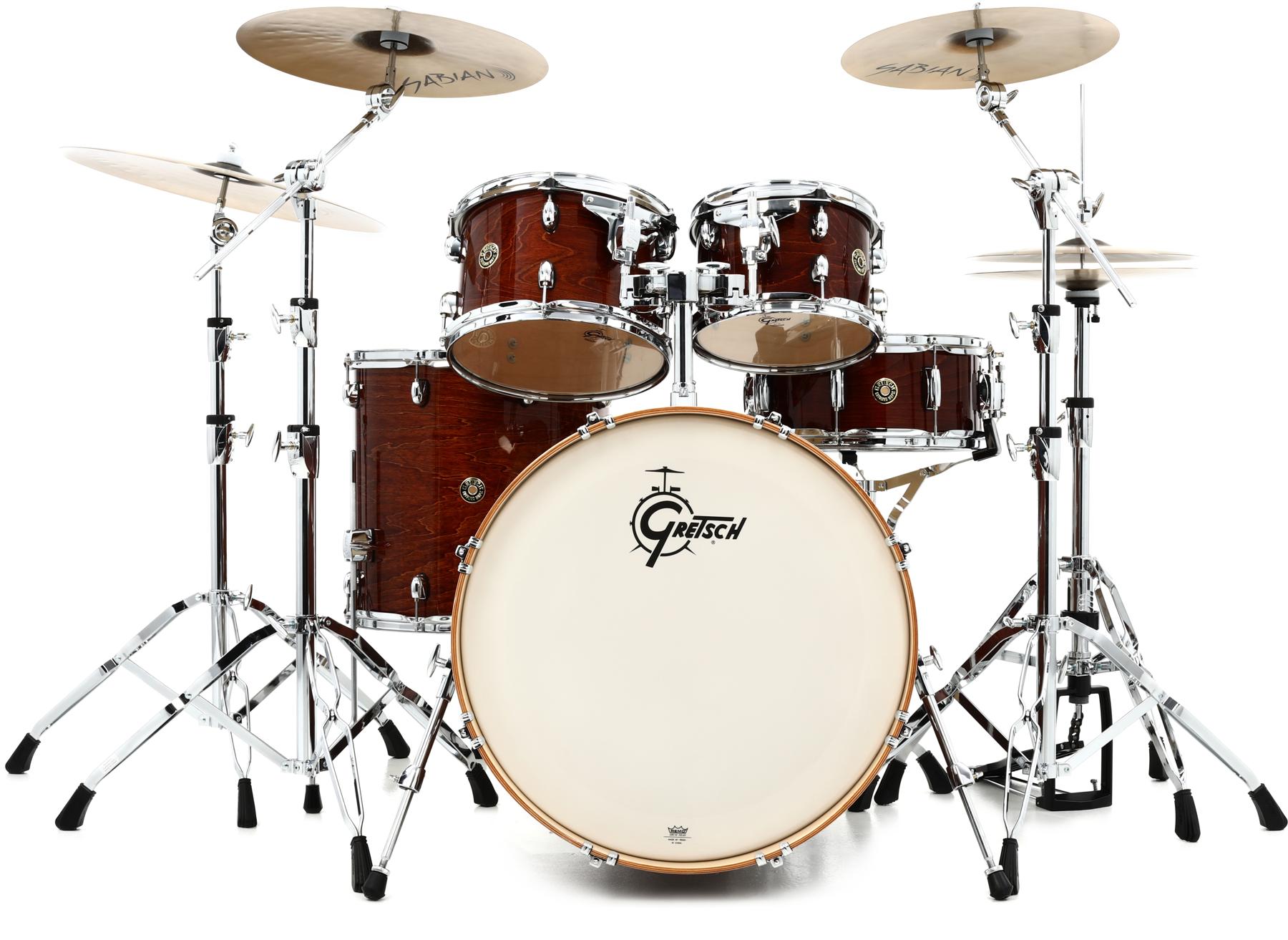 When you're in need of a great 5-piece drum set, there is only one that stands out in the market competition, and that is the Gretsch Drums Catalina Maple 5-piece. You can achieve a powerful punch from bass and warm low-end frequencies. Aside from the great sound quality, you also have the drum set that will really grow old with you.
Build and Color Options
Just like the full-sized drum set, this one is made with 7-ply 100% maple shells with 30-degree bearing edges. It's equipped with Gretsch features and hardware and partnered with Evans drumheads to produce a very reliable and resonant batter and head configuration.
It comes with two lacquer finish options – Walnut Glaze and Deep Cherry Burst. You'll surely outshine the rest on stage as its finish appears to be glassy and extremely smooth.
Features + Extras
Though coming with a few drums, it's way no less than other Gretsch drum sets. After all, it is still a Gretsch and shares the same quality and reliability as the full-sized drum set. So, here are among the instruments included in this set.
Bass Drum(s): 20″ x 16″
Tom(s): 10″ x 7″, 12″ x 8″
Floor Tom(s): 14″ x 14″
Snare: 14″ x 5-5″
Like the full-sized, it also doesn't have cymbals and hardware and doesn't have a snare stand, too. So, if you want to play drums with this 5-piece Gretsch Catalina Drums, you should be willing to spend more money on everything necessary but are not included in this drum set.
Sound Quality
The sound quality of every Gretsch drum set is amazing. The maple shells are made with careful craftsmanship in such a way that every single drum produce a unique and outstanding sound quality. Playing the whole drum set allows you to achieve powerful bass punch as well as warm tones and the balance of these two.
Pros
It's really a beautiful-sounding drum set
Tom holder is nice and very reliable
High-quality construction and hardware
Cons
Doesn't include a stand for the snare drum
Again, no cymbals and hardware included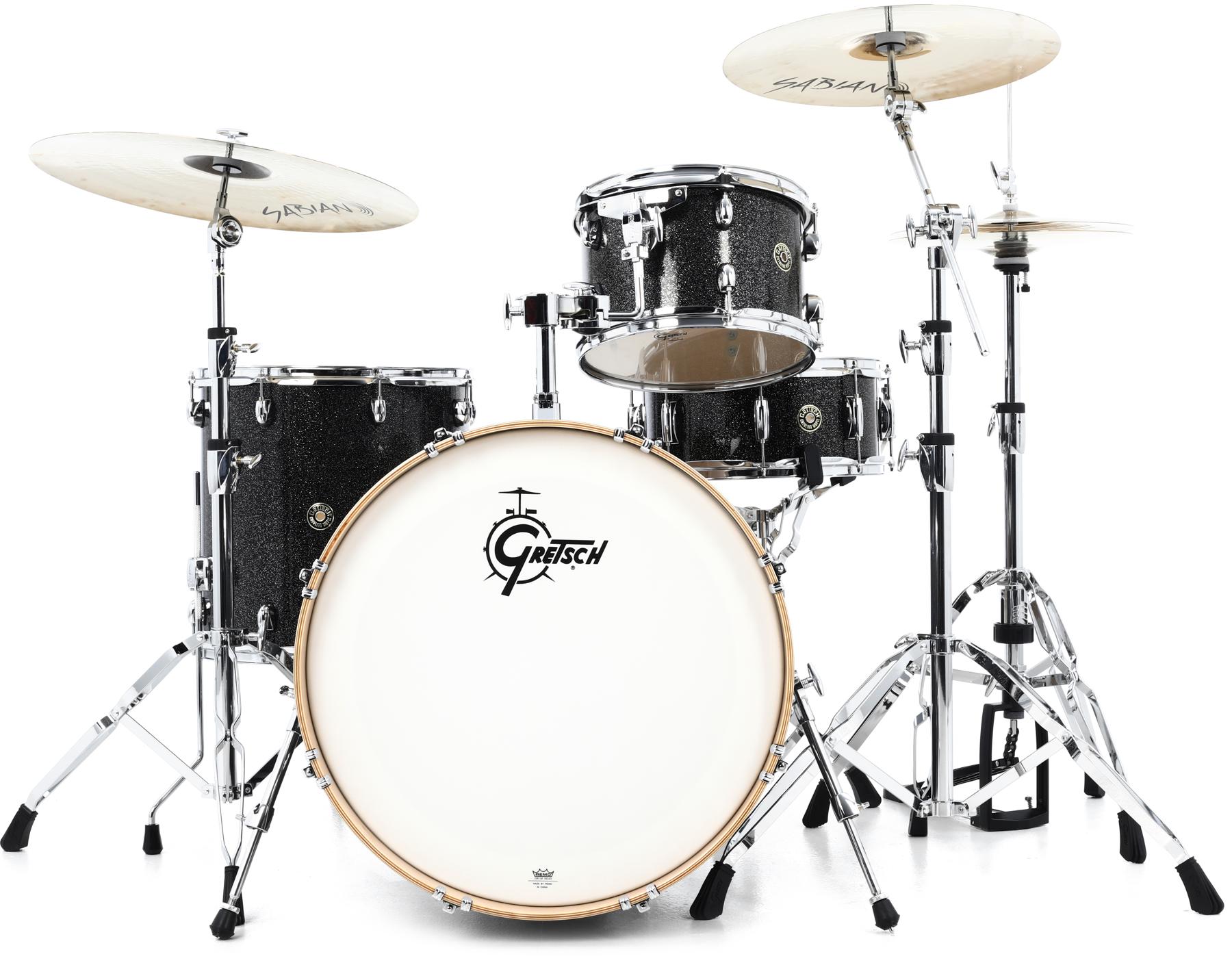 This may be the most affordable drum set in the Gretsch Drums, but it's no way cheap in quality. It's still built with quality material, with the same design and the same purpose, just with few pieces. Packed with great functionality like the full-sized, Gretsch Catalina Jazz is the perfect drumset to play Jazz and other genres.
Build and Color Options
Made with 8-ply Mahogany shells, these drums are designed to deliver classic tones – punchy and warm. Still crafted to achieve the 30-degree bearing edges, it comes with natural shell interior as well.
Features + Extras
This Catalina Club series features classic configurations. And, as a four-piece shell pack, it includes the following:
Bass Drum: 14" x 18"
Rack Tom: 8" x 12"
Floor Tom: 14" x 14"
Snare Drum: 5" x 14"
As for the mounting hardware, it includes the round "gas cap" bass drum mount plate, GTS mounting system and single and double tom holders with reduced-mass brackets. Just like other Gretsch shell pack, this one doesn't come with cymbals and snare stand.
Sound Quality
Though it only has four drums – a traditional jazz configuration – but its still versatile. It delivers vintage sounds, with a powerful punch and warm tones. In addition, it continues to live up to its commitment of providing that "great Gretsch sound."
Pros
The looks is as great as it sounds
Great value for money, worthy of every single penny you spend for this
Great versatility, especially for playing more than just jazz
Cons
No cymbals included in this drum set
Doesn't include a snare stand
To Wrap Things Up
Editor's Pick
All these Gretsch drum sets are actually shell packs, which means they only come with the drums and the head hardware.
As shell packs, these are expected to exclude cymbals, stands, and mounting hardware, but they can be upgraded to include cymbals in the setup.
What separates these packs from the rest is the quality of their construction and they delivered their promise of that "great Gretsch sound" quality.