Dynamic, comfortable pads for great feel and natural response
Silicone drum build. Realistic drum feel dynamics
Innovative folding design
Advanced SuperNATURAL sound engine based on the flagship TD-30
Aluminum racks for great stability and flexibility
Free iOS app for easy tutorials and imports
Natural feel, premium response
Easy to break down and assemble
Sound quality and expressiveness equivalent to the top-of-the-line V-Drums
8" high quality rubber drum pads
Includes DTX502 module with 691 percussion sounds
4-post chrome rack, connection cables, drum sticks, drum key and power supply included
Simple, logical interface for easily swapping and customizing each drum and cymbal in a kit
Including dual-zone snares and three single zone tom-toms
Acoustic drum players will find it easy to adjust from acoustic to electronic with the silicone build of the set imitating acoustic feel
Highly recommended for intermediate drummers and musicians
Eight pads total: kick, snare, toms x3, hi-hat, crash and ride cymbals; FD-8 Hi-Hat Controller included; kick pedal and drum throne not included
VH-11 V-Hi-Hat mounts on a standard acoustic hi-hat stand and offers realistic motion and a natural acoustic feel
Today's deals on our top pick
Drums have always been a staple to most bands. Music just doesn't feel right without it.
Imagine listening to your favorite song, and it has none of that satisfying thump thump sound in the background.
Or an EDM (Electronic Dance Music) video without the bass. It just feels so wrong.
But acoustic drums are heavy, big, and not very mobile.
Modern problems require modern solutions.
Electronic Drum Sets can be folded and tucked easily. Some even fit in a briefcase.
Light and compact, it's perfect for the on-the-go drummer.
Here are our top picks for the best electronic drum sets under $1000
Alesis has been a well-known music company since the 1980's. They have made recording equipment available to novice and intermediate musicians alike, equipment that would have otherwise been out of reach. With revolutionary products like the Midiverb, Alesis has time and time again proven their expertise in the music industry.
With high 'bang for buck', Alesis does not disappoint in their product lines.
They claim that what drives them is not the delivery of products, but the delivery of experience to the end user.
This drum set is jam-packed with many features. Features like:
Onboard recorder
Natural feel, premium response.
Command module with over 70 kits, 60+ tracks to play along, 600+ sounds and custom sample loading via USB.
Includes the following:
4-post chrome rack, connection cables, drum sticks, drum key and power supply included.
The drum racks are made of chrome, while the drums themselves are made with a combination of modern plastics and paddings. Alesis claims it is a rock-solid build, built for the rigorous strains of modern day drumming.
For its price, this drum set is a powerhouse for the master drummer.
Highly recommended for intermediate drummers and musicians.
Pros
Premium product from a well-trusted music company
Comes fully ready for any musical needs
Including the ability to transfer own sample files into its onboard recorder easily

Cons
Product may be a little too much for most people who want a simple product that 'just works'
Some features may require lengthy setups and may be confusing to the novice musician
Another product from the well-known Alesis. This drum set is sure to get you rock and rolling in no time. It's not as complicated as the product above, but it has its own unique feel to it.
It is a simple electronic drum set for a musician who wants a simple electronic drum set.
Although the drum set does not provide USB or MIDI intergration, and does not mention custom file samples, it still does its job remarkably well for its price.
The drums are made from rubber and the racks are aluminum, this drum set is made to withstand the heavy drumming sessions of the modern drummer.
Perfect for both novice and intermediate drummers.
Features include:
Dynamic, comfortable pads for great feel and natural response.
Aluminum racks for great stability and flexibility.
8" high quality rubber drum pads, including dual-zone snares and three single zone tom-toms.
Pros
Simple
Easy to use drum set
Beginner friendly
No unnecessary knickknacks attached
Made with premium materials
Will last long
Easy to customize

Cons
Product may be too simple to some
Leaving some wanting more
No USB or MIDI integration
No mention of custom sample integration
No mention of how many percussion sounds are attached to the drum set
Yamaha is a Japanese business giant. Although they're well-known for cars and motorcycles, according to their website their lifeblood is the production and export of musical instruments and audio equipment.
The Japanese have been well known for making great products, and this product is no different.
This drum set is made of silicone, well known for making quality sounds and imitating the feel of the polyester or mylar tension of acoustic drums, so acoustic playerss will feel right at home.
Features include:
Silicone drum build. Realistic drum feel dynamics.
Free iOS app for easy tutorials and imports.
Includes DTX502 module with 691 percussion sounds.
Pros
Made by Japanese giant Yamaha
They've proven their skill in musical instruments countless times already
Easy to use
Simple like the set above

Cons
Only 691 percussion sounds attached
Some drum kits can already go beyond the 1000+ sounds mark
Does not include a kick pedal
Simple drum kit
No USB or MIDI integration
No mention of custom sample integration
Roland Drum Set (TD-4KP-COMBO-PRO-1)
Innovative folding design for quick, compact breakdown and easy transport/storage
Snare and Tom pads feature cushioned-rubber surfaces for Natural playing feel
Like Yamaha, Roland is a Japanese business giant with a long history of fulfilled customers. The company was innovating even earlier than Alesis, it is no secret that their product line is made with quality materials, with passion driven musicians heading the designs for quality products and outstanding sound.
Formerly an electronic industry marketer, Roland has releases many different musical equipment including synthesizers and amplifiers that every modern day musician will always call for.
The features of this drum set include:
Innovative folding design.
Easy to break down and assemble.
Light and compact.
Rubber-cushioned drum surfaces for natural feel.
Eight pads total: kick, snare, toms x3, hi-hat, crash and ride cymbals; FD-8 Hi-Hat Controller included; kick pedal and drum throne not included
Includes TD-4 Percussion Sound Module, loaded with expressive sounds, Coach and Quick Record/Play functions, and more
Renowned V-Drums sound and quality in an ultra-portable mobile kit
Pros
Easy to use and mobile
Just fold and go
Uses rubber for natural feel

Cons
No USB or MIDI integration
No mention of any modules in any form
A simple drum kit with no amplifiers or modules attached
Another product from Roland, this time, tailored for entry level drummers.
A simple drum kit for a drummer who doesn't want a complicated kit. Just one that works, and works well.
Features include:
Advanced SuperNATURAL sound engine based on the flagship TD-30
Sound quality and expressiveness equivalent to the top-of-the-line V-Drums
Simple, logical interface for easily swapping and customizing each drum and cymbal in a kit
PDX-100 10-inch mesh-head snare pad with support for positional sensing and rim shot/cross stick playing
Three mesh-head tom pads: two PD-85BK 8-inch pads for rack toms and one PDX-100 10-inch pad for floor tom
VH-11 V-Hi-Hat mounts on a standard acoustic hi-hat stand and offers realistic motion and a natural acoustic feel
Two CY-12C 12-inch crash cymbals with natural swinging motion, edge/bow sensors, and choke control; CY-13R 13-inch ride cymbal with natural swinging motion and edge/bow/bell triggering
Pros
Tailored for entry level drummers

Cons
No MIDI or USB integration
No custom file sample integration included
Okay, I'm thinking about buying an electronic drum set – how do I choose?
I'm glad you asked. When it comes to drums, there are three main things to consider.
Sound, size, and systemic progression.
So let's talk about these three.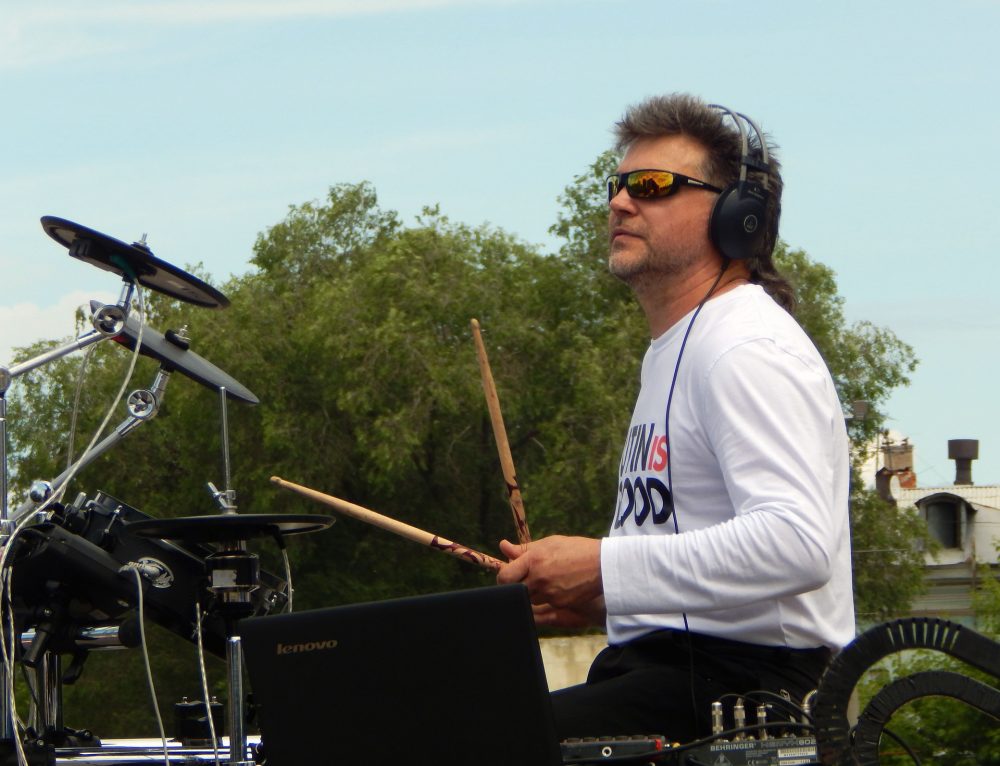 Sound
The drums sound is perhaps the most important aspect of the drum set. Each drum should sound distinct from each other, not similar. If the bass drum sounds high pitched, then the entire sound of the set is ruined. Regular maintenance is advised to keep drum sets from sounding out of tune.
Size
A small drum set will make the drummer over reach the drum he wants to hit, or hit its frame instead.
A bigger drum set will continuously make the drummers life difficult by making things like the bass pedal or the cymbals hard to reach. The set must be easy to adjust for your convenience. Not too big, nor too small.
Systemic Progression
The drum set must feel natural for the drummer for him to get into rhythm. If he hits the snare drums and it  feels like he hit the tom-toms, then he's gonna get confused.
Each drum must feel natural to continue the progression of the drummer.
What is the Best Electronic Drum set Under $1000?
Alesis Command Mesh Kit is the best electronic drum set under $1000. For its price, it already has a complete 8-piece electronic drum set that features 70 drum kits, with over 600 sounds, 60 play-along tracks built-in and even an on-board metronome.
Get the Alesis Command Mesh Kit now on Amazon.
Today's deals on our top pick