A classic guitar with a unique twist– if you are someone who has a taste for peculiar and unique items, as a guitar player, the Fender Player Telecaster Plus Electric Guitar is for you.
Some beginners may seem to love every Strat or Telecaster there is in the market. But, only the professionals have the eye for selecting a total package guitar. Speaking of which, this guitar will surely pass and even bring their standards to a whole new level.
Editor's Pick
The Fender Player Telecaster
The Fender Player Telecaster is a guitar with a unique pine body making it super lightweight but at the same time gives you a comfortable feel, which also produces that light and airy tone.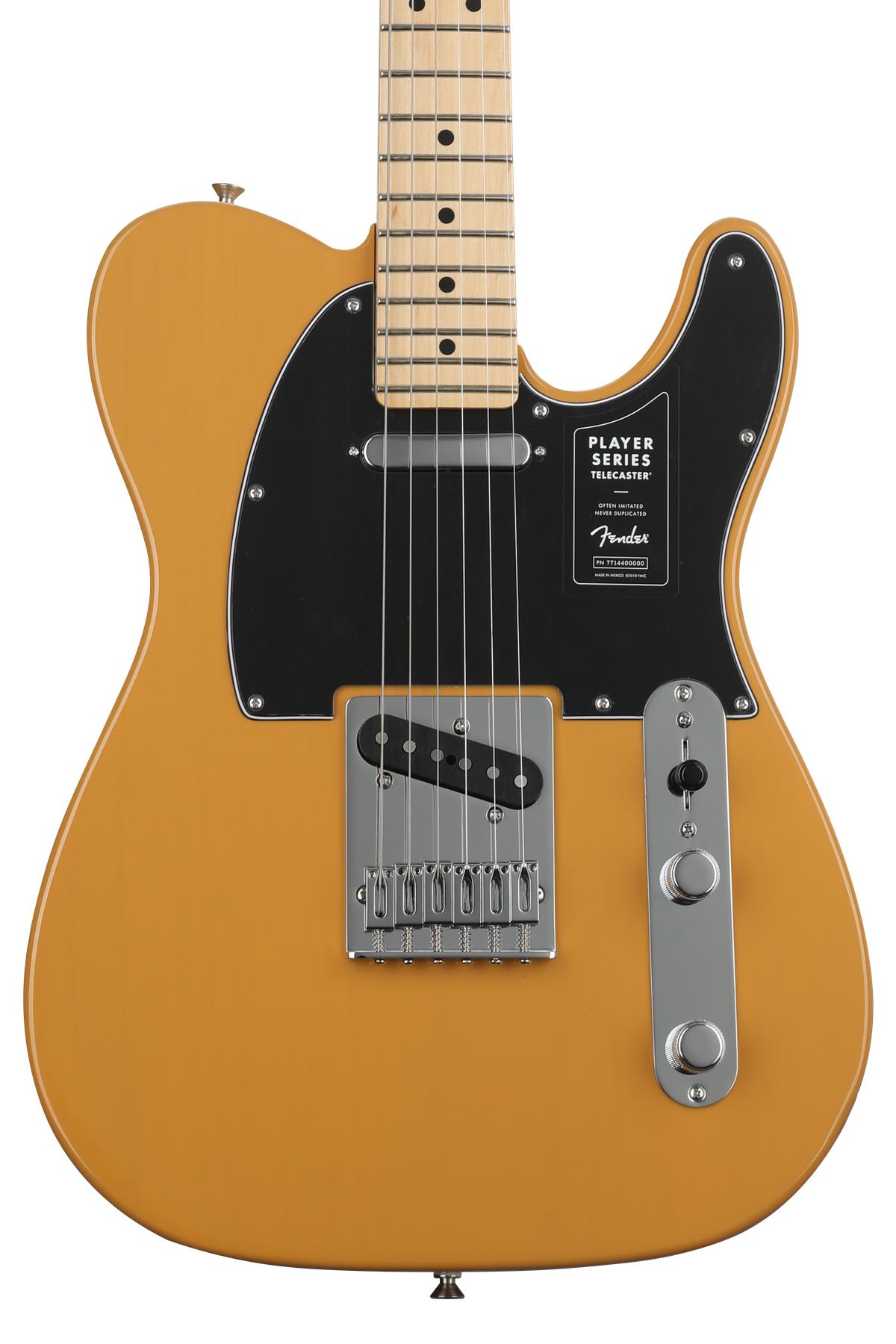 Keeping it true to the traditional telecaster look, Fender gave this model the classic Tele-style neck pickup, a Stratocaster-style middle pickup, and a hum bucker at the bridge.
Not only that, in order to take advantage and maximize the tone of this model, Fender included a singular set of pickups with a Strat-style hardtail bridge to lock down your tone for optimum playing experience.
Although it's a mid-range guitar, it's perfect for anyone who has a knack for playing these guitars. So, you might want to get a closer look at why this thing still is the talk of the town.
Pros
The C-Shaped Neck is short making it easier for many beginners to manage
Quality build using high-grade pinewood body, maple for both fingerboard and neck and sound chrome elements
Very affordable for the quality it brings
Ideal guitar for Country, Pop, Blues and other genres that are close to acoustic
Cons
Poor bridge pickup sound
The expensive choice for those who are not seriously into music and have a tight budget
The inexperienced or first-time guitarists might find the 5-way pickup and string-through body a bit hard to navigate
Flawless Craftsmanship
The Tele Plus comes with a single-cutaway Alder body like Standard Telecaster. It has the common C-shaped maple neck and maple fretboard. The fretboard has 9.5" radius and has 22 jumbo frets.
It's heavily lacquered with a beautiful gloss finish, making the maple neck so smooth and glassy. In the same manner, the fretboard which has the same finish offers the advantage for fast play.
Due to its finish, it's vintage-looking. But, the neck contour is also significant, especially for old-school thumb-round-the-neck blues. Not only that, but it can also accommodate modern arpeggios and faster finger techniques.
Finally, the action is low which is great to produce that Tele twang.
Pick Up Versatility
The pickup system introduced in this Tele is somewhat stretched. Instead of having five options, you can get seven options. Using the five-way selector switch and the coil-tap feature, you'll have two more options on top of the five common choices every Tele has.
This brilliant addition just makes this thing more playful with seven unique sounds. Not only that, the humbucker gives you that thick, warm and vibrant sound.
What More Can the Rest of the Pickups Give?
Actually, the Tele single-coil at the neck can give a classic mellow sound and the Strat pickup in the middle gives that brighter sound. This means the humbucker at the bridge is really an ace for this guitar.
This is exciting and interesting. However, if you miss that classic Tele twang, you can just switch the humbucker off, and voila, you'll get what you want.
VIEW: Our full list of beginner electric guitars
Leggo Fit Wood Combination
If you are looking for a modern guitar with a classic look, this model is as classic as it can get.
This particular model features Fender's original Tele wood combination, fusing together that smooth and sweet sound of pine body with the kick and bite of a maple neck and fingerboard.
The wise choice of material does not only make this guitar very comfortable to play, it also provides that classic Tele tone as well as that Tele look.
Built for Rock n' roll Bridge
Tying it all together, Fender took the liberty of giving this model a modern Stratocaster bridge.
This particular bridge features a 6-saddle hard tail configuration that lets you tune your guitar perfectly and accurately.
And Fender, known to always go the extra mile for music, did not stop there.
They made sure that the Modern Player Telecaster will give you the extra-tight vibes of a string-through-body tailpiece that will give you that extra sustain for better sounding music.
How's the Sound?
More has been said. But so far, it can be summed up to five words – "Well-designed, playable and versatile guitar."
You can get a clean twang, that's not a question and you can also jump from one music style to another in various genres.
With this kind of neck action, you have no problem playing like Keef or stepping up with technical solos. To be more precise, this guitar is proven to be good for country, rock, blues and punk rock, among others.
Great Value for Money, Almost
Honestly speaking, this guitar is more attractive than its price. From the design, the construction to the versatility of the pickups. You're a fool if you don't want this.
When it comes to the playability, it even outshines the rest, even the more expensive Fenders. That's the charisma of this twangy little thing.
It's like getting an American Standard model, without sacrificing your savings.
But if you're more into really budget telecasters, you can opt for this guitar's cheaper counterpart brand. Take for example this Squier classic vibe 50's telecaster(which is very good based on reviews) , or this Affinity Telecaster.
Verdict
Editor's Pick
This is a mid-range guitar. And, if there is something good out there that professionals and concert kings need, it's the high-end flagship Teles and not this low-end guitar.
Yes, the pickups might be great, but they cannot represent the guitar, at all.
Depending on your needs, this is a good guitar indeed. And when I'm saying it's good, well, we can safely say that there are other better guitars than this.