Editor Pick
Pearl Export Series Drum Set
If you are looking for a drum set that is very reliable for your rehearsals and jamming sessions, the Pearl Export Series is the one for you. It has great drums and hardware. Although it doesn't come with cymbals, with its affordable price and quality build, surely it is a great pick.
CHECK PRICE ON SWEETWATER
CHECK PRICE ON GUITAR CENTER
We may earn commission from purchases made from our links, at no additional cost to you.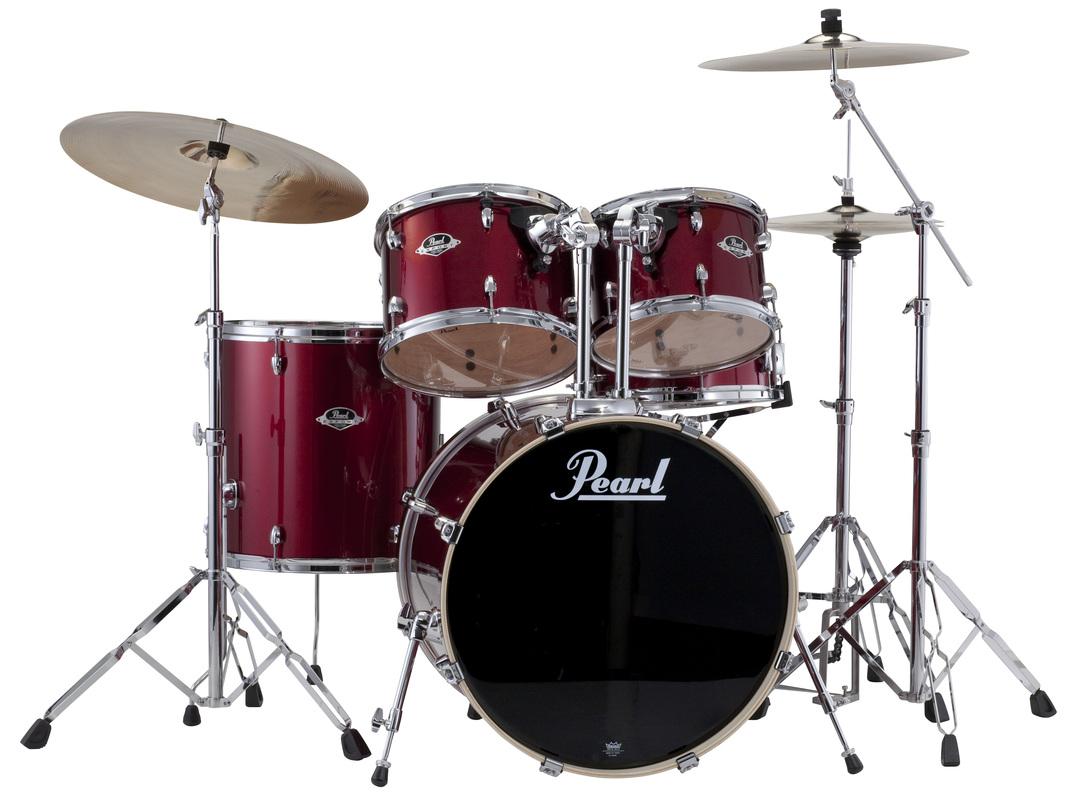 Pearl Export Series drum set is one of the most popular drum set from this Japanese manufacturer. In fact, way back 1995, it has already sold its one-millionth kit. But, among the drum sets in the Export Series, the EXX725 standard drum set is the best.
It's the drum set beginners and intermediate players will surely love. It's made with durability along with reliable hardware that aids in producing great and versatile sound. To become more convinced, I took the time to carefully review the drum set and come up with this article.
Great Design and Finish
The drums are made of Poplar wood and Asian Mahogany wood, which are known to be durable and appealing. And, since it uses durable materials, you know this drum set will last longer, even if you have extended hours of use.
It's available in six different wrapped finishes. These include Jet Black, Smokey Chrome, Electric Blue Sparkle, Red Wine, Pure White and Grindstone Sparkle.
Superior Shell Technology
The shell is designed using the "Superior Shell Technology." This technology is known to produce better and more resonant sounds. With the correct tuning, these drums are more likely to give better tones than those that don't have this technology.
With the Poplar/Asian Mahogany shell, the drums are great at giving a more powerful sound with great low-end sustain. Drums use the Opti-Loc suspension system that allows maximum resonance without worrying about instability and wobbles in your performance.
Sturdy and Reliable Hardware
To enjoy this drum set, Pearl offers sturdy and very reliable hardware. The drum set comes with double-braced cymbals stand, hi-hat stand, and snare stands.
The double-braced stands will definitely support your performances. So, even if you are constantly using it – includes assembling and disassembling the set up – the stands can still withstand it.
It comes with a very reliable bass drum pedal. It's modeled from Pearl's best pedal, the Professional Eliminator Model, which is known to be very good. When you hit the pedal, the arm will hit the bass drum producing sharp and clean sound.
More Versatile Tonal Range
This drum set accommodates a range of tones. Because it has a tonal hole between the 12" and 16" tom-tom drums, it gives you more versatility.
It's made of poplar and this material is very common to affordable drum sets. The drums made of this material usually produce brighter and more focused tone. So, don't expect to get darker and richer sound from the Export series, because you can only get it from maple drums.
Pearl tom drums don't have a hole, but, it still has some resonance. Yet, to get maximum resonance, you need to follow the preset positioning of the instrument.
What's Inside the Box?
If you think the Export drum set is perfect for you, here are among the instruments you'll have:
22 x 18 bass drum
12 x 8 rack tom
13 x 9 rack tom
16 x 16 floor tom
4 x 5.5 snare drum
Sabian SBR Performance Pack (14-Inch Hat, 16-Inch Crash, and 20-Inch Ride Cymbals)
Pearl is committed to establishing a lifetime connection with their customers. Thereby, giving this product a Lifetime Warranty. Thus, you can play as much as you want and Pearl will make everything in your drum set good as new and as reliable as ever.
Great for Gigging and Touring
Pearl Export Series, particularly the EXX725 Standard drum set is reliable for recordings and gigs. It's very sturdy and you can trust that it's built to last. Not only that, with the technology and engineering being used, you are sure of the sound quality that you can get from the drums in this set.
Pros
Very good quality drums; has robust hardware
Hi-hat and drum pedals are reliable
Great value for money
Very easy to set up
Cons
Drum set doesn't include cymbals and drumsticks
Drawbacks, but Not Deal Breaker
Most drum set includes cymbals, but unfortunately, this one doesn't have them. Although it may not be a deal breaker, intermediate players will surely appreciate the cymbals. And, above all, it's even more expensive compared to a "complete" drum set.
Hence, if you are looking for a drum set with cymbals and extra add-on, I suggest the Roadshow drum set – still from Pearl. You know Pearl is one of the trusted brands when it comes to drums. However, this is just my humble opinion, so, just take my word with a pinch of salt.
Verdict
Editor Pick
One of the selling points of this drum set is the bass pedal. It's one of the best in the market that seasoned drummers are crazy about. At a lower price, you will also have very sturdy hardware that will put you at ease even for long hours of playing.
Pearl has its unique way of providing what customers need. So, for this drum set, it's focused on gigging and professional players who are inclined into playing the toms, snares and bass drum.
For those who want a complete drum set, this package might not be the one for you. Though it comes with a cymbal stand, it doesn't have an instrument. But, if you are only focused on the drums and snares, this is a perfect choice, especially for its price tag.