Editor's Pick
Tama Imperialstar 5-Piece Drum Set
When a beginning drummer looks for a complete drum set, he's not only looking for an affordable one, but also quality and valuable instruments. Luckily, TAMA offers its best collection of drums at a very reasonable price. The TAMA Imperialstar is an entry-level kit that has everything you need to get started.
CHECK PRICE ON SWEETWATER
CHECK PRICE ON GUITAR CENTER
We may earn commission from purchases made from our links, at no additional cost to you.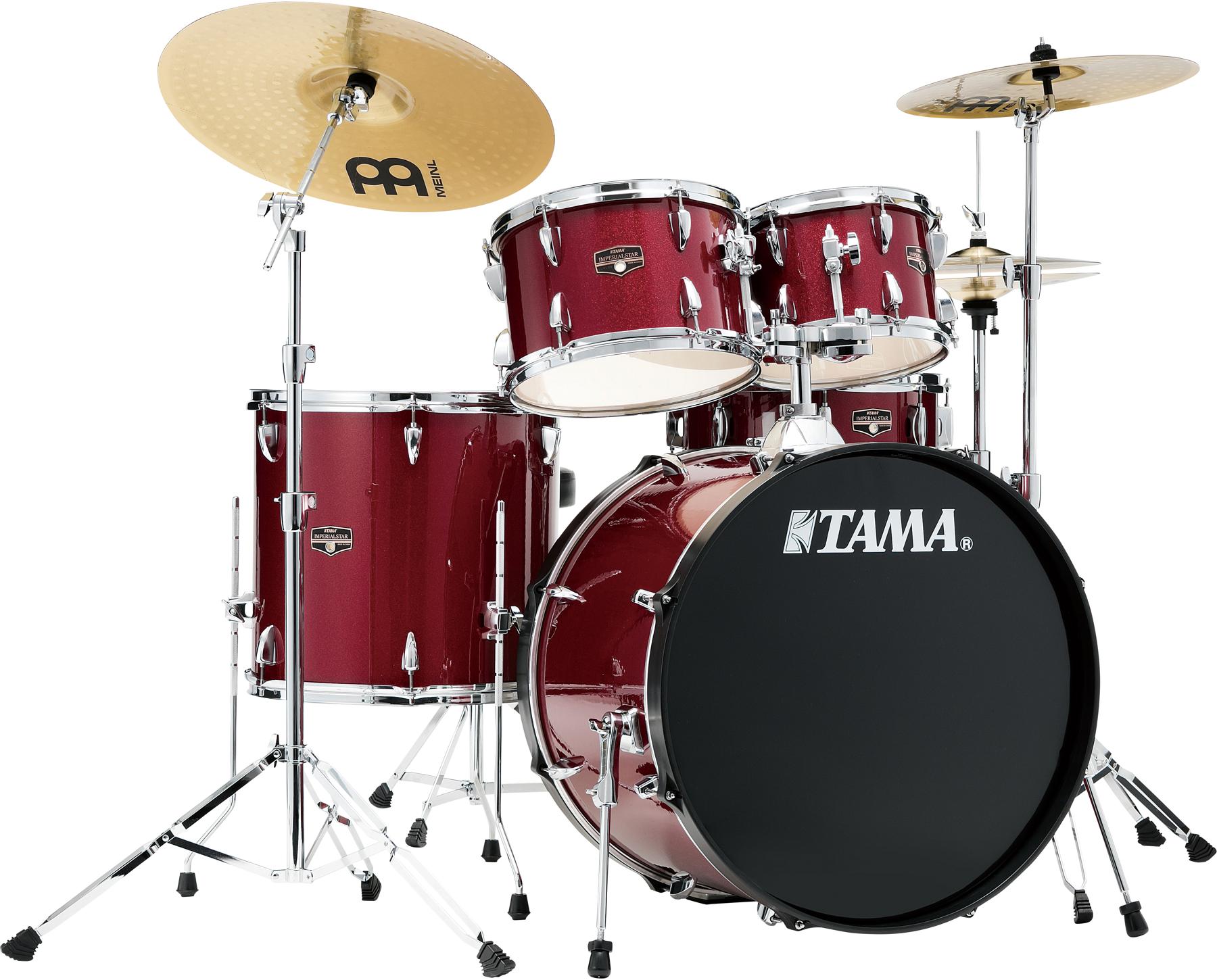 TAMA Drums is another Japanese manufacturer. And, speaking of Japanese quality, it sure is very reliable. This is not only hearsay, but TAMA proves it on its complete entry-level Imperialstar drum kit.
TAMA Imperialstar is the company's entry-level drum kit that is packed with everything a beginner needs to get started. It was first introduced in the 1970s and of course, it has already evolved through the years. As a product of experience and expertise, this award-winning drum kit is perfect to help you master your skills.
Impressive Shells and Construction
As an entry-level drum kit, Imperialstar is made with 100% Poplar shells instead of Maple. Sometimes cheaper drums have thicker shells, but TAMA managed to have 6-ply and 7.55mm shells. With cutting-edge technology to provide a high quality bearing edge, the shells can withstand even the heaviest beatings from learning drummers.
This drum set is offered in black nickel hardware and it's available in Hairline Blue color finish only.
Bright and Focused Sound Quality
Since these drums are made with Poplar, it is expected that you'll get brighter and more focused sounds. This is opposite to the richer and deeper sounds of Maple shells. Still, some people prefer Poplar than maple or birch.
The tom-tom drums produce warmer sounds, but they are not that clear. The bass drum is really good at giving some powerful booming. The snares are excellent for sharp attacks and you can also play rim shots and cross-clicks.
Although the stock drum heads might not be that reliable, beginners can still use it. However, advanced players might really need to change it up front to be able to get the most out of this drum set.
Sturdier Hardware
A great drum performance is not only because of the drums and cymbals, but also for its great hardware. TAMA Imperialstar drum kit comes with very durable and ergonomic hardware. The Stage Master 40 series hardware brings your performance to the next level.
It comes with a redesigned double-braced tripod with two supporting metal beams for more stability and lesser noise. It has a hi-hat stand with a 360-degree rotating pedal. This configuration gives more comfort since you can place it anywhere within your reach, without the legs getting in the way.
The bass drum pedal is also very reliable. It comes with a metal base, which makes it more stable and makes drumming even better.
To complete the package, TAMA adds the height-adjustable drum throne. And, it comes with a drum key so you can tune the drums on your own. But, if you don't have any experience tuning drums, please seek help from professionals.
What's Inside the Box?
TAMA Imperialstar falls under the entry-level category, but it's packed with advanced features. As mentioned, it has everything you need to get the party started, but you really need to have drumsticks.
Other than that, the following instruments will surely make you more excited:
18 x 22 Bass Drum
8 x 10 Rack Tom
9 x 12 Rack Tom
14 x 16 Floor Tom
5 x 14 Snare Drum
Besides the toms and drums, the package comes with a snare stand, hi-hat stand, boom stand, straight stand, floor tom legs and more. What's more interesting is the Meinl cymbals and stand.
Meinl Cymbals for Total Drum Experience
The cymbals on this drum kit are like a bonus. They are entry-level cymbals, but are sounding great. Meinl HCS series full-size cymbals are known to complete the overall drum experience, even for beginning drummers.
It comes with 14″ Hi-Hat Cymbals, 16″ Crash Cymbals, and 20″ Ride Cymbals. With all these high-end features and bonuses, surely, your investment will give you great returns.
Pros
Sounds great and very easy to tune
Snare drum has sharp cracks and cymbals have rich deep sound
Double-braced hardware is stable and very reliable
Great value for your money, considering all the things the kit has
Cons
It might go very loud
Drumsticks are not included
Drum heads are up for an upgrade to get a desirable sound
Complete and Jam-packed
I may have repeated this a couple times in this review already, but this is a complete drum set. In addition, it has reliable hardware, durable construction, and great sound quality. What else can you describe this drum set than being complete?
It's all good, except the one…
Comparing its price with everything you get in the package, surely, this is a rare investment. You got everything you can think of. You can play cymbals if you want to.
However, I don't know what's the reason why TAMA is not giving us from drumsticks? It wouldn't cost a lot for a pair of drumsticks, right? But, you can always buy a drumstick online, so there won't be any problem. You can checkout my recommended drumstick.
Since TAMA is giving almost everything, it should have included the drumsticks. Anyway, let's get over this small issue and start playing the drums. It's not a deal-breaker though, just want to express my opinion.
Verdict
Editor's Pick
It's complete and it has everything you need to get you started and keep you playing your drum set. Beginners will surely learn their craft faster because of how flexible you can go with this drum set.
Recommended for all drummers?
Yes, this drum set is not only for beginners but also for seasoned players. If the drums and headstocks are not enough for you, they are very easy to replace. Upgrade them to get the most experience out of this entry-level drum set.