Modern players are more picky and meticulous when it comes to their instruments. Gone are the days where aspiring musicians would settle for any available and affordable musical instrument just for the sake of having one.
Today, the overall aesthetics, materials used in crafting the instrument, the quality of sound it produces, and how it feels are considered. If one of these yields dissatisfaction, you can expect the buyer to turn around and look for the next possible electric guitar.
There'll be no further questions asked and no further negotiations and compromises.
Thus, brands that specialize in musical instruments have no choice but to up their products to meet the non-negotiable demands of the market. As a result, the Fender American Ultra Lux Telecaster is a forerunner for quality, performance, and features.
Editor's Pick
The Fender American Ultra Luxe Telecaster
The original guitar that kick-started Fender into the limelight of contemporary music has just evolved for the best. And it has become the electric guitar that is meant to be played and played hard.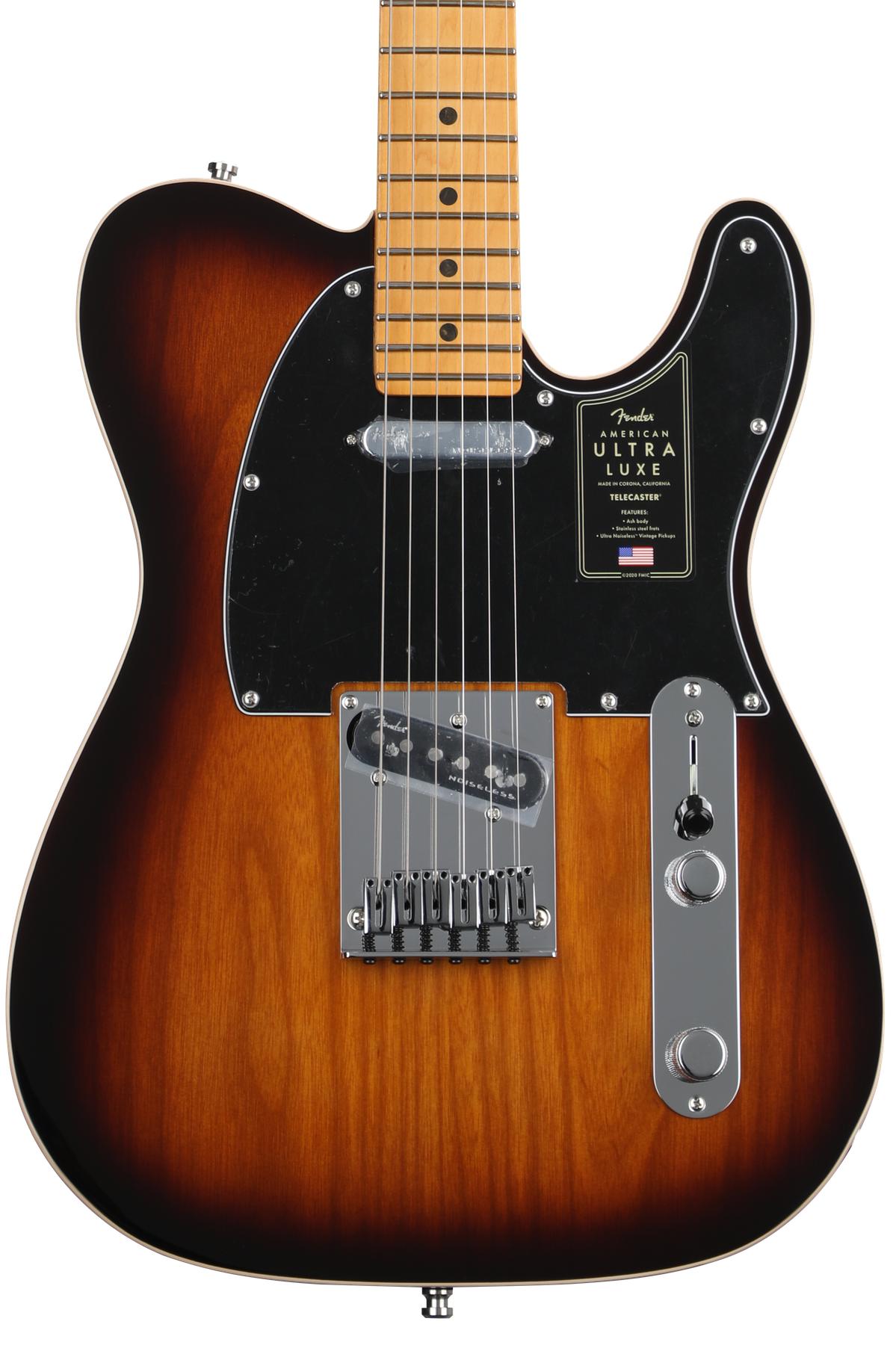 Initially named as the Broadcaster, this guitar made its debut in the early 1950s. With its ingeniously laid-back and straightforward design, the bolt-on neck, and the chunk body, it has become a trademark for identifying guitars and setting them apart from all other guitars.
Today, the Ultra-Luxe Telecaster boasts an augmented "D" shaped neck that is intended to be played. With its rosewood fingerboard boasting an easy-playing compound radius with medium-jumbo frets in stainless steel, playing this can be done in hours without any hassles or discomforts.
Its unique augmented "D" profile provides you with plenty to wrap your hand around. This can allow you to play for hours at a time. The neck is super slick thanks to its ultra-satin finish promoting deft hand maneuvering. With its tapered neck heel, you can have easy and convenient access to this guitar's whole fretboard.
Another reason for this model to be a complete stand-out is its integrated duo of Fender's Ultra Noiseless Vintage single-coil pick-ups. It has all the twang and punches expected from a Telecaster, and it sounds beautiful.
This Noiseless circuitry removes any noise distractions like the signal noise and possible hums familiar in the classic single-coil designs. For you, this means that you can plug the American Ultra Luxe Telecaster technically into anything. Connect it to modern digital modeling software, a vintage tube combo, and even in a high-gain stack, and you can expect it to produce that old-fashioned tone but with a performance level of a modern pickup.
Pros
Beautiful neck profile
S1 switching to have some additional tones
Classy finish with excellent weight
Hum-cancelling Noise Vintage single-coil pick-ups
Augmented "D" profile for comfortable and seamless playing for hours
Cons
It is just a slight upgrade from the other Elite versions
Not recommended for lefties since it doesn't have a left-hand option
Built for Supreme Performance
A mere glance will confirm that the Fender American Ultra Lux Telecaster is a style that your father or grandfather would even consider.
This is a 100% modern axe intended for today's current and explorative players. The Ultra Luxe Tele boasts a compound-radius fingerboard with a tapered beck heel to turbocharge your playing.
You get an S1 switch for long-drawn-out sonic options. And with the Ultra Luxe Telecaster solid build comes armed with sealed locking tuners, bone nut, and a 6-saddle bridge with chrome brass saddles.
The Fender American Luxe Telecaster is built for performance and nothing short, making it the ideal choice for Tele enthusiasts.
Impressive Materials and Design
The American Ultra Luxe Telecaster comes with the standard molded case of the American Professional series.
This Tele boasts a Texas Tea-finish common to today's modern instrument. In addition, it looks incredibly good with the Silver aluminum scratchplate.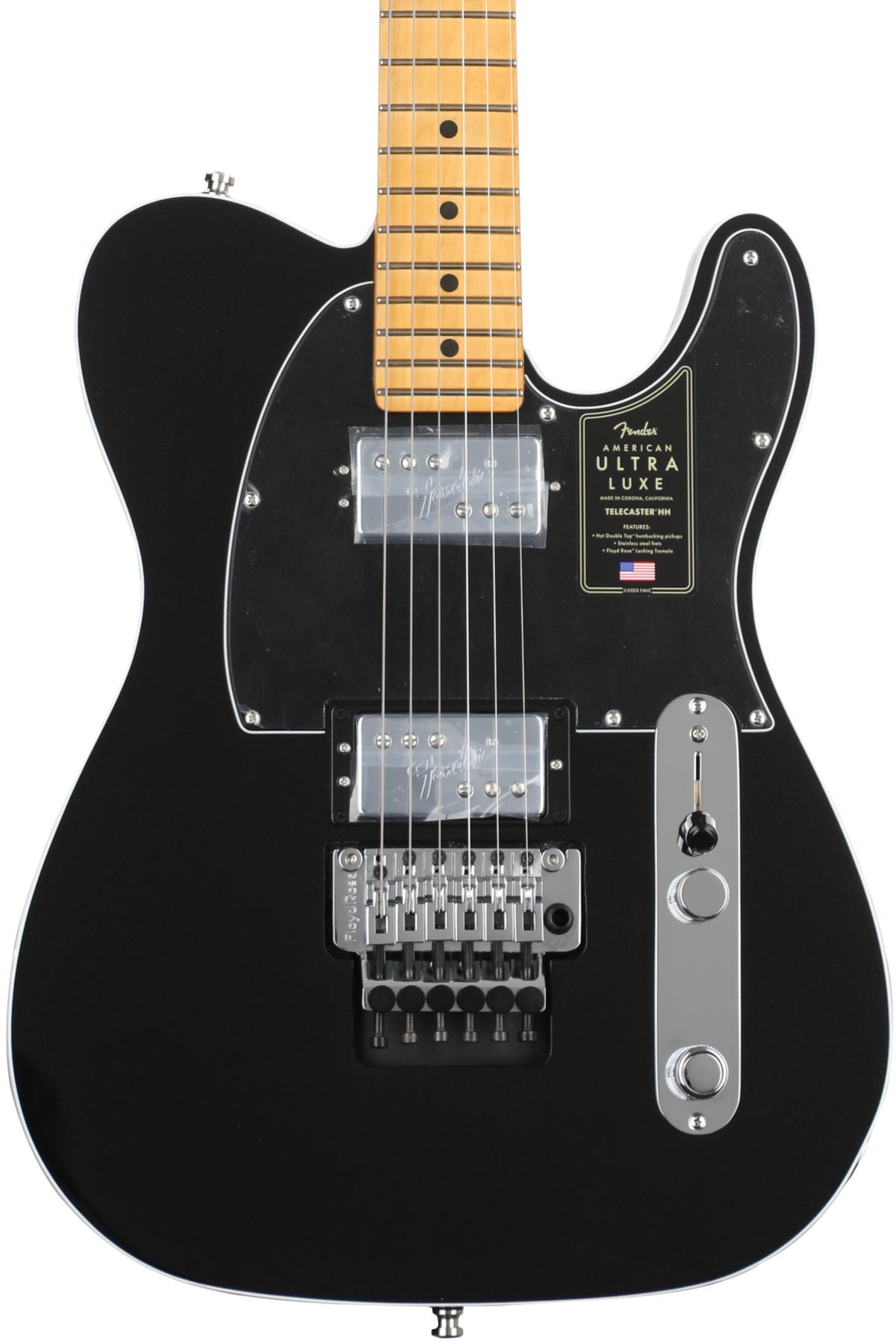 The scratchplate of the Ultra-Luxe is reliant on the type of finish that you purchase. You can show your innovative and artistic side with the single-ply Black on Butterscotch models, for instance.
The Ultra Luxe Telecaster follows the same neck profile as the other series – a modern D. This is where the topmost edge of its form is bound. The outline is a huge rib cage body that anyone will appreciate.
Since this falls under the listing of an advanced Tele, it boasts saddles of 6 chromed brass blocks providing an additional foundation to stand. This also has S-Lock strap buttons like the Elite model, complete with a locking mechanism bundled in its case. Another modern and convenient touch is the side-placed Electro-socket jack mount.
Excellent Set-Up
Quite a surprise, this Tele does not feature a "D" shaped neck that allows you to have a back that has square shoulders. Instead, this one boasts a moderately shallow deepness with an excellent comfort level.
The American Ultra Luxe Telecaster feel is perfect for those who are just learning to jam with this instrument and those who like playing it hard for hours at a time.
The edges of the fingerboard are effortlessly rounded with an excellent fret job. The frets are quite large, which your fingers and hands would love to glide through. Overall, the set-up of this guitar is created with musicians in mind, which is a huge plus.
Three-Way Selector and S1 Switch
The American Ultra Luxe is a six-string instrument, and most of the Tele has a four-way selector switch. This Fender series, though, only has a three-way selector working with an S1 control.
Some might need a little adjusting and get used to this set-up, but in truth, this setting is more spontaneous and natural than having the four-way selector switch.
This helps the player achieve varied, comprehensive, and plentiful tones while still keeping it clean when pulling back on the volume.
Specs
Conclusion
Editor's Pick
The Fender American Ultra Luxe Telecaster is considered a premium US guitar, and you can't go wrong with this purchase. It strikes the well-sought balance between old-school and modern giving you a seamless Tele experience all the time.
With its fuss-free set-up, you can get creative with all the possible styles that it can provide. Unlike the big-necked old-school Tele, where you need to fumble around more, this Fender Tele gives you more time to get lost in your music. And it will always be excellent music moving forward.
Also Read: