Looking for the best electric guitar for beginners? You've come to the right place.
It is not a surprise if ample of people, especially the youth, are easily captivated by the music brought by electric guitar. The sound that it makes can easily awake the sleeping soul and energize those who are weary.
Now, if you are also hook on playing electric guitars and dreaming to be the next Jimi Hendrix or Joe Strummer, you have to be practicing and engaging to more gigs.
Whether you are already a rising star or are yet cultivating your potential in strings, you deserve to find the best electric guitar in town that will perfectly match your personality and technique. Read our best recommended electric guitars below.
The best electric guitars for beginners reviewed
Fretboard: Rosewood/Maple/Laurel
Bridge System: Tune-O-Matic
Bridge System: Vintage Style Tremolo
Pickups: Humbucker (Single 2x, Humbucker 1x)
Pickups: Magnetic Combination
Beginners who want to learn how to play guitar need to get an inspiring guitar to inspire them to keep playing. Of course, if you have a better guitar, chances are, you'll play even more. This is what you'll get when you'll start playing with Squier Affinity Stratocaster.
This isn't the best one in the market, but, this electric guitar is of great help to kickstart your musical journey. The one thing I especially like about the it is the C-shaped maple neck. The poplar body is lightweight, yet, giving enough support while surfing up and down the laurel fretboard.
With the standard 25.5-inch scale length and 21 narrow-tall frets, it's more fun to play with this guitar. It comes with humbucking bridge pickup, two single-coil pickups, and the 5-way blade pickup switch to give you more tonal options.
Read: Squier Affinity Stratocaster Review
Pros
Stays well in tune and has an excellent tone when properly set
Plays pretty well and that the construction is of quality
Lightweight "C" shaped maple neck
Lightweight with the C-shaped neck profile for more comfort and playability

Cons
No case is included
Ideal electric guitar for beginners
Slow tuning at first try
Of course, everyone wants to have a real Gibson SG. But, not all can afford it. So, Epiphone made a more affordable version — a stripped-down — yet, still delivers some qualities you are longing for in the classic SG. Epiphone SG Special helps you get the real SG tone without breaking the bank.
At first glance, you'll think that it's the original Les Paul's iconic guitar. But, if you look closer, it's just the more affordable version of the expensive model. The solidbody with the double-cutaway will surely keep you playing this one.
There's more to the looks that make it a stunning guitar. It has two open-coil humbuckers with master volume control and master tone with KillPot switch. The Tune-o-Matic bridge/stopbar tailpiece combo provides more sustain and ease when changing the strings.
Read: Full review on Epiphone Special SG here.
Yamaha Pacifica Series PAC112V is an entry-level guitar that helps you master your skills. Its alder body helps you achieve clear and well-rounded tone. It looks like a Stratocaster and at its price, it offers more playability and tonal options.
Thanks to the bolt-on maple neck, the C-shaped neck profile, and the rosewood fretboard, it's easy to play this guitar without any problem. Since it has a subtle satin finish, it feels smooth and helps you do fast play without hassle.
Though it seems like a Start, it has a pickup system that's different from it. This comes with single-coils and humbuckers in H/S/S configuration. This means that it has single-coil pickups at the neck and middle, while a humbucker at the bridge.
The configuration offers more tonal versatility. The five-position selector switch with coil-tapping gives access to sound signatures you've never had before.
Read: Yamaha Pacifica 112V Review
It's undeniable that the Ibanez GRX70QATEB has a different aura that invites you to pick it up and play. The Transparent Red Burst finish looks stunning and makes you think it's an outstanding guitar.
The top wood has a beautiful quilted Maple art grain pattern. Not only that, it has a very playable neck made of maple. Since it's slim and smooth it supports fast-playing way better than other models in this price range. The neck and the medium-sized frets help you play chords effortlessly.
Now, the beauty of this guitar lies on the pickups. Though they aren't the best pickups on the market, they do what they are designed to do.
The ceramic-magnet humbucking pickups help you get high output without distortion, while the middle single-coil pickup offers a clear vintage tone.
An electric guitar that cost less than $300 is a bargain and you can't expect it to be perfect. However, if you're looking for a low-cost, yet playable guitar that beginners and kids can play, consider getting the Epiphone Les Paul Special II.
It's a reliable guitar when it comes to the sound department, perhaps, the closest one you can have to get a Gibson tone without spending several thousands of dollars. Yet, don't put your hopes up too high. Yes, it's a good-sounding guitar, but it could never replace the expensive Gibson.
For kids and beginners, this guitar will inspire you to play a real Gibson. From the solid wood body, the maple neck and the rosewood fretboard, it offers enough playability. When played frequently, this will surely lead you to stardom.
Read: Epiphone Les Paul Special II Review
For beginners who want to start playing an electric guitar, the first thing that comes to mind is Squier guitars. Their guitar promise durability and playability that a beginner needs. Primarily designed for aspiring musicians out there, the Squier by Fender Bullet Strat could be your first guitar.
This isn't just any of those entry-level electric guitars. This one comes with three single-coil pickups and a synchronized tremolo. You'll also find a few controls like the tone, volume and the five-way pickup selector switch that paves the way to more tonal possibilities.
The tremolo bridge, on the other hand, though a bit complex, you'll soon get the hang of it, which helps familiarize how expensive Fender works. You can create flat pitch variations and maximum playability when you know how to use the tremolo to your advantage.
Lastly, the C-shaped satin-finished neck and medium jumbo frets help you achieve comfort while playing.
Read: Squier Bullet Strat Review
A simple, yet playable beginner's electric guitar, Squier Affinity Telecaster helps you unleash that inner rock star within you. With its affordable price tag, maybe you don't expect too much from this guitar, yet, you'll be surprised at its power and quality. With the timeless style and great playability, you can play it for longer hours.
It has eye-catching finishes with the 6-in-line headstock, and the traditional aesthetic features. It has an attractive alder body with C-shaped Maple neck and 21-fret Maple fretboard. Since the neck has great Polyurethane finish with no sharp fret edges, it's very easy to move up and down the fretboard.
It features vintage-style single-coil Telecaster pickups, primarily to replicate the legendary Telecaster sound. Though they're not that efficient, and they're weaker than the classic pickups, they are reliable for practice and jamming. Indeed, this guitar delivers good tones without you spending too much.
Read: Squier Affinity Telecaster Review
If you are craving for the classic heavy tone of an electric guitar, but don't want to spend so much, Epiphone Les Paul-100 gives you what you need. It's a solidbody guitar with mahogany body and Maple top, which deliver classic tones you longed for. The bolt-on glossy mahogany neck and the rosewood fingerboard aids to the better playability and ease in playing this instrument.
Aside from the materials used, the pickups onboard also play a very important role to achieve the robust vintage sounds. The 700T/650R open-coil humbucker pickups are reliable to achieve the true Les Paul tone.
The chrome hardware, die-cast tuners, and the Tune-O-Matic bridge system keep the strings stable and in tune. It really gives the best bang for the buck, which doesn't give much pain in the ass, especially with the initial setup.
Read: Epiphone Les Paul 100 Review
A triple-pickup Telecaster with vast tonal options, the Fender Modern Player Tele Plus is now available for grabs by everyone. It features a pinewood body with glossy finish, C-shape Maple neck, and fretboard. The pinewood adds to the warmth of the sound it delivers, while the neck and fretboard are just heaven to play.
Given the fretboard to have 9.5-inch radius, a standard scale length of 25.5-inch and 22 jumbo frets, this model is designed to accommodate fast play. It's decorated with a three-ply pickguard, vintage-style tuners, chrome/nickel hardware, and the string-through-body six-saddle hardtail bridge that do their job pretty well.
What I really appreciate about this electric guitar are the pickups — humbucking bridge pickup with coil-splitting feature, Strat middle pickup, and Tele single-coil pickup. With the use of the five-way switch, you can access vast tonal possibilities you never have before.
Read: Fender Modern Tele Plus Review
There are tons of Epiphone guitars out there that promise to deliver the true Gibson Les Paul tone. However, not all of them got it closer, except the Epiphone Les Paul Standard. It's made of mahogany body which provides the natural resonance of the classic tone.
The 1960s SlimTaper D-profile mahogany neck and rosewood fretboard offer you that familiar feel and playability you'll get from expensive Les Paul. I might say that the frets aren't perfectly leveled and need some leveling. However, once this gets done, everything plays smoothly, even for fast action.
It features the Alnico Classic humbucker pickups which are great to deliver warm tones, while the Grover heads are just perfect to keep the tuning intact. The LockTone Tune-O-Matic bridge and stopbar tailpiece give stability to the strings and sustain, too. Given its playability and the classic tone, I don't think there's any other electric guitar that beats its price.
Read: Epiphone Les Paul Standard Review
Things to Consider When Buying an Electric Guitar for a Beginner
Read: 21 Things You Should Know Before Buying an Electric Guitar
Picking the best beginner electric guitar is not like asking a crystal ball to reveal it for you. Professional guitarist and much more starter musicians need to hop from various stores to scrutinize each piece to shortlist the fairest of them all. Here is to give you a piece of an idea to guide you in choosing your electric guitar.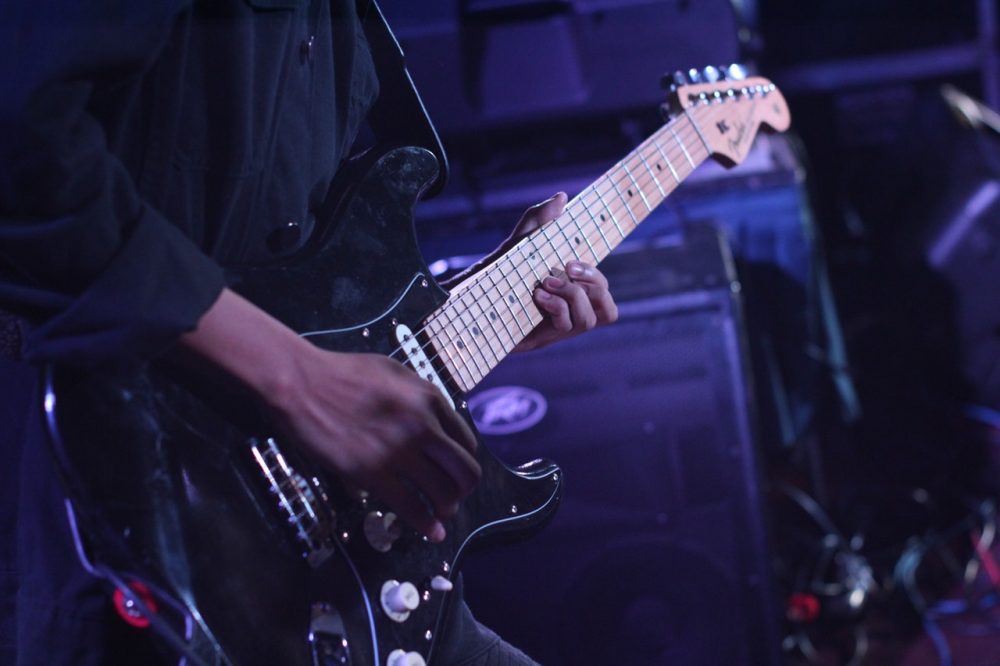 Sound quality
Determining a good quality beginner electric guitar is basically depending on the way it sounds. And the melody that the instrument will produce is based on its built, its essential parts and what are these made-of. Some of the specific organs of an electric guitar are the body, neck, fingerboard, pick-ups, player and style.
Body
The body is the core of the guitar, whether its an acoustic or electric guitar. Several choices of body parts can be considered such as the solid, hollow or semi-hollow. Each has different resonance impact to the device. The trick is if your genre is soft sound then grab a hollow or semi-hollow piece while for heavier and louder music, the solid body will be amazing.

Wood
Next to look at is the body wood, which mainly affects the sustain and tone of the guitar.
There are many wood options to choose from such as the Agathis, Alder, Asg, Basswood, Bubinga, Koa, Korina, Mahogany, Maple, Poplar, Rosewood and Walnut.
As for the neck, there are only two styles to select. It can only be a maple or mahogany mixed with other wood such as rosewood or ebony for better quality.
Pick-ups
Pick-ups are another significant part of the electric guitar to check when buying one. The typed of pick-ups are either single-coil or humbucker. The idea is the single oil is louder while the humbucker produce less noise.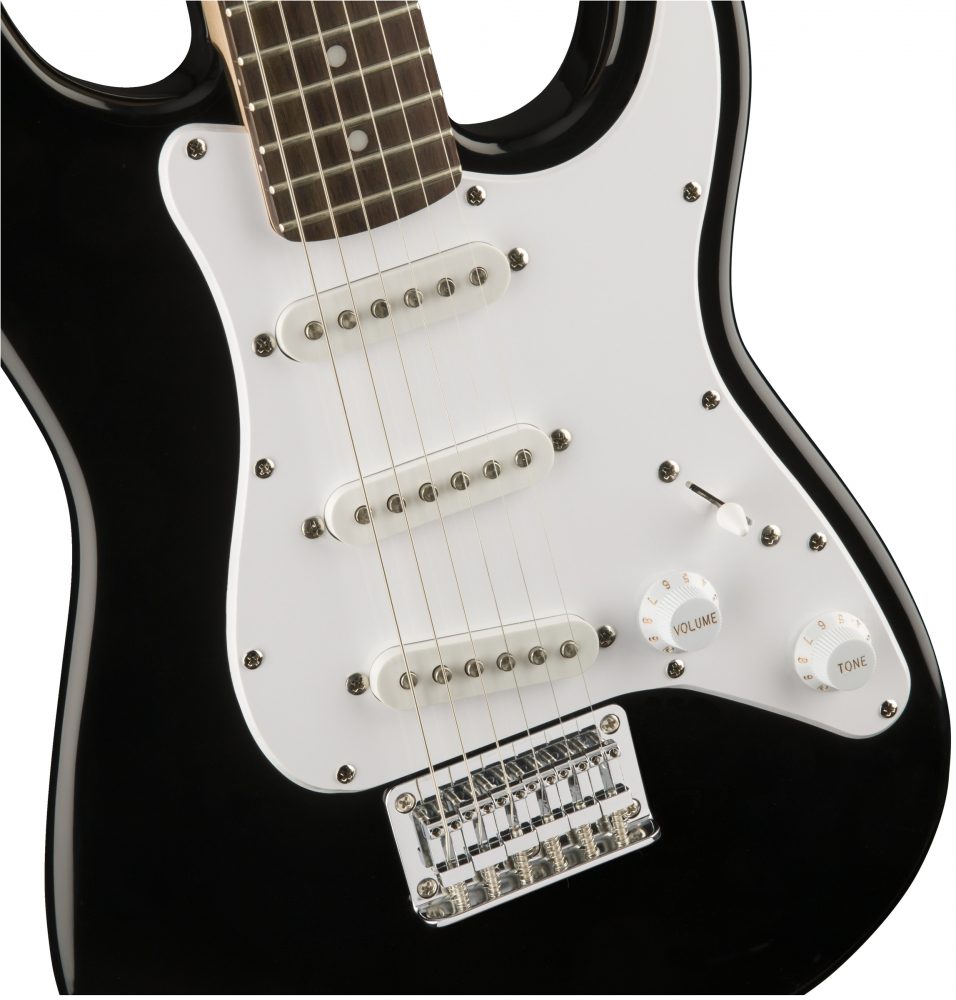 Bridge
Another part is the bridge to which the strings of a guitar are attached. Two of the main types is the fixed or tremolo.
The fixed bridge is the one if you want steady tuning and great sustain. It's a yes for tremolo if you a type musician that is curious and loves experimenting notes.
Explore and take time to shop for your new electric guitar so you can be exposed to various options and you can compare them. This will help you to figure out which one is a perfect match for you and help you enjoy more of your passion for music.
RECOMMENDED VIDEO: Choose an Electric Guitar for a Beginner
What about amps?
For total beginners, you don't really need an expensive guitar amplifier to start with. A small, cheap, and reliable amp is good enough if you're just using it to practice at home. For this, I recommend getting the Boss Katana 50. For a reasonable price, it's versatile(actually got 5 amp models to choose from as well as a LOT of customizable effect configurations) which I think any beginner would like. I highly recommend getting this, though you don't have to take my word for it but it got some nice reviews from verified buyers here.
If you think you need more recommendations, you can check out my best amplifiers for beginners guide here.
What is the best beginner electric guitar?
Our top pick for the best beginner electric guitar is the Squier Affinity Stratocaster. It can deliver quality, bright and crisp sound and is with a compact and sleek package. In addition, the Squier electric guitar also has a 15W power amp along with an AUX input for plugging in other media devices.
Get the Squier Affinity Stratocaster here.
Today's Deals on Squier Affinity Stratocaster