OUR #1 RATED BEST ELECTRIC GUITAR FOR BEGINNERS
Can I tell you a secret? I regret getting an acoustic over an electric guitar.
Opinions may vary, but I find that I have limited my true skills in guitar when I opted for an acoustic.
I couldn't do proper bending, harmonics, palm muting, and alternate picking.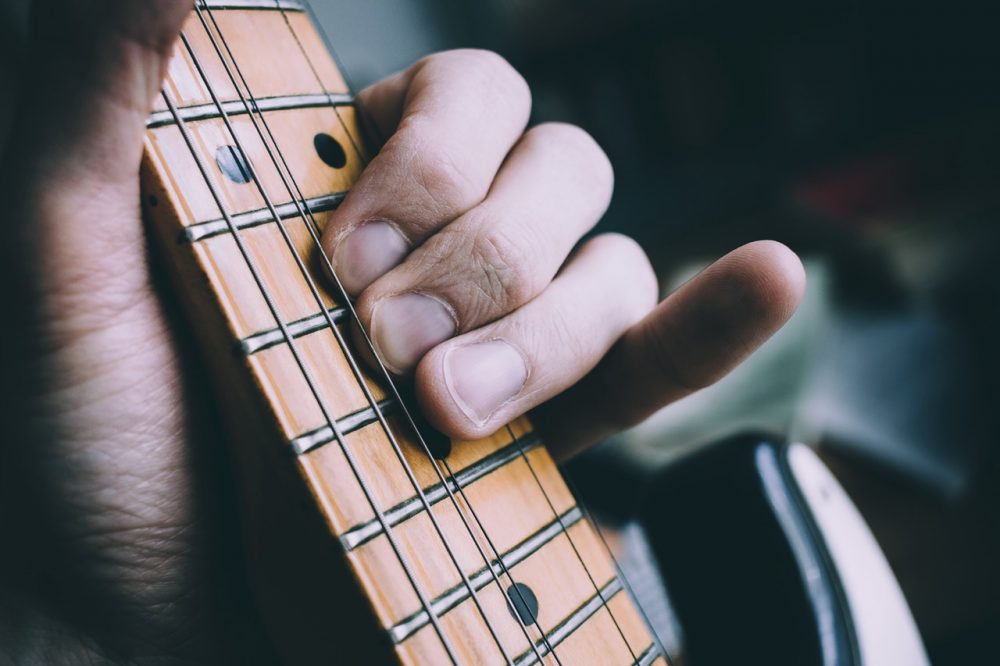 If I were to be taken back to that time where I was still a beginner and had to choose between an acoustic or an electric guitar, I would have chose the latter.
And it would be definitely be one of these 7 best electric guitars for beginners in this list.
To help you with buying your first guitar, I have made a review on each best electric guitar for beginners on the above list.
Let's get started, shall we?
Best Electric Guitars for Beginners – Our Top 7 Picks
Loaded with professional features for ease of play and versatility, Squier Affinity Stratocaster makes it the best choice for beginners to learn electric guitar.
Beautifully crafted not just for the outer build, but for the sound as well.
The Affinity guitar series is built for aspiring musicians. On top of its playability, professional guitarists love it because of the quality of sound and music you can make out of it.
Feel
The C-shaped neck is perfect for players with small hands. It's very comfortable, allowing you to do your tricks without any problem.
Look
The body is very smooth and comes with an eye-catching finish. Got a very solid build and slick style.
Sound
The sound it produces is much more than what you paid for it. You can play different music styles and genre pretty easily.

Value for Money
It's one of the most versatile electric guitars you can find. It's way more fantastic than other more expensive electric guitars.
Feel 
Any beginner would enjoy playing the Epiphone Les Paul Special II since it pretty much looks and feels like a Les Paul standard.
The mahogany build and rosewood fretboard is a huge plus, too! The pickups and tune-o-matic bridge are similar to the more expensive ones.
Look
Unlike a lot of other budget guitars that have limited color options, you can choose between different finishes to suit your tastes.
Sound
This one has an overall great sound and if you're into playing rock and metal, this might be a good fit for you. Its two Epiphone pickups makes it great at handling distortion compared to other electric guitars.
One of its more unique qualities is that it's balanced too, but it does have its limitations when it comes to more subtle tones.
Value for Money
It's the most expensive guitar on this list, it's true. But think about what you're getting. An original Les Paul Special-II LTD, complete with an amplifier and starter accessories(a chromatic tuner, gig bag, new set of picks, guitar strap, and a downloadable guitar lesson for beginners.)
It basically has everything a beginner needs to start playing. And you're definitely getting more that what you've paid for.
As far as entry-level guitars are concerned, Squiers have made a pretty big name for themselves and with good reason, too.
Feel
True to its branding, the size and shape feels a lot like a Fender Strat. Also, the basswood material makes it feel softer and lighter, too. The components don't move as smoothly as an expensive guitar would though, so you may have to replace some things for a better use.
Look
Having a feel and look of a standard strat, this guitar just looks superb. The sunburst finish looks great and you would be surprise that this guitar is priced at almost half compared to other most expensive guitars out there.
Sound
Don't let the price fool you; the sound is actually really good compared to similarly priced guitars. Though it's no Fender, the sound quality is cutting it pretty close.
Some of the more experienced guitar players can even say that they'll keep playing it long after they've passed the beginner level.

Value for Money
If you're one of those people who're hesitant to guitars because they fear that they won't like it, well then you won't have that kind of problem with this one. It's cheap enough that you won't feel like you've just broken the bank to just get it.
If you need an affordable electric guitar with great features, you found it all in Squire Affinity Telecaster. It's known for its versatility, quality of sound and the C-shaped neck makes it very comfortable for all styles of playing.
Fender Telecasters are among the most iconic guitars and Squier is undoubtedly one of them.
Though it is affordable, the quality and the brand are still there.
Feel
The straight neck helps in fast speed playing, with very smooth frets and no sharp edges. The finish and the build of the Squier make it lighter and more versatile.
Look
Not too thin, with a straight neck and very comfortable to play with. The beautiful Butterscotch finish is smooth and shiny, perfect to bring on to the spotlight.
Sound
The sound is pretty amazing and clean through an amp. Got two pickups specially designed to relive the classic and legendary sound of Fender Telecasters.

Value for Money
A mid-range instrument that has a great twang like other much expensive Telecasters. This is one of the best investments any beginners can get when buying an electric guitar.
For beginners, the setup and ease of playing are very important. Fortunately, Epiphone Les Paul 100 offers more and produces great sound and bends too.
The versatility of being able to adjust the volume and tone differently is fantastic.
Furthermore, its solid build and finish made it a great choice for beginners.
Feel
The neck feels a very comfortable grip and extremely fitting for any style of playing. Plus, the weight is just nice enough to play with ease without thinking of the weight.
Look
This guitar got the classic Les Paul shape, solid mahogany and great hardware. Got a very nice design and the color choice and it doesn't look cheap for the price.
Sound
Two humbuckers offer full and warm tones perfect for various styles of playing. Aside from the great sound it produces, it has great sustain and great dynamics on the frets.

Value for Money
An entry-level guitar with great value. Perfect for beginners to start playing without burning a hole in the pocket.
Related: Epiphone Les Paul-100 Review
Packed with modern features, yet you can play classic sounds beautifully, Fender Modern Players Telecaster Plus offers you everything you need for your first guitar. An affordable Tele for beginners and experienced guitarists.
Fender cherishes new players so much that they offer entry-level quality instruments. The modern player series is one of the greatest lines of guitars known for affordability, flexibility and playability.
Feel
The neck is very smooth and comfortable that you got no problem sliding your fingers for your heavy tunes or playing technical solos. It's a little heavy though, but not too much.
Look
The beautiful gloss finish made it very attractive, smooth and glassy. It preserves a classic look, but can superbly play classic tunes as well as modern ones, as well.
Sound
Comes with three pickups for you to play around without hassle. Very versatile where you can get classic sound as well as a lot of more tones. You can also jump from one genre to another pretty easily.

Value for Money
With it's price, you'll be surprised that this Tele is far greater than its price tag. It's got everything a newbie needs, and has everything an expert needs for a great performance.
Related: Fender Modern Player Tele Plus Review
Epiphone Les Paul Standard is among the few guitars that is crafted to sound like an expensive Les Paul. With its high-quality craftsmanship and complete controls, you won't have a hard time playing your first song with it.
A perfect guitar with perfect price to learn electric guitar so easily. It's finely crafted and produces great and quality sounds of a very wide range.
Feel
The neck and the rosewood fretboard feel great and give much ease to fast action play. The guitar is very comfortable to play like an expensive Gibson Les Paul, but costs way much cheaper.
Look
The classic look and the finish of the guitar remind you of the guitars that had been used on stages around the world for decades. The overall aesthetics and finish of the guitar is well crafted and the hardware is all set in place solidly.
Value for Money
The guitar plays way better than its price. It has the sound, the quality, the looks and way so much more, like a real Gibson guitar.
Sound
The mahogany body provides Les Paul Standard guitar with awesome resonance. Pickups work so well and the guitar holds tune very nicely without any unwanted noise.
What Is A Good Guitar for a Beginner? Electric or Acoustic?
If you're picking your first guitar to start learning, electric guitars are physically easier to play because of it's thinner neck and lighter strings. There will be less strain on your fingers.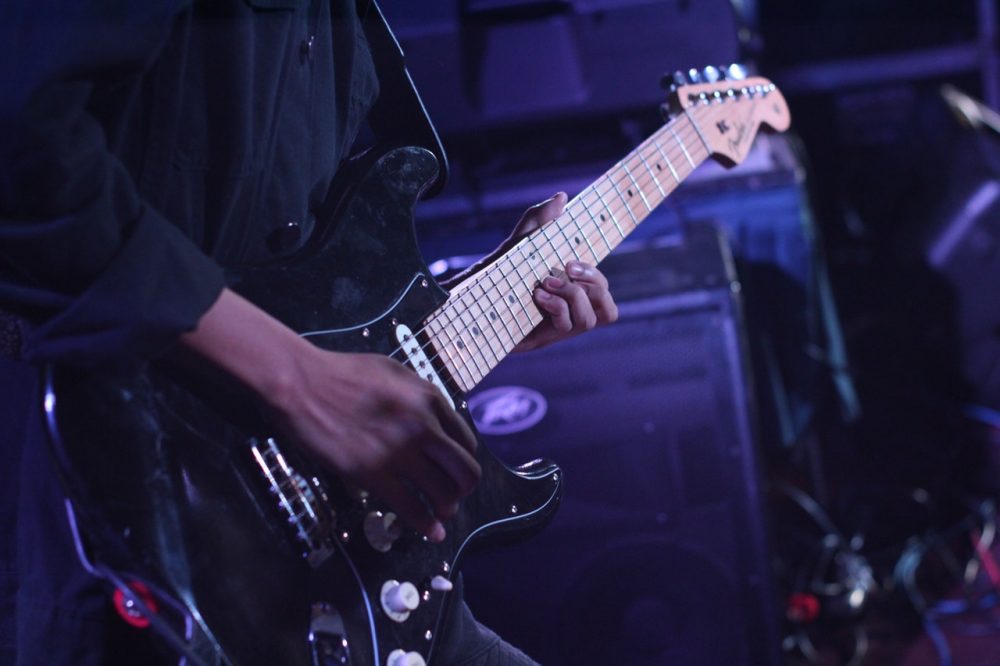 Unlike acoustics though, electric guitars are made to play through an amplifier so if you didn't get a full set, you have to buy one on your own.
For someone on a tight budget, this might not sit well with you. Also, learning to play on an electric guitar doesn't necessarily mean it'll translate to the acoustic either.
Should I Buy Used or New Guitar?
After you've decided what you want, next thing you'll be asking is whether to get a used or new one. I admit, getting a pre-loved guitar does sound like it has a lot of perks.
You might be able to snag yourself one of those big name brands for a lower price. Also, just the feel of a vintage guitar might be enough to get you playing.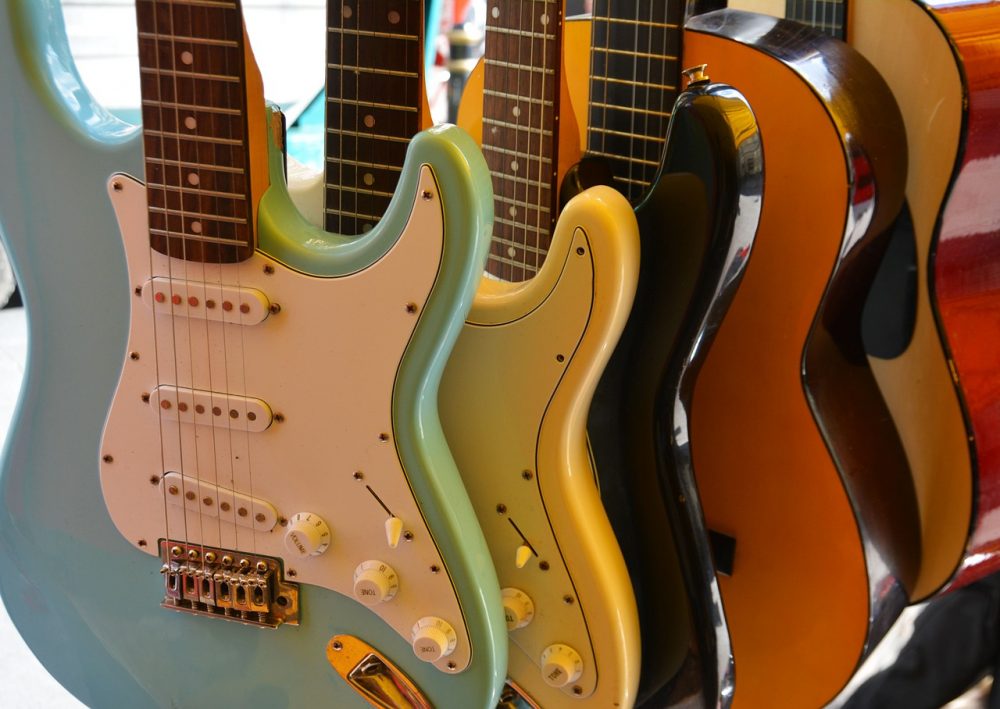 As a beginner though, it might not be such a good idea. For one, you might not be experienced enough to distinguish the good from the bad.
If you're buying used online, you can't guarantee that it'll get to you in good condition and really, it's still better to test it out in person before actually buying one.
Wrapping Up
Learning starts from owning a guitar. You can watch all electric guitar tutorials all you want but the experience is different when you really have your own electric guitar to practice with.
And with that, I highly suggest getting the Epiphone Les Paul Special II for absolute beginners. Not only that it's a great guitar, it's also got all you need to begin playing. A nice electric guitar amplifier, and a couple of accessories.
Definitely a great bang for the buck choice. So, when are you going to start practicing?