Fretboard: Rosewood/Maple/Laurel
Bridge System: Tune-O-Matic
Bridge System: Vintage Style Tremolo
Pickups: Humbucker (Single 2x, Humbucker 1x)
Pickups: Magnetic Combination
It is not a surprise if ample of people, especially the youth, are easily captivated by the music brought by electric guitar. The sound that it makes can easily awake the sleeping soul and energize those who are weary.
Now, if you are also hook on playing electric guitars and dreaming to be the next Jimi Hendrix or Joe Strummer, you have to be practicing and engaging to more gigs.
Whether you are already a rising star or are yet cultivating your potential in strings, you deserve to find the best electric guitar in town that will perfectly match your personality and technique.
Some of the best electric guitars for beginners with high reputation in the strings industry are compiled here with a bit of buying guide for you.
10 Best Electric Guitars for Beginners (2019 Reviews)
SALE at 33% OFF
The Fender Squier Affinity Series Stratocaster Electric Guitar is a great choice especially for those beginners who need more practice in playing music.
Crisp and clarity of tone is a top determining factor when looking for a quality guitar. The Fender Squier Affinity Series Stratocaster can deliver that attractive sound through its fat-sound bridge and two single-coil strat pickups.
If you look on the C-shaped maple neck, you can surely imagine yourself as a rockstar when you wore it and started strumming with your fingers. As it is lightweight, you can freely sway your body while carrying it on the platform.
This electric model will not let you down while in the middle of intense jamming or practice because it has a 15 watts power amplifier and an aux input that can be easily plug-in to other media device.
The package also comes with strap, cable and picks and covered for a one year warranty.
Overall, the Fender Squier Affinity Series Stratocaster can give you that memorable first-hand musical instrument experience.
Pros
With 15 watts power amplifier
Can be connected to a media device through the aux input
Lightweight "C" shaped maple neck
Package includes strap, cable and picks
One Year Warranty

Cons
No case is included
Slow tuning at first try
Epiphone SG-Special Electric Guitar (w/ KillPot, Cherry Red
Body & Neck: Mahogany; Color: Cherry Red
Neck Profile: SlimTaper "D"; Scale length: 24.75 Inch
Fingerboard: "dot" inlays; Tuners: Premium 14:1
Neck Joint: Bolt-on w/tapered heel, 4-bolt recessed
Strings: D'Addario 10, 13, 17, 26, 36, 46; Tailpiece: StopBar & Hardware: Nickel
SG version of electric guitar usually comes in elite price because they are on the top of the line when it comes to superlative function and highly fashionable style. The Epiphone is introducing its very own SG-Electric Guitar, which is quite affordable yet equally competitive electric guitar.
The style of its humbucking pickups is a twin open coil so it can deliver a crisper melody and avoid unnecessary noise. For ultimate sustain, it is designed with the winning combination of Tune-o-matic Bridge and Stopbar Tailpiece.
It will be a love at first sight when you set your eyes on the Epiphone SG-Electric Guitar because it physical characteristics will bring you a feeling like one of the famous rockstar. It has a fully carved body painted in cherry-red color that can keep up to your moves while performing on a platform.
Overall, the Epiphone SG-Electric Guitar with kill-pot cherry red is a precious instrument if we are talking about the style, pristine melody, sturdiness and other special features.
Another brand in the line of guitar industry is making some noise when it comes to having indubitable good performance. Take a look and lend your ears to the Yamaha Pacifica Series PAC112V Electric Guitar.
The Pacifica Series carries its versatility for different music genres and styles. It is popular in delivering great and seamless melody. Its guitar pickup configuration is an x1 humbucker so expect from it a louder and heavier sound.
I don't know with you but I am really attracted with the old violin sunburst shade of the guitar. It gives that classic yet appealing aura.
Another area for scrutiny is the construction of this electric guitar. It is made sturdy with its solid alder housing and rosewood fingerboard. The neck is also maple-made, so it won't easily bend.
To sum it all, Yamaha Pacifica Series PAC112V Electric Guitar is an ideal piece that can keep up to your music interest with its different features.
One of the strong contenders when picking the best guitars in town is the Ibanez 6 string Solid-body electric guitar (GRX70QATRB).
This model is suitable for guitar enthusiast whether on a beginner or professional level. It offers an impressive playability and sound brought by its infinity R humbucker pickups. Meanwhile, its five-way switch is responsible for flexible tonal palette depend on what the music requires.
Next thing that is highly noticeable about Ibanez 6 string Solid-body electric guitar is how beautiful it looks.
This instrument simply has a compact and fast maple neck and quilted maple grain top. The fingerboard is made up of strong New Zealand pine and added white dot inlays.
If you are searching for a perfect jamming friend that will not disappoint in terms of articulate and clear tone, then, the search is over as the Ibanez 6 string Solid-body electric guitar (GRX70QATRB) is already here.
SALE at 28% OFF
Epiphone PPEG-EGL1VSCH1 Les Paul Electric Guitar Player Package, Vintage Sunburst
Epiphone's Les Paul Player Pack has everything you need to start playing guitar right away
It includes a genuine Les Paul Special-II LTD guitar featuring two classic hum bucker pickups and a 10-watt Electra guitar amp with a 10ft guitar cable
Epiphone also includes a clip-on headstock chromatic tuner, a guitar strap, medium picks, and an easy-to-carry gig bag
And best of all for new players, the Les Paul Player Pack comes with free downloadable guitar lessons from media
Whether playing electric guitar is just for hobby or a serious matter for a rising star just like you, equip yourself with a total package piece. Give it a moment to read about the iconic Epiphone PPEG-EGL1VSCH1 Les Paul Electric Guitar Player Package.
What is amazing about this six-string electric guitar model is it features two hum bucker pickups that are proven to convert vibrations to enthusiastic tone.
Also, you can play all you can with Epiphone PPEG-EGL1VSCH1 because it can keep to your energy as it has a built-in 10-watt Electra amp and a 10 feet cable.
When the package arrives, there is an inclusive clip-on, strap, headstock chromatic tuner, picks, bag and a free downloadable media guitar lessons. That sounds very economical since no need to shell-out extra cost for these items.
In terms of the structure of this electric guitar, its entire body is made durable with solid mahogany wood and rosewood while the neck is 100% maple.
Hence, you can be sure that is made of strong materials while looking so good on the outside with its vintage sunburst color.
Overall, the Epiphone PPEG-EGL1VSCH1 Les Paul Electric Guitar Player Package comes in a reasonable price and gives more with its musical quality, durability and beauty.
Squier by Fender Bullet Strat Beginner Electric Guitar - Brown Sunburst - Rosewood Fingerboard
Chord with comfort and bend strings with ease from this 'C' shaped satin finished neck, 21 medium jumbo frets and modern 9.5 fingerboard radius
Explore Jazz to Punk Rock sounds from the 3 single coils pickups, two tone controls, master volume and the 5 way pick up selector switch
Express yourself by creating sharp and flat pitch variations via the chrome Synchronized Tremolo indicative of the Stratocaster
Enjoy maximum playability with various string gauges via the adjustable truss rod and the adjustable saddles of the chrome Synchronized Tremolo
Enjoy peace of mind that the gloss polyurethane gloss finish will protect this beautiful body for many years
Set your passion on fire with the Fender Squier Bullet Strat Beginner Electric Guitar. It has nothing to promise but to make your first guitar lessons memorable or support you to achieve an ultimate high-energy gig.
For over 60 years in the guitar manufacturing industry, the Fender already mastered their craft in line of musical instrument and gain high reputation as well.
They boast that their Squier Bullet Strat Beginner Electric Guitar comes in an inexpensive and practical cost. But its performance will totally lift anyone's drive for music.
The Fender Squier Bullet Strat Beginner Electric Guitar can bring the best tone with its comfortable bend strings chord that is found on its C shaped neck made in satin. It displays 21 medium large frets plus a 9.5 modern fingerboard radius, which is an advantage especially for beginners.
It allows potential musician to explore and find the best genre for them through the help of its three single-coil pickups, easy to manage two tone controls, volume and its five-way pick-up switch.
It is one of the finest investments for music starters with all the above-mentioned facts and other features such as having its chrome-synchronized tremolo, adjustable truss rod and saddles and special polyuthane material applied to the housing for glossy effect and durability.
Practice with an excellent electric guitar makes perfect. Hence, it is highly recommended to go and grab a good ally like the Fender Squier Affinity Series Telecaster Beginner Electric Guitar, to enhance more your musical talent.
First thing to be noticed about this electric model is its appealing rare race green shade that looks so modern yet carries the classic aesthetic features of the Fender pieces. It is composed of 21-fret rosewood or maple fingerboard for firm yet comfortable playability.
The Fender Squier Affinity Series Telecaster is a six-string electric guitar with single-coil pickups configuration. Its bridge system is hard tail and a top-loader
When it comes to durability, you can be sure that it can be used for a long term as its string material is steel and a body made of strong wood.
It's time to follow your musical calling with this Fender Squier Affinity Series Telecaster Beginner Electric Guitar that will help you polish your talent.
SALE at 33% OFF
There are tons of electric guitar options in the market but entrust your skills to one of the most trusted brand called Epiphone. Try their Les Paul-100 Electric Guitar and you will never be disappointed.
First of all, the construction of the Epiphone Les Paul-100 Electric Guitar is quite rigid so you can have a best friend for a long time basis.
The fretboard is made of rosewood while the housing is constructed with mahogany and the top is maple. Said solid materials are not just for durability purposes but also for heavy and solid tone.
The said model also features 700T/650OR humbucker pickups, which are open recoil and chrome hardware as well. It will work well on slight humming. The treble and rhythm may also be easily determined through its three-way switch.
To sum it all, the Epiphone Les Paul-100 Electric Guitar is necessary-but especially for starter as it allows extreme guidance in strumming with its 24.75" inch scale and other multiple features.
Fender Modern Player Tele Plus Electric Guitar, Honey Burst, Maple Fretboard
With a humbucking bridge pickup, Strat middle pickup, and Tele single-coil neck pickup, this model offers a ton of useable tones.
With a 9.5" radius and 22 jumbo frets, this model is built to play fast.
5-way switching, plus a coil splitting mini-toggle for the humbucking pickup allows for easy access to a huge range of sounds.
Among the Fender line-up of electrical guitar, its Modern Player Tele Plus Electric Guitar is one of the standout. It is a best value piece that can boost your musical potential with its good-looking vintage honey burst hue and excellent sound.
This electric guitar is sporting the classic style of telecaster with a high-end combination of Tele-style neck pickup, a Stratocaster mid-range pickup, and a humbucking bridge pickup. It gives any guitarist and musician the flexibility to play or create various tones.
Plus, the humbucker provides a sound that is thick and awakening. It is also crafted with solid wood to ensure that it is durable and can withstand frequent exposure on gigs or practice.
Musician also loves experimenting notes and tones to discover their genre or a new melody. The Fender Tele Plus Electric Guitar is perfect for such activity. You can play it slow or fast with its radius capacity of 9.5" and 22 jumbo frets.
It can also flawlessly reach high range sounds due to humback pickup that has 5-way switching and coil split mini toggle.
With all the above mention features, the Fender Tele Plus Electric Guitar is indeed a great contender among other electric guitars that will help you to succeed in your musical endeavor.
Among the generations of the Epiphone, the Les Paul Standard Electric Guitar is the one that display the signature sound effect of the Gibson Les Paul all at once. And what truly impressive is such kind of music comes in an inexpensive cost.
The Epiphone Les Paul Standard Electric Guitar boast an excellent resonance due to its frame made of mahogany wood. A benefit is its humbucker pickups that are Alnico classic. It is totally a stunner as it delivers warm loads in every performance.
What is more adorable is the neck of this guitar, which is made of 100% slender mahogany supported by a rosewood fretboard. Such combination allows flexibility when playing the strings.
Other to-die-for features of this electric guitar are its Lock Tone tune-o-matic and stopbar tailpiece for convenient replacement of strings, trapezoid inlays for the classic rock and roll looks on stage and grover machine heads for durability.
Certainly, the Epiphone, the Les Paul Standard Electric Guitar is one of the best musical instruments that will support your dream of becoming a successful musician someday.
Our Best Electric Guitars for Beginners Buying Guide
Picking the best value electric guitar is not like asking a crystal ball to reveal it for you. Professional guitarist and much more starter musicians need to hop from various stores to scrutinize each piece to shortlist the fairest of them all. Here is to give you a piece of an idea to guide you in choosing your electric guitar.
Sound quality
According to Bhphotovideo.com, determining a good quality of electric guitar is basically depending on the way it sounds. And the melody that the instrument will produce is based on its built, its essential parts and what are these made-of. Some of the specific organs of an electric guitar are the body, neck, fingerboard, pick-ups, player and style.
Body
The Body is the core of the guitar. Several choices of body parts can be considered such as the solid, hollow or semi-hollow. Each has different resonance impact to the device. Guitarfella.com advised that the trick is if your genre is soft sound then grab a hollow or semi-hollow piece while for heavier and louder music, the solid body will be amazing.
Wood
Next to look at is the body wood, which mainly affects the sustenance and tone of the guitar.
There are many wood options to choose from such as the Agathis, Alder, Asg, Basswood, Bubinga, Koa, Korina, Mahogany, Maple, Poplar, Rosewood and Walnut.
As for the neck, there are only two styles to select. It can only be a maple or mahogany mixed with other wood such as rosewood or ebony for better quality.
Pick-ups
Pick-ups are another significant part of the guitar to check when buying one. The typed of pick-ups are either single-coil or humbucker. The idea is the single oil is louder while the humbucker produce less noise.
Bridge
Another part is the bridge to which the strings of a guitar are attached. Two of the main types is the fixed or tremolo.
The fixed bridge is the one if you want steady tuning and great sustain. It's a yes for tremolo if you a type musician that is curious and loves experimenting notes.
Explore and take time to shop for your new electric guitar so you can be exposed to various options and you can compare them. This will help you to figure out which one is a perfect match for you and help you enjoy more of your passion for music.
VIDEO: Choose an Electric Guitar for a Beginner
Additional FAQs for Beginners
What brand of guitar is best for beginners?
Brand doesn't always guarantee that the guitar is beginner-friendly. However, there are few brands of guitar that might be best for beginners. These include Epiphone, Squier, Yamaha, Fender, and Ibanez, to name a few. Again, the brand is not a barometer, what matters is that you got everything you need.
Should I learn on Acoustic Guitar or Electric Guitar?
A lot of people say that it's harder to learn on acoustic guitar than on an electric guitar. Physically, electric is easier to play and much lighter compared to acoustic guitar. But, for starters, learning acoustic guitar first is recommendable since you can play it outright without plugging into anything.
Can I learn Electric Guitar Before Acoustic?
Definitely, yes! You can learn electric guitar before acoustic. Some players even claimed that electric guitar is much easier to play than acoustic because of its thinner strings, smaller neck, and great versatility. It's also enjoyable to play with additional controls onboard and the ability to amplify the sound produced.
What Kind of Guitar Should a Beginner Buy?
Practically, it depends. While electric guitar is easier to play, acoustic is more handy and can be played without the need to plug into an amp. No matter what kind of guitar a beginner buys, it's his interest and dedication to learn that really made him craft his guitar skills.
Is a Les Paul a Good Beginner Guitar?
Most professional players recommend Les Paul as a good beginner guitar. It's well-made with neck and body made of mahogany for best sound quality. Since it has a slim profile, beginners, even with smaller grasp can play it without hassle. It looks stunning and has price tag affordable for starters.
Is a Stratocaster Good for a Beginner?
Stratocaster might not be good for a beginner because it seems more complicated than Telecaster. It requires technical skills to setup everything outright and to tune it. However, if you really want a Strat, you should know that it's definitely more complex than acoustic and requires more effort to learn.
Is Stratocaster or Telecaster Better?
It's really up to the users to decide whether Stratocaster or Telecaster is better. Both have been used by great artists and stood the test of time. Yet, these two are completely different in terms of look and feel. And, each of them produced distinct sound signature of their own.
How much does a beginner electric guitar cost?
Entry-level electric guitars usually cost around $150-$300. However, if you aren't satisfied with a straightforward guitar, you can go up to $5000. For beginner electric guitar, the cost usually doesn't matter because you are still learning. What's important is, the guitar that you'll buy will keep you playing and learning.
What is the best way to teach yourself Guitar?
The best way to teach yourself guitar is the way where you can practice and play more. There's no single method to learn guitar since it depends on your pace – you can teach yourself or have a guitar teacher. What matters is you can practice more to learn quicker.
How much should I spend on my first electric guitar?
How much money should you spend on your first electric guitar really depends on your capacity to invest in the music gear that you can use for a lifetime. However, to give you an overview, you can buy a decent entry-level electric guitar for a budget between $200 to $500.
Should a Beginner Buy an Expensive Guitar?
No, a beginner shouldn't buy an expensive guitar if he is still learning. It's a bit risky to invest too much unless you know you can earn your money back through concerts and gigs. For starters, you can buy cheaper guitars. You can start small and earn your way up.
How much does an electric guitar and amp cost?
Cheaper electric guitar and amp cost you between $200 to $400. Better quality combos will cost you around $500 up to $2000 for intermediate players. But, if you are really going to a professional level electric guitar with amp, it will go higher than $2000 to even $5000 or more.
How much does a Decent Electric Guitar Cost?
Finding a decent electric guitar is cost-independent and really depends on the user's perspective. Depending on your budget and your preferences, you can find a good electric guitar that costs only $200. However, if you're an intermediate or a professional performer, maybe a decent guitar for you costs around $1000.
Are Expensive Guitars Worth It?
Expensive guitars are worth it if you add quality to it. Yes, there are guitars that are only high in price. But, if you are looking for quality guitars – though pricey – longevity is guaranteed. Even though you spend your hard-earned money, the return is a lifetime of playing the guitar.
Can an Electric Guitar Be Played Without an Amplifier?
Yes, an electric guitar can be played without an amplifier by plugging in headphones. Electric guitars are too quiet to play without connecting to an amp. The amp is integral to the sound of the electric guitar. Without an amp, you'll just get an acoustic sound, not an electric sound.
Is learning to play the guitar hard?
Just like learning other stuff, learning to play the guitar might be hard. There is a steep learning curve for playing guitar, especially for beginners who are just starting out. However, the progress and the pace depend on how dedicated the player is to learn and grow as a guitarist.
Is it ever too late to learn guitar?
If you really want to be a guitarist, there is no 'too late' to learn guitar. Whether you are in your 40s or 50s, you can always learn a new instrument. Some guitarists succeed even when they're starting late in their career. So, you too can be a great guitarist.
Can I learn guitar online?
Absolutely, yes! Many successful self-taught guitarists learn guitar online. You can take online guitar lessons or courses, watch YouTube videos or download guitar apps with tutorials. In fact, with video tutorials, you can easily learn chords, develop strumming patterns and eventually progress to play a complete song on your guitar.
Which online guitar lessons are the best?
There are lots of online guitar lessons that are best in providing everything for a player to learn guitar effectively and efficiently. Among them are Guitar Tricks, JamPlay, Fender Play, ArtistWorks, and TrueFire. They offer free trials and free lessons, so you can check if it's the best for you.
Are Guitar Lessons Effective?
This really depends on the players' 'will to learn' and determination. There are disadvantages and advantages of guitar lessons. Since it's self-paced, no one is there to push you harder, yet this provides you flexibility. So, whether guitar lessons are effective or not, depends on the player's preferences and dedication.
Should I Buy Used or New Guitar?
After you've decided what you want, next thing you'll be asking is whether to get a used or new one. I admit, getting a pre-loved guitar does sound like it has a lot of perks.
You might be able to snag yourself one of those big name brands for a lower price. Also, just the feel of a vintage guitar might be enough to get you playing.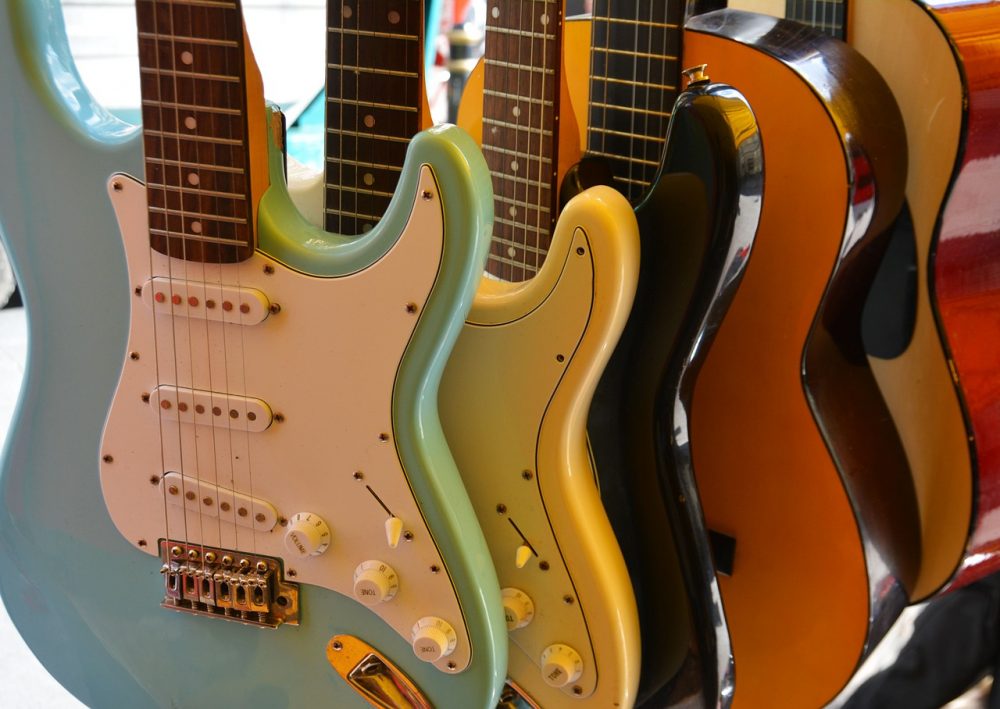 As a beginner though, it might not be such a good idea. For one, you might not be experienced enough to distinguish the good from the bad.
If you're buying used online, you can't guarantee that it'll get to you in good condition and really, it's still better to test it out in person before actually buying one.
Our Best Electric Guitar for Beginners Choice
Overall, you have to discern well which electric guitar best fit your personality, genre, style and budget. With the above collection of the top electric guitars in town, our top pick is the Squier Affinity Stratocaster Electric Guitar.
It can deliver quality, bright and crisp sound and is with a compact and sleek package. In addition, the Squier electric guitar also has a 15W power amp along with an AUX input for plugging in other media devices.
Get the Squier Affinity Stratocaster Electric Guitar here.