I am more interested to discuss affordable guitars and why they're worth buying, rather than discussing the expensive ones. Of course, it's expected from a pricey guitar to have premium features and excellent sound quality.
But, for a guitar like this, which you can buy for on Sweetwater(affiliate link), many people are still doubtful of its reliability — that's where I come in.
Editor's Pick
You see, there are four things guitarists look for in a guitar. You may check the features, particularly, the design and construction, playability, the sound itself and its value for your money. I'll discuss them all below.
Pros
Metallic, so it can look whitish, champagne or tan, very appealing
Perfect on-the-go travel guitar
Suitable for electric players who want to switch to acoustic
Cons
There are some visible flaws in the finish
Needs to be connected to an amp for louder sound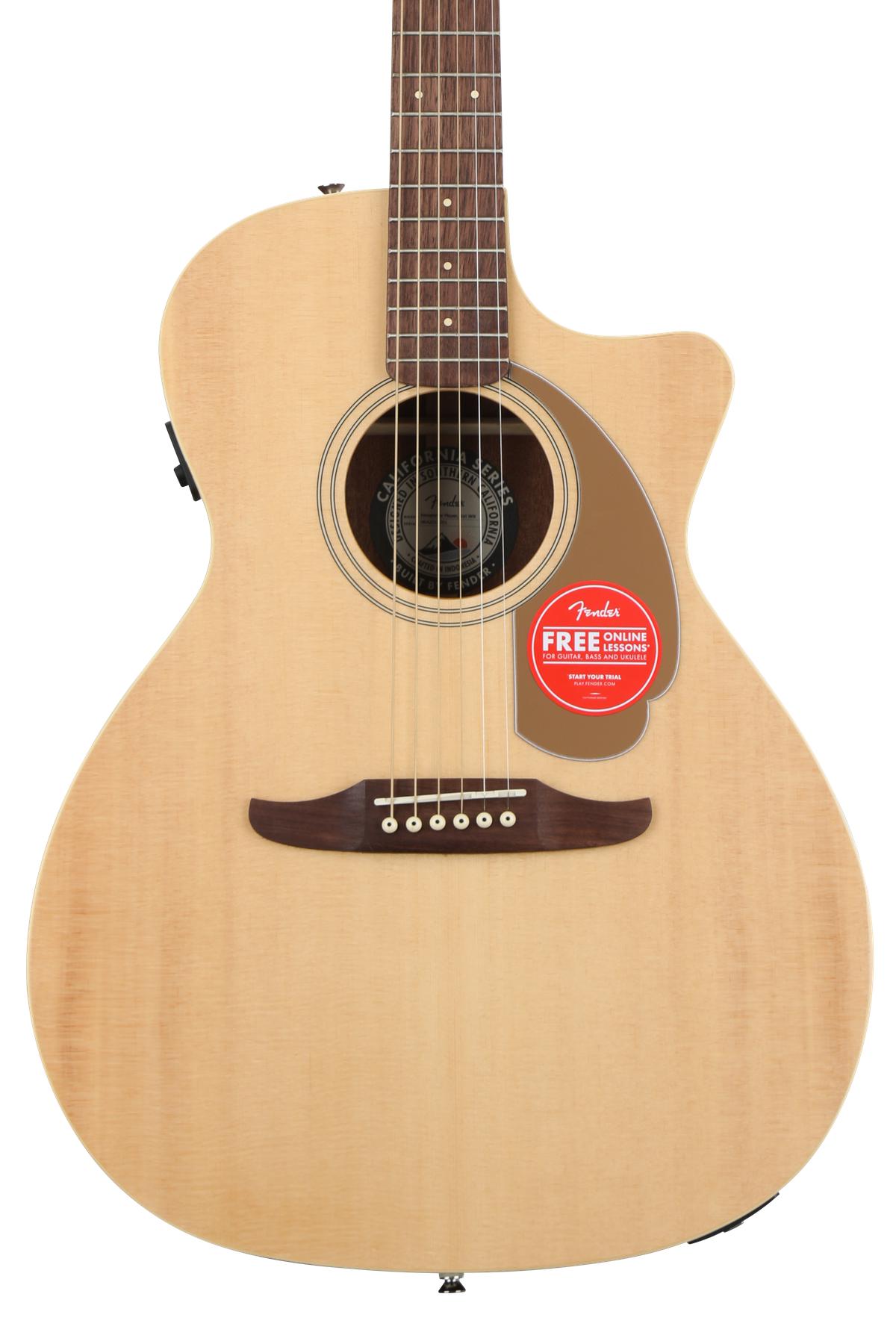 Design & Construction
Fender Newporter Player is a medium-sized guitar designed with fully-painted gloss metallic solid Spruce top. It has a rounded treble-side cutaway body with auditorium body type and has a shallower body than a dreadnought.
The back and sides are made of mahogany, with 6-in-line matching headstock and crème binding. The optimized binding reduces the mass, so you get superior resonance. I owned the Champagne finish since I feel like there's a different kind of acoustic vibe it offers, compared to those with vibrant blue and red hues.
It's got a handy bass knob so you can get an elaborate bottom-end, great for practice. It weighs approximately 9.25lbs with 45.5 x 17.7 x 7 inches dimension.
The guitar's neck is carved to a Strat-like slim-taper "C" profile which is perfect for any playing style. You can see the laurel walnut fretboard with 20 frets and has 25.6-inch scale length.
The neck has a satin finish, while the fretboard has dot inlays. It has 15.75-inch fretboard radius and 1.69-nut wide nut width. The 6-in-line matching painted headstock is easily recognizable because it exudes the classic Fender vibe. Tuning machines are made of sealed nickel with saddle and nut made of Graph Tech NuBone for optimized sustain.
You don't have any fancy features onboard, except the Fishman preamp and tuner. The Fishman pickup/preamp system allows amplification of your sound output without compromising the pure, rich and resonant natural tone of the guitar. The tuner does well as it's designed to, and is placed where it's easily accessible.
Playability and Performance
Just one look at this guitar and you'll know that the neck is the difference-maker. Though it isn't directly affecting the sound, it impacts how the strings feel. It uses the bronze acoustic strings, so you might need a respectable finger strength to pull off some chords. But, overall, this guitar has the most comfortable neck that aids the playability of the instrument.
As I mentioned in the previous section, the neck profile is a slim "C" shape, which gives supreme comfort and outstanding fret-hand feel. Everything is polished and smoothed to give the kind of feel guitarists have with their expensive guitars. So, you feel confident and you can get a livelier performance with this one.
For those who are playing electric guitars (or acoustic-electric guitars), you don't need much of the adjustments needed when playing this one. Fender electric players can easily accustom to the feel and weight of the guitar. It's very easy to surf up and down the fretboard, whether you're strumming or fingerpicking.
It's very comfortable, with full acoustic character easy to fall in love with. Even with the tons of guitars that I've held and played, I'm surprised how playable this guitar is. The action is nice and perfect along with the perfect spacing between strings. Since it stays in tune for long, even beginners can play on and on without the need to tune it again.
Sound
You can either plug it into an amplifier or play it acoustically. Most of the time I played it with my favorite amp because I can get an outstanding tonal quality without disrupting the acoustic nature and feel of the sounds. It gives lows that aren't deep, but bright and lively.
It's one of the guitars I played that's very responsive to changes of the picking style, especially if you're playing both fingerpicking and flatpicking. Intermediate and professional players who love to play complex chords and fast play will enjoy this guitar.
You'll get a killer acoustic guitar without the need to spend your hard-earned money, especially if you like jamming and want to play it without connecting to an amp. The solid Spruce top is a great tonewood known to deliver a clear and powerful voice. So, whether you're a seasoned acoustic player or just beginning, this will be a great instrument.
Aside from the construction, I will also highlight that the Fishman preamp system onboard is a very helpful add-on. You can easily plug it and gain full control over the volume and tone of your sound output.
You know that Fishman and Fender have been collaborating to provide you with great electronics onboard Fender's guitars. This guitar is fairly reliable for onstage or in-studio performances. I can attest to that, as I am also an avid Fender user.
Value for Money
Fender Newporter Player is the most affordable in the new California series lineup(compared to other guitars in this series, such as the Redondo). Yet, it isn't lack of anything. The neck is the major selling point of this guitar and of course, it gives great playability even for beginners and electric guitarists alike.
I'd like how Fender designs and packs this guitar with great features. You'll never find another guitar as versatile and acoustically amazing as this.
Verdict
Editor's Pick
You've just read how great the Fender Newporter Player is and how capable it is. Though it's simple and straightforward, without any bells and whistles, it's versatile and ready to take on different playing styles. Above all, it's very affordable, which beginners and professional players will love.
Although not much of a deal-breaker, don't be surprised if you see some flaws in the finish when looking up close. Yet, if you're considering the playability and sound quality rather than the aesthetics, have this one. It's a worthy buy, for a price you won't expect you'll get a great guitar.