Editor's Pick
All musicians want a guitar that is playable, durable, and versatile – the one that can make them a star. However, beginners might struggle to get high-end guitars because of its price. Thankfully, Ibanez GRG121DX caters to budget buyers, allowing them to own a great guitar at a very affordable price.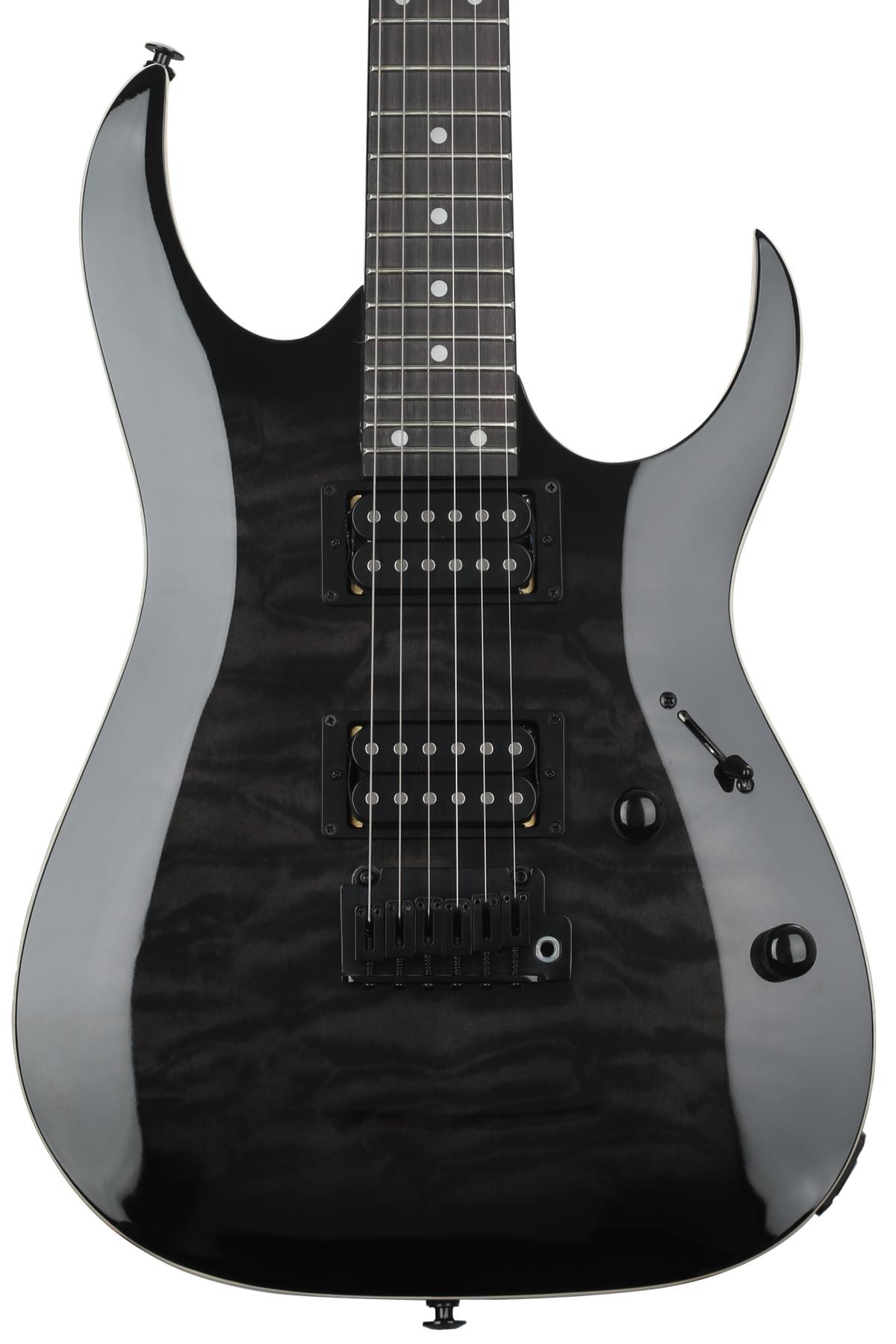 The Ibanez GRG121DX Electric Guitar
Among the most popular and affordable line of guitar, the Ibanez produce is the GIO Series.
And, one of the brightest models in that series is the Ibanez GRG121DX. It comes with solidbody coupled with simple but reliable hardware and electronics.
In this review, all the key features of the guitar will be revealed. This will allow you to see if a feature or two tickle your mind and make you want to buy this thing.
Body Quality
The body comes with a double cutaway mahogany, a solid wood with a flat walnut finish. The bolt-on neck is slim and made of maple.
It comes with the famous rosewood fingerboard that comes with 24 jumbo frets and shark tooth inlays for a killer look.It has a 25.5-inch scale length, practically long, but gives better handling for players while practicing, jamming or in concerts.
However, since the mahogany is a hardwood and the maple is sturdy, the overall weight of the guitar leans towards the heavier side.
The design and material are considered to offer affordable guitars to real music lovers trying to get their first guitar.
The product comes with a warranty the same as those in high-end Ibanez guitars, which is quite costly.
Very Simple Hardware
First of all, it doesn't have a tremolo bar. This means that the strings are attached directly to the guitar in a fixed hardtail style.
Hence, more stability of strings and low to zero chance of having string buzzes.
The nut is graphite which is long-lasting and a good material to keep the strings in place.
You got cheaper tuners, but it's better enough to keep the guitar stays in tune for days.
Decent IBZ-6 Humbuckers
IBZ-6 humbuckers are very powerful and they produce a pleasant sound at the neck and the bridge position.
This setup makes it very easy to play, especially for beginners.
Even though it's already having a fixed hardtail bridge, it may still have some buzzing. Thanks to the humbuckers, string buzzes can easily be mitigated.
You can control the humbuckers with a master volume knob, a master tone knob and a three-way switch for the pickup selector.
Versatile Sound
The hardwood is known to give emphasis to the lower tone range, but also gives access to warmer mid-tones.
Hence, the mahogany can give you more bass tones while playing with this guitar.
The humbuckers are also great in giving access to various tonal qualities via the 3-way toggle switch.
You can opt to use the neck pickup only, bridge pickup only and the combination of the two pickups.
These give you more access to clearer, warmer sounds with great sustain and do distortion and heavy metal tones.
But, then, again, since its body is mahogany, this is more biased toward achieving powerful low tones. This is great for playing metal and hard rock music styles.
Perfect for Beginner players
The simplicity of this guitar makes it playable by everyone, especially beginners who love playing rock and metal tones.
Also to its playability, it's also versatile and durable. So, this is a guitar that beginners can maximize to master their craft and bring out the metal prodigy in them.
Though not the best feature for all, the price is indeed very enticing.
So, for beginners who don't have a huge budget on a guitar, this is the best buy.
It's not a bargain, it's a great guitar well-crafted to be very affordable to anyone.
An Affordable Guitar for the Rising Start
You don't really need to have a Fender or a Gibson to reach your dream of becoming famous and plays on stage. With a simple guitar like the Ibanez GRG121DX, you can slowly master your craft.
Then, strengthening the basics and learn from practice. After all, what separates a good performance from the bad is not the instrument, but the artist who's using it.
So, start wiser and buy cheaper guitars like GRG121DX. Once you have mastered your passion, you can upgrade your guitar. You can either upgrade your existing guitar or look for something high-end.
Pros
Minimal setup required
Sounds good and plays well
Performs way better than its price
Cons
Has humming noise
Heavier guitar
Neck seems poorly sanded
Drawbacks
One of the best things about this guitar is undeniably its price. It's a bargain and anyone could chill out a few hundred dollars for a nice-looking guitar.
But, if you'll buy it for the sake of buying it, please don't.
Look for other guitar and don't just buy this because you like it or because it's offered cheaply.
Buy this guitar if you think you need this and this is perfect for the music style you're trying to master.
Don't buy if you don't love it, because you wouldn't even start to play with it.
And, if you don't practice with it, your skills won't improve.
And, if your skills remain so elementary, when are you able to shine and play in the spotlight?
Verdict
Editor's Pick
Anyone can afford it and anyone can have it. Anyone can play with it, as well.
This guitar is for everyone. The simple hardware and electronics, as well as the elegant design, make it a great guitar. People can have this in their collection, as well.
But, is it worth to be bought by anyone?
Perhaps. But it doesn't necessarily mean that if they have it, they'll use it. Again, it still depends on their preferences, particularly on the aspect of tonal versatility.
So, it's only a worthy buy for those who need it and for those who might use it in the future.
After all, the worth of a thing cannot be measured by its price, but by its usability.
Do you agree with our review?
Let us know by leaving your comments below.