Passionate musicians always invest in good-quality instruments that deliver phenomenal sound and complement their style.
When it comes to solid-body electric guitars, few instruments can match Gibson's two most iconic guitars – the Les Paul and SG.
This article will compare the two flagship guitars and answer the question many people are itching to know – between SG vs Les Paul, which is better?
As one of the world's best guitar manufacturers, there is no questioning Gibson's excellence.
However, it makes perfect sense to differentiate the brand's two iconic solid-body electric guitars to help potential buyers decide which guitar to get.
We will look into each guitar's principal features, including their respective pros and cons.
This article will also answer some of the questions people have about the SG and Les Paul.
I will also offer several alternatives worth checking out.
Let us start.
Overview of the Gibson SG and Les Paul Solidbody Electric Guitars
| | |
| --- | --- |
| | |
| | |
| | |
| | |
| Pickups: Burstbucker 1 Humbucker + Burstbucker 2 Humbucker | Pickups:Burstbucker 61R (neck), Burstbucker 61T (bridge) |
| Body Type: Solidbody Mahogany | |
| Controls:2 x volume, 2 x tone, 3-way toggle pickup switch | Controls: 2 x volume, 2 x tone |
| | |
| | |
Established in 1902, Gibson is one of the world's best guitar brands, although Orville Gibson started making string instruments in 1894.
The brand introduced many innovations to the guitar-loving world, including the archtop and hollow-body guitars.
By the mid-20th century, Gibson introduced two solid-body electric guitars that took the world by storm – the Les Paul and SG.
Gibson Les Paul
Editor's Choice
First introduced in 1952, the Les Paul has a solid mahogany body and set-in neck, complete with a maple top, a rosewood fretboard, and a pair of P-90 single-coil pickups (Gibson later replaced with PAF humbuckers).
Over the years, Les Paul saw many innovations across various design iterations.
However, it retained its solid mahogany construction, rosewood fingerboard, and 24.75-inch scale length.
Today, a 1952 Gibson Les Paul Standard can fetch anywhere between $34,500 and $42,000, depending on the guitar's condition.
The most expensive Les Paul sold at auction is Peter Green, Gary Moore, and Kirk Hammett's 1959 Gibson Les Paul.
The guitar sold for a whopping $2 million, tying Jimi Hendrix's 1968 Fender Stratocaster for the third most expensive guitars in the world.
Gibson Les Paul guitars have a warm and thick tone, endless sustain, and a full tonal spectrum.
Its solid mahogany construction lends Les Paul exceptional resonance, becoming the driving force behind the guitar's legendary sound.
Les Paul's distinct sound makes it a favorite of 20th-century rock legends and contemporary artists, including Les Paul, Paul McCartney, Slash, Pete Townsend, Joe Walsh, Jimmy Page, Gary Moore, and Peter Green.
Pros
Elegant looks
Classic rock sound and feel
Phenomenal sustain
Excellent pickup options
Cons
Gibson SG
Also Great
The Gibson Les Paul was a quintessential favorite of the 1950s rock stars.
Unfortunately, its hefty construction (the Gibson Les Paul weighs nine to twelve pounds, depending on the model variant) meant that fewer people get to enjoy playing the Les Paul.
The Les Paul was heavy and uncomfortable to hold, not to mention expensive.
Fender was also churning out more playable and more lightweight electric guitars at the time, substantially eating into the Gibson Les Paul's market share.
Hence, the guitar company decided to make significant changes to the Gibson Les Paul in 1960.
The modifications included the following:
Thinner solid mahogany body with a flat top
Double cutaway design instead of Les Paul's single-cutaway
Moving the neck joint three frets higher into the body for better upper fret access
The more slender neck profile
Smaller heel
By 1961, Gibson introduced the Les Paul SG, with SG denoting 'solid guitar.'
Sadly, Les Paul had no hand in the SG's design (experts say Gibson did not even consult Les Paul about the design changes).
Les Paul disliked the SG, citing issues with the guitar's neck and body strength.
The incident prompted Les Paul to sever ties with the brand, requesting that the 'Les Paul' badge be dropped from the Gibson Les Paul SG.
Hence, Gibson renamed the guitar Gibson SG.
The Gibson SG Standard was the brand's best-selling guitar in the 1960s and 1970s.
Today, the SG remains a popular choice because of its vintage heritage, holding comfort, and exceptional playability.
While a 1960s vintage Les Paul in pristine condition can net millions at an auction, the most expensive SG was a 1964 model used by John Lennon and George Harrison.
That Gibson SG netted $570,000, complete with the rich history of the Beatle duo's touring and recording adventures.
AC/DC's Angus Young, Black Sabbath's Tony Iommi, and The Doors' Robbie Krieger are three of the many legendary artists who used the Gibson SG in their careers.
Also Read: Gibson SG Special vs Standard – Differences, and Which is Better?
Pros
Exceptional upper fret access
Cons
Controls are less accessible than Les Paul
Some people might have issues with the neck dive
Overall Guitar Design
Guitar manufacturers design their musical instruments for performance and comfortable playability; otherwise, there is no point in playing the guitar.
For its part, Gibson has experimented with various design configurations starting with a selection of premium-quality tonewoods.
Here is how the Les Paul and SG guitar design compares.
Les Paul
The Gibson Les Paul impresses with its classic single-cutaway design, marrying an electric guitar's horn to an acoustic guitar's rounded body.
It has a slim-taper neck and rounded edges that contribute to the Gibson Les Paul's legendary sound.
The guitar body and neck feature solid mahogany.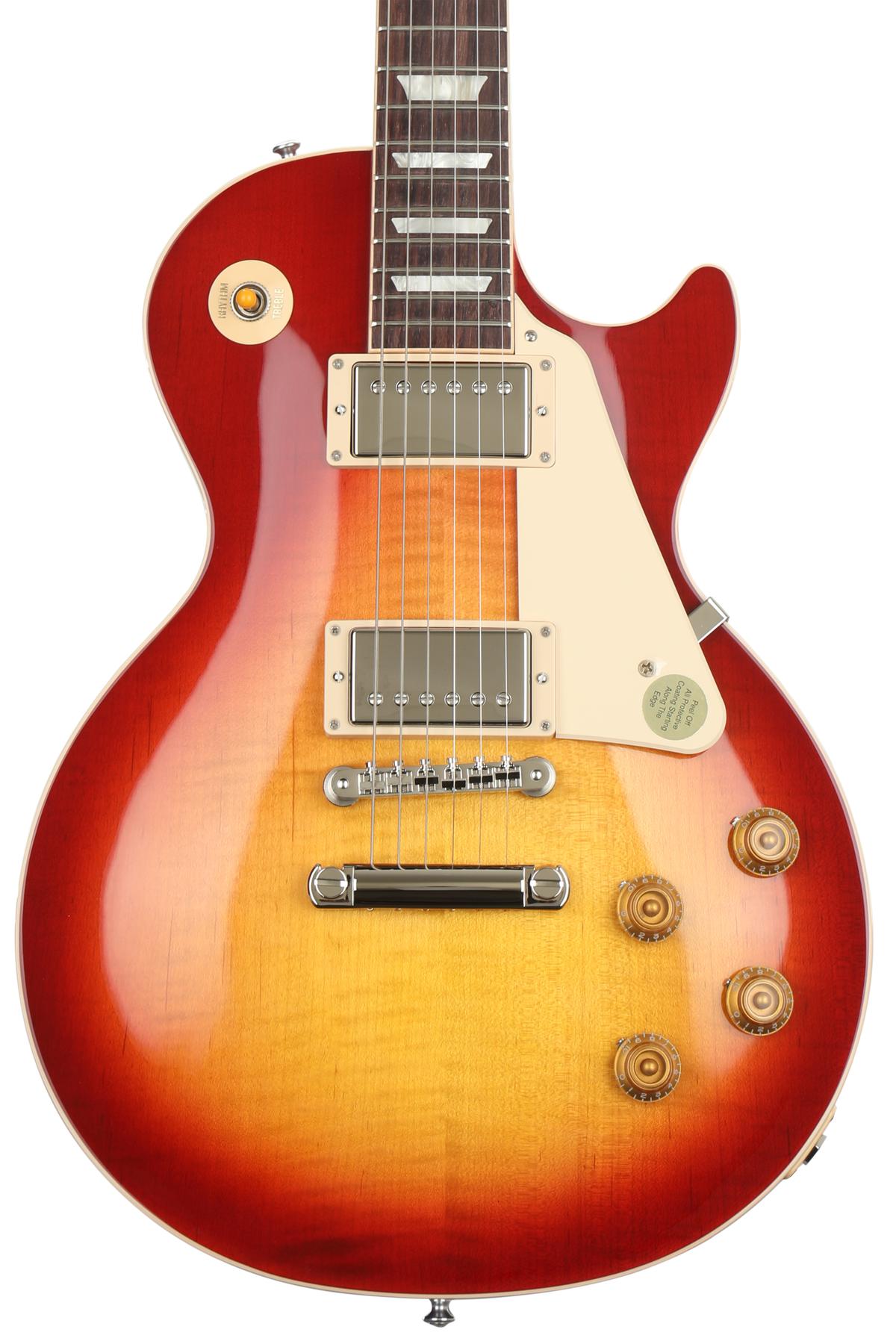 The neck has a set-in construction for optimum stability, resonance, and unparalleled sustain.
The top has a maple cap, while the fretboard uses rosewood for exceptional playability.
Unfortunately, its construction makes the Les Paul beefier than other electric guitars, including the SG.
The single-cutaway also limits access to the upper frets, although the slim-taper guitar neck provides some relief.
While the Gibson Les Paul's design makes it a heavyweight, its construction lends exceptional stability, tonal characteristics, strength, and durability.
It is not surprising to see a 1950's Les Paul in pristine condition today.
SG
As mentioned, Gibson designed the SG to address the design flaws of Les Pauls.
It has a thinner mahogany body, a flat top, and a slimmer and shallower neck profile.
Gibson also ditched the Gibson Les Paul's maple cap to improve the guitar's weight.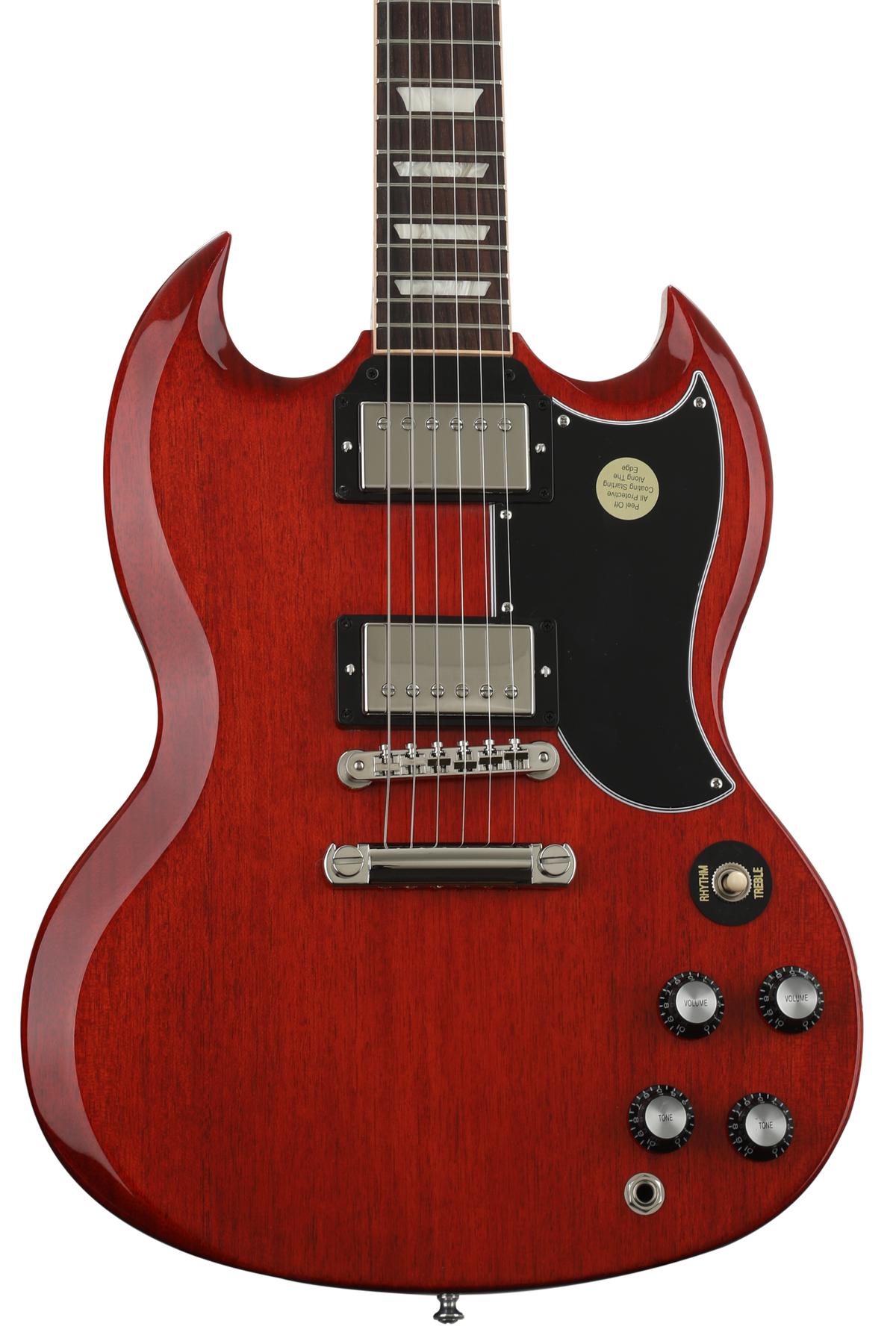 Different SG variants also use various tonewoods to address Gibson Les Paul's weighty issues.
For example, the SG Zoot Suit uses birch wood laminate, while the SG Special uses swamp ash tonewood.
The SG's most recognizable design feature is its double cutaways resembling the devil's horns.
One can look at the SG as Gibson's answer to Fender's Stratocaster, except that the cutaways are symmetrical compared to the Strat's asymmetric design.
Sound Characteristics
A guitar's tonal characteristics and sound quality are a function of its overall design and integrated electronics.
Although the SG is a lighter Les Paul version, it does offer a sound distinct from Les Paul.
Les Paul
Les Paul guitars have a characteristic warmth, thickness, fullness, and depth few other electric guitars can replicate.
The sound is distinct from the SG, making it a favorite of artists who want to play a different sound.
The Les Paul's resonance is also more pronounced, coloring its already rich and thick tonal qualities.
This guitar is one of the world's most versatile, capable of playing classic rock, jazz, blues, R&B, soul, pop, punk, reggae, and heavy metal.
Early Les Paul models came with P-90 single-coil pickups with a magnetic bar, behaving like a humbucker while retaining the warm tones of single-coil pickup systems.
A few years into its production, Gibson decided to use the PAF system, a feature that further cemented the Les Paul's legendary status.
SG
The Gibson SG has bright mids and highs, perfect for guitarists who want a more pronounced sound than a Les Paul.
Some guitarists describe the SG sound as having more 'bite' than a Les Paul, with emphasis on midrange tones.
Because of its brighter mids, the Gibson SG is a favorite of heavy metal artists, such as Iron Maiden, AC/DC, and Black Sabbath.
However, it is versatile enough to play almost any music genre, including funk, blues, and classic rock.
The SG features a range of humbuckers, starting with Gibson's legendary PAF pickups, giving guitarists exceptional control over the guitar's tonal properties.
Playability
An electric guitar's construction and overall design impact its playability or comfort holding.
As mentioned, the Gibson SG edges the Les Paul in playability because of its faster neck and overall lighter construction.
Les Paul
The classic Les Paul electric guitar feels heavy and bulky that beginner guitarists might have issues holding the instrument long enough to enjoy playing it.
While its single-cutaway design allows for upper fret access, the body-neck joint sits too low on the fretboard (16th fret vs. the SG's 22nd fret), limiting upper fret accessibility.
Nevertheless, the Les Paul's heft and size give the electric guitar its iconic and legendary sound, which many artists cannot have any other way.
SG
The Gibson SG has a thinner mahogany body without the maple cap covering the top.
The brand also shortened the fretboard while adopting a Slim-taper neck design.
The design changes improved the guitar's playability, allowing heavy metal artists to use the SG for shredding.
The neck is narrower than the Les Paul, making it surprisingly fast for arpeggios, bends, and other guitar-playing techniques.
The guitar's devil horn design and 22nd-fret neck-bolt position also guaranteed exceptional access to the upper frets.
While the Sg has unparalleled playability, the design modifications detracted from the Les Paul's signature sound.
Tone, Controls, and Inputs
Onboard electronics and reliable controls separate high-quality electric guitars from mediocre instruments, and both the SG and Les Paul never compromise in this aspect.
Les Paul
The classic Les Paul has a thick sound, complete with outstanding overdrive and sustain.
It gives the electric guitar a creamy tone, with plenty of aggression whenever needed.
The tone and volume controls are all at the front of the guitar, ensuring unrestricted access during performances or rehearsals.
Gibson placed the input jack underneath the Les Paul's body.
SG
The SG has a brighter tone than the Les Paul, without ditching the inputs and controls.
It only differs in the location of the jack – Gibson decided to put the SG's jack at the front together with the tone and volume controls.
Which Should You Choose?
The SG and Les Paul are phenomenal solid-body electric guitars, producing an excellent sound that can leave you smiling after playing.
If you are after a unique electric guitar tone that no other brand can deliver, you should pick the Gibson Les Paul.
However, it is crucial to recognize its heft because it can impact comfort.
Moreover, the Les Paul series of electric guitars have at least a dozen variants that can make choosing the best one quite a headache.
It is also more expensive than an SG.
Hence, the SG is perfect if you prefer an electric guitar with exceptional playability, rock-solid performance, and lightweight characteristics.
While more affordable than the Les Paul, an SG might sound like any other electric guitar on the market.
Gibson SG and Les Paul Alternatives
You might want to consider the following electric guitar alternatives if you cannot decide between an SG and a Les Paul.
Fender Stratocaster
Recommended Strat
Fender Stratocasters are the favorite of many music legends, including David Gilmour, Jimi Hendrix, and Bob Dylan.
It has a distinct twangy sound perfect for Led Zeppelin and Rolling Stones-type music.
The most expensive Strat ever sold at an auction was David Gilmour's Black Strat, netting $3.9 million in 2019.
Other Strats that made headlines include the Reach Out To Asia Strat ($2.7 million), Jimi Hendrix's 1968 Strat ($2 million), Bob Dylan's 1964 Strat ($965K), and Eric Clapton's Blackie ($959K).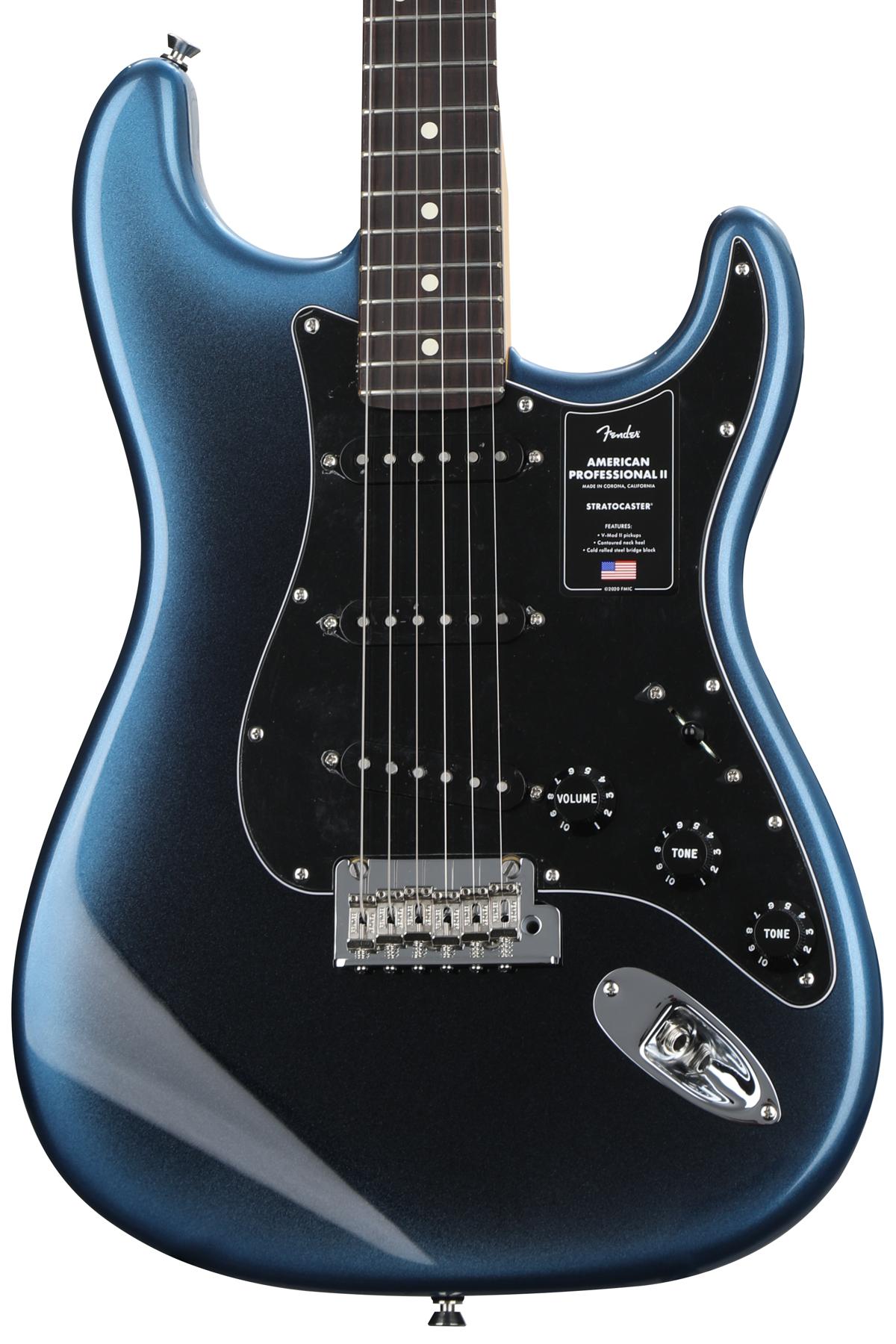 It makes sense to think that a Strat is expensive.
However, it is more affordable than a Gibson Les Paul.
On Sweetwater, the Gibson Les Paul Standard has a $2,700 price tag, while the Fender American Ultra Stratocaster HSS only costs $2,050.
It is also as light and playable as the Gibson SG, making it an exceptional choice for guitarists who dislike the Les Paul's heft and playability issues.
Fender Telecaster
Also Great
Telecasters predate Strats by four years, with Fender introducing the Tele in 1950.
It was Fender's first commercially successful electric guitar with a solid-body design and a revolutionary sound.
Like the Strat, the Tele is a versatile guitar.
In the hands of a master guitarist, the Fender Telecaster can play country, pop, indie rock, reggae, jazz, metal, punk, soul, folk, alternative rock, R&B, blues, and classic rock.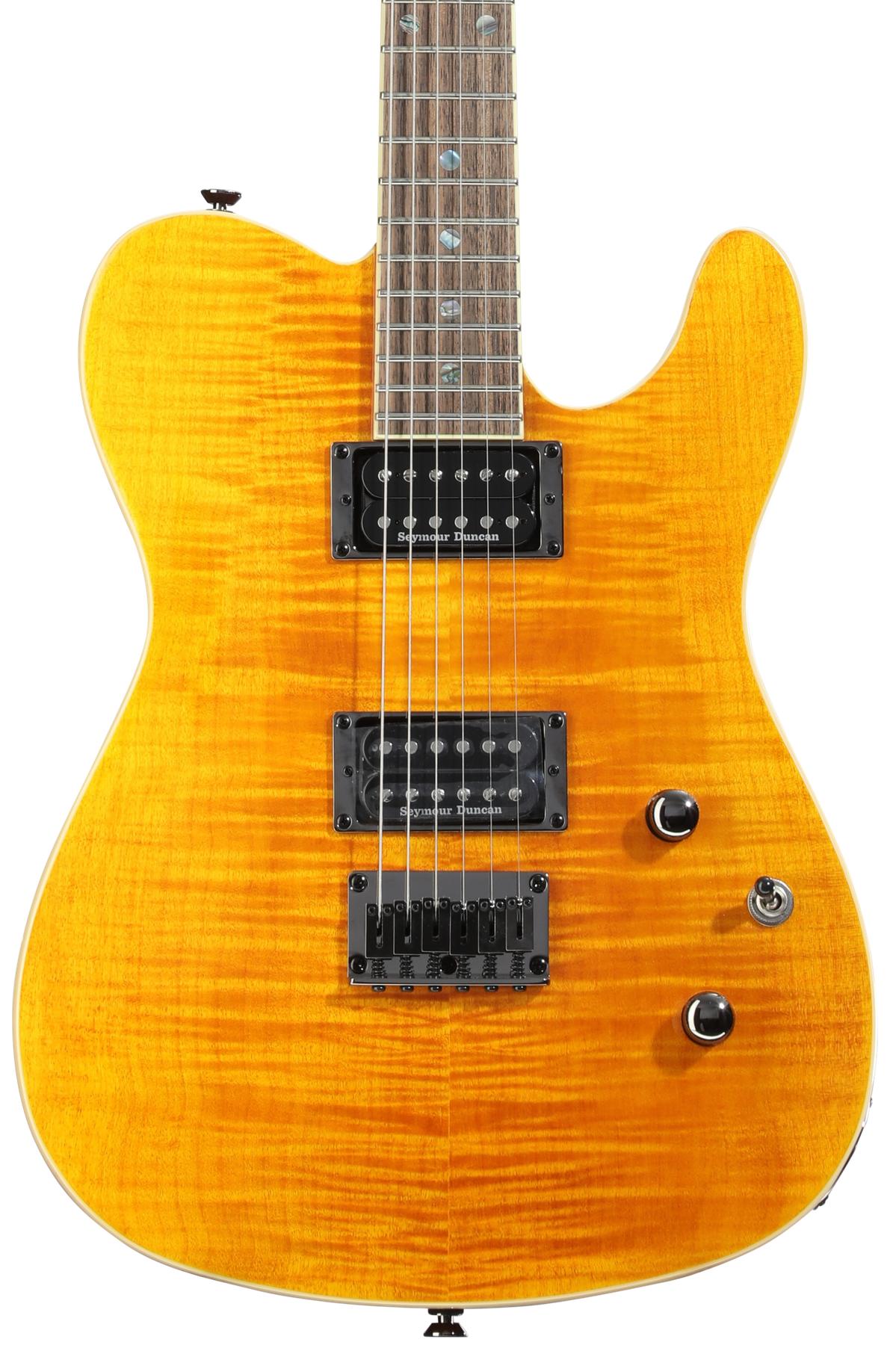 The Tele remains one of the world's finest electric guitars, with a few minor alterations in its original design to accommodate the ever-changing needs of contemporary artists.
Design-wise, the Tele bears a close resemblance to the Les Paul's single-cutaway feature, except the upper section looks like a softened horn.
The original Tele sound is a blend of clucky mids, vintage tone at the bridge, and classic bell at the neck.
You can pick this electric guitar if you want to be versatile in your guitar-playing.
Epiphone Les Paul and G-400
Editor's Pick
Epiphone has been making musical instruments since 1873, although it was not until 1928 that the brand introduced its first guitars.
Gibson purchased Epiphone in 1957, allowing the brand to produce guitars with Gibson properties at Epiphone prices.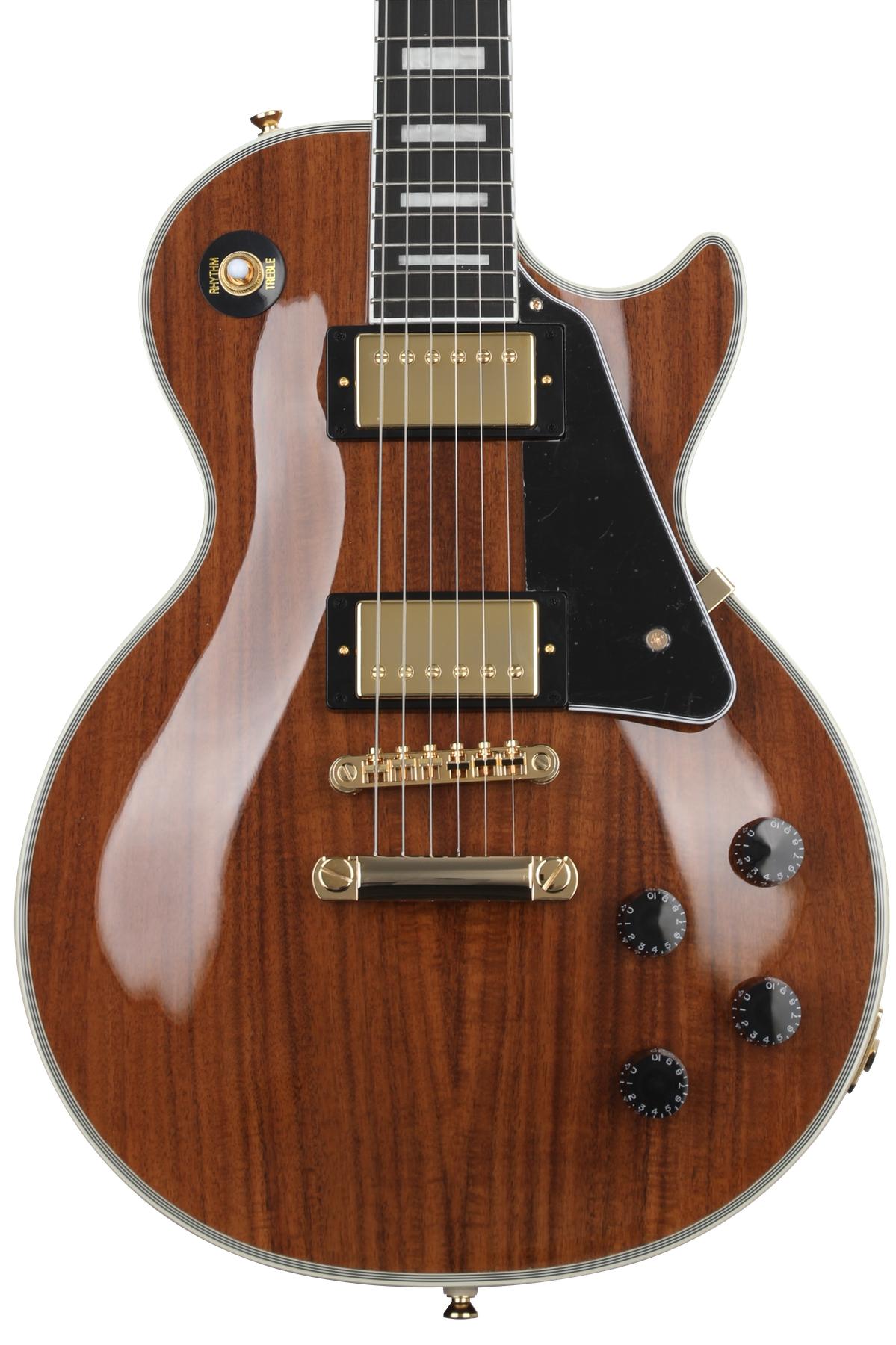 Hence, if you are thinking about getting a Les Paul or an SG at a more affordable price, you can consider the Epiphone Les Paul or Epiphone G-400, respectively.
These guitars perform like the two original Gibson solid-body electric guitars but at a price that will never hurt the budget.
Conclusion
Answering the question, 'SG vs Les Paul – which is better?' boils down to your playing style, budget, and musical preferences.
Editor's Choice
The Gibson Les Paul offers a unique sound you cannot get anywhere else because of its exceptional craftsmanship and single-minded focus on tonal stability and overall musical performance.
Also Great
On the other hand, the Gibson SG guarantees unparalleled playability without sacrificing sound quality.
Your choice reflects whether you want a player-friendly electric guitar or an instrument that will make you stand out in the crowd.
FAQs
Why is the Les Paul more expensive than the SG?
The Les Paul requires more work-hours to finish one guitar, especially in carving the iconic maple top.
The original Les Paul also featured a gold finish, making it one of the most expensive electric guitars of its time.
On the other hand, the Gibson SG does not have this additional element, making its production faster and more economical.
Are the SG and Les Paul good investments?
Guitars are not wise investment opportunities because they are subject to wear and tear with time and repeated use.
However, legendary artists can earn a fortune when reselling their SGs or Les Pauls because of their music performance-related value.
For example, Peter Green, Gary Moore, and Kirk Hammett's Les Paul netted $2 million at an auction.
Unfortunately, ordinary guitarists might not enjoy such a return on investment for their SGs or Les Pauls.
However, these Gibson electric guitars typically sell for at least 85% of their original value, higher than other brands.
Is the SG easy to play?
Yes, the Gibson SG is easy to play because of its Slim-taper neck, narrow nut width, shallower fretboard, higher fret access, and double cutaway configuration.