Choosing the best guitar for your music-making needs can be tough, but it doesn't have to be complicated. When it comes to style, sound, and playability, you can look no further than the American Ultra Luxe series by Fender.
These guitars are great for beginners and seasoned players alike – offering sleek looks and great sounds. They're designed for dexterity and comfort, so you won't have to worry about those hours of practicing or gigging.
While both the Fender American Ultra Luxe Stratocaster and Telecaster are top dogs, they do have their tiny differences. So, how will you know which one works best for you? Let's find out.
| | |
| --- | --- |
| | |
| | |
| | |
| | |
| Pickups: Ultra Noiseless Vintage Strat Single-coil | Pickups: Ultra Noiseless Vintage Tele Single-coil |
| Body Type: Solidbody American Ultra Luxe Stratocaster | Body Type: Solidbody American Ultra Luxe Telecaster |
| | |
| | |
American Ultra Luxe Stratocaster
Editor's Pick
This guitar has covered all the basics and more. Stratocasters are notoriously versatile and the American Ultra Luxe is no different – featuring an Augmented "D" neck profile that gives this guitar a more robust build.
The enhanced contouring on the Strat's body also allows for better positioning and more controlled playing. On top of that, it has a smooth maple finish on its fingerboard and noiseless pickups that remove that pesky hum.
Read: Fender American Luxe Stratocaster Review
American Ultra Luxe Telecaster
A hybrid of the modern and traditional, the Ultra Luxe Telecaster is your choice if you want that classic, vintage sound. It features all the usual Telecaster trimmings but is built for modern demands.
This is the Tele to test your skills on, as it features a tapered neck that allows for faster playing and an Augmented "D" Profile for added comfort. You can plug this Telecaster on older amps or high-gain stacks – allowing you a wider range of choices when it comes to unique, unexplored sounds.
Read: Fender American Ultra Luxe Telecaster Review
Build
Both the Strat and the Tele feature a hardshell case with an Augmented "D" Profile, which works great for players of all levels. This profile smoothens out the form of the guitar lengthwise, making it easier to grasp and keep in place.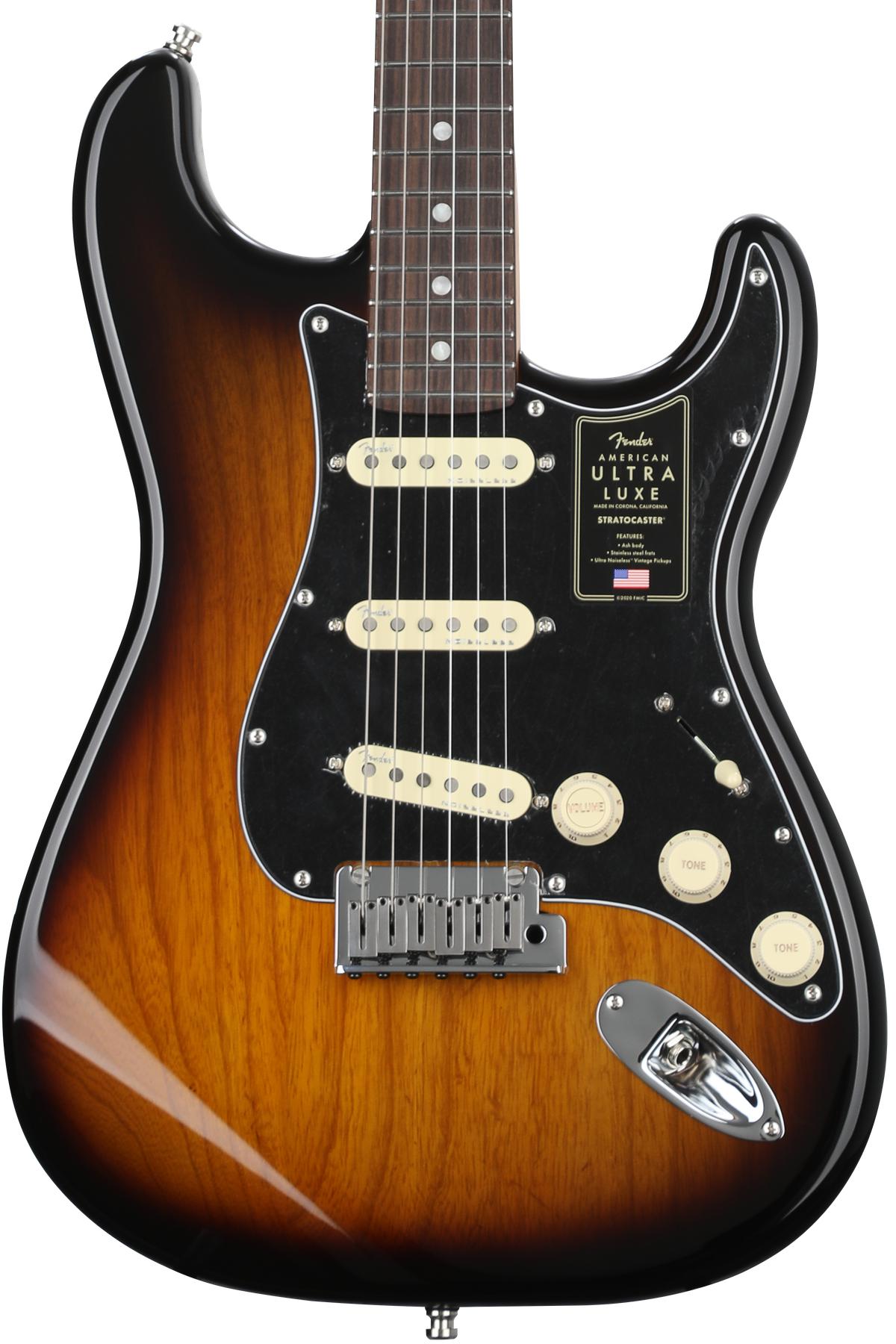 Comparably, the Telecaster features a tapered neck to add to better playability. While the Stratocaster doesn't have this tapering, it does feature a more contoured body – allowing for more stability, and heftiness.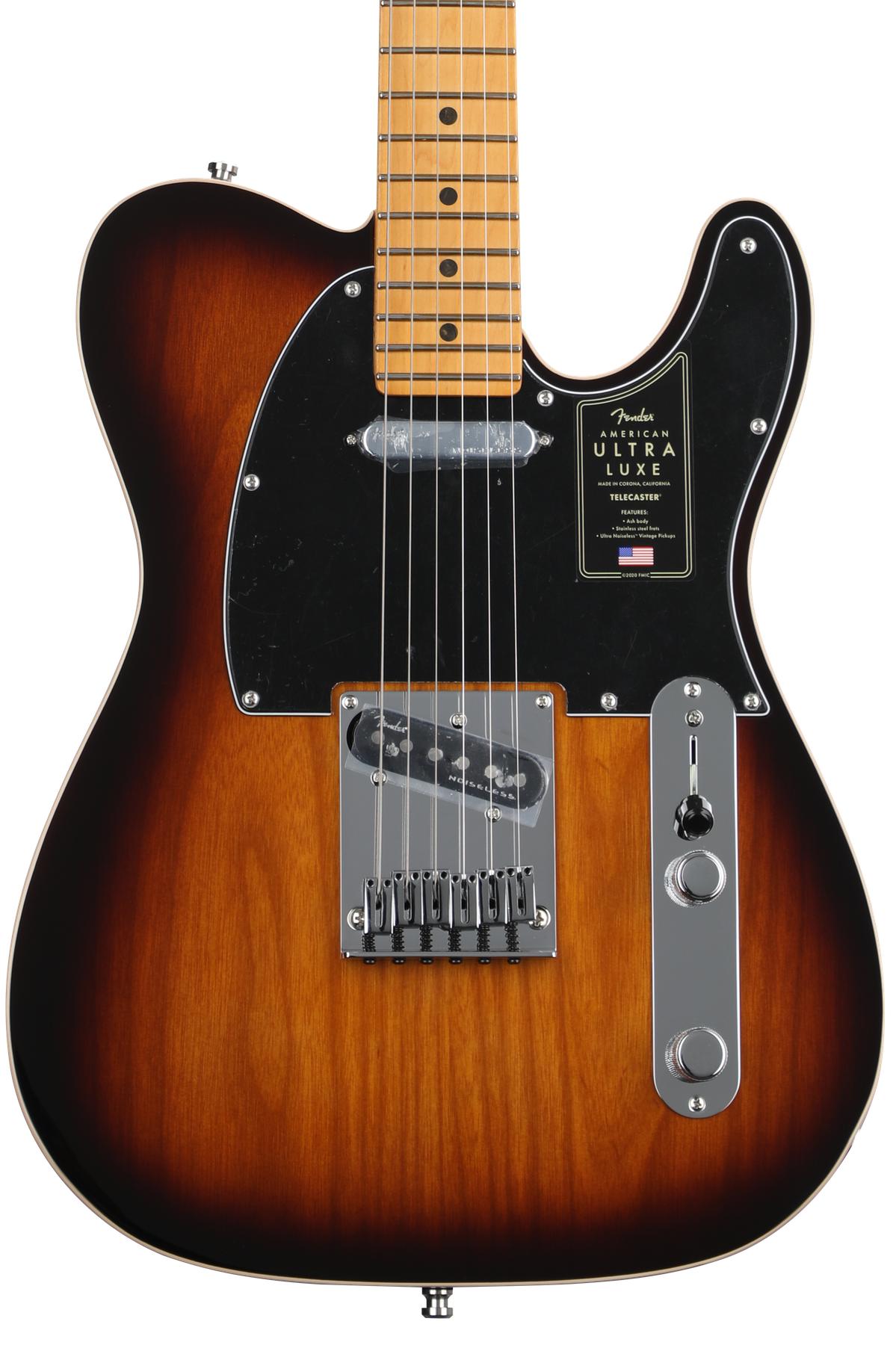 The Tele and the Strat both feature 10-14 inches of compound radius for better soloing alongside 22 jumbo frets, as well as rounded fingerboard edges – in case you need to spend hours practicing on that new song or solo.
Sound
The Luxe Stratocaster is quite straightforward in its sound delivery. It comes in pretty standard and solid – making it great for personalization, covers, and practice. On the other hand, the Luxe Telecaster brings forward an old, vintage vibe that's nostalgic.
Both guitars utilize noiseless pick-ups that get rid of annoying hum. With that out of the way, you can focus more on your sound and tuning. Additionally, they both also feature locking tuning machines that ensure you won't suddenly go off-tune in the middle of a performance.
Playability
Stainless steel frets and chromed brass saddle bridges make the Tele and the Strat worthy of your time. These guitars were made to be played – whether you're just about to learn your first song, or have been in the gig industry for years.
One key difference between the Tele and the Strat is their switch tips. The Strat features aged-white switch tips, while the Tele features black switch tips.
Although these don't necessarily affect the sound of the guitar, some players may find that they prefer one color over another while playing. Depending on the type of environment you frequently play in, the color of your switch tips could greatly affect your playing.
Additional Features
If you're into textural, vibrato sounds, then the Stratocaster has the upper hand in your choice here. Equipped with a 2-point Synchronized Tremolo, this feature adds a bit of twang and spice to your playing. Just pop in a tremolo arm and you can bend those strings to your heart's content.
While the Telecaster doesn't feature this, it does allow for flexible compatibility. This makes it a more versatile, flexible instrument – one that can work on digital and analog devices without a hitch. Because it's a hybrid of old and new tech, the Tele has an upper hand in adaptability.
Conclusion
Whether it's a Telecaster or a Stratocaster, the important thing to remember about choosing your guitar is how it works best for you.
If you're still learning the ropes, it's best to choose an all-around versatile Luxe Telecaster.
Editor's Pick
If you've got a particular taste for certain tremolo-induced twangs, then a Luxe Stratocaster may do you better. In the end, it all boils down to your need and preference.
Which do you think is better? Let us know in the comment section below.