There is no turning back in the world of Fender electric guitars, especially with the emergence and availability of the American Ultra Luxe Stratocaster.
This is for players who demand nothing but the best when it comes to tone and performance.
And as expected from this Fender product, it meets the expectations and even more.
Being one of the most advanced in the brand's basses and guitars, it has an elevated overall design, feel, and show.
It is your following versatile and state-of-the-art instrument that will push you to play and make beautiful music like never before.
Editor's Pick
When Fender released its American Ultra Series, it undertook an impressive job, and that is refining and giving one of its most loved guitars of all time a balanced upgrade. And they did a superb job with the Ultra-Luxe Stratocaster.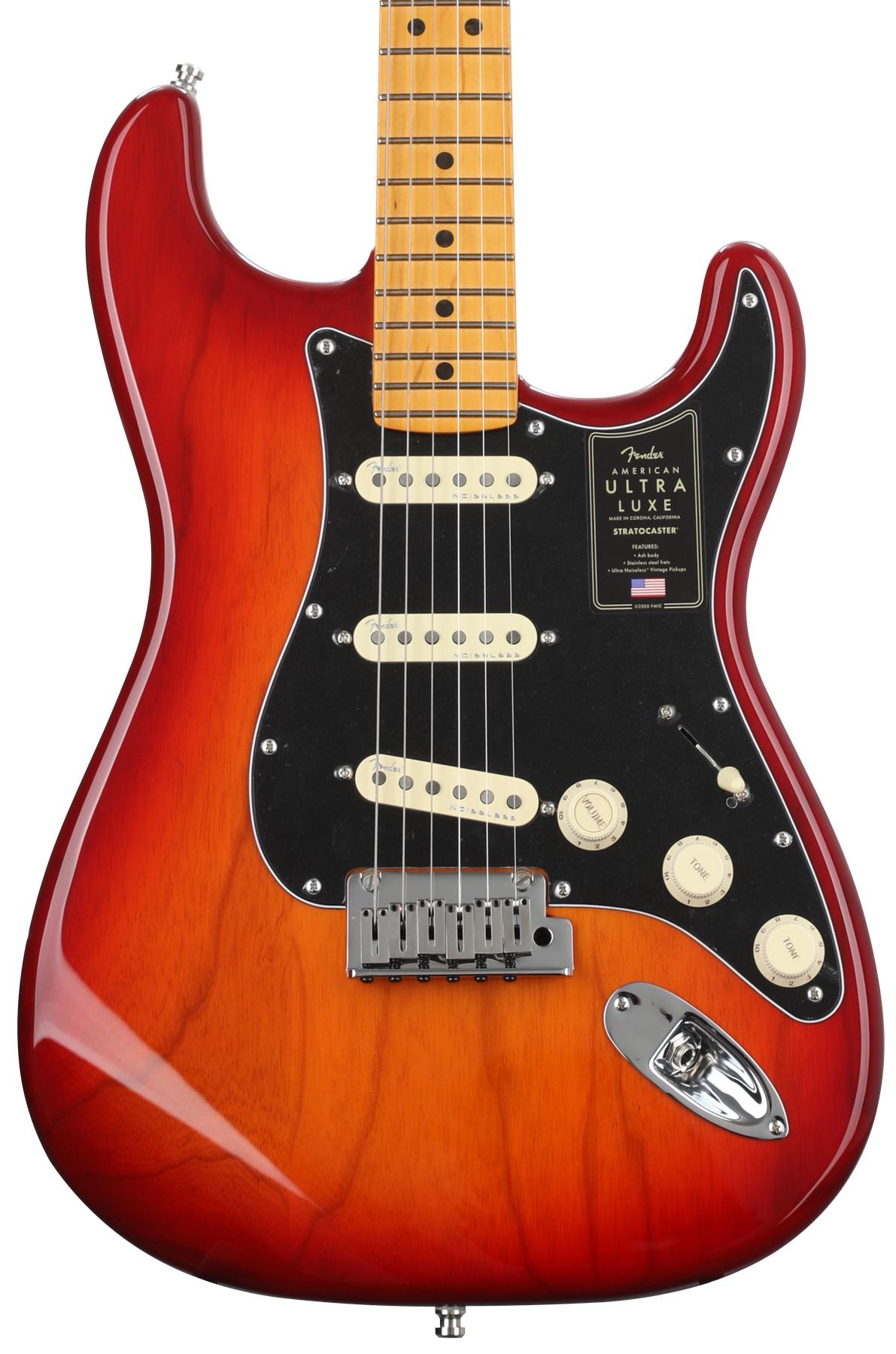 Fender has not taken the Strat to a higher level, and there is no turning back. With its one-of-a-kind augmented "D" profile neck and electrifying new distinction, this guitar has become an elevated version of the standard Fender products.
This premium-performance Stratocaster from Fender is simply beautiful. With its ash body and maple neck with a compound-radius fretboard furnished with 22 medium-jumbo frets, you can play this Strato for hours at a time. There's no stopping you, and this guitar is with you in every strum and note.
It is fitted with a threesome of Ultra Noiseless Vintage pickups transmitted to a five-position blade switch. And to achieve a more tonal diversity, it comes with a trust S1 switch that helps you add the neck pickup to particular positions.
Other hardware features also include having a Tusq nut and sealed locking tuners. In addition, the Fender American Ultra Luxe Stratocaster comes in 2-color Sunburst and Plasma Red Burst.
Without any doubt, the American Ultra Luxe Stratocaster is an instrument intended for high performance. It is the best partner of professional musicians who can go on for hours and discerning amateurs still finding their rhythm and style.
Read: 10 Best Electric Guitars for Beginners
Pros
Enhanced playability for all kinds of musicians regardless of tenure
Integrated S1 switch for additional versatility
It comes with a premium molded hard-shell case for easy transport and security
It comes with an Ultra Noiseless Vintage pickup
Has advanced wiring options to broaden the tonal possibilities – all without a hum
Cons
Not for the left-handed musicians
Very minimal difference from the previous Elite version
Stainless Steel Frets
The American Ultra Luxe Stratocaster comes with 22-stainless steel medium jumbo frets. This means that the frets are considerably smoother and harder than the conventional frets made of nickel and silver. This assures you durability when using the instrument.
Additionally, stainless steel frets also provide you with that glassy playing feel, making bending easier. It is so smooth that you might think that there's actually nothing there. There is no felt resistance between the frets and the strings, so the bends take lesser effort.
Also, thanks to its stainless steel frets, you will soon discover how vibrating the note at the top of the bend can now be achieved easier with the Ultra Luxe Stratocaster.
Augmented D-shaped Neck
The American Ultra Luxe Stratocaster boasts an augmented "D" neck that gives more body than the usual Modern "D." This profile is a huge plus because it slightly becomes fuller towards the twelfth fret completed with shoulders that are softer in its higher register.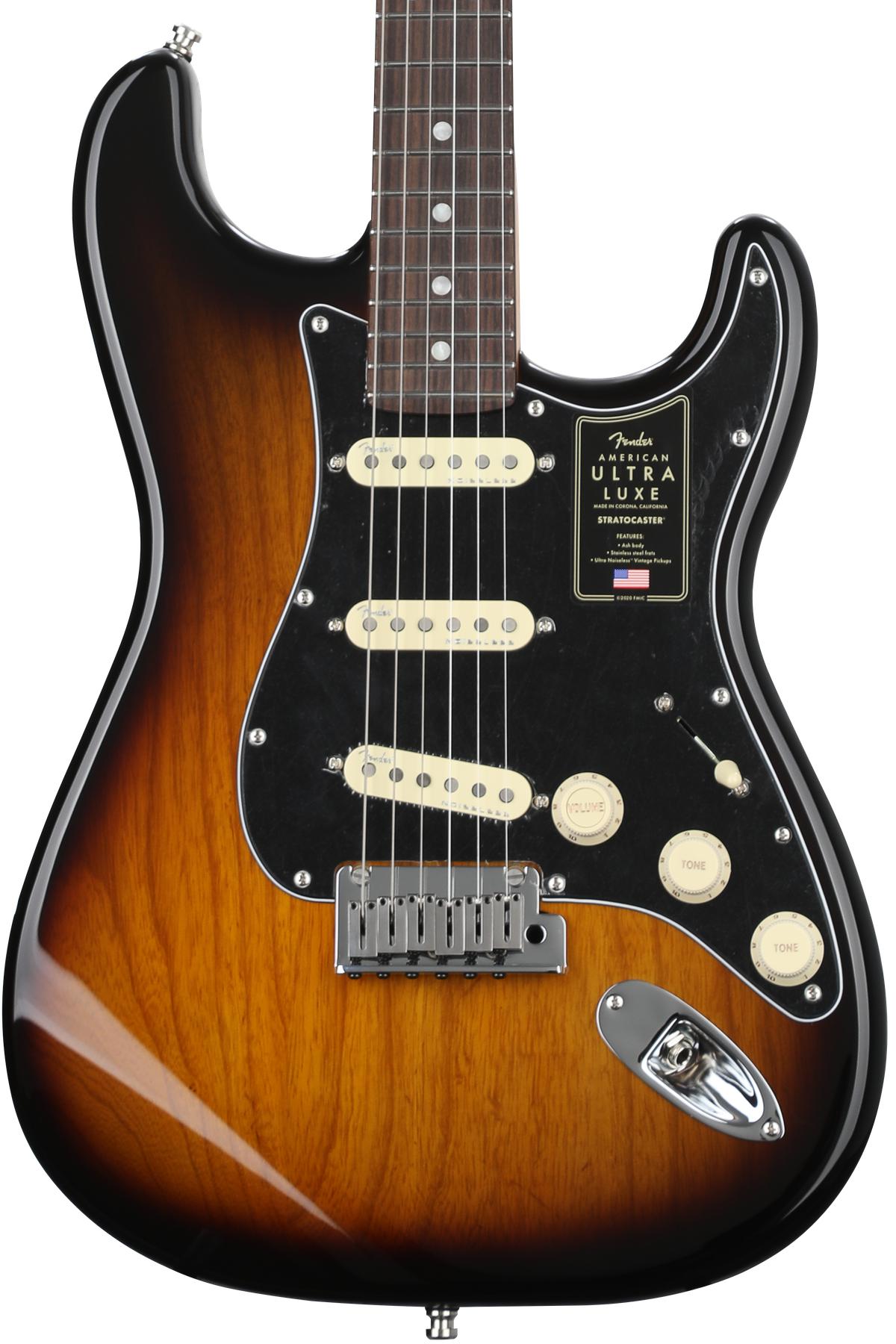 What makes the neck more beautiful is its ultra-rolled fingerboard edges that give off that extra smooth and silky satin finish. This makes playing this instrument easy and almost effortless.
You can play this instrument in stretches at a time without feeling any discomfort, making it an ideal choice for musicians who need endless hours of practice and performance.
Ultra-Noiseless Vintage Pickups
The Ultra Noiseless Vintage pickup always gives you that satisfying classic Fender tone but without any of the annoying and distracting hums. Instead, it produces a more contemporary fullness to the sound, making it suitable to the less bluesy and more rock-ful territory.
You will be overwhelmed by how quiet these pickups are. And thanks to the volume knob's S1 switch, you have a different neck pickup in a convenient switch position.
Improved Body Contours
Everything in the American Ultra Luxe Stratocaster is designed with the convenience of the musician in mind. Every contour and angle is meant to give the player a more seamless musical experience.
It features a thinning neck heel that allows matchless and unrestricted access to the fingerboard's upper registers. The sculpted rear body silhouette, meanwhile, is all about comfort and flexibility.
Its curved heel joint is something that you might have seen before, but this is a revolutionary change for the Strat design. If you take your time in the highest ranges of your instrument's fretboard, then this is a huge plus because of the freer access that it can provide.
Locking Tuning Machines
This feature provides increased tuning stability so you can toggles between your strings faster and easier.
This mechanism can guarantee that your strings are locked in place and that the strings won't come to lose despite hours of playing. This is important for long sets and gigs where you have minimal to zero time to make adjustments.
10-inches to 14-inches Compound Radius
The compound radius is already an excellent feature because no player would usually play bass notes on their thumbs past the 12 or 15 fret, and with this, you can get a super low action.
The American Ultra Luxe Standard's compound radius is designed for easy bending and speed. The 10 to 14 inches compound radius fingerboard is designed to be rounded close to the nut. It results in a better chord that musicians can appreciate. It also becomes flat, as it nears the upper register for free bending.
Specs
Conclusion
Editor's Pick
The Fender American Ultra Luxe Stratocaster proves that good things can still be better. This series is a way better option for hard-core musicians who want to play it hard for endless hours.
Fender did very well with this Strat, and there's no turning back now when it comes to performance and quality. This is a great purchase and worth every cent and penny.
Also Read: