Finding the perfect electric guitar can be daunting.
However, once you've narrowed down your options, it can be a piece of cake.
The Paul Reed Smith collection has been a popular choice amongst guitar players for years – and good reason. Its rich single-coil tones and stylish designs are quintessentially classic.
When choosing between the PRS SE Custom 24 and the PRS SE Standard 24, there's a lot of factors to consider besides the apparent price difference.
While you do get what you pay for, there are some advantages that a cheaper Standard 24 holds above a Custom 24 – depending on what kind of guitar you're looking for.
So what are the differences and how are these going to help you decide? Let's find out.
| | |
| --- | --- |
| | |
| | |
| | |
| | |
| Neck/Bridge Pickups: PRS 85/15 "S" Humbucker | Neck/Bridge Pickups: PRS 85/15 "S" Humbucker |
| Body Type: Solidbody SE Standard 24 Mahogany | Body Type: Solidbody SE Custom 24 Mahogany |
| Fingerboard:1 x master volume, 1 x master tone (push/pull coil-split), 3-way blade pickup switch | Controls: 1 x master volume, 1 x master tone (push/pull coil-split) |
| | |
PRS SE Custom 24
Editor's Pick
Classic sounds and timeless looks, the PRS Custom 24 is one beautiful-looking instrument with the hardware chops to match.
It features the standard Humbucker pickups with a patented tremolo – paired with D'Addario strings for that delectable, classy tone.
This is a guitar that looks and sounds good, and is a showstopper on display in the music room, or onstage with some skilled hands.
PRS SE Standard 24
Great for Starters
Coming in at a more affordable price but with the same amount of spunk, the PRS Standard 24 is all you need for a reliable, classic-looking guitar.
It's been a popular favorite because of its no-fuss aesthetics and high-quality sound.
This is a guitar that you'll never get tired of looking and listening to – owing to its timeless mahogany finish and crystal clear tonal range.
Price
Naturally, with the Custom 24's more specialized features, it would cost significantly more than a Standard 24.
If you're just starting to appreciate the art of guitar-playing, then Standard 24 is a nice grab.
It features all the standard features that a Paul Reed Smith guitar would have, without the extra bells and whistles.
On the other hand, if you want to take your playing up a notch and want to invest in a well-crafted instrument, then the Custom 24 is your choice.
A lot more attention to detail was given to the Custom 24, particularly in its humbucking pickups and elegant violin body carve that enhances playability and comfort.
Playability
Being an all-rounder, Standard 24 may be the best choice when it comes to playability. Owing to its standard features and less specialized range, you can count on this guitar for hours-long practice.
In other words, it's great for beginners because it covers all the basic features – the humbucking pickup, push-pull tone knob, and a great body design.
Comparably, the Custom 24 will still be an agreeable choice for playability, however, it may be too rigid for beginners.
It features a lot more customizable features that newbies could find bothersome and intimidating.
Unless you're an experienced, well-versed guitar player, the Standard 24 will do fare much better in terms of improving playability.
Looks
In terms of looks alone, the Custom 24 takes the cake. Without about seven different colors to choose from, this guitar is a stylish addition to your arsenal of musical instruments.
The Custom 24 has a comparably sleeker, richer look – a great contrast to its wide, robust built.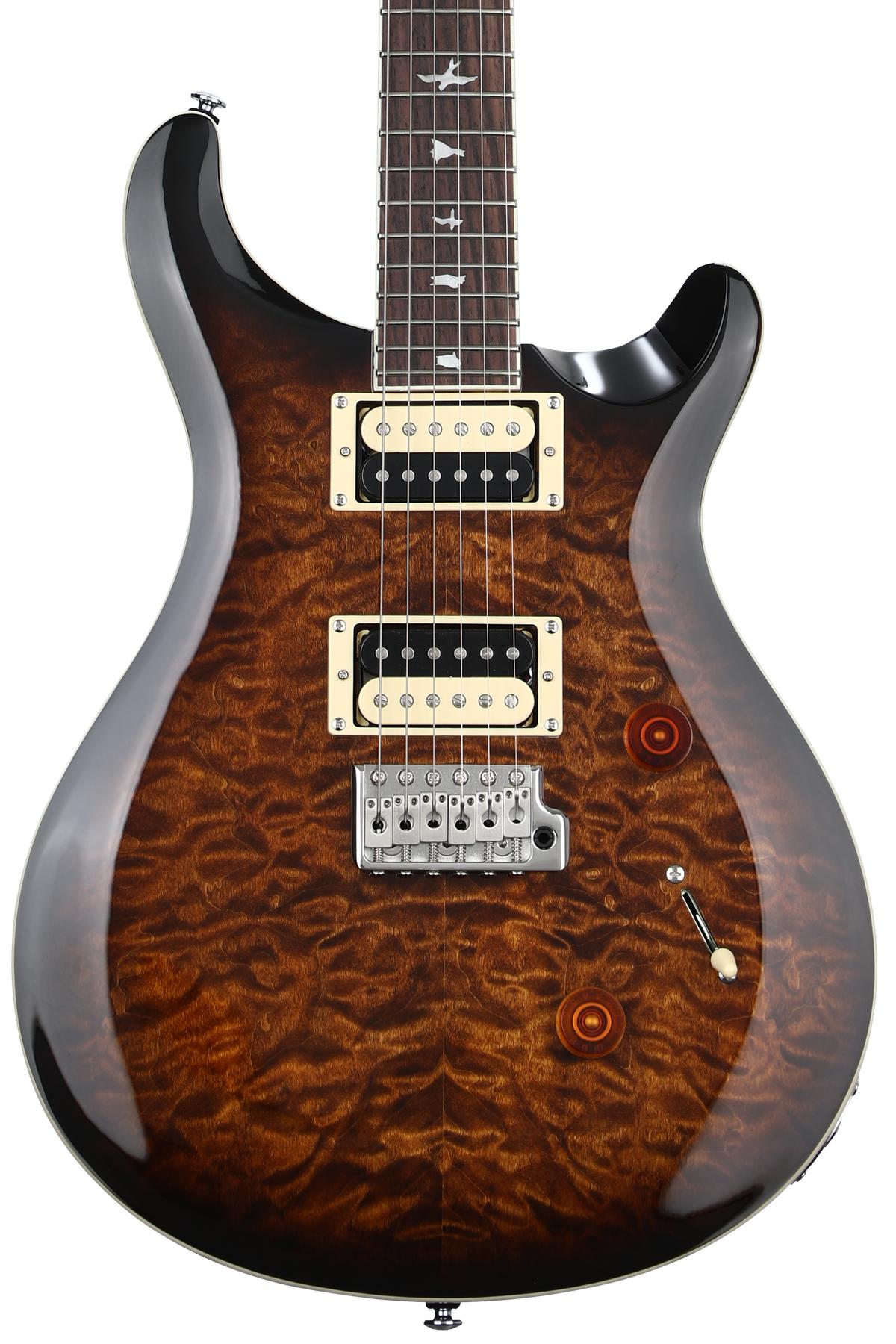 While the Standard 24 and the Custom 24 follow the Paul Reed Smith guitar template down to the knob, the Custom 24 takes it up a notch in terms of contouring and color choice.
Color names like Black Gold Sunburst, Burled Ash Natural, and Quilt Charcoal are sure to grab anyone's attention.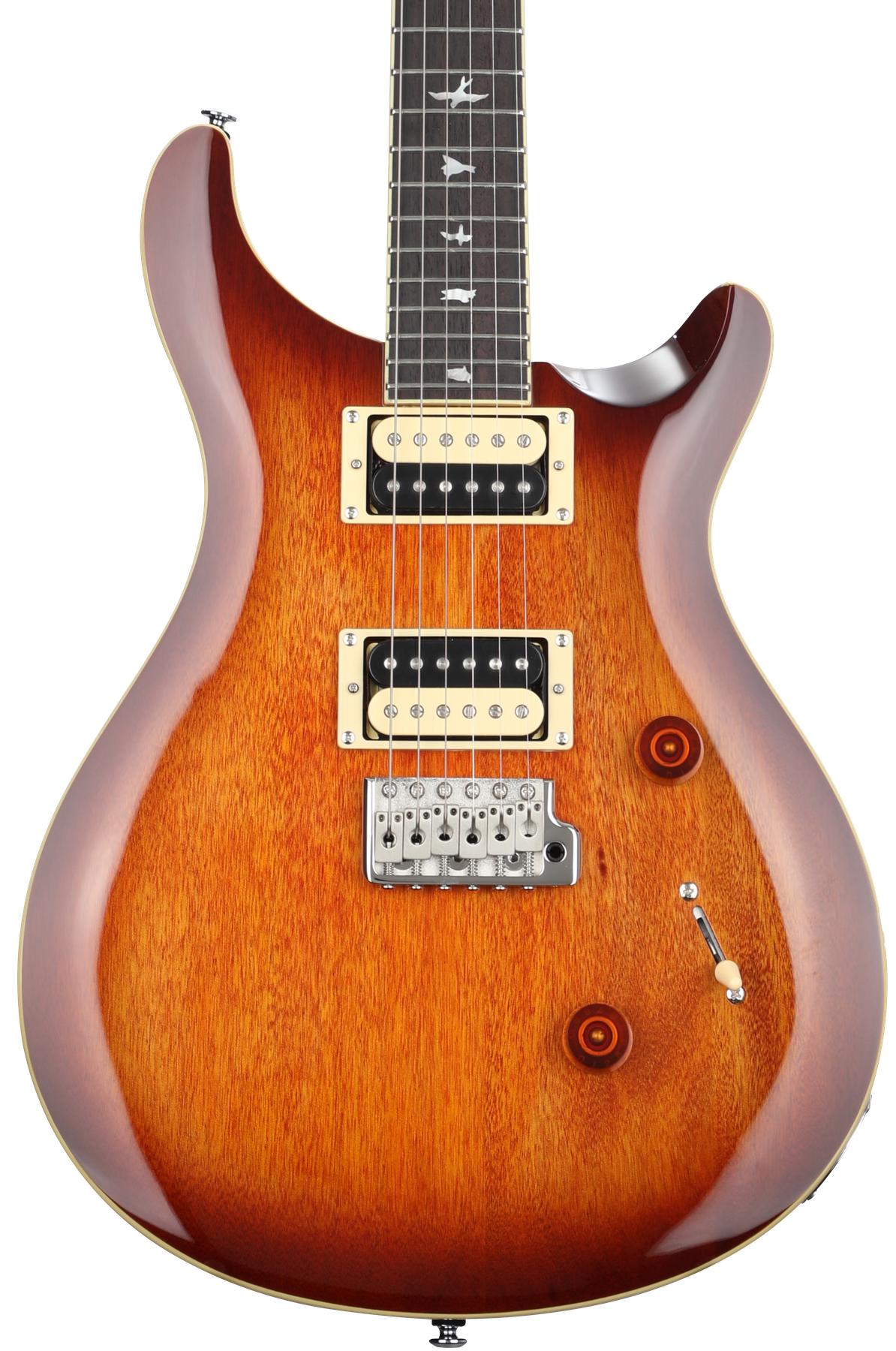 On the other hand, Standard 24 has a smaller range of color choices. While still very note-worthy, this may put you off if you prefer striking designs.
The Standard 24 color choices feature classic, earthy colors that are more natural-looking. This isn't all that bad, as it stays true to the vintage, classy aesthetics of a PRS-branded guitar.
If you're big on looks and a striking appearance, the Custom 24 is your best choice.
Complemented by the PRS vintage design, these patterns and hues will surely pop out and make you feel like an actual rockstar.
Also Read: 10 Best PRS Guitars in 2023 (Reviews): Which PRS is Best for You?
Conclusion
Editor's Pick
Choosing between a Custom 24 or a Standard 24 Paul Reed Smith guitar can be a daunting task – but once you figure out what you want to improve in your current guitar-playing skillset, then you'll find the right choice in no time.
Great for Starters
Looks are great and the Custom 24 has a wide range of colors to choose from, but if you want to get started with your playing without breaking the bank, you can start with a Standard 24.
Whichever guitar you choose, the best one is the one that you can make the most out of.