The PRS SE Custom 24 is designed to be a workhorse, and there is no denying that. Here, we talk about everything Custom 24 and let you decide whether this electric guitar is the one for you.
Editor's Pick
Pros
Fantastic craftsmanship on the guitar

Gorgeous vintage-inspired electric guitar colorway

Superb humbucker sounds and pickup
Cons
Slightly cheap-feeling hardware

Other Custom 24 colorways are a bit flashy

Reports of sharper fret edges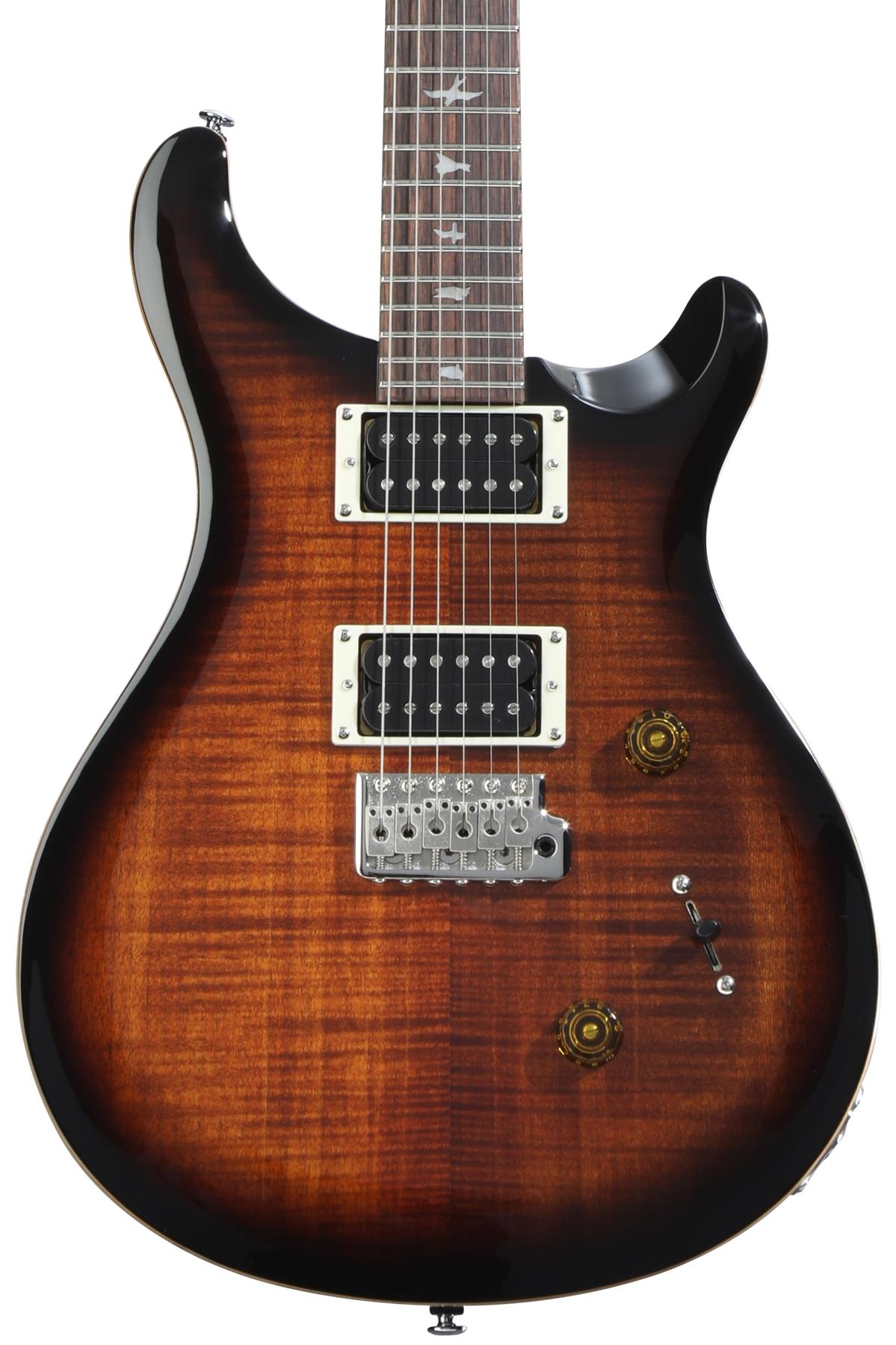 Key Features
Body Type: Solidbody
Body Shape: SE Custom 24
Body Material: Mahogany
Top Material: Quilted Maple
Color: Black Gold Sunburst
Neck Material: Maple
Neck Shape: Pattern Wide Thin
Fingerboard Material: Rosewood
Fingerboard Inlay: PRS Signature Birds
Scale Length: 25 inches
Nut material: Synthetic/ Bronze Powder Blend
Neck Pickup: PRS 85/15 "S" Humbucker
Bridge Pickup: PRS 85/15 "S" Humbucker
Controls: 1 x master tone (push/pull coil-split), 1 x master volume
Case Included: Gig Bag
Sleek Electric Guitar Looks
The PRS SE Custom 24 in the Black Gold Sunburst colorway is a sight for sore eyes – it stands out amongst the other colorways available for the PRS Custom 24.
This solid-body guitar build is top-notched with a mahogany bottom and a maple top that feels excellent when you play with it.
With mahogany and maple both being some of the most durable wood, you are sure to be getting a guitar that will definitely last you a long time.
This electric guitar features a traditional violin-like body and a cutaway scoop on the upper part of the body to allow you to reach hard to access frets.
Pattern Wide Thin Maple Neck
The PRS SE Custom 24 has a neck made of maple shaped in their pattern wide thin way that makes playing with the guitar a pleasurable experience.
You could practice all day on this electric guitar, and it will be comfortable.
The fretboard on this guitar is made of rosewood and has the signature PRS birds inlays on them.
The frets are smooth and comfortable so that you won't have any trouble with your finger transitions and finger styling.
Truly a guitar that will keep you company for a long time.
Excellent Hardware and Electronics
Now, let's move on to what the PRS SE Custom 24 offers in terms of playability.
PRS designs the bridge featured in this guitar, and it offers impressive tones and resonance.
The tuners on the headstock do not only look fantastic but work beautifully too; you can leave the instrument for a long time and come back to it still in tune.
The two humbuckers on this guitar will make you sound smooth and great every time; PRS designed these pickups to give you that loved humbucker tones and only slight tweaks that make it better.
Who is it for?
This Paul Reed Smith Student Edition Custom 24 is for people looking for an affordable, amazingly built guitar and has professional specifications.
A beginner will enjoy the advanced looks and features of this classic-looking electric guitar, and an intermediate player would be happy with the upgrade from a beginner guitar to the PRS SE Custom 24.
The PRS SE Custom 24 in the Black Gold Sunburst will also satisfy the more advanced PRS lovers as it is another marvelous addition to their collection.
Potential Drawbacks
A potential drawback to the PRS SE Custom 24 is the limited colorway that comes with the model.
Although we are not talking about the other colorways, fans might have limited options.
Conclusion
Editor's Pick
PRS fans and guitar enthusiasts alike will fall in love with the PRS SE Custom 24 in the colorway Black Gold Sunburst as it is a bang for your buck.
You won't regret purchasing this guitar, we tell you.
FAQs
Where are the best PRS guitars made?
The best guitar your money could buy is the guitars from the PRS Core Series.
These guitars are made-to-order and crafted by skilled guitar luthiers according to your needs and special requests.
The guitars in this line are made of premium quality materials and are also priced accordingly.
These guitars are crafted and assembled in Maryland in the United States, where labor costs are higher and thus resulting in higher prices for the Core models of PRS Guitars.
But if we're talking about the best pick that is also equipped with all the best PRS features but is affordable, then the PRS SE Custom 24 is for you.
The newer SE line is manufactured in Indonesia to cut labor costs and produce quality guitar at an affordable price point, but that doesn't change that this guitar's build is superb, and the playability is through the roof.
What is the difference between the PRS SE Standard 24 and the PRS SE Custom 24?
Looking at a PRS SE Standard 24 and a PRS SE Custom 24 guitar side by side, you couldn't tell the difference, but when we start laying down specifications and comparing them, you will see some discrepancies.
For one, the PRS Custom 24 has a higher price tag because of the higher-quality materials used for this electric guitar.
The Custom 24 has a maple top and a mahogany body, while the Standard 24 is made in all-mahogany.
The Custom 24 also has more advanced playability making it suitable for intermediate guitar players, whereas the Standard 24 is better for beginners.
Also Read: PRS SE Custom 24 vs SE Standard 24
What is the PRS SE series?
The PRS SE or the Paul Reed Smith Student Edition is a line of economic and budget-friendly electric guitars from PRS Guitars.
They carry a wide array and selection of affordable electric guitars for every need and level of guitar players.
There's the SE Custom we are reviewing right now, which we have proven to be a workhorse, and the SE Hollowbody for Jazz players, to name a few.
PRS SE guitars, although more affordable, need to pass a rigorous quality control test before being sold to you, so you know that you will be getting an excellent looking and playing electric guitar every time.