Investing in an electric guitar needs a thorough thought process for you to arrive with the instrument that will suit you.
There are a lot of considerations before you can come out with an intelligent decision for your electric guitar.
PRS and Fender are big names producing the best instruments for musicians. They have various models that are known to last for years with the highest quality of sound possible. Find out if the Silver Sky from PRS or Fender's Strat is the right one for you.
Fender Stratocaster
Editor's Pick
Fender has always topped their game in making sure they outdo themselves with every new release. The Strat is an improved guitar from Fender, highlighting the D profile neck and other variations. This instrument is great for those who want an optimal sonic experience in their career.
Read: Fender American Ultra Luxe Stratocaster Review 2023 – Is It Worth It?
PRS Silver Sky
PRS Silver Sky is a well-designed electric guitar that is inspired from John Mayer's specifications. It has a mix of his earlier instruments in the 60s, with hints of modernity with its headstock and locking tuners. Musical tones are excellently produced. With a sophisticated design, this guitar is something that can set every musician's journey ablaze.
Also Read: PRS Silver Sky John Mayer Review
Body
Guitarists will meticulously check out what the instrument's body is made of because it directly influences the sonic experience of the user. It also affects the appearance, as well as its longevity.
The PRS Silver Sky is a solid body made of alder with a glossy finish. Since the tonewood is alder, it may produce a very resonant and bold tone. It will also give the user a balanced sonic experience, with a great sustain. Adler tonewoods are known to give an extra attack as it is played. The orion green color under the glossy finish makes it a very unique guitar.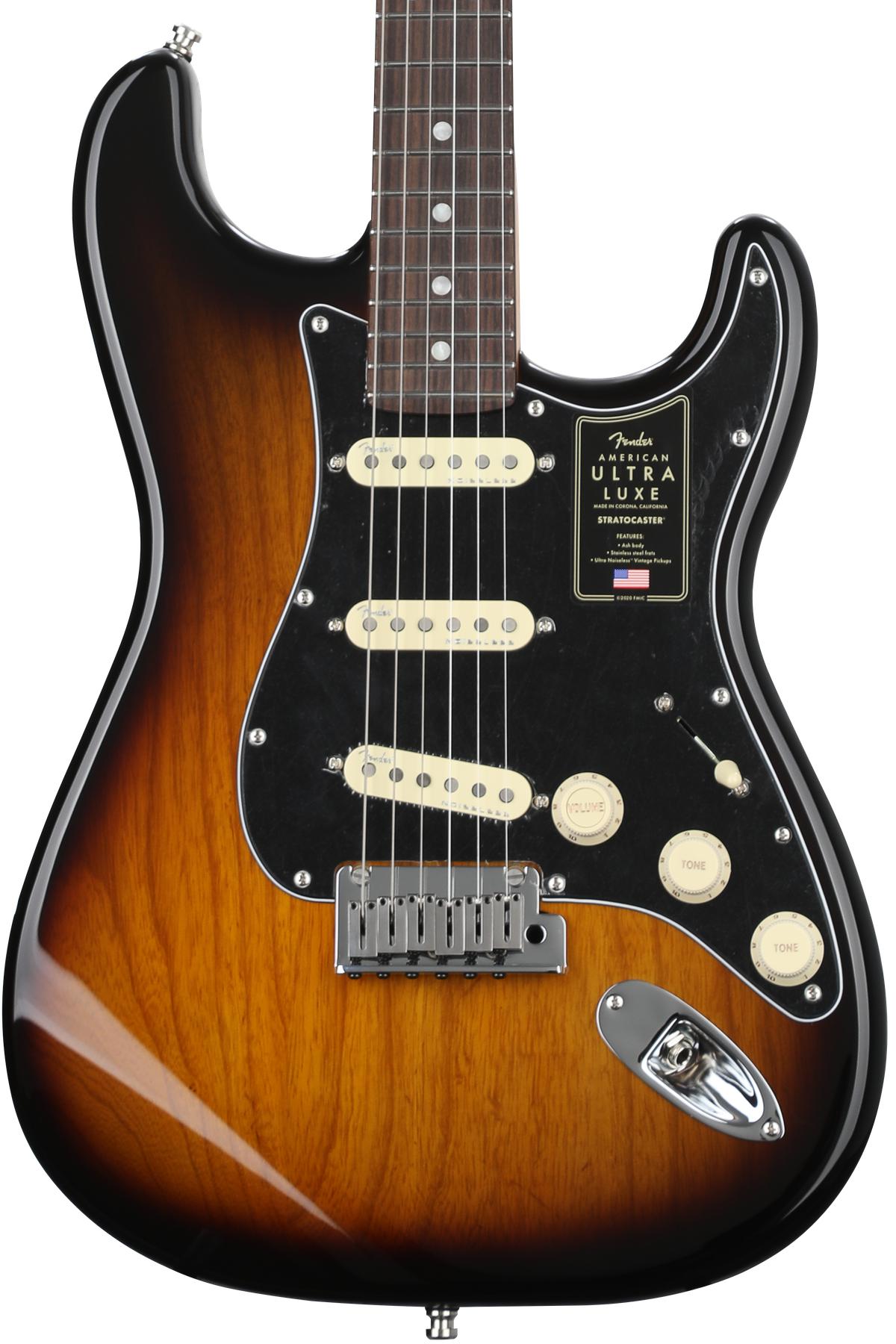 Strat has improved over the years, with this solidbody in ash tonewood. It has a gloss polyurethane finish, with an underlying 2-color sunburst, giving off that seasoned guitarist aesthetic. The ash tonewood produces more treble with a good sustain. It overall gives a brighter tone, and a more pronounced one compared to other tonewoods.
Neck
A guitar's neck is among the commonly abused parts of the guitar when a musician is working on various songs. This vital area should be one of the priorities of the user.
Both the Silver Sky and the Strat are made of maple, with rosewood as the fingerboard material, making them very durable for long-term use.
PRS has made a unique neck shape for Silver Sky, with a bolt-on neck joint. The small birds on the fingerboard inlay makes it very casual, and it highly complements the green hue of the body. The frets are custom-sized, with enough nut width using a bone material.
Strat takes pride in its Augmented D neck shape, with the same bolt-on neck joint as with the Silver Sky. The fingerboard inlay is a usual white dot, with a medium to jumbo frets. The nut is a bit wider, with a tusq material.
Hardware
There's a reason why buyers are meticulous when it comes to choosing the best electric guitars. It is expensive, and sometimes, hardware can be hard to find or replace when something goes haywire. The good thing about both instruments from Fender and PRS is their reputation on durable hardware has been tried and tested over the years.
The tailpiece of Silver Sky is a steel tremolo bridge, with vintage-style locking tuners. The steel material makes it last a long time, with a great tone resonance.
The Strat on the other hand, has a 2-point deluxe synchronized tremolo with its very own Fender Sealed locking tuners. The synchronized tremolo adds texture to the played chords and leads. The distinct vibrato makes it a natural response to whatever the musician plays.
Conclusion
The choice on which electric guitar is better depends on the budget and personal taste of the musician. Both the Strat and the Silver Sky provide musicians great freedom in playing their own style.
Editor's Pick
The high-performance Strat from Fender is professionally equipped with noiseless single-coil pickups, their own Augmented D profile neck, and other advanced switching options.
Choosing the Silver Sky from PRS is also a great option for those who want a semi-vintage aesthetic that delivers great intonation. It also produces a sweet-sounding single-coil pickup, with some round and full sonic experience, and some glassy musical notes.