Quick Answer: For beginners, you can start with a Stratocaster. It's C-shaped neck makes it much more comfortable to play compared to a Les Paul, which is thicker and heavier than Strat. Both are still playable, however, getting a Stratocaster for beginner guitarists is the ideal choice.
| | |
| --- | --- |
| | |
| | |
| | |
| | |
| | |
| Body Type: Solidbody American Ultra Luxe Stratocaster | Body Type: Solidbody Mahogany |
| | |
| | |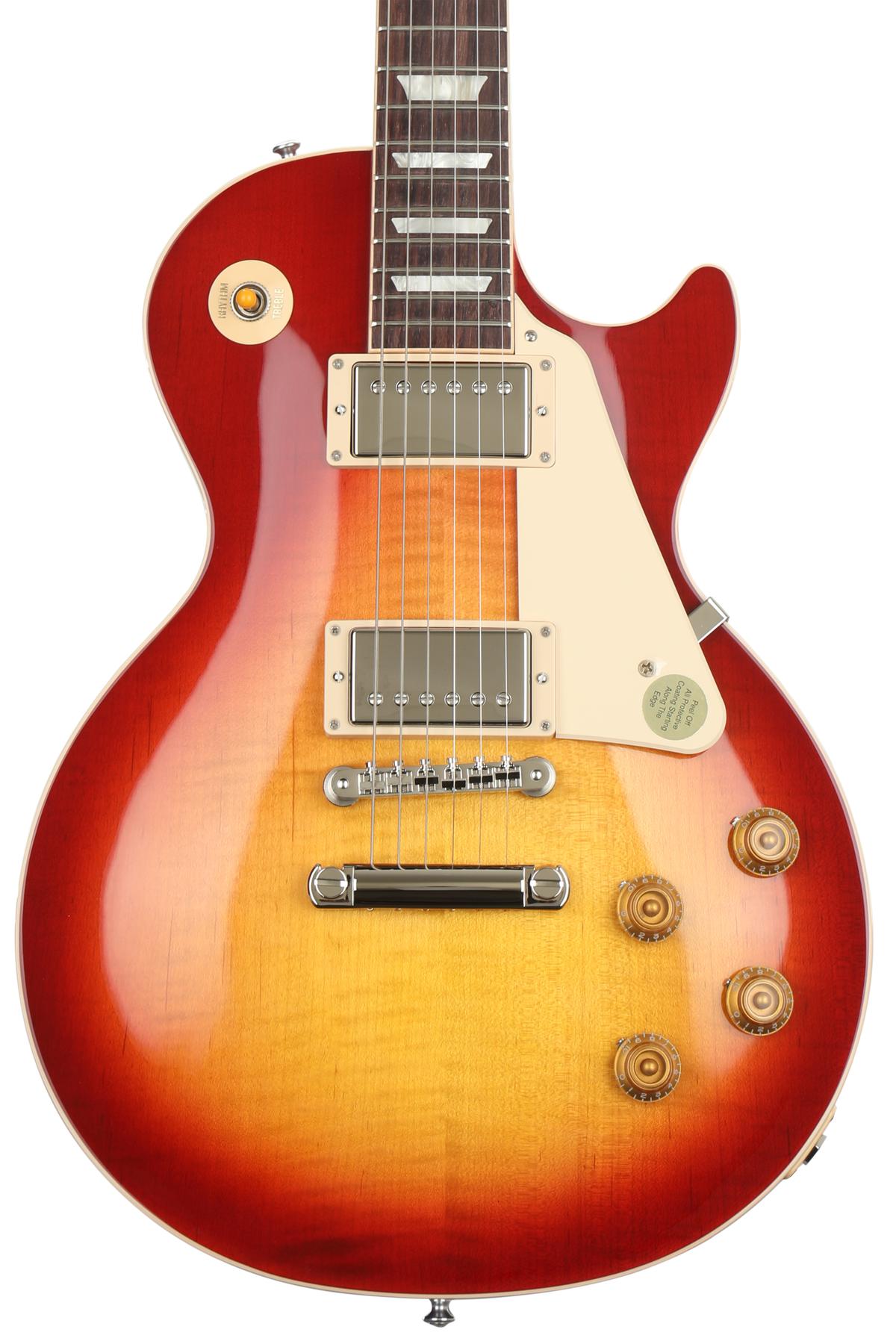 First introduced in 1952, the original Gibson Les Paul was a solid-body electric guitar made of a solid mahogany body with maple top. It's a single-cutaway featuring rosewood fretboard and two pickups. However, in 1957 humbucking pickups were added plus a few more upgrades from the original model.
Today, a Gibson Les Paul costs several thousands of dollars, which not all can afford. So, Epiphone, a company owned by Gibson, makes toned-down versions of Les Paul and offer them at a fairly low price. The Epiphone Les Paul has the same features and design, but they differ in craftsmanship, electronics, and hardware.
Like the original Les Paul, Epiphone models still strive to be versatile in terms of playability and the music genres you can play with it. With Les Paul, you can play rock, punk, reggae, heavy metal, blues, rhythm and more.
Also Great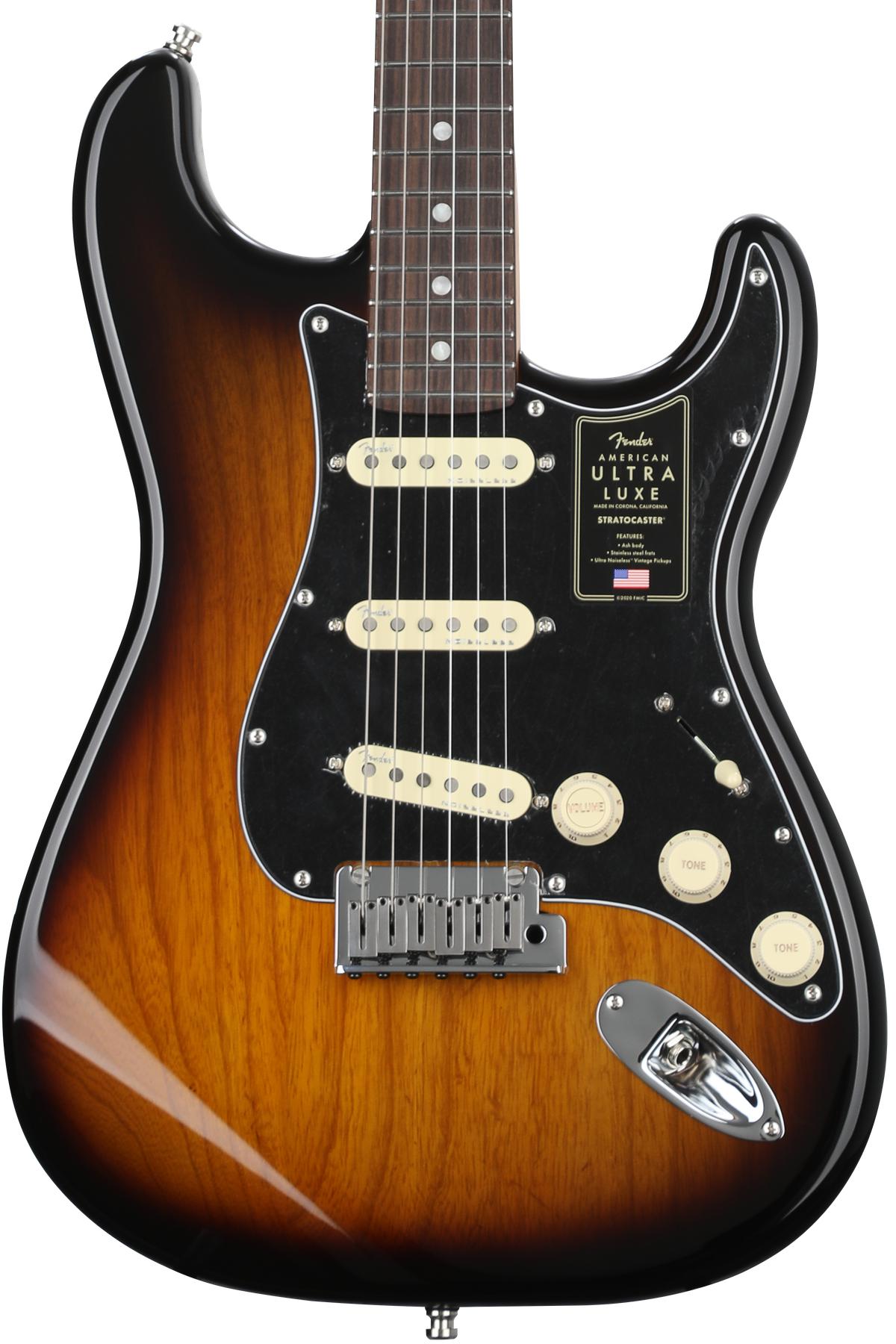 Two years after Les Paul was first released, Fender reveals its very own Stratocaster in 1954. It's solid with a deeply contoured ash body featuring a double-cutaway design. Featuring one-piece maple neck and fretboard with three pickups and a spring vibrato system. Like Les Paul, the Stratocaster also evolves through time — changing the original materials and adding more features to the original Strat.
Getting a Strat could cost you a fortune. Thankfully, there are less expensive Strats available, like the MIM or Mexican Strat and the Squiers. MIM is made in Mexico, and though it's still a Strat, the hardware, electronics, and materials greatly differ from a USA-made Strat. For Squier, a subsidiary of Fender, they also produce cheaper versions of the original Strat without compromising its features and sound quality.
If you like to play rock, blues, and other genres, pick a Strat. Likewise, if you want to be like Eric Clapton, Jimmy Hendrix, and John Mayer, you should probably get a Strat over a Les Paul.
Editor's Pick
Les Paul vs Strat — Design Battle
These guitars are special in their own way. But, what makes them extraordinary? Let's try to unveil that right here.
Body
At first look, you know exactly the difference between a Les Paul and a Stratocaster. The former is a big-bodied guitar, while the latter has a contoured body with a double-cutaway. The design doesn't only impact the looks, but it also affects the sound of each guitar. Since Les Paul is thicker, there is more mass to resonate.
Aside from the shape, the material used also affects the sound. For Les Paul, it's made of Mahogany body and Maple carved top. For Strat, however, it's made of a single slab of wood, usually ash or alder. Since alder is lighter than Mahogany, hence, Strat is also generally lighter than a Les Paul.
Neck
Les Paul has a wider and thicker neck, which is great for note bending. The flatter radius prevents the bends from fretting out and you have more control over the fretboard. Although it's a bit thicker, it's highly playable for any player.
For Stratocaster, it has a slimmer and thinner neck, which is very comfortable for smaller hands. The curvature of the neck provides added comfort to the hands without adding thickness. It's perfect for fretting barre chords and horizontal lead playing.
Also, they differ in the neck construction. Les Paul has set neck, while the Strat has a bolt-on neck. Generally, guitars with bolt-on necks are punchier than set necks. However, guitars with set necks have better resonance and sustain.
Scale Length and Fretboard Radius
Another difference between the two is the scale length — the length of the strings from the nut to the bridge. Les Paul has a shorter scale length of 24.75-inch, while the Strat has the standard 25.5-inch scale length.
We mentioned Les Paul's neck being thicker and wider than Strat. Aside from the neck profile, it's also due to the fretboard radius or the curvature across the width of the fretboard. Most Gibsons have 12-inch fretboard radius, while Fenders have either 7.25-inch or 9.5-inch. A shorter radius means it's thicker with more curve, while a longer radius is flatter.
Pickups
Both guitars are unique, even with their pickups. Originally, a Strat has single pickups while Les Paul has humbuckers. The pickups of a Strat tend to have brighter and thinner sound, yet they can pick up interference from radio signals and electronic current.
Hence, the Gibson Strat has a humbucker in addition to two single coils. The purpose of the humbucker (bucks the hum) is to eliminate the humming and to get higher output, which also tends to be much louder. Therefore, it has a warmer and fuller sound compared to single-coils only.
In general, Les Pauls are used to playing funk, pop, blues, country, soul and light rock. In the same manner, the Strats are more preferred for blues rock, classic rock, metal, punk, and jazz. Since the pickups greatly affect the sound produced by these guitars, choose the one that allows you to play your genre.
Playability
If you frequent to guitar and music forums, you'll always see the topic of the playability of Les Paul vs Strat. Reddit, Guitar Forums and Ultimate Guitar are just few discussion sites with a constant debate about which is easier to play between the two. So, let's take a look at the neck, the scale length, and body to determine the playability of each guitar.
Most players with smaller hands prefer the thinner neck of the Stratocaster. It has a slightly curved fretboard, which is very comfortable for fretting barre chords and lead playing.
However, the thicker profile of a Les Paul is great for added grip when string bending. Since it's flat, it prevents fretting out when bending. The wider neck means there's more room for control on the fretboard.
Strat's scale length is longer with more space between frets and great string tension, which might be a bit challenging to play for smaller hands. In terms of the scale length, Les Paul's shorter scale length will be preferred by small players.
Finally, playability also includes comfort while playing and that includes the weight and size of the guitar. Stratocaster is thinner and lighter than a Les Paul. It has a contoured body which is very comfortable to embrace. On the other hand, Les Paul may lack the contours of a Strat. And, the single-cutaway still needs additional stretch to reach the upper frets.
Which is easier to play — Les Paul or Strat?
Quick Answer: Both Les Paul and Strat have different body shape, neck, and scale length. However, a Strat is much more easier to play compared to a Les Paul. A Stratocaster has a much thinner C-shaped neck, and lesser weight compared to a Les Paul, which makes it easier to play.
Conclusion
There's no wrong or right answer to this question. And, beginners will continue to ask the same question over and over again. Why? The truth is, though Les Paul and Stratocaster are both electric guitars, they are uniquely designed.
Editor's Pick
One's favorite guitar might be another player's worst. If we claim that Les Paul is better for beginners, Strat players will also battle out and present their arguments. The same will happen if we declare Strat to be the best.
Also Great
So, in the end, it's only the player who can say that either Les Paul or Strat is better. Or, they are equal because they are two different things with distinct characteristics. Two different guitars designed for different playing styles and music genres.