Editor's Pick
Squier Mini Strat Electric Guitar
At a very young age, some kids already show interest in playing electric guitars. So, how will you be able to bridge the gap between kids' playful nature to hold and play the guitar, which is definitely not a cheap toy? Thankfully, Squier Mini Strat accommodates not only grownups but also children who want to play great guitars at their age.
CHECK PRICE ON GUITAR CENTER
CHECK PRICE ON SWEETWATER
We may earn commission from purchases made from our links, at no additional cost to you.
A Squier Strat for kids?
Can you really afford to just waste several thousands of dollars for a thing that might not be very useful to your kids?
You can accommodate the longing of your children to have a Strat by giving them a Squier Mini Strat.
How does it differ from the expensive Fender Strat?
Or, the question would be, how did Squier manage to bring out an affordable replica of the high-end Fender?
Designed to Last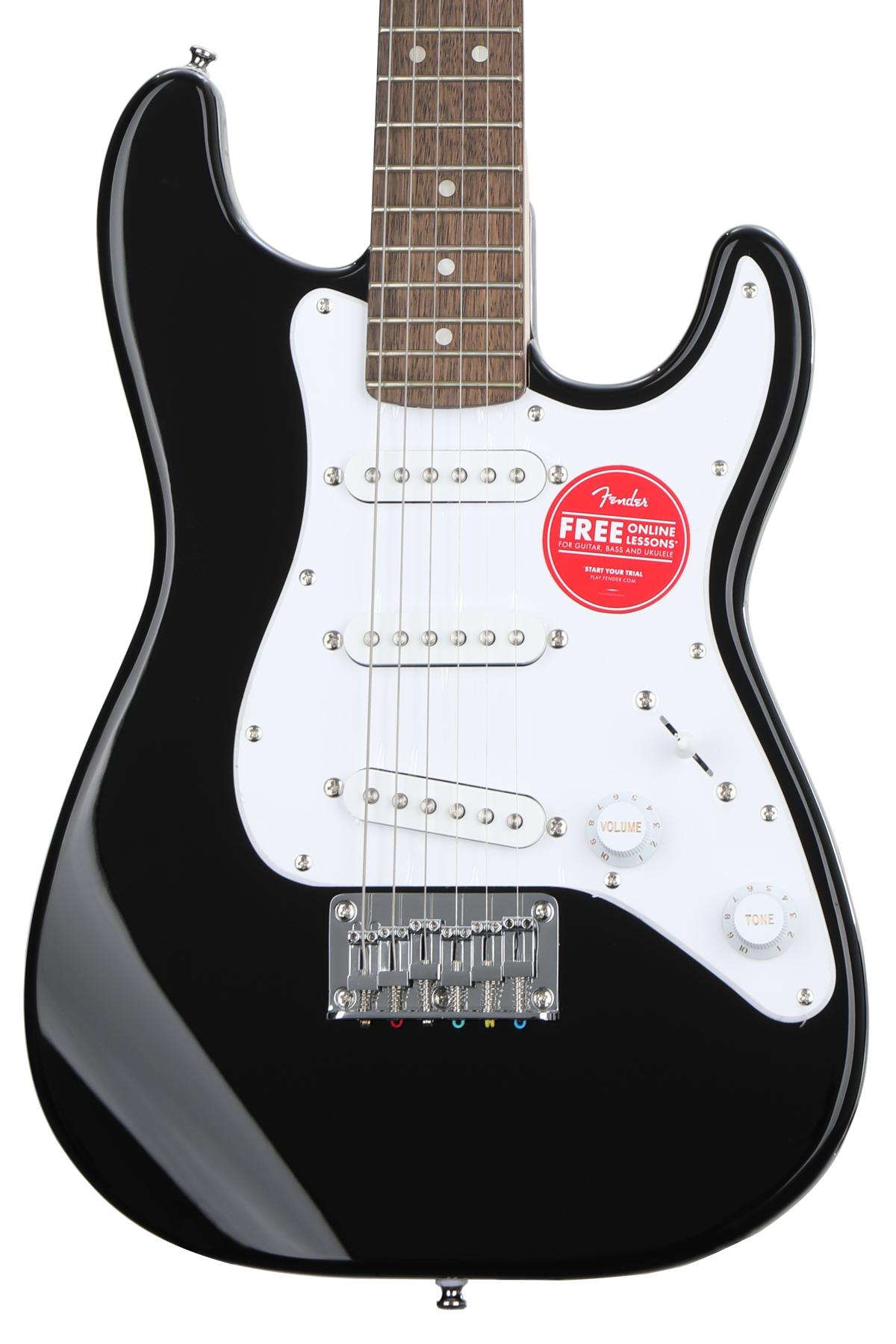 The down-sized ¾ body is made of basswood and C-shaped maple neck.
It comes with a rosewood fingerboard with a 9.5-inch radius that is comfortable to hold with regular size hands.
The finish and the hardware of this guitar seem to be reliable and sturdy. So, this guitar is indeed designed to last.
Pros
Great quality guitar
Recommended for kids
Great finish, no rough fret edges
Great travel companion
Cons
Stays in perfect intonation even for days
[/joomdev-wpc-cons][/joomdev-wpc-pros-cons]
Perfect for Small Hands
The C-shaped neck profile with satin finish is very comfortable to play. It has only 22.75-inch scale length with just 20 frets and simple white dot markers.
The action is quite low, a perfect setup for beginners, especially for those with small fingers.
Since the action is the height of the strings with respect to the neck, those small hands can play a chord without pressing down the strings harder.
Simpler Electronics and Hardware
Even though this is smaller, it still has all three Fender single-coil pickups.
These pickups are wired to the five-way pickup selector switch, a master volume control knob and a master tone control knob.
The master controls can be adjusted to have the right frequency.
This configuration is like any other standard electric guitar.
Therefore, if you have been observing guitarist and musicians for years, you wouldn't have a hard time trying to figure out how to use those controls.
The strings stay in tune so well, allowing kids to play continuously for days without having any problems with the intonation.
This is thanks to the hardtail bridge of this guitar. It also provides great sustain.
Great Sound from this Small Strat
If this is connected to an amp, it will surely produce normal Strat tone, like any regular Stratocaster.
Aside from the signature Strat sound, it also produces a universal guitar sound.
Therefore, it's a great companion for playing hard rock, country and various other music styles.
The basswood and maple combination gives that bright Strat sound. So, even if it's smaller than the regular Strat, the Mini Strat is still a Strat.
You'll get a little punch, light and bright tone from this thing. Clarity is one of the greatest features in the sound of this particular Strat.
Best Use for Jamming
It's ideal for the students who want to show off at home, kids perform in their next recital and children who want to enhance their guitar skills.
However, it's not just good for kids and beginner striving their way up in the music industry, it is for everyone who has the passion for guitars.
Though this guitar is a little heavy for little ones, this comes in handy.
Drawbacks, but not Deal breakers
The Squier Mini Strat is a perfect downsized electric guitar perfect for kids, and kids-at-heart.
There is nothing worth criticizing this guitar. Everything is quite fine, especially for teens and young adults.
Look for the ones with a much shorter profile. This will help them learn fast without playing hard.
With these being said, I highly recommend checking out our review on Ibanez GRGM21BKN , which is also a great downsized guitar for kids and awesome travel guitar for adults.
Verdict
Editor's Pick
Stratocasters are undeniably great guitars. It's versatile, comfortable to play, reliable, playable for a wide variety of music styles.
And, the Squier Mini Strat is among the Strat thane thing is for sure about this guitar, it
Do you agree with this review? Let me know by leaving your comments below.