Editor's Pick
The Squier Affinity Telecaster
Fender has been creating quality guitars since time immemorial but with the Squier Affinity Telecaster, Fender has definitely outdone itself this time.
I love it so much that I am off to buy another as a Christmas present for my sixteen year old nephew, who is an aspiring guitarist like me.
So much for introduction, let's dive into this guitar's key features, shall we?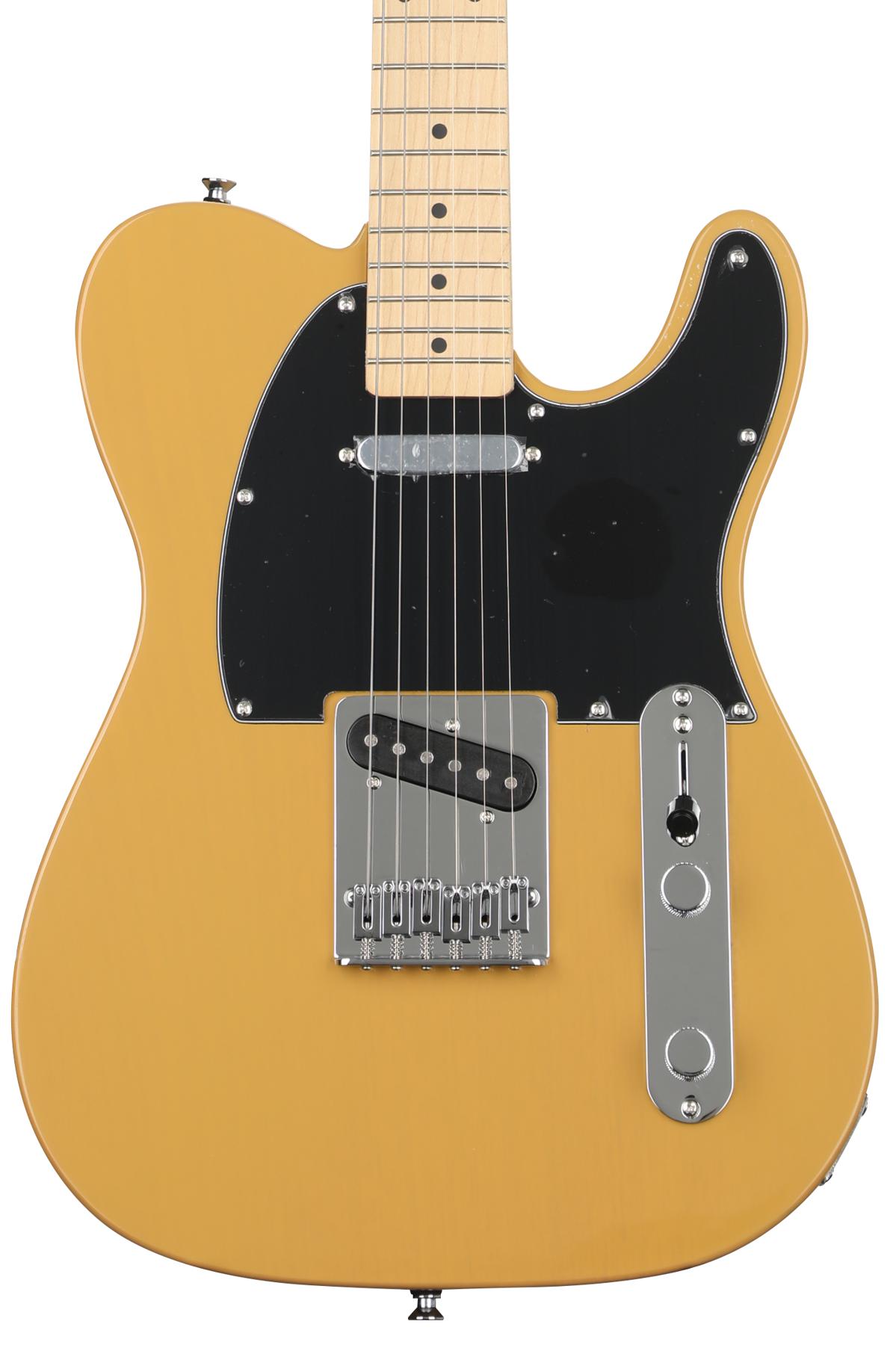 Pros
Quality at an affordable price
Solid build, very durable
Smooth neck
Great tele sound
Great intonation
Cons
Thinner and lighter chrome plating
Tone knobs does not have incremental effects
Quality for Value
Not all that is expensive are of quality and not all that is cheap items are of less worth—sometimes you get lucky that the gods will give you a quality item at a much cheaper price.
This affinity telecaster from Squier is the perfect first guitar for anyone who wants to immediately start playing.
Iconic Styling
Class will never go out of style. With the aesthetics from the original Telecaster combined with modern technology, this master piece will not only attract aspiring musicians but also professional guitarists as well.
The wonders of the Butterscotch finish, is smooth and shiny with a translucent quality.
The two wood used were beautifully fused together that it is barely noticeable- as if the guitar was made from a single piece. You're getting the same solid wood in five pieces rather than the regular three, and the joints are very tight and seamless.
The true straight neck with Polyurethane finish is such a relief because of its smoothness with no sharp edges at all. The simple but sophisticated gold and black two-color headstock logo gives a hint of class without being too flashy.
This guitar boasts the quality of appearance, sound and feel for a very low cost. To the heavy head to the chrome plating on both the bridge and control panel, the quality of its finish makes it a winner piece already!
VIEW: Our full list of best beginner electric guitars
Six Saddle Top-Loaded Bridge
A top load bridge gives that slightly "sexier" feel by reducing the break angle of the strings over the saddles.
Individual saddles can be adjusted for precise intonation along each string making changing string so easy while providing optimal tuning stability as well as the ability to adjust the string height in relation to the fingerboard itself.
Two Telecaster Style Single-Coil Pickups
What good is an aesthetically pleasing guitar if it does not sound great? This guitar is equipped with two Single-Coil Tele Pickups, specially designed to replicate the legendary sound of classic Fender Telecasters.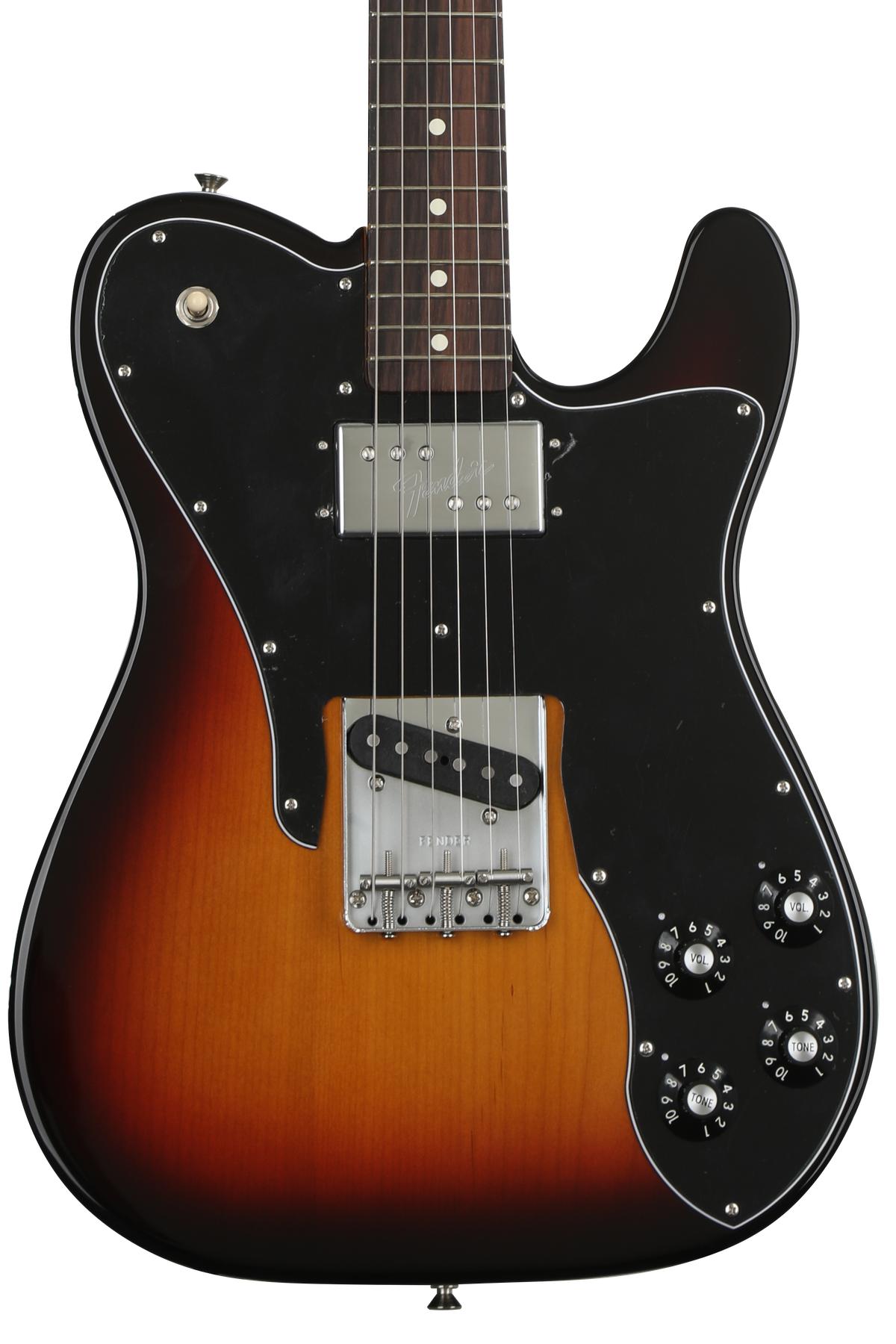 Not only does it look like the original Telecaster, it sure does sounds like it too.
Plug n' play… "Almost"
Even with the advance and classic features included in this guitar, setting it up does not require a lot of skills.
One can simply just grab it, make some minor tweaks and off you go to become the next rock star making it perfect for beginners or those who simply have no time to spare.
A No-Nonsense Guitar
In sum, this guitar may not be as fancy as the original Telecaster but it sure is a no nonsense guitar.
Packed with professional features for beginner or aspiring guitarist at a lower cost, this guitar will surely make it worthwhile to have whether at home, at the back of the truck or in the studio.
Who is This Guitar for?
With that all said this piece is definitely a perfect match for beginners who have never tried playing the guitar before, parents or grandparents or aunts or uncles who wants to give their teenage children or grandchildren or nieces or nephews a guitar to start practicing with.
This also includes those advance players who just wish to have a guitar for jamming and practicing or even people who are just looking for something to give as a gift for any occasion.
Verdict
Editor's Pick
No matter if you are a beginner or novice or even a professional, the best electric guitar design sold in the market today in the best value possible is the Squier Affinity Telecaster, a solid electric guitar with the classic aesthetic style and equipped with original features.
With versatile sound and easy playability, as well as a head-turner finishes, this guitar will surely make you hit that order button.