Recording music ideas anytime with ease has been a common challenge to most songwriters. For me, I still need to sit in front of my computer, use DAWs, connect the mic, the guitar, and all the external music equipment.
And, by the time I'm done with the setup and ready to record, my music inspirations are already gone.
iZotope simplifies recording and music-making with its new Spire Studio. It's a small and powerful multitrack recording tool that helps you make music faster and more efficiently. In this review, I'll show you how recording is made easy with the Spire Studio.
Pros
Highly portable and reliable recording tool
With Soundcheck button to automatically set gain and activates DSP
Comes with phantom power, no need for external power

Cons
Basic editing features via the app
Can only add effects on input before recording
Internal memory isn't expandable
Design and Features
iZotope Spire Studio is a compact multitracking recorder and a slight slope-sided cylindrical that fits the palm of your hands. It only weighs around 1.6lbs with 4.8 x 4.4 x 3.4 inches dimension. A very handy music gear that boasts tons of features and capabilities.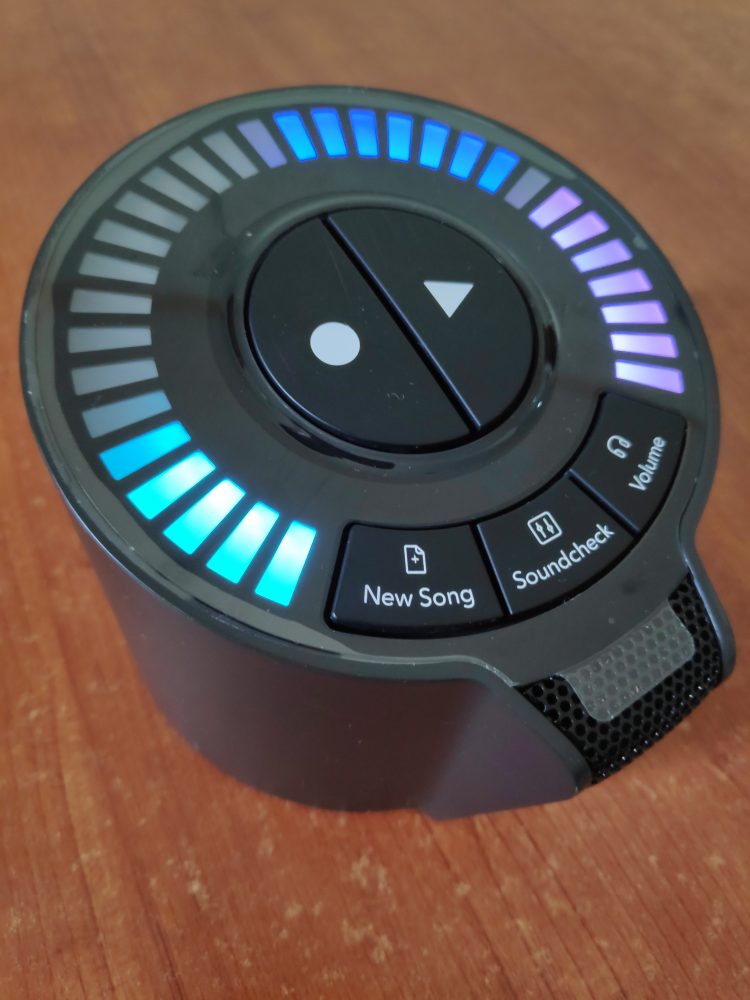 I would like to start with the built-in microphone. Unlike your home studio, you don't need to plug-in or trouble yourself with what kind of microphone you'll use. Spire Studio has a front-mounted omnidirectional condenser mic for acoustic instruments and vocals. So, this isn't only for music recording, it's ideal for podcasting as well.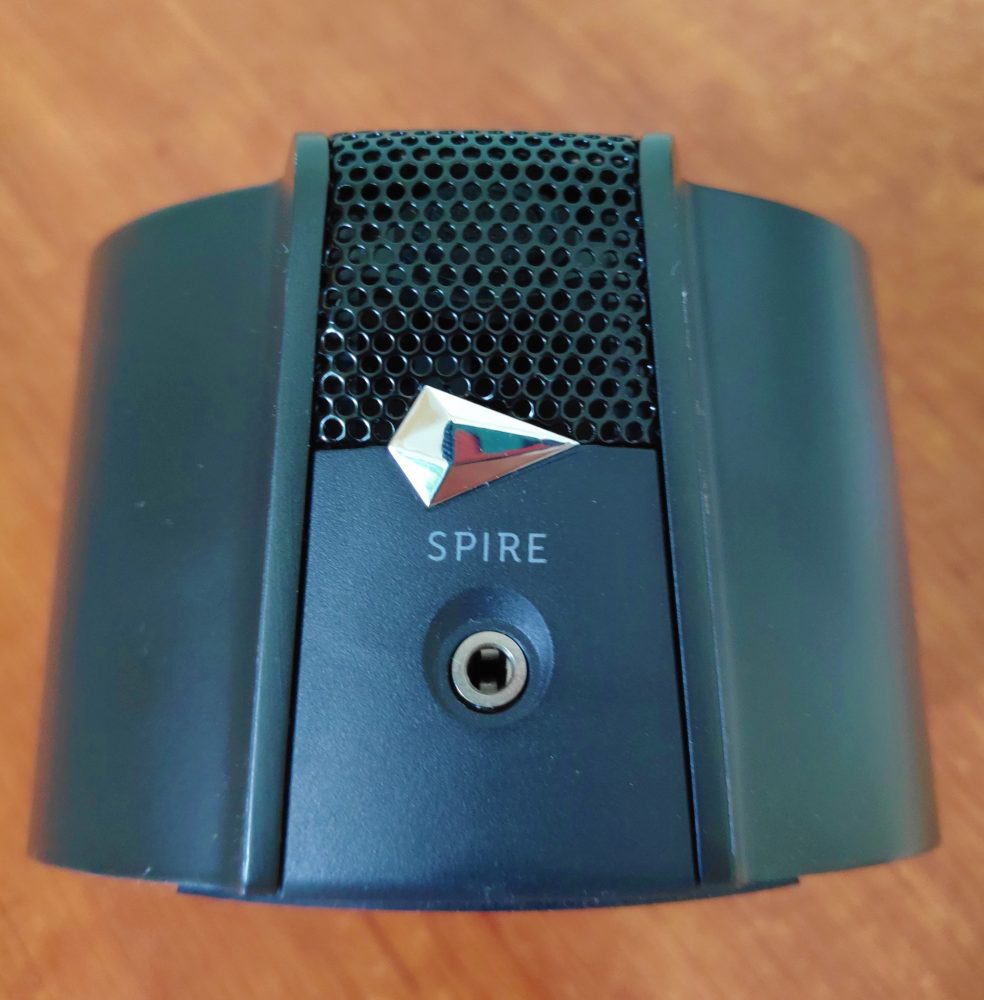 In front, you'll find the first 3.55mm headphone output jack right below the Spire logo and the microphone grille. The other headphone jack can be found at the back where you can find the On/Off button, two XLR/TRS combination ports with a 48V phantom power switch and the 5V DC power supply for charging the device.
On top, you have five buttons — Record and Play at the center, while the New Song, Soundcheck and Headphone Volume sit on the circumference. You'll see the touch-sensitive, multicolor LED ring in eight segments representing the maximum of eight tracks it can record.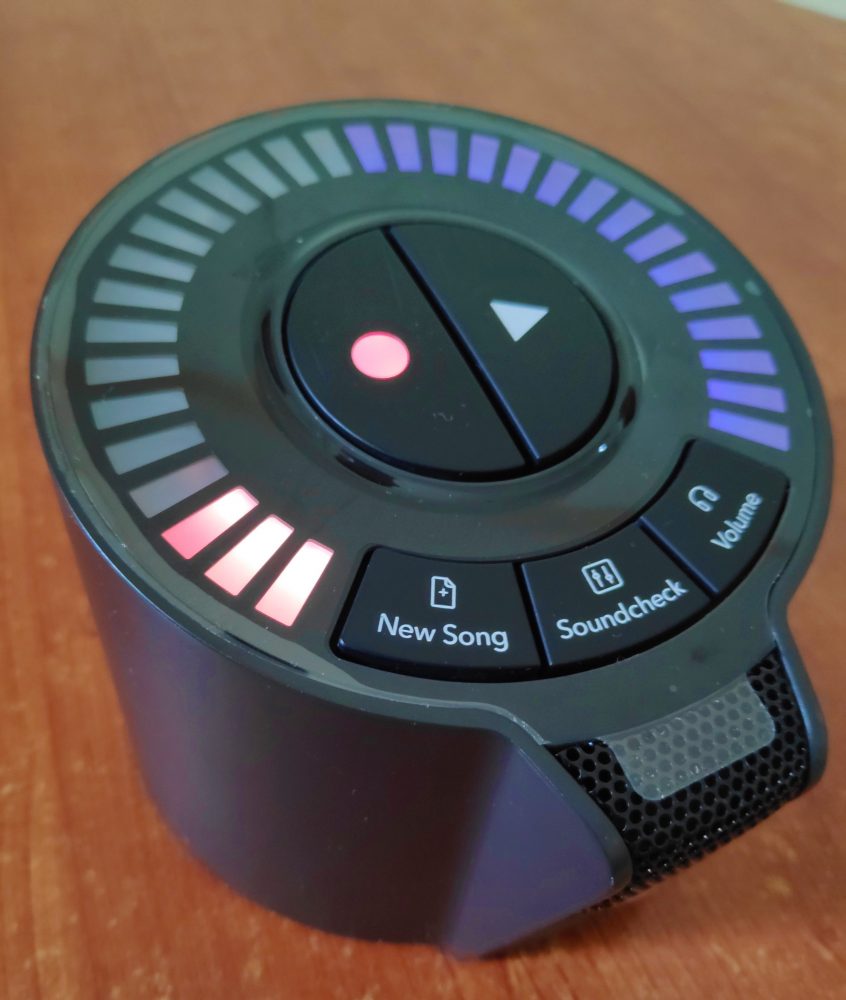 Despite its seemingly simple appearance, it can record tracks at 48kHz/24-bit resolution. Its internal battery gives you up to four hours of life when it's fully charged. Though it has limited internal storage, it has up to six hours of recording time.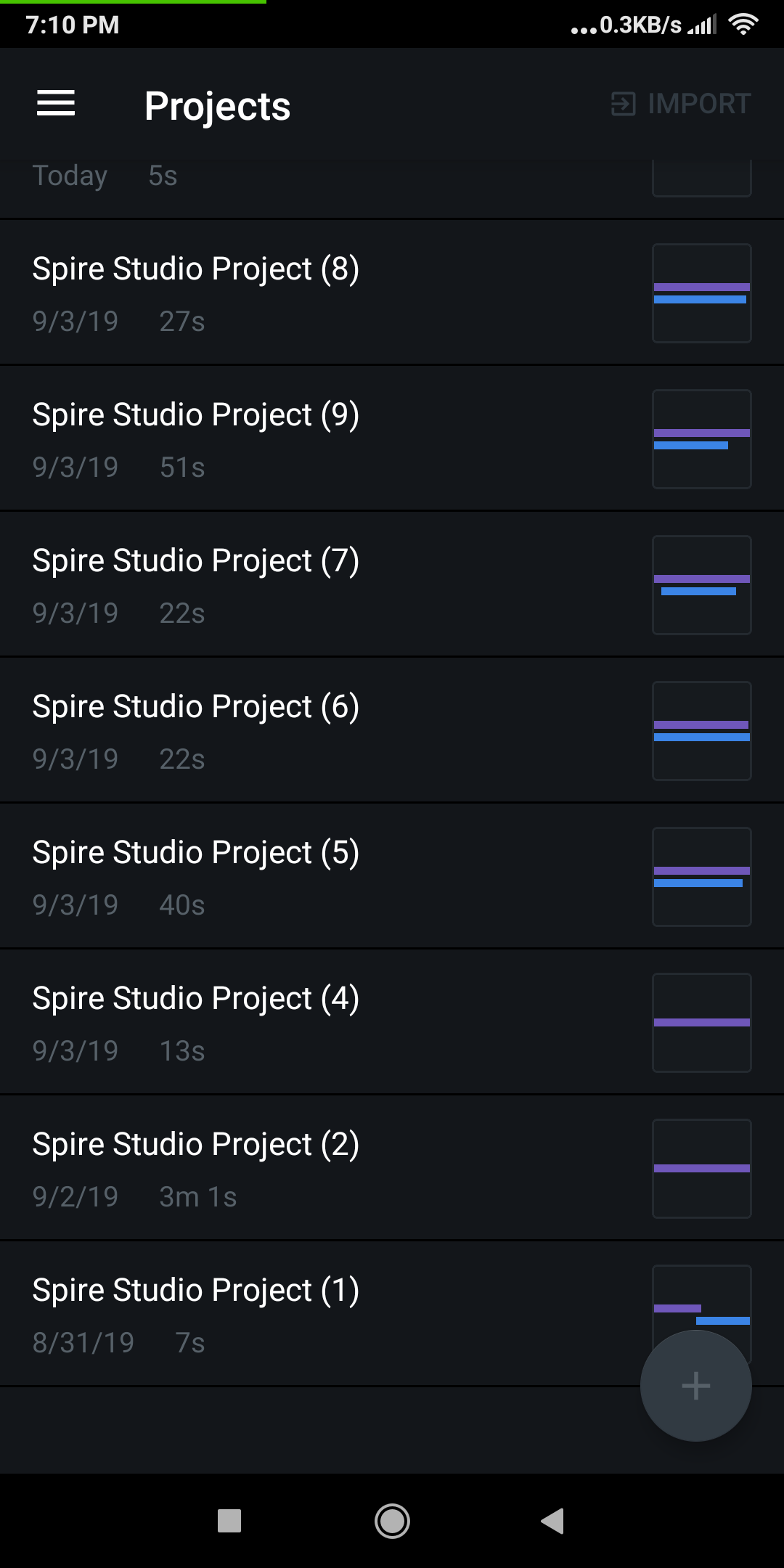 For me, Spire Studio itself is already a big advantage for musicians. No need of complex setup, wiring, and big equipment. Just this handy device to store all your musical ideas.
However, if you want to become more efficient, Spire Studio gives you more connectivity. This tool comes with an app for your iPhone and Android devices.
This will not only give you accessibility, but it provides you more versatility on the effects, including delays, reverbs, EQ, amp, and so on.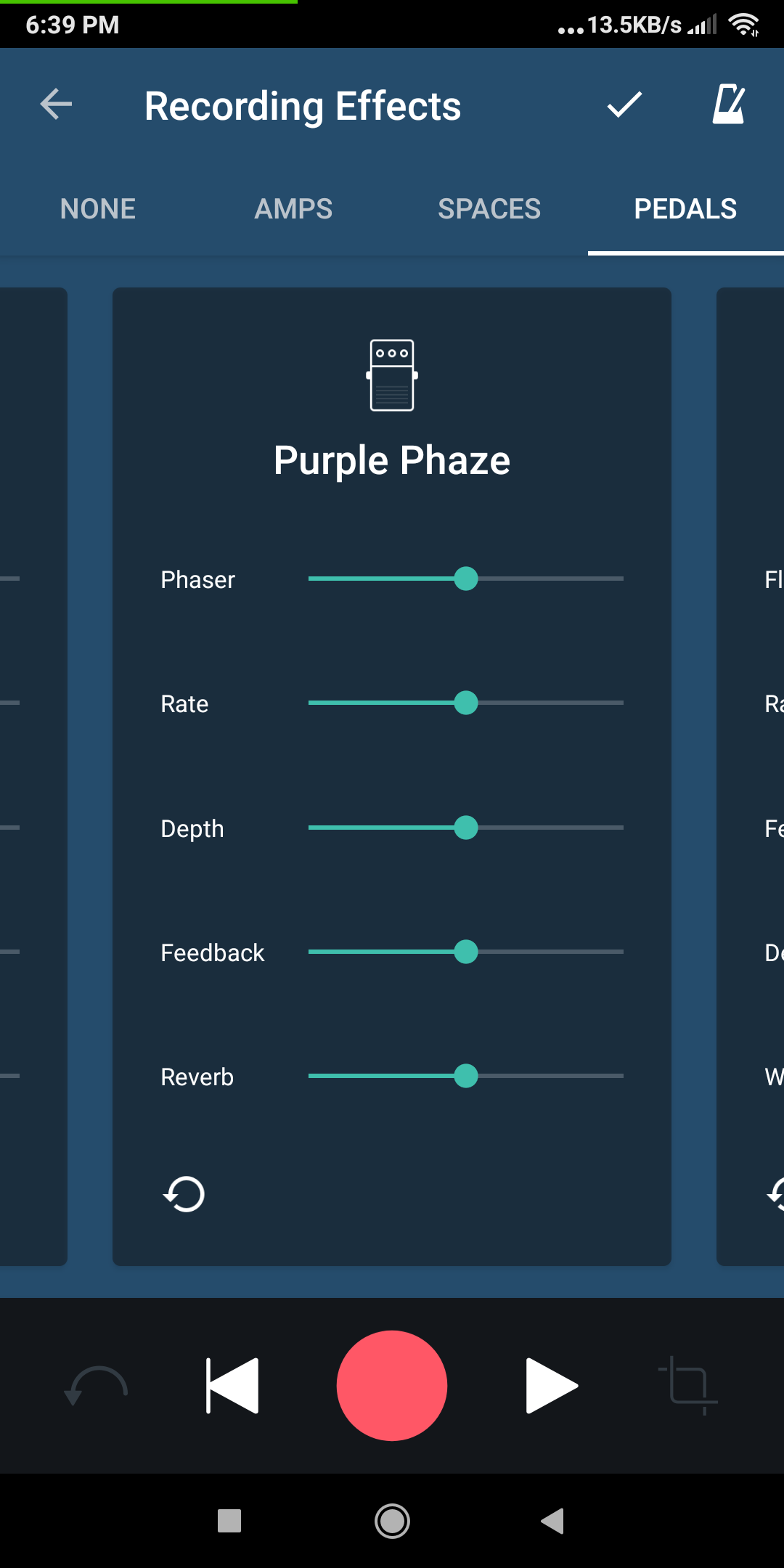 Though the effects on the app aren't very advanced, there's one aspect that I like about it — wireless music transfer. No need for additional wires when sharing the tracks you've just recorded. It's Wi-Fi enabled, so you can easily share and import your music directly to SoundCloud, social media or send it via Dropbox.
How it Works?
Using Spire Studio is simple and straightforward. You don't need any manual, at all. Perhaps, you need to read the manual, but, the operation is pretty simple. The purpose of the gear is to give musicians the convenience to record up to eight tracks with a few controls.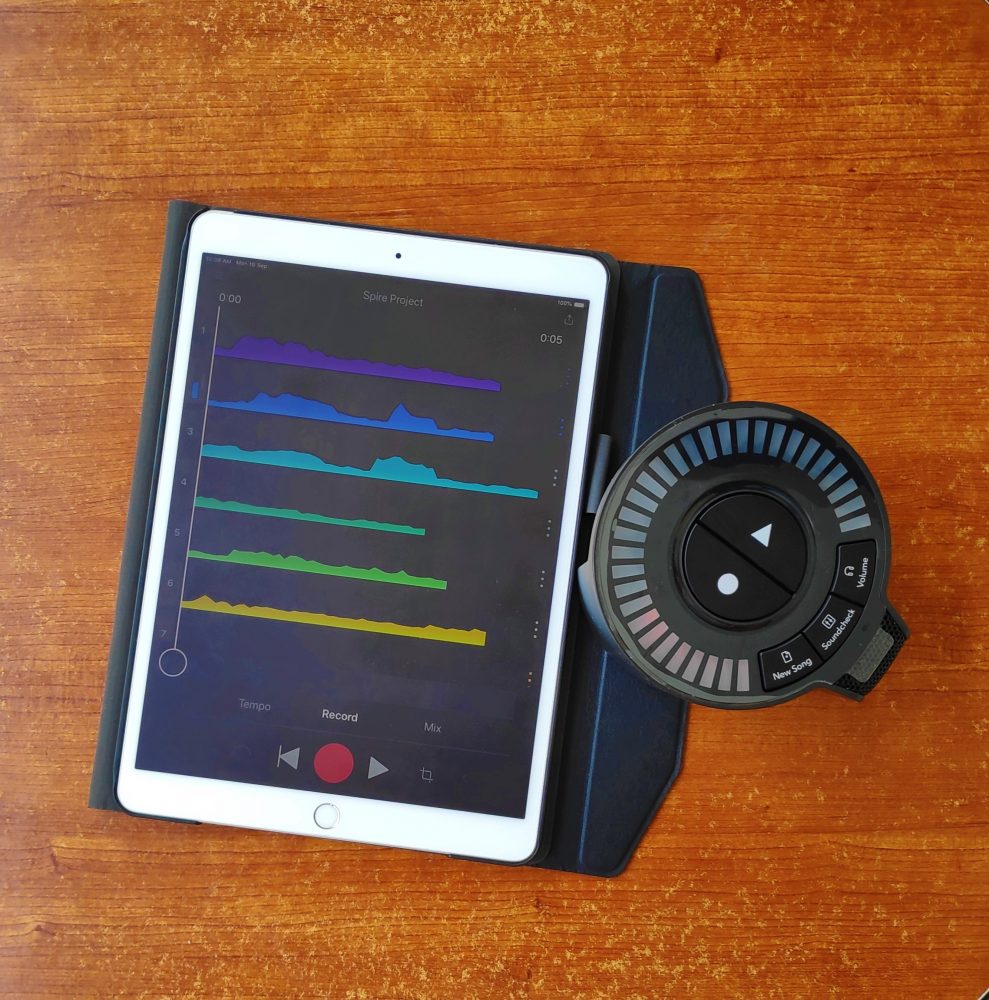 For this review, I would like to emphasize the advantage of using it with an app. At least, for the first few times, because you can see the meaning of what's going on in your Spire Studio. Once you know how the tool behaves every time you record a track, you can reserve the app for the effects.
To start, simply press the New Song button or you can create a New Project via the mobile app. Once you do, the built-in mic will automatically begin to work, which can be seen from the signal displayed on your phone.
Likewise, you can also see the signal in the tool via the incremental illumination of the LED ring.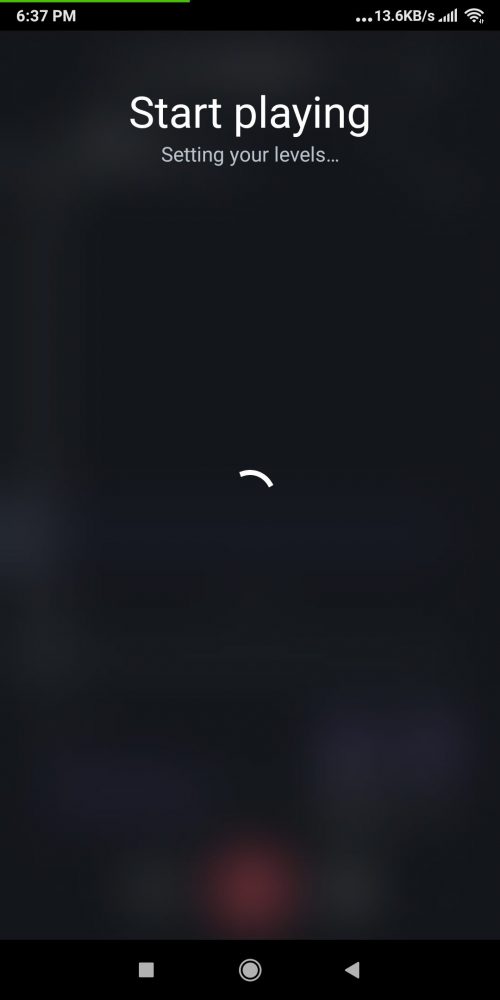 Now, you can press the Soundcheck, which is a very useful part of the tool that automatically sets the optimal gain level and activates the intelligent digital signal processing (DSP) onboard. This helps reduce noise, clipping, room reverb and so on.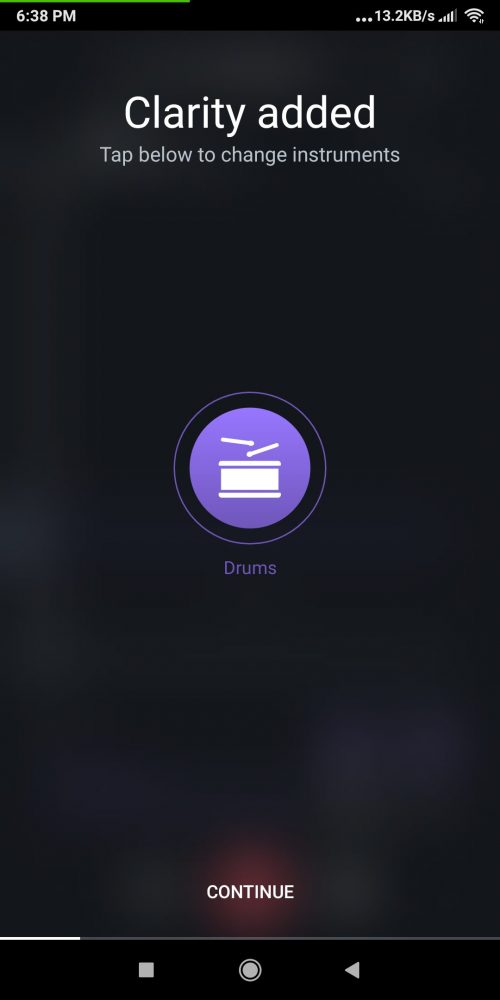 Play your instrument or simply speak on the mic and the tool detects it as indicated by the incremental illumination of the LED ring or in the app. This is like calibrating the app to give you the best recording environment. You can use the option before every recording of the eight tracks.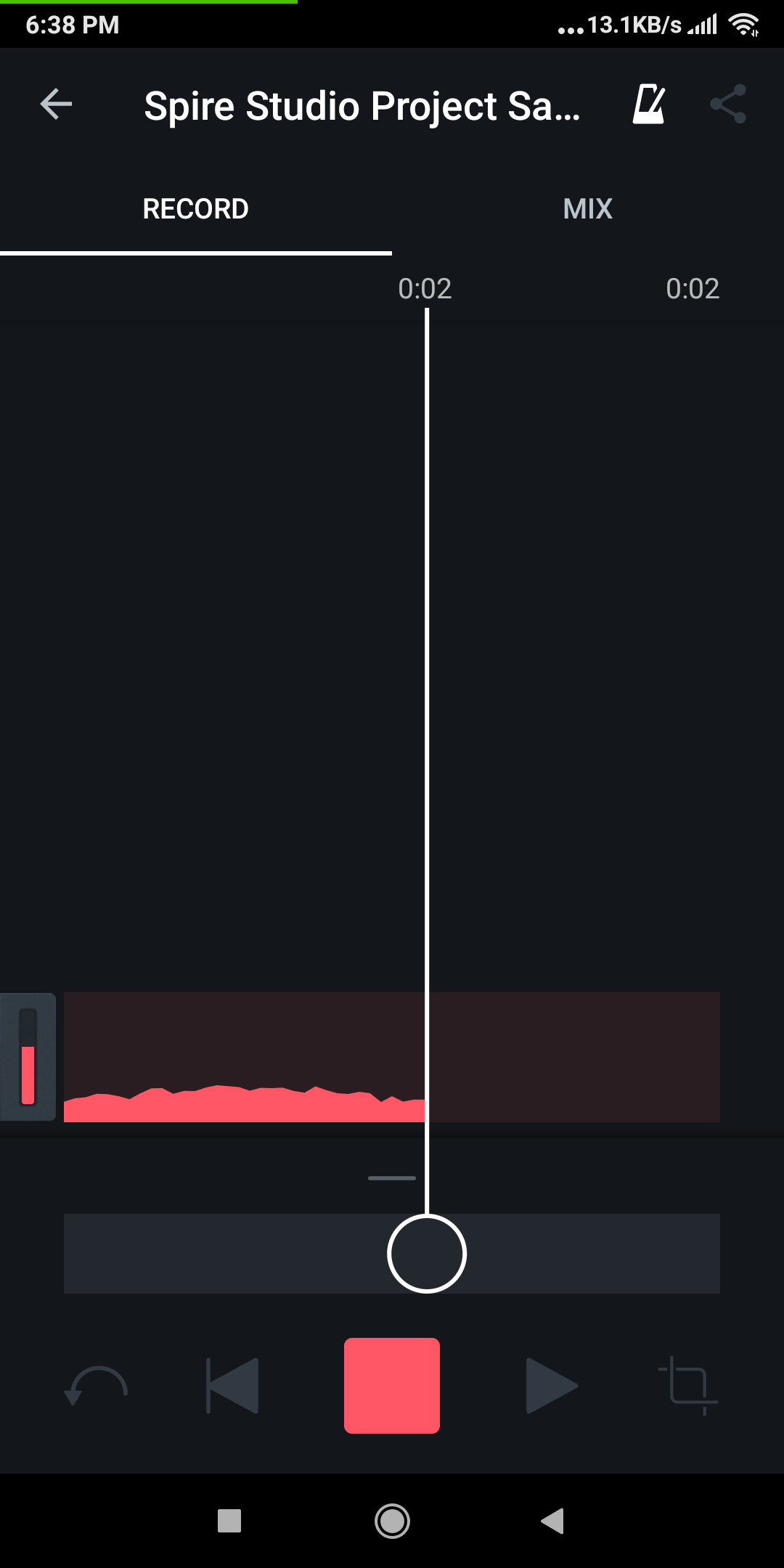 You are now ready to record your first track. Hit the Record button (the semi-circle at the left) to start recording. Listen to the two-bar count-in, then start playing or recording.
Now, if you want to add another track, just trigger the Record button again to record the next, up to eight tracks. Press the other half of the circle at the center, the Play button, if you want to hear the tracks you've recorded.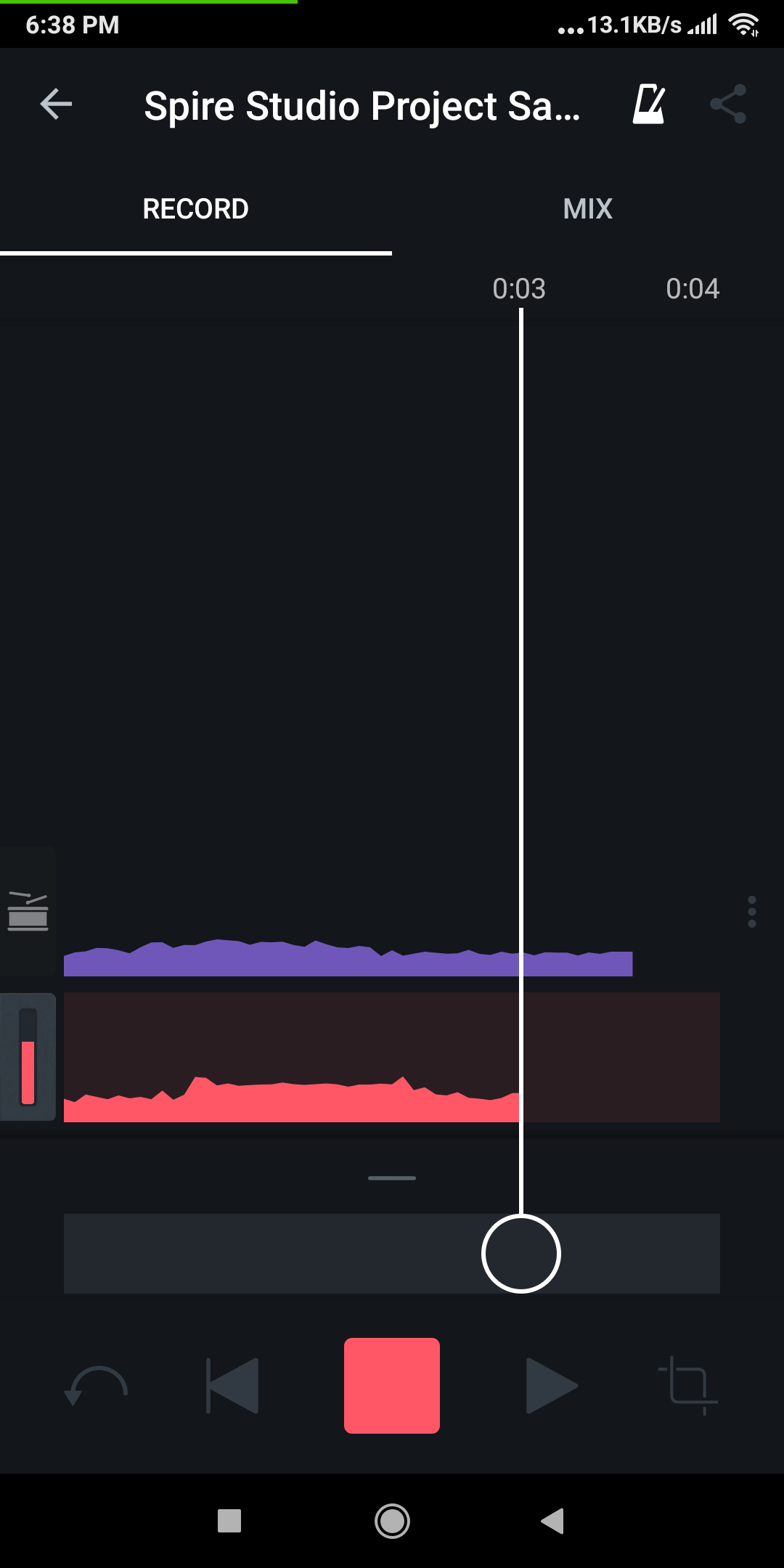 These tracks are represented by a different set of sound waveform (with different colors) in the app and the illumination of the LED ring from right to left. The colors of the LED ring corresponds to the color of the sound waves displayed in the app. So, for example, if you have three tracks (purple, blue and green) illuminating the first three sets in the LED ring, you can also see three waveforms (purple, blue and green) from top to bottom in the app.
You can do more with the waveform that you've just recorded through the app. Simply tapping the track brings you to options like Recording Effects, Soundcheck and Monitoring On.
Though limited, yet, there are still few effects that you can use on your tracks. Additionally, you can export tracks to your DAW or upload to the cloud.
Performance
This little trunk-shaped tool with slightly-sloped top has a lot of power on board. You can record either vocals or instrument or both.
When plugging a mic or an instrument to input 1 (or to both back inputs), the built-in microphone is disabled. This is perfect when recording instruments only, or when you need two vocals. Plugging into input 2 keeps the built-in mic active.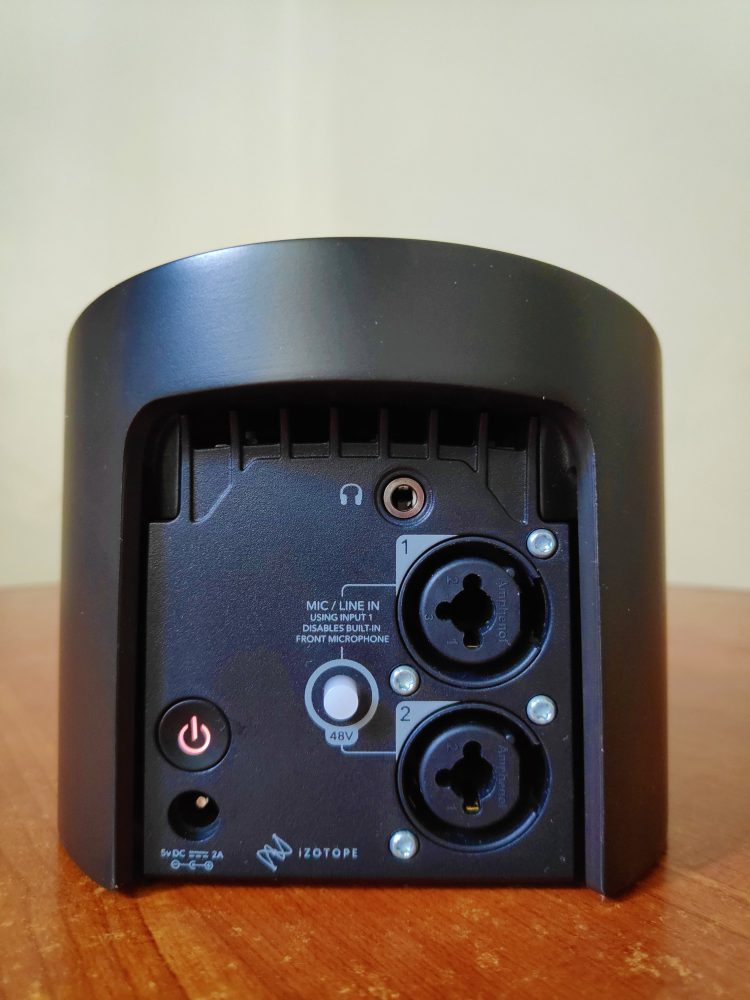 The microphone onboard is a very reliable one, which captures most nuances of the sound source. Though it can't compete with high-end mics like Neumann, you can record anywhere without the need to plug any mic. This is way better than recording from your phone, based on my personal experience, though.
I can also use another mic and plugged it into the XLR input on the back of the Spire Studio. If you'll a mic that requires phantom power, simply push to the dedicated button and you can use the mic. These inputs can also be used to accommodate other sources like electric guitars.
There are effects available on the mobile app. But, just to remind you, you can use (choose) effects before recording a track and not after the recording. There's a preview for each effect, so you'll know the difference. Yet, beware as well that the effect will apply to the next track. Ensure that you change the effect or turn it off, or you'll get echoes in your recordings.
This recording tool has a lithium-ion battery, which when fully charged can be used for four hours. This is more than enough if you want to record some inspirations and spark at the moment.
Last, but definitely the best feature that I love about the Spire is its ability to export files to DAW and the cloud. It produces quality recordings that are also share-worthy. Though it can't totally replace DAW recording system, at least it aids to faster sound recordings.
Value for Money
There is no other multi track recording tool that is cheaper and more versatile than this. The ability to record not just one, but eight tracks and the ability to edit and export files are excellent features of the Spire Studio.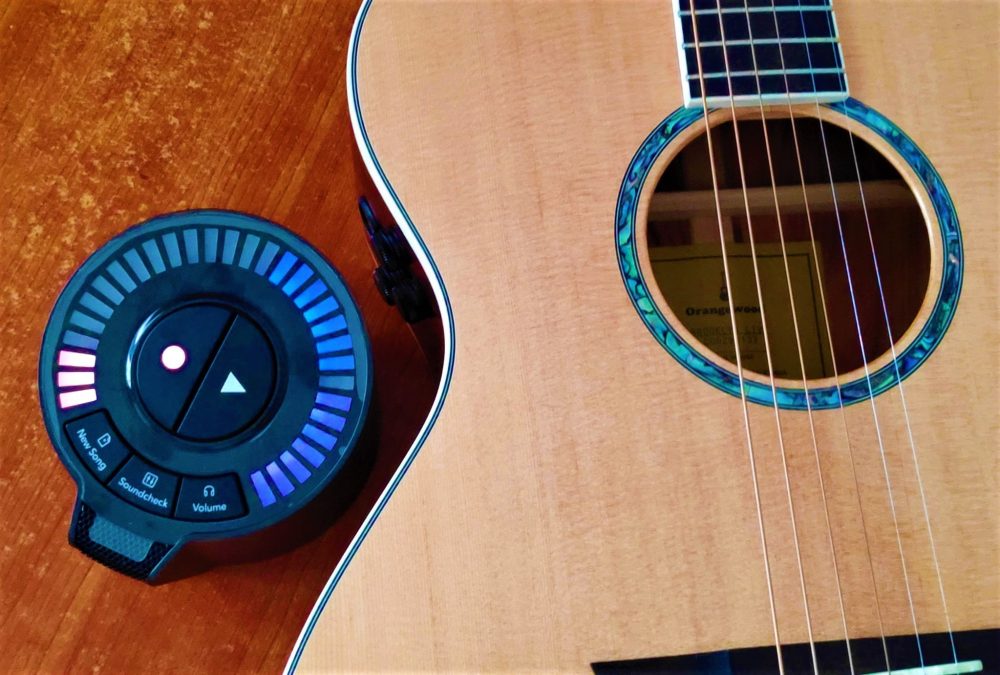 From quick recording, simple editing and exporting of files, you can do it as fast as you could. With the aid of the mobile app, making studio-quality recordings anywhere has never been easy. Overall, iZotope Spire Studio offers more value for the money you invested in it.
Verdict
iZotope Spire Studio is the ultimate recording tool that gives you portability, flexibility, and great performance. Great to be used with a mobile app, you can access more effects that you can add to your recordings. It's made with quality and delivers the performance it promises.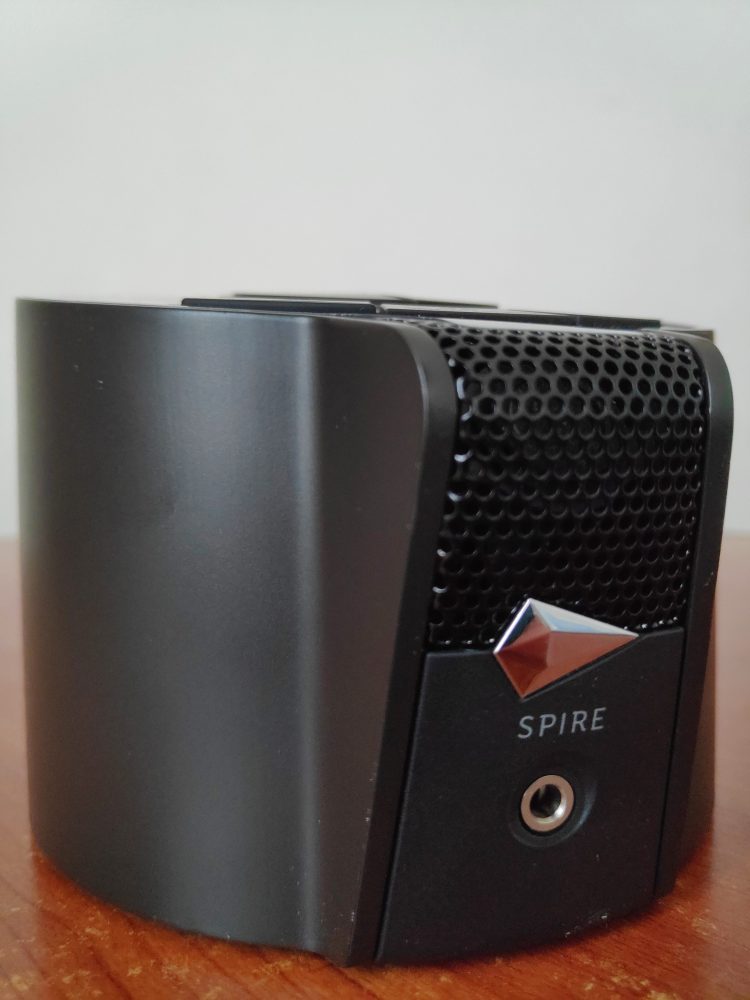 The inputs and outputs really give the users more freedom to recording whether instrument or vocals for a song or podcast. With the rechargeable battery onboard, you'll be assured of four-six hours of recording time. Since it has a built-in mic, you can record anytime and anywhere. A perfect handy-dandy, yet compact recorder on-the-go.