The SG guitar became the rock icon in the 1960s after it was introduced as an update to the popular Les Paul. Particularly, Gibson SG became the rock guitarist's favorite.
Legends like Eric Clapton and Allman Brothers were among the first few players of the guitar.
While everything about the SG is top-notch, not all players can afford it. Hence, Epiphone introduced its cheaper alternative —the Epiphone SG Special VE.
It's among the top-sellers in the market because it's made extra special.
From a rock guitarist's perspective, I'll give you a simplified, yet comprehensive review of the iconic electric guitar.
Editor's Pick
Pros
Plays well like the expensive Les Paul and Gibson
Quality material, built to last
Body feels light, but supports you well as you play
Guitar stays well-tuned even for long hours of jamming
Cons
Some fret edges are a bit sharp, need to be sanded
Action needs a professional setup to play it
Finish is prone to dents, scrapes, and scratches
Design & Construction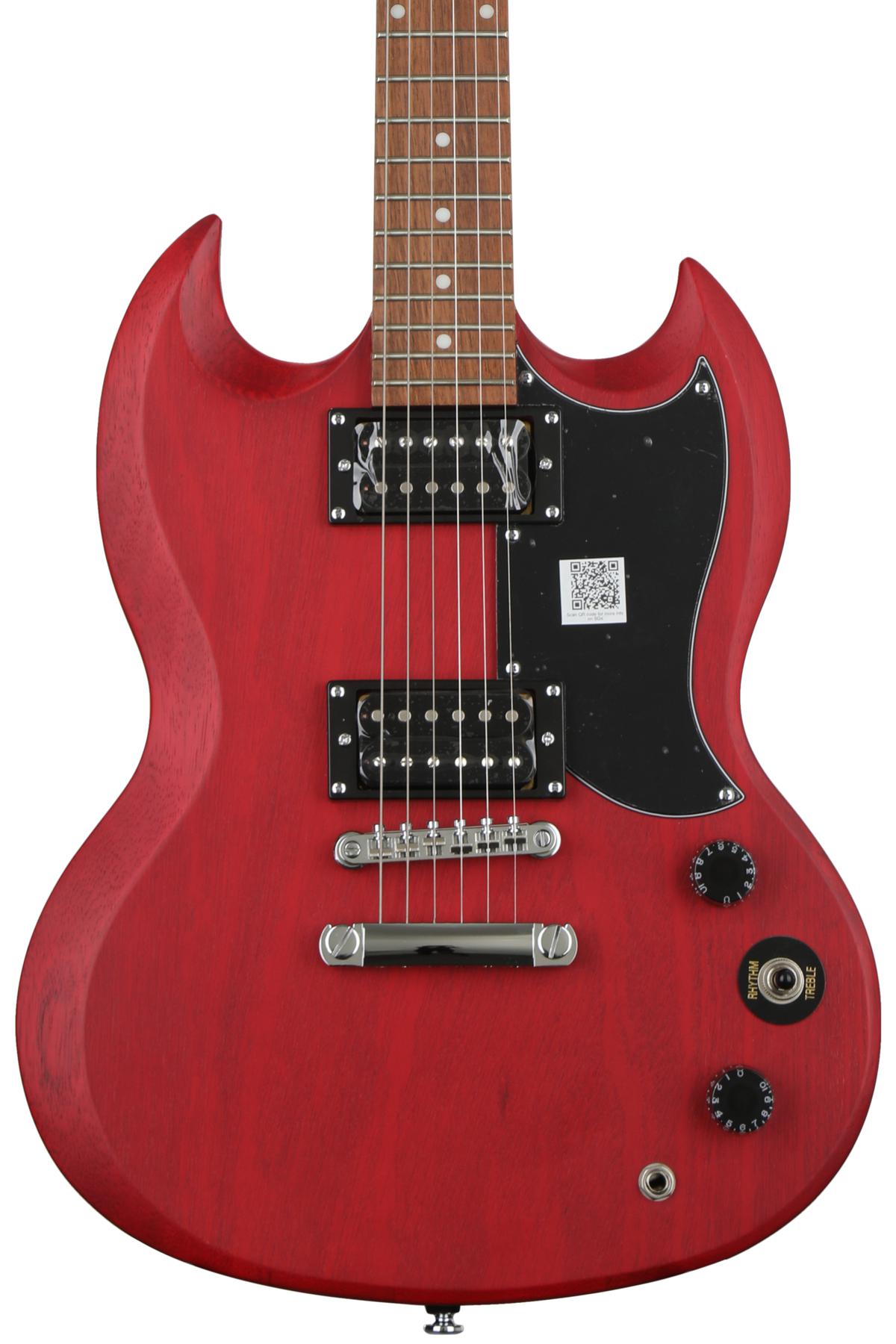 This premium solidbody guitar is made of Poplar with Mahogany veneer and Satin finish. It has a double-cutaway shape with the classic '60s SlimTaper D neck profile. Made with bolt-on Mahogany neck, so you are assured of its stability, especially when doing fast play.
To lend you an air of vintage vibe, SG Special VE doesn't only sound classic, but it also looks classic. The vintage Heritage Cherry Sunburst finish depicts how the old instruments really look like. You can also choose Ebony, Cherry, Vintage Sunburst or Walnut Vintage Worn finishes.
I like the black pickguard because it's simple, yet live up to its purpose. The guitar is lightweight and only weighs around 11lbs. Although sometimes it'll feel unbalanced, you can still play with ease because of its smooth neck and sturdy body construction.
Personally, I love how the 1960s SlimTaper D profile neck with Satin finish is perfect for this guitar. It's a bolt-on Mahogany neck with a standard scale length of 24.75-inch. You'll have the Rosewood fretboard that has a 14-inch radius, 22 medium jumbo frets and Pearloid dot inlays that serve as fretboard guide and markers.
Both the neck and the headstock seems to be soft. It still got the 'Clipped Ear' style headstock like the 1960s, it has the Epiphone logo in silver and a "2017" at the back. The tuners are premium covered with a 14:1 ratio for faster and more accurate tuning.
It has solid hardware with the classic SG style LockTone Tune-o-Matic bridge and Stopbar tailpiece combo, a master volume and tone controls and a three-way pickup selector. These controls give you more versatility with the sounds of the guitar.
As an entry-level guitar, Epiphone sees to it that it's equipped with useful features even at an affordable price. It features their very own open-coil Ceramic-8 humbuckers in the neck and bridge. These offer higher outputs than the vintage Alnico magnets. So, you'll get pronounced top-end tone, smooth mid-range, and tight low-end tone.
Playability & Performance
All SG Special guitars have slimbody and lightweight profile. The Epiphone SG Special VE inherits this feature and it's comfortable to hold and to play. The double-cutaway design helps you access the neck and the upper frets easily, while the scale length allows you to run up and down the fretboard pretty quickly.
I think, aside from the neck profile, the worn finish also aids the nice feel of the fretboard. Although the finish isn't as glossy as other guitars, it makes the surface smoother, so you can play faster without any problem. Hence, not only that the finish looks better, but they also make the guitar more playable.
Unfortunately, the action isn't as good as the fretboard or the finish. It's really bad and I need to really "set it up." I had to lower the bridge and adjust the truss rod for a couple of minutes to make it work. For newbies, you need to go to a guitar tech, otherwise, you'll ruin your guitar.
For me, the strings also need upgrading as they aren't the best in the market. When you change the strings, the tuning and intonation of the guitar will greatly improve. This will also improve its playability as well as its sound quality.
The bridge and the chrome die-cast tuners are pretty much reliable to hold the tune well and keeps the strings stable. The tuners can be changed accurately to ensure that you can get the right tuning fast and holds it for quite long. So, whether you need to practice for hours or jam with friends, the SG Special VE is your reliable companion.
Sound
Epiphone SG Special VE is among the well-sought affordable guitars, especially for rock players. It has the looks, the feel and the sound quality that rock guitarists want in a guitar. Legends like Eric Clapton, the Allman Brothers and Tony Iommi of Black Sabbath are among the players of this iconic guitar.
What I like about this guitar is the fatness and clarity of the sound it produces, even way better than its expensive alternatives. Thanks to its Poplar body, you'll get balanced tonality and rich harmonics. The rosewood fretboard also helps you achieve warmth and great sustain.
The humbuckers onboard allow you to achieve powerful chords and solos. They complement the tonewood and materials used to provide warmth, punch and desirable midrange. Invoking the pair of the Ceramic-8 humbuckers provide you with an even wider tonal range.
Overall, it's a versatile guitar with well-balanced output for hard rock guitarists. Unfortunately, it won't accommodate super high-gain that metal players like. Yet, it's a nice guitar for practicing and jamming sessions.
Value for Money
Having this affordable guitar is already a blessing to most guitarists who can't afford those expensive Les Paul and Gibson. With its nice craftsmanship, reliable hardware and electronics, Epiphone SG Special VE is already a great investment.
Although this isn't as versatile as expensive guitar, playing different sounds through the humbucking pickups is already an advantage. At this price range, not all guitars are created equal. And, not all affordable guitars give you the playability and performance as the SG Special VE.
I forget to mention, the aesthetics and the finish are outstanding. The fretboard and neck are stunning and designed to accommodate fast play. So, whether you're a professional or a beginner wanting to play rock, this guitar helps you learn easier and play faster.
Verdict
Editor's Pick
Simple, straightforward, yet playable Epiphone SG Special VE is what rock players need without spending so much money. The classic looks and excellent finish help you appreciate the playability of the Epiphone guitars. The jumbo-sized frets, the double-cutaway shape, and the rosewood fretboard allow you to play faster without falter.
As a guitar priced this low, you can't expect it to be perfect. The action is quite high and needs professional attention. Though the finish is awesome, it won't stay fresh and shiny for long as it's prone to scratches. Despite these, it's still a good guitar with power inside.