RESONATOR mahogany closed back for bluegrass or clawhammer style banjo
Advanced Tuner: Closed gear tuning pegs, contains oil, so it would not rust so easy
5 String Full Size Banjo with Geared 5th Tuner
Rich wood and high-gloss finish
24 BRACKETS for nice loud ring and tone
Two Styles Available:it can not only be a resonator type but also an open back type by detaching its back
Overall length - 38 inches
Classic Traditional style
Comes ASSEMBLED and includes BONUS BANJO BOOK with chord charts
Bone Nut & Saddle: Well wear-resistance,perfectly vibration transmission
24 Bracket with Closed Mahogany Back; Nut Width - 1.25 inches
24 brackets with maple bridge
Recommended for beginners who'd like to learn the banjo
A convenient and versatile choice for newbies
A great banjo suited for players of all levels.
A quality banjo for all kinds of players
Durable choice for beginners
A banjo is an awesome instrument that anyone can play freely, with the lovely country vibe that sweetens the spirit.
So if you're looking for one to start playing, then it's time to find the best banjos for beginners! Read on as I show you an informative purchasing guide and my top choices.
How to Choose a Banjo Suitable For You
Wondering how to choose a banjo? Here are the crucial factors and tips to get you started: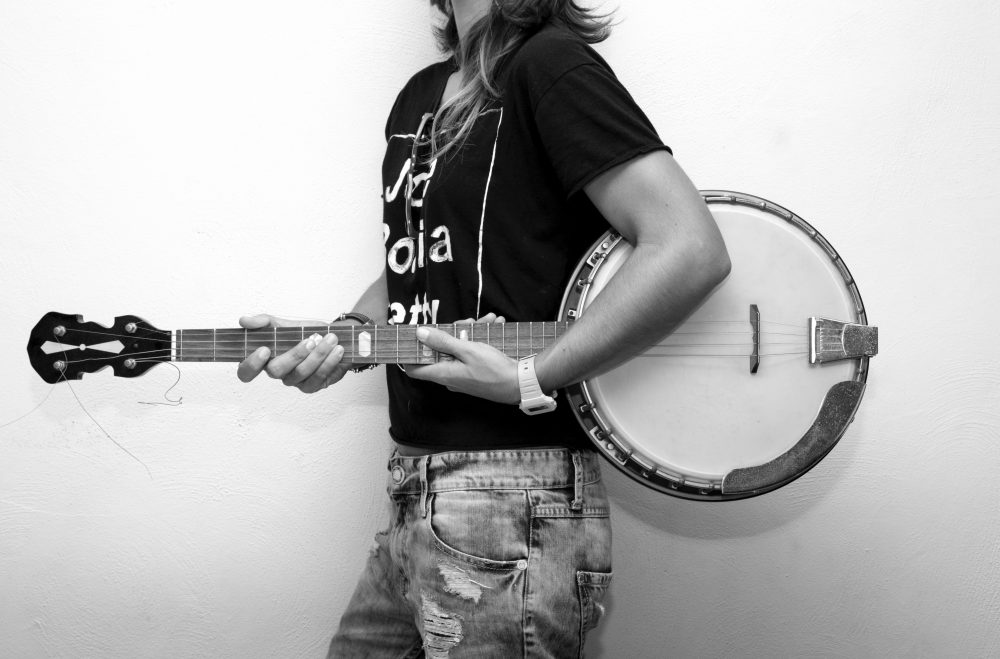 Quality and Make
There are a lot of parts that make a banjo high or low-quality. You have to make sure that you understand how the banjo is made and what it consists of so you know how it should feel and sound according to what you need.
This video will give you tips on picking the best banjo for you.
For starters, the head and bridge are important parts which influences its tone, with calfskin providing the mellow sound.
The Hub gives us a really good example as to checking construction quality of a banjo. The neck and fingerboard are usually made of maple, which allows adjustments to intonation and adjusts the way sound is projected.
Understanding Its Construction
Here are short steps in assessing bamboo quality:
Test its action through pressing down each string on the fingerboard, making contact with frets easily without it hurting.

Strum and pluck the strings. It should have the clear and pleasant sound with a tone ring without much buzz.

The tuners should have the smooth operation with enclosed mechanisms.
5 Best Banjos For Beginners (2019 Reviews)
What I love most about Jameson's 5-String Banjo is that it's simple but very sturdy. It only comes with the banjo itself, though it's totally worth the investment given the sounds it produces and the classic look it has.
This banjo is very easy to learn from, exceeding expectations and almost having the similar feel to other more expensive versions. It also looks to be well-made and durable, holding up for many hours of playing daily! All in all, an awesome purchase that you'll enjoy jamming with.
Pros
Great quality and built to last for many sessions
Good frets and straight neck for better playability
Quality sound with good tunes as you play

Cons
Doesn't come with the carrying bag (optional)
It's difficult to put the resonator back
The Rogue Learn-the-Mandolin Package is the ultimate beginner mandolin because of the complete accessories it comes with. This is an affordable starter set which includes two beginner books, a gig bag, and the mandolin itself. I like these two books as it's easy to follow and I enjoy learning it.
The mandolin itself is made of exceptional quality for its price. It looks great and sounds beautiful once you have it tuned right.
Pros
Nice
Glossy finish and durable construction
Doesn't look cheap
It has two easy-to-learn mandolin books for beginners
Comes at an affordable price with a good starter set

Cons
Doesn't come with a tuner and needs one upon receiving
It may sound a bit twangy for some
SALE at 44% OFF
Banjo Ukulele Concert Size 23 Inch With Bag Tuner Strap Strings Pickup Picks Ruler Wrench Bridge
Advanced Tuner: Closed gear tuning pegs,contains oil, so it would not rust so easy.Finer and more stable tuning also ensures the banjo ukulele has the best intonation and stays in tune longer.
No Hand Scratching: Neatly fret wire + smoothly fingerboard , comfortably to play with the banjo ukulele
Lower Action: Press easily,no buzzing,best for beginner to banjo ukulele practicing
Bone Nut & Saddle: Well wear-resistance,perfectly vibration transmission,make the banjo ukulele has a full sound
Two Styles Available:it can not only be a resonator type but also an open back type by detaching its back. Resonator type produces a mellower, softer sound while the open back type more bright
The Kmise Concert-Sized Banjo is great for both practicing and performing. It comes with everything you need to get started, from the picks, casing, strap, tuning pegs, oil, and even the tuner! Everything works amazingly, especially the instrument itself.
This mandolin has a smooth fingerboard and neat fret wire, which is comfortable to use and easy to play with. I love this banjo for its durable quality and intonation for its price tag! With its affordable price and complete package, I believe it to be a good starter banjo for beginners to have an easier time learning.
Pros
Complete accessories
Including a tuner and tools
Good sound for its price
Has a bright and loud tune
Great intonation and action

Cons
Tuning may take a long time
Need to replace strings to get the best tone
Pyle 5-String Geared Tunable Banjo with White Jade Tune Pegs & Rosewood Fretboard Polished Rich Wood Finish Maplewood Bridge Stand & Truss Rod Adjustment Tool (PBJ60)
PREMIUM QUALITY - The rich wood and high-gloss finish is accented with white jade machine head tuner key pegs and chrome-plated hardware. Crafted with mahogany neck, back, and side, plus a rosewood fingerboard and Maple Wood bridge.
FABULOUS TONE - Brings you all the classic tones of a traditional 5 string banjo. Perfect for country, folk, bluegrass and even some modern rock. It's designed to sound as good as it looks!.
GEARED 5TH TUNER - Important for both tuning and play-ability.A premium feature usually found only on more expensive banjos this geared 5th tuner is an important upgrade over the common friction tuner.
LIGHTWEIGHT - Full scale & lightweight ideal for traveling, camping, hiking, taking to the beach. Whether you are pro, a weekend warrior, a hobbyist or a beginner: Start playing your favorite songs right away!
CLASSIC TRADITIONAL STYLE - Styled after the innovative models of the early 20th century, these new/old banjos are true players that exude undeniably providing a vibrant singing banjo tone in any situation.
The Pyle 5-String Banjo is simply made with the premium quality that makes it worth the long-term investment. It's lightweight and ha the rich wood and a high-gloss finish, which looks and feels like it's more expensive! Also, it offers the cool tone with strong, clear sounds that make it playable for any music genre.
There is some assembly required upon receiving the banjo, but after that, it's alls booth sailing from there. It's not the most perfect, but exceeds expectations for a beginner banjo.
Pros
Glossy finish and rich wood quality
Clear and strong sound when playing
Easy and comfortable to play with
Not too tough on the fingers

Cons
Requires setup upon receiving
Some complaints of a slight gap between frets
The ADM Banjo is made with 24 brackets, a chrome-plated arm rest, an adjustable-hinged tailpiece, and the maple bridge. It also has the complete package, including picks, a bag, tuner, and extra set of strings for beginners to enjoy without spending too much.
You're able to start playing it upon receiving, having fun with how comfortable and easy it is to use. It provides the learning curve and has adequate sound, with a good setup made for beginners.
Pros
Can be used straight out of the box
Very nice sound that can play match music genres
Strings aren't hard to press down

Cons
Picks may be too small for men
Some complaints of not receiving all accessories as advertised
OUR CHOICE FOR THE BEST BANJO FOR BEGINNERS
After much deliberation and tests, the best beginner banjo will have to go to the Jameson Guitars 5-String Resonator Banjo. While it comes with just the banjo alone, you can choose to have it with a gig bag for a small price. However, its lack of a complete beginner's package still makes it worth the investment because of the brand it comes from, creating the amazing sound with excellent value.
I hope this article on the best banjos for beginners helped you out! So don't wait any longer and check out any of these reviews now. If you have any questions or want to share your own experiences with these instruments, then comment below. I would love to hear your thoughts on this!