The Gibson Les Paul Tribute in the Tobacco Burst finish is one of the four colorways Gibson put out for its tribute line.
Here, we review the particular Les Paul Tribute guitar, and you'll see if this is the guitar for you.
Editor's Pick
Pros
Very lightweight electric guitar

490 T and 490 R pickups

Affordable and manufactured in America
Cons
Reports of fret buzzing.

490T pickups are not for every player

Reports of sharp frets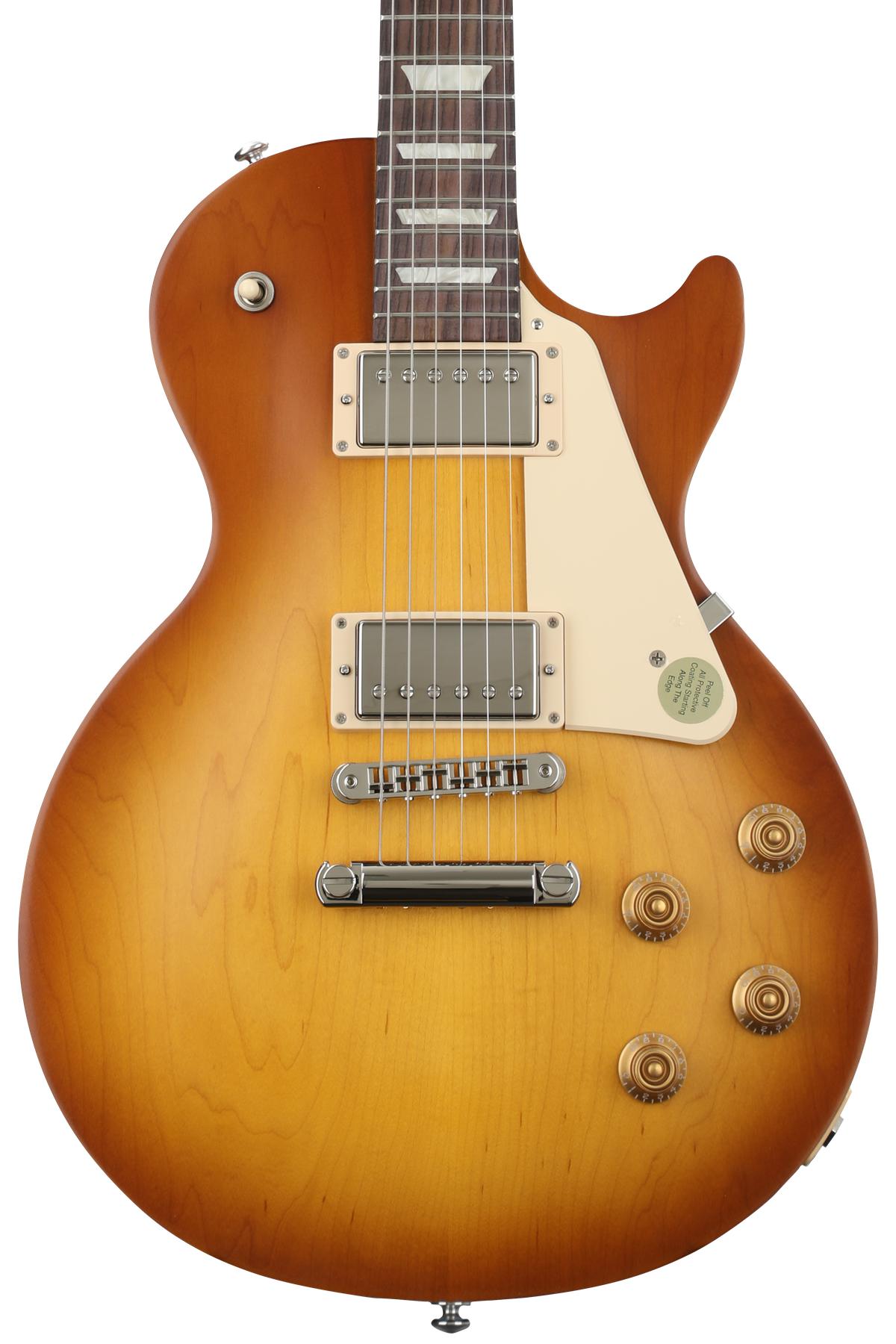 Key Features
Body Type

: Solid Body & ultra-modern weight relief

Body Shape

: Les Paul Tribute

Body Material

: Mahogany

Top Material

: Maple

Color

: Tobacco Burst

Neck Material

: Maple

Neck Shape

: Rounded

Fingerboard Material

: Rosewood

Fingerboard Inlay

: Acrylic Trapezoids

Scale Length

: 24.75″

Nut material

: Graph Tech

Neck Pickup

: 490R Humbucker

Bridge Pickup

: 490T Humbucker

Controls

: 2 x volume, 2 x tone

Case Included

: Softshell Case
Upgraded Humbucker Pickups
The Gibson Les Paul Tribute has a 490R and a 490T humbucker pickups that will give you similar tones to the 1957 Classic Les Paul but also with a more modern humbucker sound.
The pickups produce clear tones, and it also has a nice bite to them; the tone and volume pots are highly responsive and smooth when transitions are done.
The selector switch in this Tribute electric guitar is also quiet.
Sleek Electric Guitar Looks
This Gibson Les Paul electric guitar is a full-scale 24.75 inches electric guitar in the sleek Tobacco Burst colorway.
The Tribute has a body made of mahogany with a maple top.
It is lighter than its '50s twin because of Fender's Ultra-Modern Weight Relief technology that makes the guitar less heavy but still maintains that full-bodied guitar tone.
It has a maple top in a satin finish, and you could see the original wood grains and exposed wood edges for an imitative bound look.
The Tobacco Burst is a classic and has the '70s feel that makes you want to grow a beard and play the instrument all day!
Classic Les Paul Neck
This Gibson Les Paul Tribute guitar has a neck made of maple with a rounded and thin neck usually seen on older Gibson Les Paul electric guitars.
Gibson made sure to lend the experience to more current players and customers.
The neck has a thinner profile but also thickens out in higher fret notes.
It is polished in the same satin finish as the body and has a fretboard made of rosewood with fingerboard inlays of acrylic trapezoids.
The 22 frets are medium jumbo made smooth for easy and slick fretwork and seamless fingerboard transitions.
The headstock in the Les Paul Tribute also follows the features and carve of the classic Gibson with Les Paul's signature and the words "tribute" printed on it.
Designed for Comfort
The Ultra-Modern Weight Relief are chambers cut calculatedly in the guitar's body to lighten the load of a usually heavier Les Paul.
This modern-instrument adjustment made playing the Les Paul Tribute longer times more comfortable and delightful than both the recent and older Les Pauls.
The best thing about this is that the adjustment made does not compromise the richness and depth in tones and sustain you usually get from a solid-bodied electric guitar.
The curved radius of the neck of the Gibson Les Paul Tribute makes it more comfortable for chord playing.
Who is it for?
The Gibson Les Paul Tribute is for people looking for a great guitar that doesn't need any pomp and any additional design to play terrifically well.
It is also for Gibson fans who want a replica of the more classic 1950s guitar in a more lightweight form with modern sound modification for today's music.
This Gibson Les Paul electric guitar is also for the humbucker pickup's fans looking for a great guitar to punch out those full and warm tones.
This electric guitar can easily be played in practice and on stage as the pickups included in the electric guitar encompasses genres.
Also Read: 10 Best Electric Guitars for Beginners
Potential Drawbacks
A potential drawback to this guitar is it is not for the fans of the single-coiled pickups.
The Gibson Les Paul Tribute will bring out punchier rather than brighter sounds in guitars with a single-coil pickup.
Conclusion
Editor's Pick
The Gibson Les Paul in the Tobacco Burst finish is not only good-looking but better sounding.
It's a Gibson, so no model is particularly cheap, but for the price, you get a guitar that easily plays like a dream and can last you a lifetime.
FAQs
What genres are ideal for Humbucker pickups like the Gibson Les Paul Tribute has?
There is no definite genre for any different types of pickup.
Mainly for some of our friends, it's preference-based.
But since humbucker pickups are characterized by the big, warm, and loud sound they emit, they are more famous for being utilized by heavy rock and metal players as their primary genre.
They are also great for jazz and blues players as they give out excellent chord voicing definitions.
What's the difference between a Single Coil Pickups and a Humbucker in terms of sound?
There are many differences between single-coil and humbucker pickups, and most guitar players prefer one over the other.
The primary difference between the two, to put it simply, single-coil pickups have a more straightforward, crisper tone while the humbucker pickups have a thicker and warmer tone.
You can effortlessly see what makes them different by taking '60s pop music guitar sounds into consideration and comparing them to the warmer and rounder sound of '80s hard rock.
Are Gibson Les Paul Tributes any good?
With all things considered, we can confidently say that the Gibson Les Paul Tributes guitar is not only worth it, but we highly recommend it.
It is a great American-made electric guitar that has the look of a classic stripped-down Les Paul but is built with today's player comfort in mind.
It also is made with a mahogany body and a maple top like the more expensive Gibson Les Paul Studio electric guitars.
You will never regret having this modern-day replica of the past Gibson Les Paul original.
The specs are the hits