Great neutral frequency response
Impressive power delivery
Great imaging and transient response
Responsive ribbon tweeter
In every recording studio, you'll see black music boxes that amplify sound clearly and accurately and help sound engineers and music producers do their job in the best way possible.
These black music boxes are studio monitors, which deliver audio signals that are as flat as possible across the frequency spectrum.
That's why having one of the best studio monitors in your recording room or studio is crucial to audio productions. To help you with your decision, the top 5 most preferred and best studio monitors are listed below.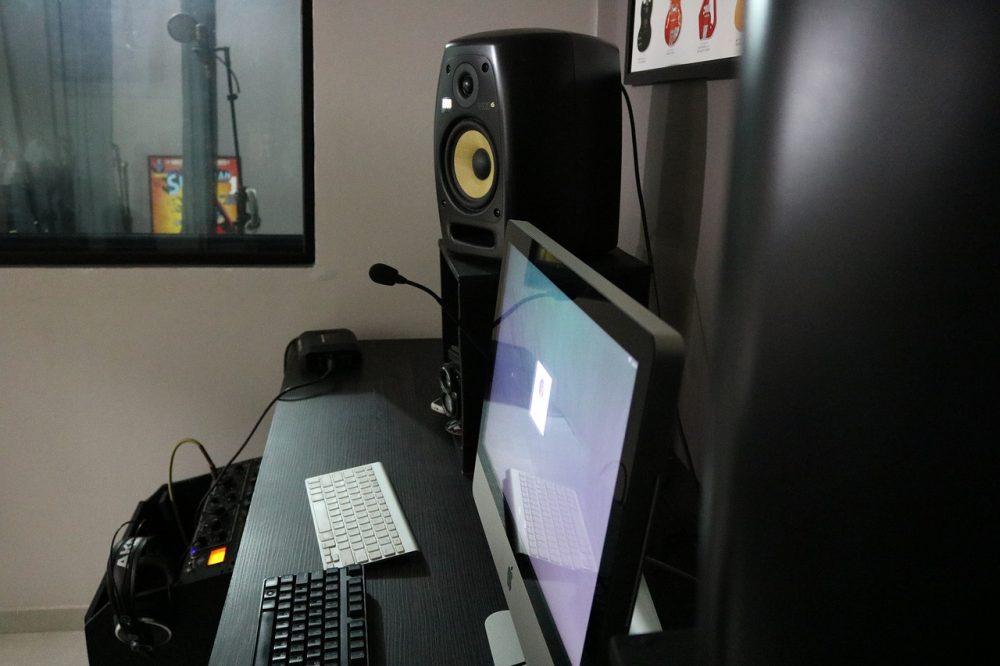 Factors To Consider When Buying a Studio Monitor
Active or Passive Monitors
Generally, studio monitors fall into two types—active and passive. Let's define each one in a simple manner. Passive monitors are modular, which means you need a speaker with the right amplifier and crossover to go with it.
On the other hand, active monitors already come with built in components.
This type of monitor saves space because you do not need extra accessories for it to work. However, if you still want to get the best result, you can match the internal amplifier to a specific speaker.
Power Capacity
Knowing and understanding the right power capacity of your studio monitor is important as it will greatly impact how it sounds in conclusion. Along with the overall sound, wattage also affects the volume, dynamic range, and amount of headroom for signals peak, among others.
Having a studio monitor that has higher wattage means a studio monitor that gives more transient details. This allows you to make more precise adjustments to compressors, limiters, and gates.
Driver Design
It is important to mind the type of drivers used in the overall sound monitor as it will greatly impact the sound quality. More specifically, let's talk about the design, types, and sizes of a driver.
The most common design for a studio monitor includes two speakers (tweeter and woofer) and a port.
Tweeters are treble speakers that are designed to reproduce the high frequencies, usually from 2,000 Hz to 20,000 Hz. While, woofers are bass speakers that are designed to reproduce the low frequencies, usually from 40 Hz to 5,000 Hz.
Generally, the larger the woofer size, the better bass response you get out of your studio monitor.
Now, let's get to the ports. Ports or radiators are holes in the monitor cabinet that allow the sound to go out aside from the actual woofer and tweeter. Their primary purpose is to produce better bass response in, especially with smaller size woofers.
Consider Your Budget
It goes without saying that a studio monitor's price is directly proportional to its quality. If you want the best studio monitor for your sound production, chances are, it will probably cost you a couple of hundred (or even thousands) dollars.
Typically, studio monitors with higher prices have a larger woofer size which makes for tighter and deeper bass response, better tweeter design and overall construction for greatly focused highs.
Not to mention a better cabinet design and construction for an enhanced sound reproduction, imaging and clarity. You will also get higher wattage which creates more volume and flatter frequency response.
As you work on with your business, you'll realize that getting the best sound monitor is a good investment. So, think carefully on which one to pick because you'll be stuck working with it for a long time. Plus, buying a sound monitor is no joke, considering its price range.
Break-in Period
Most manufacturers recommend that you initially use sound monitors for a couple of hours, in order for it to settle in mechanically. So, basically, break-in period is when sound monitors take its time for all of its components to reach its full potential, which makes for the best possible performance of sound monitors.
It also greatly helps when you play heavy music with a lot of bass and music signals of a broad frequency spectrum and different volumes for a certain period of time.
The number of hours will depend from one model to another. However, the most commonly followed break-in period is around 20 hours.
What Type Of Music You Produce
Do not forget the music genre you're producing since it also has to be taken into account. Because different music styles need different setup, you need a specific design of your studio monitor.
If you're producing a lot of acoustic styled music, you're better off with a small pair of near-field monitors, which have speakers located at a close distance to you. This helps minimize the effects of sound bouncing off walls or the ceiling.
If your niche is hip hop, pop, or any music with an upbeat tune, the best studio monitor for you should consist a subwoofer, which is a specialized woofer solely designed to handle bass reproduction.
If you create songs and soundtracks more often used in video games, TV shows, or movies, a 5.1 or 7.1 surround sound system will be the best arrangement for you.
And if you spend most of your time recording and producing songs from rock bands or with a variety of talent, pick a studio monitor with 8' woofers and a high wattage.
5 Best Studio Monitors for Home Recording (2019 Beginner's Guide)
Yamaha is known to produce only the best equipment when it comes to creating incredible and outstanding music. With its long list of notable products, it's safe to say that Yamaha is really a powerhouse in musical equipment and whatnot.
That's why if you want to produce the finest music, one of the best studio monitors you could use is the Yamaha HS8 Studio Monitor.
Featuring an 8 inch cone woofer and 1 inch dome tweeter, the HS8 has up to 38Hz frequency response and a power of 60 watts. You are guaranteed to have a crystal clear audio as its woofer has 75-watt amp power with its tweeter having a 45-watt amp.
When it comes to the materials used for its construction, you'll know that Yamaha does not compromise as the HS8 is made of solid MDF with excellent cabinets having the best durability.
The Yamaha HS8's tweeters own a shallow wave guide which limits the upper frequency distortions. And speaking of which, place the speakers away from a wall to minimize bass distortion.
Also featuring room control and high trim response controls, the HS8 makes audio production such an easy breezy task.
Among the best studio monitors in the market is the KRK RP5G3-NA Rokit 5 Generation 3. You may have heard this model when some discuss which studio monitor is the best, simply because it really is one of the best.
The RP5G3-NA is perfect for any home recording or professional work. Boasting a built in bi-amp on each speaker box, the RP5G3-NA delivers a clear and amazing sound.
Owning 1 inch tweeter and enough headroom and minimal distortion, the RP5G3-NA produces the best sound quality with utter clarity.
Also featuring a front-firing port, this studio monitor reduces noise, which produces an overall clean bass with high volume—just the right arrangement for you to easily edit and produce it.
The RP5G3-NA also features a low resonance enclosure which is enhanced by the pre-installed foam pad.
Experience an optimum sound recording when you install a JBL LS305 Professional Studio Monitor inside your recording room or studio. Surely, you'll love what the LS305 can do with its premium features that are made to make every audio production seem like an easy task.
This 3-series speakers give great depth and emphasize the smallest and most subtle details.
The LSR305 features 5 inch long woofer and 1 inch damped woven composite Neodymium tweeter which gives powerful transients and great details of your mix.
And because it possesses 3 series class D amplifiers, the LSR305 gives off majestic power to supply for the output and enough headroom or your production.
Boasting JBL's new technology, the LSR305 is one of the first studio monitor to feature the Image Control Waveguide. Together with high-performance transducers and system components, this revolutionary feature allows you to hear the clearest and most detailed recordings ever.
Considered as one of the best studio monitors that are currently in the market, the Adam Audio A7X joins the list.
This near-field studio monitor comes from a manufacturer that known to produce topnotch studio monitors, so there's no doubt that this particular model could easily justify that statement.
With an active system and up to 50Hz frequency response, the A7X will surely do its job in the best way possible.
The A7X comes with a 7 inch mid-woofer which helps with the mids and lows of the frequency range, and a 2 inch ribbon tweeter which, overall, enhances the sound.
Featuring 2 transducers for its speakers, the A7X produces a powerful and clear sound. It also has the volume and power controls at the front so you'll have an easier time controlling it and has additional ports.
Last but definitely not the least on our best studio monitors list is the Newumann's first product in its new line of studio monitors– the KH 120.
With its compact and rugged design, who would ever think twice in getting this awesome studio monitor? Giving you only the clearest and most accurate sound and helping your edit your mix, the KH 120 will make sure to get the job done.
With its two way monitoring speaker system, the KH 120 boasts its 5.25 inch long throw woofer and 1 inch titanium fabric dome tweeter. This near-field studio monitor features a Mathematically Modeled Dispersion waveguide to give you a smooth response.
It contains 4 position bass, low-mid and treble acoustical controls which contributes to its easy interface. The 120 uses be-amp class AB analog amplifiers to give an overall sound with outstanding transient response, dynamic range, and versatility.
Our Choice
When it comes to giving you a clear audio and excellent transient response, the Yamaha HS8 should be your top choice. With its premium features and respected manufacturer, the HS8 is easily one of the best studio monitors to ever be produced.
The HS8 has an 8 inch cone woofer, 1 inch dome tweeter, and 60 watts, which is enough to give you the best audio to create the perfect mix. You can never go wrong with its durable construction and smart features.