Taylor T5z is an upgrade of the T5 hybrid acoustic/electric guitar released by Taylor more than a decade ago.
T5 attempted and succeeded to provide true acoustic and electric tones. Personally, though, I liked the T5 because it's jampacked with a lot of useful features and never-ending possibilities, but it has a larger body.
To make it more user-friendly, Taylor reduced the overall body size, yet still preserved all its greatness producing the Taylor T5z.
The neck is designed to be more comfortable for greater playability, while the electronics onboard provide tonal versatility. These and more are further discussed below.
Editor's Pick
Pros
Lightweight guitar, which is very comfortable to play
Perfect for most music genres, except metal
Well-built and has appealing aesthetics
Versatile with a five-way switch to access more tonal options
Cons
Neck thinness may take time to get used to for acoustic players
Great feedback on the first position when using the five-way switch
A bit pricey compared to other acoustic-electric models
Neck is heavier and the guitar is off-balanced
Design & Construction
Crafted with a more compact body, this six-stringed guitar became a more lovable instrument for electric players and those aspiring to be one. Among the hollow body hybrid acoustic-electric guitar, it's made with tropical mahogany top wood that has deep color and visible grain.
The neck, the back, and the sides are made with Sapele. With the satin finish on the sides and back, T5z achieves its typical vintage look. This guitar doesn't have the distinctive round soundhole, instead, it has two sound holes shaped like a leaf. And, surprisingly, this configuration helps you get the natural resonance of the guitar.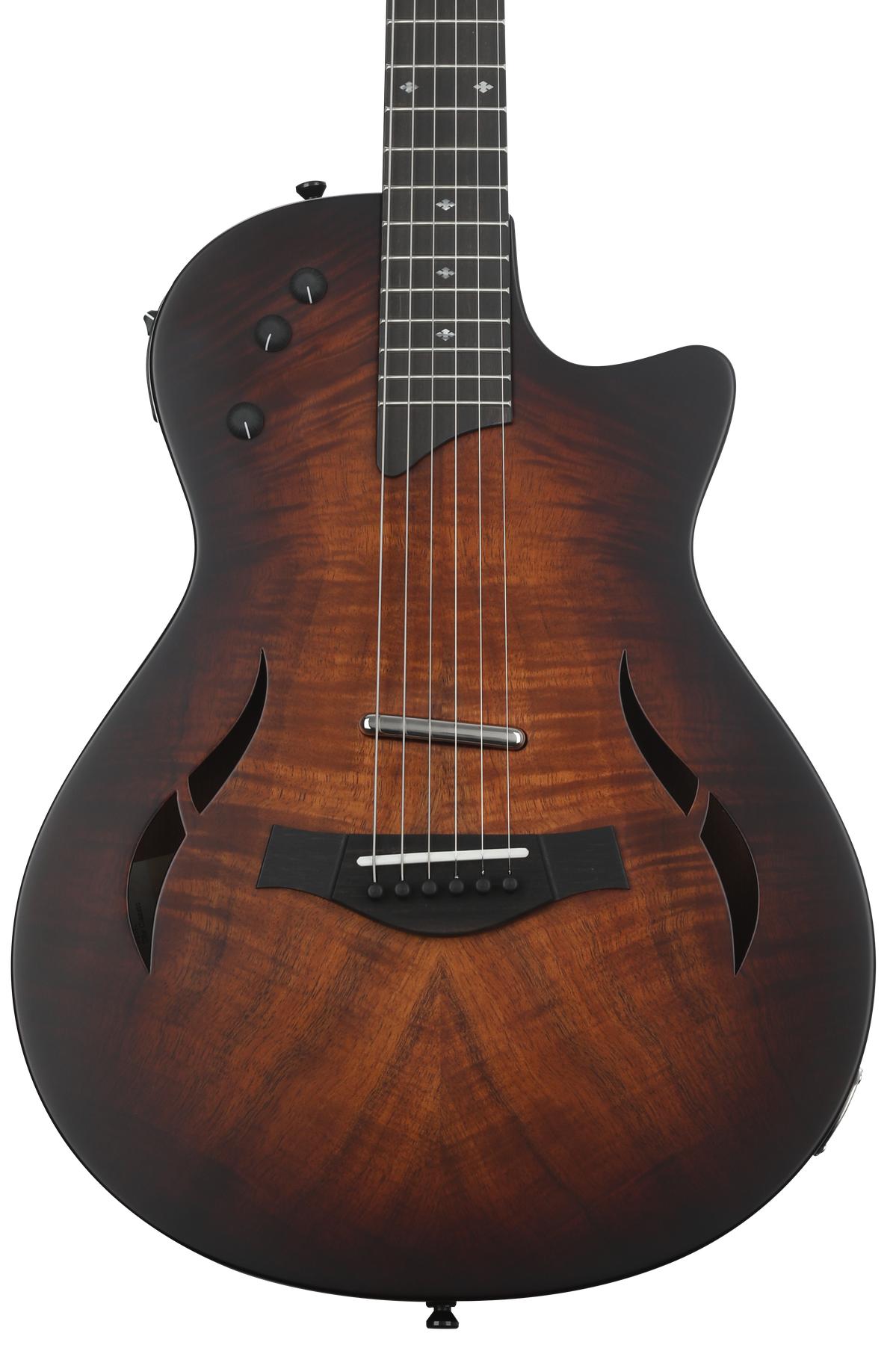 I love its Venetian cutaway since it gives me comfort when playing on the higher frets. Of course, since the guitar is lightweight, you can do all your tricks while playing on stage. It weighs only around 5 lbs, even a small player can bring it to any gig in a soft case.
Another aspect that I really appreciate in this guitar is its neck. Not only me, but, many professional players noticed the greatness of the neck. Especially for those who are accustomed to playing electric guitar, the neck is thin enough to play comfortably even for quick and complex transitions.
Inheriting some features of its predecessor, it has a narrower body with 12-inch fretboard radius, 21 jumbo-sized frets, and 24.87-inch scale length. These provide a balance between the comfort of an electric guitar and enough tension to produce wonderful acoustic tones. The fretboard is made of ebony with small diamond inlay pattern. The headstock inlay and bridge pins are made of ebony, too.
T5z is equipped with volume, bass and treble controls and a five-way selector switch. It has Nickel Taylor tuning pegs which work fine. It has Tusq Nut/Micarta saddle, which can be easily replaced with Taylor bone saddle if you opt to.
The guitar may appear to be simple and straightforward with a few controls, but it has hidden gems inside. It comes with a three-way pickup system — two Slimline humbuckers (one near the bridge and one concealed under the neck) and an acoustic body-sensor pickup under the top. The first two are obviously for getting authentic electric tones, while the third is for acoustic tones.
Playability & Performance
Designed to be played, and when I say 'played,' I mean, played for several hours, this guitar is versatile. The thin neck feels like heaven, and since it's lightweight, you can play for longer hours without any problem.
I've played a lot of electric guitars, so I can tell the difference of each instrument with their looks and feel. The Venetian cutaway is an excellent idea as it helps you access higher frets effortlessly.
I don't have any problem switching between the older T5 and T5z. Though T5z is lighter than T5, the former has a heavier neck while the latter has an even weight of the body. T5z may be a bit off-balanced, but, the overall performance and comfort when playing the guitar are splendid.
I find the action a little higher on the upper frets, but even so, it still plays very comfortably. String tension is just perfect, I don't have any problem doing fast play and surfing up and down the fretboard.
This guitar came strung with the Elixir Nanoweb electric guitar strings (.011-.049). The strings are just perfect, from a brand I never thought I'd like. Stays well in tune with a spot on intonation — no louder nor quieter strings. Everything is well-made to keep you playing with this guitar like there's no tomorrow.
Sound
If you're looking for a guitar with heavy bass sound, Taylor T5z is the one you're looking for. It delivers strong, yet clear tone with emphasis on the midrange frequencies.
Everything on this guitar is vital to produce the kind of sound you'll never forget. It gives you endless possibilities with the five-way switch onboard. Here are the five positions and the corresponding sounds they produce:
First Position: Gives access to the humbucker on the neck and the body-sensor system to achieve natural acoustic sound
Second Position: Neck humbucker only to achieve warmer and rounder sound
Third Position: Bridge humbucker only, producing bright acoustic to twangy high-gain overdrive tones
Fourth Position: Both humbuckers are used in parallel to get a big and clear tone
Fifth Position: Both humbuckers are used in series to achieve fuller and fatter sounds
You can be more creative by adjusting the treble, bass and volume controls on top of the guitar. This guitar is amazing for playing country, but you can appreciate the plethora of sounds it's capable to produce, when you plug it in. Shifting from acoustic to playing with an amp is seamless.
Since this is an acoustic-electric guitar, it accommodates a lot of genres. This is a great instrument for home studio and recordings, too. However, if your genre is more on hard rock and heavy metal, this might not be the best for your rig.
Value for Money
At first glance, I can say this acoustic-electric guitar is offered on the more expensive side. Yet, you can never find its stunning features from the cheaper ones. From the construction to the finish, its oozing with elegance and timeless beauty.
The neck and the jumbo frets aid to its playability and great performance of the guitar. The simple five-way selector switch helps you play with the three pickups onboard. It gives you the confidence to play acoustically and electronically, so, you can play any genre with ease.
You may find cheaper alternatives, but, you can never achieve the comfort and the tonal versatility of the Taylor T5z. After playing and unraveling every feature of this remarkable instrument, I realized that it's a worthy investment.
Verdict
Editor's Pick
Looking for a versatile guitar that gives you access to different sound profiles is challenging. But, Taylor creates an acoustic-electric guitar that that doesn't only deliver great tonal quality, but playability as well. Made with durable materials to take on varying playing skills and techniques, the Taylor T5z will surely help you level up in your career.
The neck, the Venetian cutaway, and the action are the three major features that I like about the guitar. With the reliable five-way selector switch, you can drown yourself with different sounds in one playing.