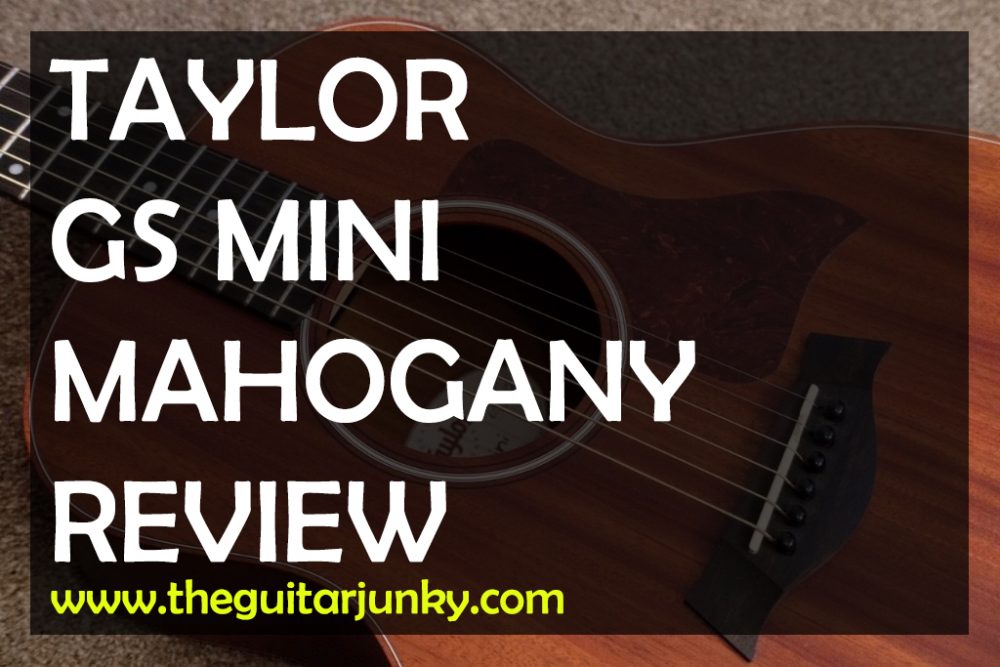 In our in-depth review on
Taylor GS Mini Mahogany
, we gave it an overall rating of 4.6 out of 5 stars.Here are its features that made us decide giving such rating.
Taylor GS Mini Mahogany GS Mini Acoustic Guitar , Sapele, Mahogany Top
"Body Body type: Taylor Grand Symphony Mini Cutaway: No Top wood: Solid Mahogany Back & sides: Layered Sapele Bracing pattern: GS Mini With Relief Rout Body finish: Matte 2.0 Orientation: Right-handed Neck Neck shape: Taylor GS Mini Profile Nut width: 1-11/16"" (42.8mm) Fingerboard: Genuine African Ebony Neck wood: Sapele Scale length: 23-1/2"" Number of frets: 20 Neck finish: Matte 2.0 Electronics"
"There's something undeniably inviting about the Taylor GS Mini's scaled-down size, yet a single strum reveals the impressive voice of a full-size guitar
That mix of portability and musicality has proven to be a winning combination that fits into so many scenarios in life, from the couch to the campfire to the concert hall
It's not too big, it's not too precious, and it's not too expensive
That broad-based accessibility has given it a resounding universal appeal, not to mention a built-in fun factor
Sound
While big guitars are mandatorily expected to have a loud and booming sound, small sized guitars are naturally supposed to have the opposite, a significantly lower volume. The less booming sound often found in small guitars is partly because of their small body.
However, this sound problem has been corrected by the Taylor GS Mini Mahogany thanks to the materials used and the ingenuity portrayed by the company to use the Grand Symphony guitar as a reference point.
In fact, the body found in the Taylor GS Mini Mahogany is a shrunken version of Taylor's Grand Symphony guitar.
As such, the sound this guitar produces is not only full tone but the features are also improved.
The result is a guitar that surpasses most full-sized beginner guitars regarding sound quality by a significant margin.
The tone produced by this guitar is both warm and bright. While most mini guitars lack the bass sound, the Taylor GS Mini Mahogany plays it flawlessly alongside a sturdy treble and mid-range.
Whether pounded with force or strummed lightly, this guitar's volume is always consistent and in perfect balance. The Taylor GS Mini Mahogany sounds better than most full-sized guitars and has exceptional sound quality for an entry level mini guitar.

Design
When I first saw the Mahogany Taylor GS Mini, I was surprised the guitar didn't look as mini as the name suggests. Even better, Taylor did not (as it is typical with the company) compromise on the design and produced a very alluring instrument in the Taylor GS Mini. The guitar's back and sides are both made out of quality Sapele while the top is made from solid Sitka Spruce, a feature often found in high-end guitars.
Not to mention, the finish is complemented by Matte, another feature only found in Taylor guitars that cost about three or four times more than the Taylor GS Mini. Also, most guitars use low-quality wood for the Bridge and Fretboard, but this guitar uses real Ebony wood.
Seeing that the body is but a little thinner than full-sized guitars, the Taylor GS Mini is comfortable for both adults and children willing to learn how to play the guitar.
Playability
Over the years, Taylor has gained a reputation for producing some of the most playable guitars in history. Whether the guitar costs you a few hundred dollars or thousands, you can be sure that it will be easy to play and won't get you losing motivation within a couple of days like some other guitars. If you play rather aggressively, you might want to raise the Taylor GS Mini's action as it is a bit low.
Low action is a good thing for both professional players and beginners. Beginners are given the ability to play clear notes without the regular interruption caused by string buzzes while the pros get to move their fingers through the scales easily.
String buzz can be a real motivation sucker when learning how to play the guitar; the frustrating feeling can be alleviated by purchasing a guitar with a low action such as the Taylor GS Mini Mahogany.
Taylor's full-sized guitars use a patented NT neck joint to enhance their playability. The reason the Taylor GS Mini trumps most other guitars regarding playability is because Taylor uses the same neck joint on the mini guitar. This feature makes it one of the most playable mini guitars currently on the market.
Electrification
While an electric guitar can be way louder and sometimes more fun to play, acquiring one might cost you more than you intended to spend for a first guitar.
Similarly, even with an acoustic guitar, the process of electrification can be costly and requires a careful approach. As such, Taylor invented two accessories which can be used in the electrification of the Taylor GS Mini.
The first appliance is the ES-Go soundhole pickup. While most soundhole pickups touch the top, the ES-Go doesn't to allow the top to vibrate without any hindrances. It uses a clip to attach itself to a brace inside the Taylor GS Mini.
A wire (single shielded) is also clipped to the guitar's top interior and connects to an endpin jack, which swaps out with the existing endpin. All you have to do is remove the three strings, fit the jack in place of the pin, and replace the screws.
The second option is a V-Cable. The endpin jack on the Taylor GS Mini takes any standards guitar chord. However, the V-Cable is perfect for level adjustments as it includes a knob that positions itself right next to the jack. As such, you can control volume levels easily or entirely turn the signal off without the guitar making any sound.
Taylor GS Mini Mahogany
Pros
Despite its small size, the sound quality feels like you're playing a full-sized guitar.
Comfortable to play both sitting and standing despite its size
Stays in tune for a longer span of time
Has a very simple but durable materials.
Amazing sound quality
Due to its light weight (11 pounds), it's easy to carry around making it extremely handy for the guitarist that's always on the move
The thin neck of this guitar, makes it just a little bit easier to play around with when compared to other acoustic guitars

Cons
Because it is a Taylor guitar, it is a bit expensive
The guitar comes with a satin finish making physical damage to the guitar more pronounced and visible
Some buyers complained that this guitar is poorly constructed.
Taylor GS Mini Specs
Back and Sides Material: Layered Sapele
Top Material:Solid Mahogany
Finish: Matte
Number of Strings: 6
Fretboard: Ebony
Conclusion
The Taylor GS Mini Mahogany is not just your regular mini guitar that has a good design and doesn't match the quality design with sound. On the contrary, it will have you doubting the quality of some expensive full-sized guitars thanks to its incredible sound quality in a small body.
Not to mention, it has good value for money, so if you are looking for an entry-level mini guitar, then the Taylor GS Mini Mahogany is the ideal choice.